15 of our Favourite Hotels Outside Mexico City
Mexico is so much more than tequila, fajitas and sombreros. With a diversity of landscapes, languages, cuisines and indigenous culture, its capital Mexico City, the second largest on earth, is also its vibrant, mad beating heart, with a wealth of historical sites and museums, fantastic restaurants and an exciting arts scene. But it's not all about Mexico City, that's why our Gurus have come up with their list of their favourite hotels outside Mexico City.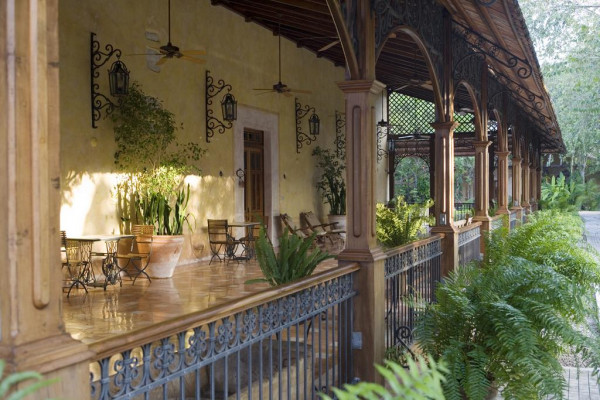 Mexico City is surrounded by beautiful old towns like Puebla and great weekend retreats like Valle de Bravo, while in the south Chiapas is a lush rainforest state dotted with Mayan ruins and breathtaking scenery and the famous Yucatán Peninsula offers picture-perfect beaches and world-class resorts for those in search of sun, sea and sand. So our Gurus haven't restricted themselves to recommending the best hotels outside Mexico City which are just outside the city, no, these are some of the best places to stay across the whole country.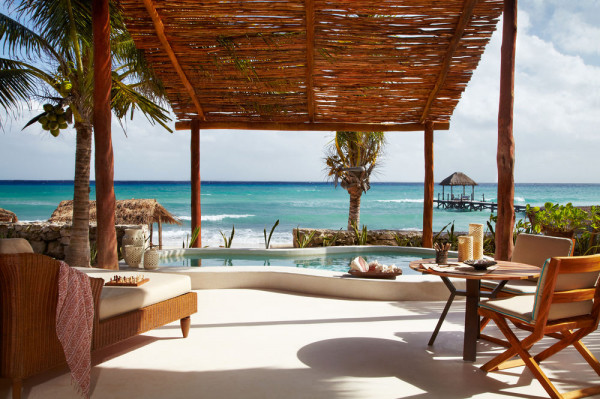 Until recently Mexico's hotel scene was dominated by the big chains in resorts like Cancun but the last ten years has seen a decided shift towards more sophisticated offerings with a handful of hoteliers dominating the design hotel market. Whether the best hotels outside Mexico City you choose are contemporary hotels, exclusive beach resorts or small hotels with a cultural mission, one thing is certain: this fascinating and generous country will not disappoint.
15 of our Favourite Hotels Outside Mexico City
Our Favourite Hotels Outside Mexico City for Ocean Views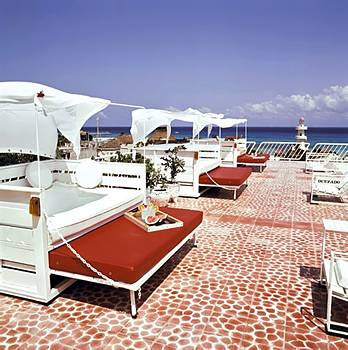 Just steps from the ocean off Play del Carmen, Basico is a creatively designed hotel with an excellent seafood restaurant. Expect something halfway between a ship and a factory. Or you might try Hotel Secreto on the Riviera Maya, which has stylish rooms with fourposter beds and limestone floors, and balconies overlooking the infinity pool and then the beach. The Mandarin Oriental Riviera Maya is right beside a postcard perfect beach, surrounded by tropical rainforest - it's sensitively constructed but it also has three restaurants and a high-spec spa.
Our Favourite Hotels Outside Mexico City for Colonial Charm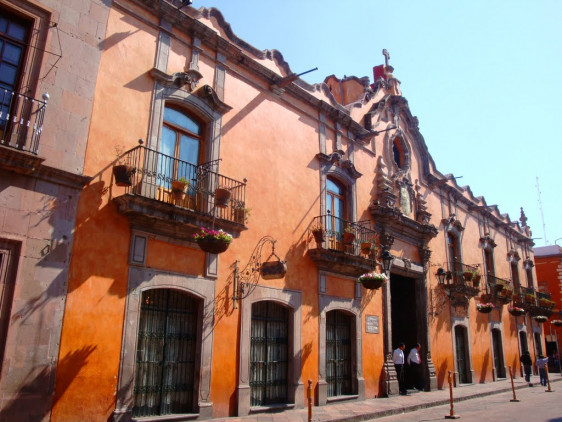 La Casa de la Marquesa has been converted from an 18th century building in the beautiful, colonial heart of Querétaro. There are 13 elegant, opulent rooms furnished with antiques. Or try El Sueno Hotel & Spa, a relic of colonial Mexico, but a very beautiful one: a centuries old townhouse converted into a chic, 11 room, family-run hotel packed with bold colour and character - think cast iron beds and contemporary art.Or for a modern hotel in a colonial town try Puebla's La Purificadora, which started life as a water factory and is now a stylish 26 room design hotel. The old facades and big, cavernous spaces are wonderfully combined with modern design and there's a great rooftop pool with city views, an excellent spa and a lively restaurant popular with the locals.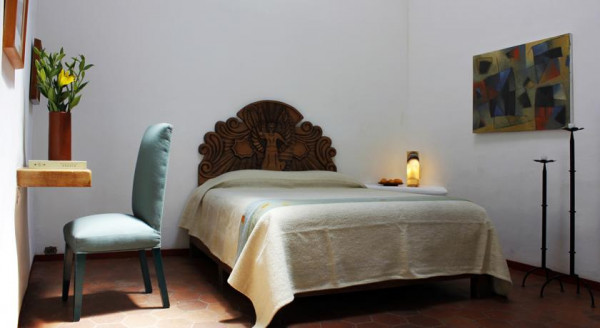 Casa Oaxaca is a seven room hotel converted from a charming colonial building, also in the centre of old Oaxaca. Rooms are arranged around a central courtyard and there's a roof terrace, pool and private gardens. This is a great option for foodies, as the chef, and manager, is happy to offer Mexican cooking workshops.
Our Favourite Hotels Outside Mexico City for Mexico's Ancient Treasures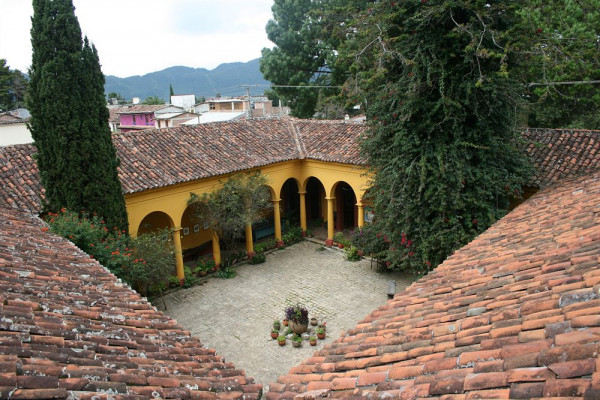 Casa na Bolom in San Cristobal de las Casas is a charming museum to the Lacandon people, plus a 16 room boutique hotel. Each uniquely decorated room is a treasure trove of indigenous art, artefacts and handicrafts and all proceeds of the hotel go to the Lacandon people. Or you could consider the Parador Santa Maria in Chiapas, is an historic building in an incredibly lush setting. There are just eight traditional rooms with dark, solid furniture, exposed stonework and cool, tiled floors. There's also a museum and a pool, and you're close to the archaeological site of Chinkultic.
Our Favourite Hotels Outside Mexico City for Luxury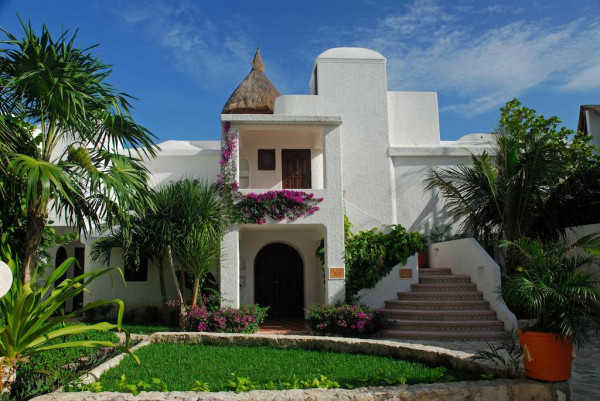 The Kin Sol Soleil in Quintana Roo is a tranquil, ten room property set on a beautiful stretch of white sandy beach. Atmospheric throughout, you'll find Mexican flavour in the design; think white washed walls, contemporary art and antique furniture. Or the Viceroy Riviera Maya is a collection of private villas, each with their own pool overlooking the ocean, surrounded by tropical forest which rolls into white sand. It's also got a great spa.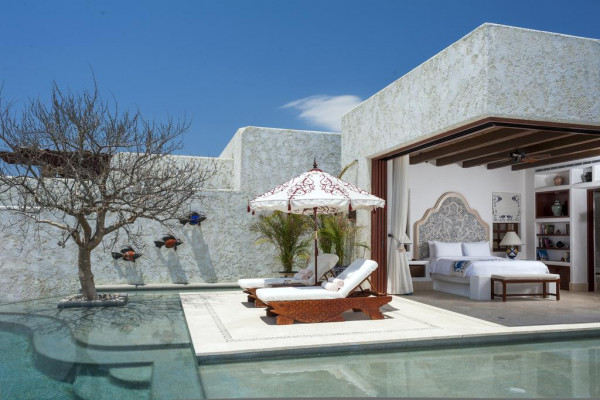 Or try the Las Ventanas Al Paraiso, a luxurious hotel facing the Sea of Cortez and is situated a few miles outside Cabo San Lucas. Each of their elegantly decorated and romantic suites feature marbled bathrooms and a terrace with a telescope so you can properly enjoy the views. And the spa offers pampering is second to none.
Our Favourite Great Value Hotels Outside Mexico City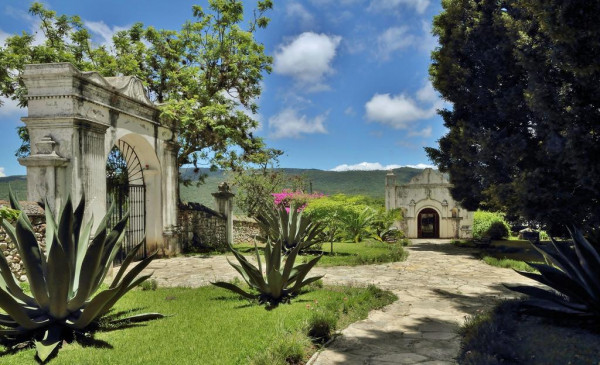 Parador Santa Maria in Chiapas is a picture perfect historic building set in lush gardens. Traditional rooms feature heavily draped four-poster beds, dark antique furniture, exposed stonework and cool tiled floors. Boasting a serene pool, its own museum and plenty of grounds to explore. Just minutes from Mayan ruins, and rooms start from aorund £60 per night. Deseo in Playa del Carmem is a stylish, modern, 12 room hotel in the heart of town popular with young cosmopolitan folk, and is great value, with rooms starting from £86 per night. Or, for even better value, at around £75 per night, try Mezzanine in Tulum, which is a small but characterful hotel with thatched rooms and a popular restaurant right on the beach.
Our Favourite Hotels Outside Mexico City for Families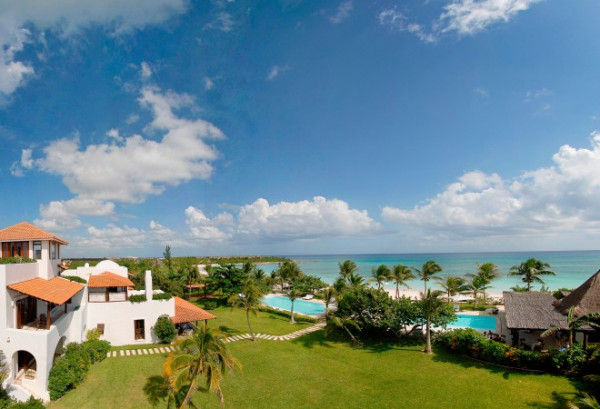 Esencia is a boutique hotel at its family-friendly best, with direct access to Xpu-Ha beach and two pools, you will have no end of places relax and play. That is if you can find the time with all the activities on offer! Simply yet stunningly decorated with an excellent menu.
Our Favourite Hotels Outside Mexico City for Foodies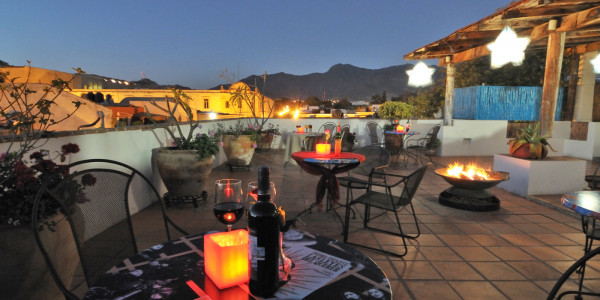 Las Bugambilias in foodie capital Oaxaca is a simple restaurant and B&B with just ten rooms, all decorated sparely, but all with different features - some with lovely traditional bathrooms and some with balconies overlooking a lovely courtyard. Or try the Hacienda Xcanatun, a beautifully renovated Hacienda situated just outside Mérida, close to many Mayan ruins. Well proportioned rooms are traditional in style with high beamed ceilings, antique furniture and tiled floors. Boasting two freshwater pools, a fabulous spa and renowned gourmet restaurant.
The Most Romantic Hotels Outside Mexico City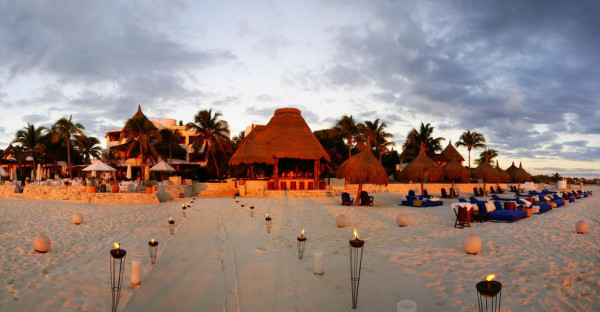 Maroma on the Riviera Maya is a secluded hotel with a beautiful beach and outstanding facilities, or you might try Hacienda San José in Mérida, which is a beautifully restored 11 room jungle hacienda hideaway with topical gardens, pools, hammocks and a world class spa.
If you haven't found your ideal Mexican break hotel on our list of 15 of our favourite hotels outside Mexico City you could:
15 of our Favourite Best Hotels Outside Mexico City
posted Wednesday, 3rd July 2019
Search the best hotels in Mexico