✓ Check Availability
✓ Save time, save money
Great Wiltshire Pubs with Rooms
The combined need for food, watering and sleep is one faced by every traveller, and these were well met by the coaching inns dotted along Britain's great old traffic routes. Today's traveller has just the same needs, and there's a certain relaxed pleasure to be had staying in these wonderful old inns, now also called 'pubs with rooms'. Some regions do inns better than others, and our Guru's list of Great Wiltshire Pubs with Rooms has some of the country's finest.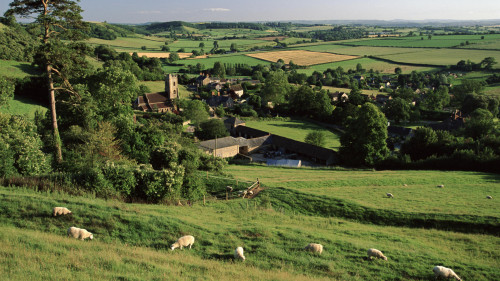 For foodies
Check in, have a drink in the bar, take your time to enjoy choosing and eating from a delicious gastropub menu and then nip upstairs and fall into a deliciously comfortable bed.
For the ultimate foodie pub getaway, book a night or two at the Red Lion Freehouse with rooms overlooking the river Avon. Here you don't just get gastropub fayre.....it's Michelin starred! Rooms are understated luxury with as much attention to detail here as there is in the kitchen, and all have decks with view of river or countryside.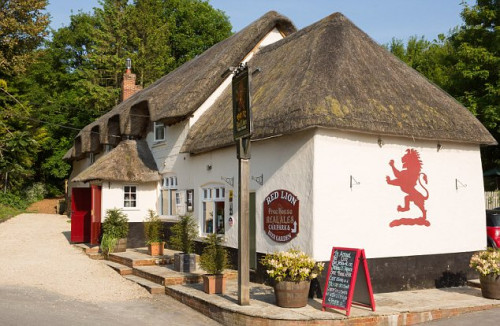 Recently refurbished and redecorated, The Beckford Arms is just about the perfect pub with rooms. Cosy but modern with natural materials everywhere and a muted soothing colour palette in all the bedrooms it is a gloriously cossetting place to stay. Everything, from the Bramley toiletries to the DVD selection to the art has been carefully selected by the owners, and the food is excellent. The menu changes daily but might include whole suckling pig spit-roasted on the bar's open fire, the kitchen's own hams and piccalilli, game pies with homemade pastry and aged Wiltshire steaks.
To de-stress
Who needs a spa for stress-relief when you can drive to one of our great Wiltshire pubs with rooms?
The King John Inn in Tollard Royal near Shaftsbury and the Dorset border, is owned by a wine merchant and an interior decorator, meaning that the King John has a wine shop as well as five luxurious en suite bedrooms. The public areas are sophisticated with country touches and the menu is brief and to the point with local produce, well cooked.
The Methuen Arms in Corsham offers country chic rooms some with roll top baths. Visit this Wiltshire pub with rooms for a really relaxing escape - the great food is an added bonus.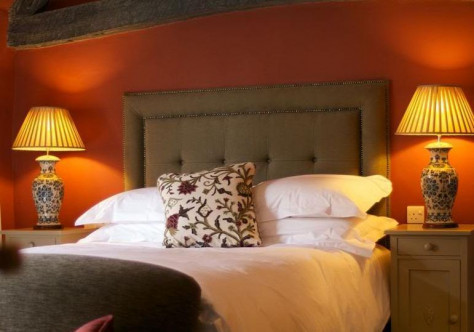 The rooms at the Castle Inn in Castle Combe near Bath are traditional rather than chic and sophisticated. The public areas are cosy and the menu in the restaurant is popular with locals and visitors alike. Service is good and there is a sympathetically restored bar which is a great place to cuddle up with a drink and a newspaper and a friend or all three and enjoy your surroundings.
For the great outdoors
Wiltshire is a beautiful county with three areas of outstanding national beauty and a section of the New Forest National Park.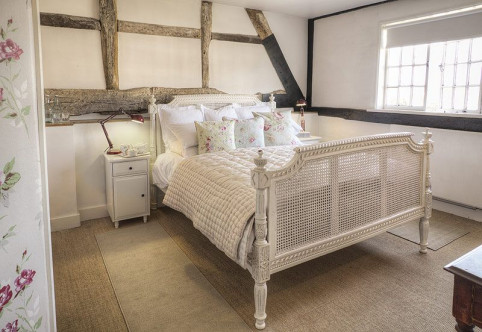 There are only three rooms at The George & Dragon in Rowde near Devizes but if you want to wakeup in the Wiltshire countryside, this is the place for you. The menu specialises in seafood which is delivered daily from St Mawes in Cornwall. Puddings are traditional and will only add to your feelings of delight at not having to go far to bed.
For something special!
The Lamb at Hindon has been a great Wiltshire pub with rooms for 800 years! A few hundred miles south of Scotland, these days it's the country outpost of Boisdale, the Scottish-themed Belgravia restaurant. Tartan is everywhere and rooms all have a bottle of whisky in them for a night cap in bed.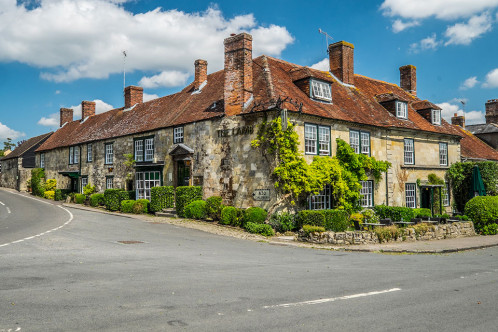 Leased from Lord Bath's Longleat Estate, the rooms in The Bath Arms feature exotic throws, black marble bathrooms, enormous beds and quirky pieces of furniture. Indian inlaid furniture sits comfortably with hand-painted wallpaper depicting English eccentrics.
For Great Value
The Compass Inn in Tisbury is a part-thatched 14th century inn with exposed timber frames, open fires, flagstone floors and locally sourced food. The four rooms are in the more modern part of the property and are simple, comfortable, and start from around £85 per night.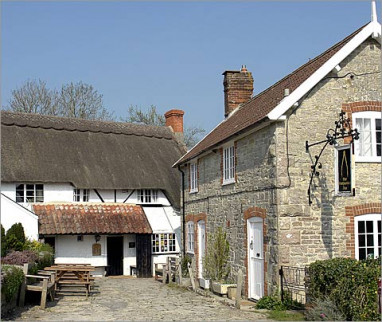 Can't find what you're looking for amongst our pick of Wiltshire pubs with rooms? Expand your search to include all of the best places to stay in Wiltshire or check out our Guru's other Wiltshire hotel recommendations.
Pewsey, Wiltshire

Michelin starred pub with rooms overlooking the River Avon. Food is exceptional with all ingredients either as local as possible or the best possible quality. Rooms pay great attention to detail and all have a lovely deck with river and countryside views.

Views - Either of the beautiful Wiltshire countryside or the River Avon

Sights nearby - Just 9 miles from Stonehenge

Full of character

Great walks - Good for walkers.

Recommended by - Sawdays

Check prices

Salisbury, Wiltshire

Great new look for a favourite old inn – immaculate attention to detail will satisfy the most demanding townie. Excellent food, chic bedrooms & relaxed ambience all amid the lovely South Wiltshire countryside.

Restaurant - Recommended.

Fishing - Fly fishing on the Fonthill estate

Great walks - On the Fonthill Estate

Local markets - Good for local colour.

Recommended by - I Escape, Good Hotel Guide, Sawdays

Check prices

Warminster, Wiltshire

Nestled on the Longleat Estate, this stylishly decorated pub reflects the boho-chic of Lord Bath. Modern and comfortable rooms above the quintessentially English pub serving traditional food. Located between Bath and Stonehenge, this pub is a great base for local exploring and family mini breaks.

Families - Very child friendly, with extra beds, cots, highchairs and babysitting all readily available- plus Longleat next door!

Sights nearby - On the Longleat Estate, with safari, extenisve landscaped gardens and spectacular Elizabethan House.

Local markets - Frome farmers' market, on the second Saturday of the month, is one of the West Country's best.

Great walks - Wander along Capability Brown's Pleasure Walk through woodland gardens to Longleat House.

Recommended by - Mr & Mrs Smith, I Escape, Sawdays

Check prices

Salisbury, Wiltshire

Intimate English village Inn full of charm and history - an institution for 800 years. Renovated, elegant rooms are cosy and plush. Guests are welcomed by roaring fires, hearty meals, and beautiful surroundings. A country escape or a stopover en route further West.

Romantic Break - Recently refurbished rooms are elegantly decorated with crisp linens and antique pieces, plus there's cosy dining in the bar.

Country Escape - A picture perfect English country Inn, complete with inglenook fireplaces, flag-stone floors and heavy wooden beams.

Great walks - The hotel has compiled a range of walks starting from the doorstep.

Sights nearby - Stonehenge is a short drive away and well worth checking out.

Recommended by - Sawdays

Check prices

Devizes, Wiltshire

Three comfortable bedrooms over a good country restaurant, specialising in seafood. This 16th century coaching inn is a good budget option in a fine part of the country.

Restaurant - Recommended.

Traditional

Check prices

Tollard Royal, Wiltshire

The King John Inn is a sophisticated country pub with exceptional meat, fish and game and stylish design. Behind its ivy covered exterior you will find stylish and urbane interiors. Idyllic English village with rambling country walks on your doorstep. A charming abode.

Great walks - Rushmore Park is just five minutes away whilst Cranbourne Chase and West Wiltshire Downs are near.

Sights nearby - Salisbury Cathedral, an easy drive away, is a must visit.

Restrictions on children - Children older than 8 years are welcome.

Traditional

Recommended by - I Escape, Sawdays

Check prices

Chippenham, Wiltshire

12th Century Inn in an untouched Cotswold village resting on Bybrook River just 10 miles from Bath. Contemporary meets classic design in the comfortable rooms. Excellent food and service in the locally renowned restaurant. A step back into the past with idyllic English country life, a beautiful stay

Local exploring - Explore the rows of Cotswold stone houses, medieval church and 14th-century Market Cross in this charming town.

Back to Nature - From this quaint, historical town you can explore Wiltshire countryside at your leisure.

Sights nearby - The village of Castle Combe has hardly changed since the 15th Century and is a popular setting for Hollywood blockbusters.

Fishing - Don't forget to bring your rods and flies, there is wonderful fishing on the Bybrook river.

Recommended by - Johansens

Check prices

Corsham, Wiltshire

Set in the charming market town of Corsham, this rustic inn offers guests stylish, country chic rooms with roll top baths and exposed wooden beams. Relax next to an open fire or enjoy the cosy bar area. Delicious, seasonal, locally sourced food. Smart weekend bolthole.

Local exploring - Bristol, Bath and Stonehenge are all within exploring distance.

Great walks - Ideal for long country walks

Fishing - Chippenham Angling Club

Full of character

Recommended by - Sawdays

Check prices
comments powered by

Disqus
Search the best hotels in United Kingdom