Best street art experiences in Amsterdam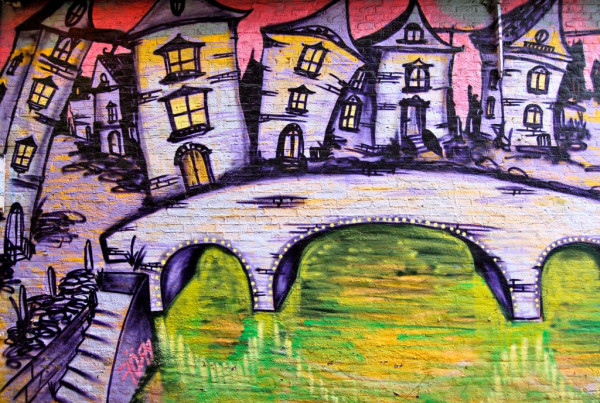 Flickr user Kat Selvocki
First time visitors to Amsterdam – at least those with an interest in culture rather than the city's seamier side – make a beeline for Museumplein and its three temples to great art, the Rijksmuseum, the Van Gogh Museum and the Stedelijk. But even the latter, with its homage to enfants terribles who morphed into the grand old men of 20th century painting and sculpture, looks just a little staid compared with the zing, zeitgest and zest for the new demonstrated by Amsterdam's 21st-century street artists and celebrated at the city's two newest galleries and on its walls and gable ends. Here's our guide on where to find the best street art experiences in Amsterdam...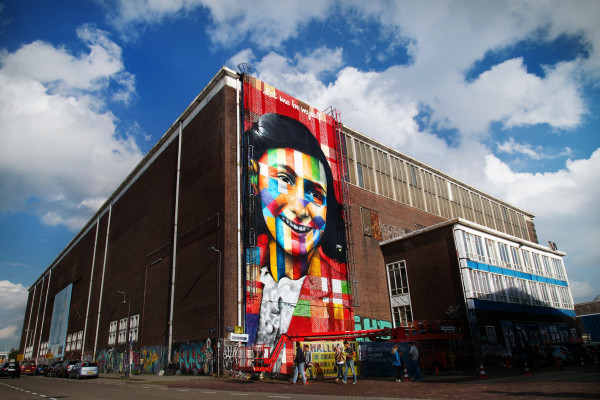 Eduardo Kobra, Amsterdam 2016
NDSM Street Art Museum (www.ndsm.nl)
Let Me Be Myself, Brazilian artist Eduardo Kobra's 2016 multi-storey, rainbow-coloured portrait of Anne Frank, makes it easy to find the world's largest street art museum.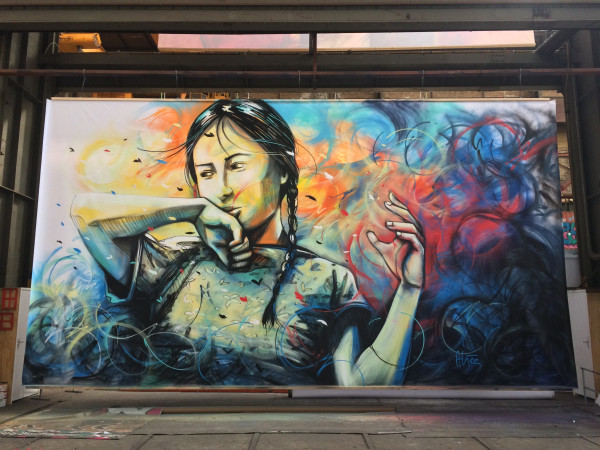 Alice Pasquini, Amsterdam 2017
Housed in a huge building that was once the NDSM shipyard's welding hangar, you'll find more vast and vivid mural works created by the new generation of master street artists from around the world in this cavernous space, part of a complex of studios and workshops that is rejuvenating the once-derelict docklands of Noord, across the IJ from the city centre (take the metro, or hop on a free ferry from Amsterdam Centraal station.)
H-Buurt Murals (http://www.rua-art.org)
The up and coming H-Buurt area in southeast Amsterdam has become a hotbed of mural art. On a guided walking tour with Alltournative Amsterdam (www.alltournativeamsterdam) you'll see more than a dozen giant wall paintings created under the auspices of Reflexo on Urban Art an 'international street art platform' that helps artists realize large scale works on walls and buildings.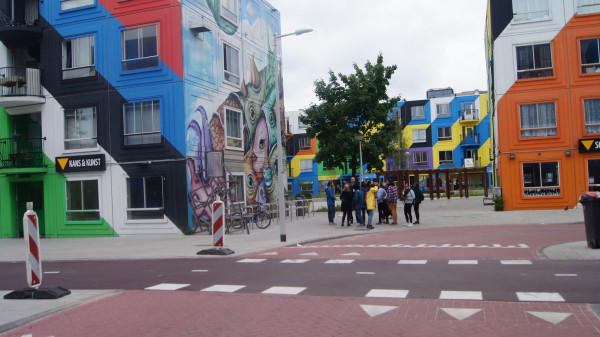 If you feel inspired to try your hand, you can also book a workshop under the guidance of local spray-can experts. It's a bit like a slightly naughty/grown-up version of Blue Peter. Dreadlocks, skateboards, tattoos and piercings aren't mandatory, but you may feel a little undressed wthout them.
MOCO (www.mocomuseum.com)
Metaphorically thumbing its nose at the Old Masters in the Rijksmuseum opposite, this gallery of satirical, sometimes politicised modern and contemporary art is slightly incongruously housed in a staidly gracious belle époque mansion.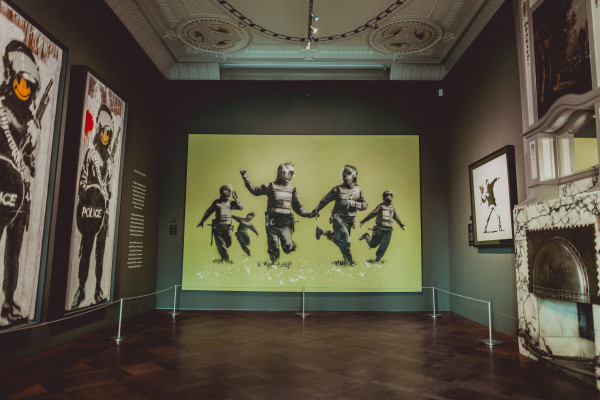 Banksy's Battle of the Beanfield catches your eye as you enter, and more than 90 works by the secretive British street art star forms the core of a collection that also includes work by pop artists such Roy Lichtenstein.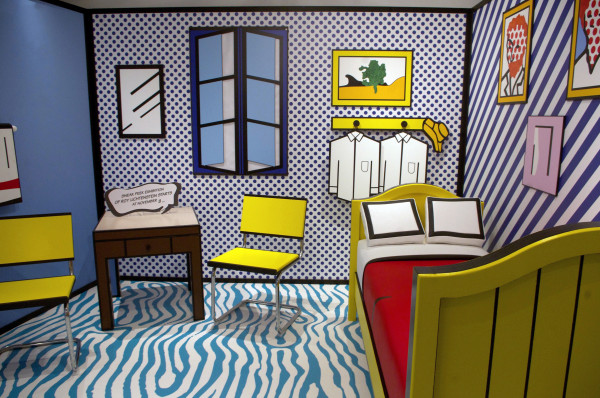 And where do we recommend you stay to experience the best street art experiences in Amsterdam? Well what about affordable modern luxury at citizenM Amsterdam City? The rooms may be small, but all are high tech and well equipped, plus there's a lively bar and canteen downstairs.
Hotel Not Hotel is a good choice too - here you'll discover a unique property that manages to merge art, design and hospitality. Or how about the Lloyd Hotel and Cultural Embassy? As well as a wide range of rooms, there's an ever-changing calendar of art exhibitions and cultural events. For a full list of hotel recommendations in Amsterdam, click here.
Contemporary - Expect black out blinds, widescreen TVs, power showers, and mood lighting - all the things a modern traveller requires

Value chic - A no nonsense hotel made for practical living with smart design, well-considered amenities, and a good price

Short break - Located just one train stop from Amsterdam Schiphol Airport - this is ideal for a quick break

Business Hotel - Walking distance from the RAI Congress Centre and World Trade Centre

Recommended by - Tablet

Accessible modern Dutch design with affordable accommodation. Small high tech rooms are bright and airy, with top notch accessories including rain showers and free movies on demand. The living and canteen area are lively meeting spots. A cool and good value choice for a city break. See More

Check Availability

Groups - With its fun communal areas and rooms that sleep four - this is a good option for young visitors travelling on a budget

Designer - Students from Eindhoven's Design Academy created the rooms and their young and creative flare is definitely apparent

Value chic - With unique design, good amenities, and rooms offered well below the 100 Euro mark, this is a well-priced stay

City Style - A hotel where a room is not just a room but a work of art

A unique property merging art, design and hospitality. Rooms, not immediately obvious on first impressions, are in themselves large art instillations. There's a lively common area which offers both breakfast and later cocktails and thai food. Well located and priced for a city break. See More

Check Availability

Local markets - Explore the hip new Oostelijk Havengebied quarter, Amsterdam's 'New East', in which the hotel is located.

Sights nearby - Bimhuis concert hall is a just 15-minute walk from the property.

Restaurant - Serving light meals and an extensive breakfast buffet

Quirky - A creative hub, arty and innovative

Recommended by - I Escape, Tablet, Fodors, Frommers, Michelin Travel

Beautifully renovated cultural hub, where travellers can enjoy frequent art exhibitions and cultural events. Rooms are uniquely decorated, with modern Dutch designer furniture and original features - wooden beams and original tiling. An innovative location, dripping with creativity. See More

Check Availability
posted Monday, 18th March 2019