Our pick of the best comical hotel reviews
While we take our craft very seriously at The Hotel Guru – a balanced and impartial review from experts is, in our opinion, of enormous benefit to travellers looking for somewhere to stay – we nevertheless have something of a soft spot for other people's take on their hotel experience. Especially the more unusual ones. These little nuggets of comic gold, which leap out on the reviews section of, for example, a holiday comparison website, never fails to put a smile on our face.
Inspired, we thought we'd take a closer look. We analysed 2,000 positive and negative reviews that have been left by people on Booking.com for hotels at each of the following UK destinations: Cornwall, Devon, Edinburgh, London and Norfolk. We've also transformed some of them into posters, with a reverential nod to posters from a bygone era.
Additionally, we've put together tables for each destination, listing the top 20 words that tend to be used by people leaving a review – again for each of the popular locations. And the findings are interesting. For instance, while 'location' is the number one word that pops up in reviews for hotels in Edinburgh and London, for the likes of Cornwall, Devon and Norfolk, it's actually 'breakfast'.
Here's our pick of some of the best comical hotel reviews – with some suitably humorous commentary to boot. Enjoy!
Cornwall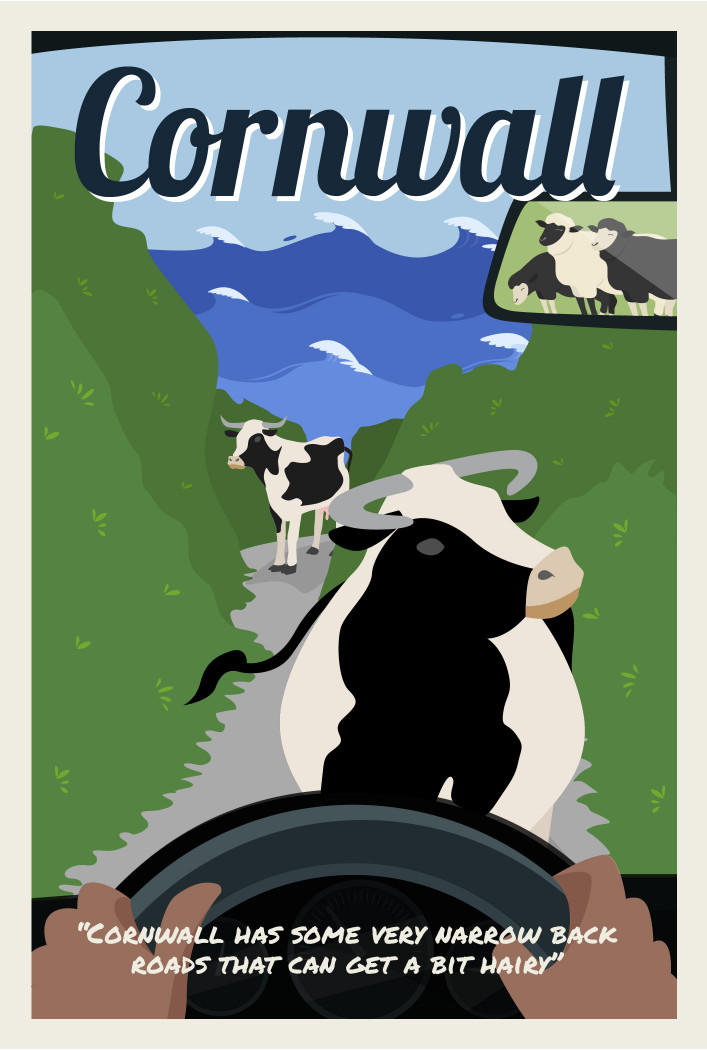 You've been warned – your road trip in Cornwall might, at times, be a heart in the mouth, animal-themed kind of an adventure: "Cornwall has some very narrow backroads that can get a bit hairy," enlightens one reviewer.
Take note of seagulls, too, as according to another reviewer, something is amiss with these fish and chips-stealing seabirds. "There is a real issue with seagulls," the Cornwall traveller states. Just what that issue is, we're not told.
Before you visit, be sure to check out the dimensions of your hotel when you're reviewing what type of accommodation to stay in, as it appears many may have been designed for hobbits: "Beds were so uncomfortable and small; it was like sleeping on a brick."
Love a good brew? You'll love Cornwall: "Good choice of teas," notes one reviewer. Fantastic news. Sold.
Breakfast (18,482)
Location (16,037)
Room (15,816)
Lovely (15,186)
Great (14,490)
Friendly (13,573)
Clean (12,861)

Good (12,851)
Comfortable (10,032)
Staff (8,694)
Excellent (8,487)
Nice (7,574)
Helpful (6,970)
Hosts (5,989)

Bed (5,971)
Beautiful (4,835)
Perfect (4,486)
View (4,245)
Food (4,152)
Host (3,404)
Devon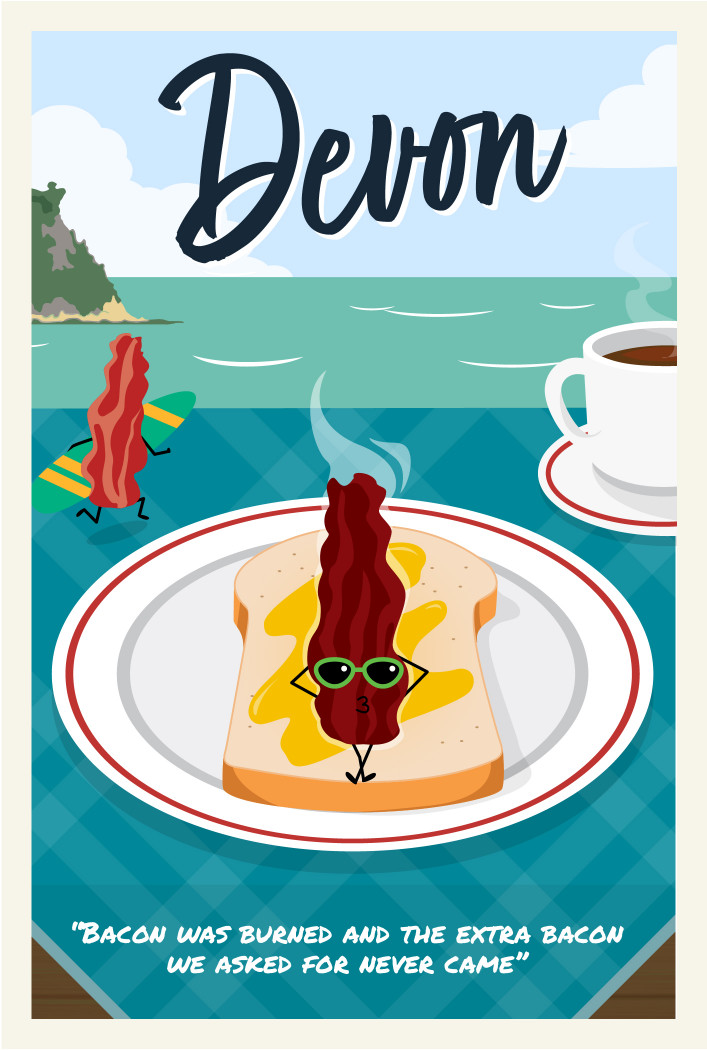 It's hard to come by good bacon if any at all in Devon suggests the following reviewer – it's either overly crispy or gone AWOL: "Bacon was burned and the extra bacon we asked for never came."
Forget about Devonshire cream tea, custard or hog's pudding. It's in fact soup that is the county's signature dish, judging by one reviewer's experience: "Soup of the day should have been soup of the week – carrot and coriander – it was offered that often."
Expect mystery in Devon. "It looked elegant from the outside," one reviewer kindly pointed out. Yes, but what about inside?! Just as elegant?! Anything but?! Ah, the suspense!
Finally, if you're after a 'hot waiter', you're likely to struggle to find one in Devon, as this clearly disappointed traveller discovered: "We had no hot waiter for ages we did complain but seem to fall on deaf ears."
Breakfast (25,119)
Room (20,002)
Lovely (18,582)
Friendly (16,705)
Location (16,632)
Great (15,966)
Good (15,487)

Clean (15,137)
Comfortable (12,470)
Excellent (11,615)
Staff (9,701)
Nice (8,523)
Helpful (7,947)
Hosts (7,656)

Bed (7,418)
Welcome (5,573)
Beautiful (5,428)
Perfect (4,665)
Amazing (4,101)
Fantastic (3,814)
Edinburgh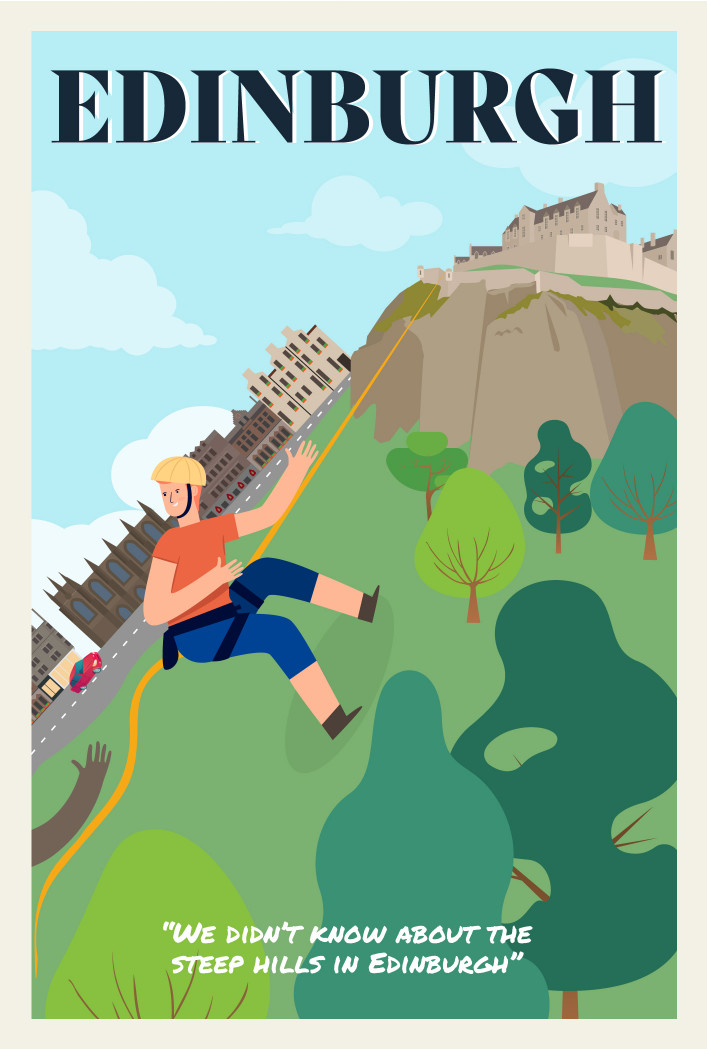 "We didn't know about the steep hills in Edinburgh." Indeed, hills, it's kind of a thing in the Scottish capital. There's around seven famous ones, too – think Arthur's Seat, Calton Hill, and, of course, Castle Rock.
We're not sure whether the following is a matter of fact statement or an expression of horror: "Small teacups in the room." Either way, it begs the question: what is the optimum size of a teacup? And, moreover, are high-quality teacups vital to the in-room experience at a hotel? Discuss.
"The furniture was quite tired," observed one reviewer. Maybe it's because they had just climbed seven of Edinburgh's most popular hills. Just saying.
Expect the unexpected during your visit to Edinburgh, as well as the extraordinary. "Most of Edinburgh roads are like a patchwork quilt," one reviewer plainly reveals.
Location (17,542)
Clean (11,553)
Great (11,148)
Room (8,883)
Comfortable (7,729)
Nice (7,199)
Breakfast (6,688)

Everything (5,610)
Friendly (5,551)
Lovely (5,511)
Staff (5,160)
Helpful (5,034)
City (4,845)
Excellent (4,743)

Walk (4,359)
Bathroom (4,060)
Close (4,050)
Bed (3,889)
Shower (3,735)
Host (3,722)

London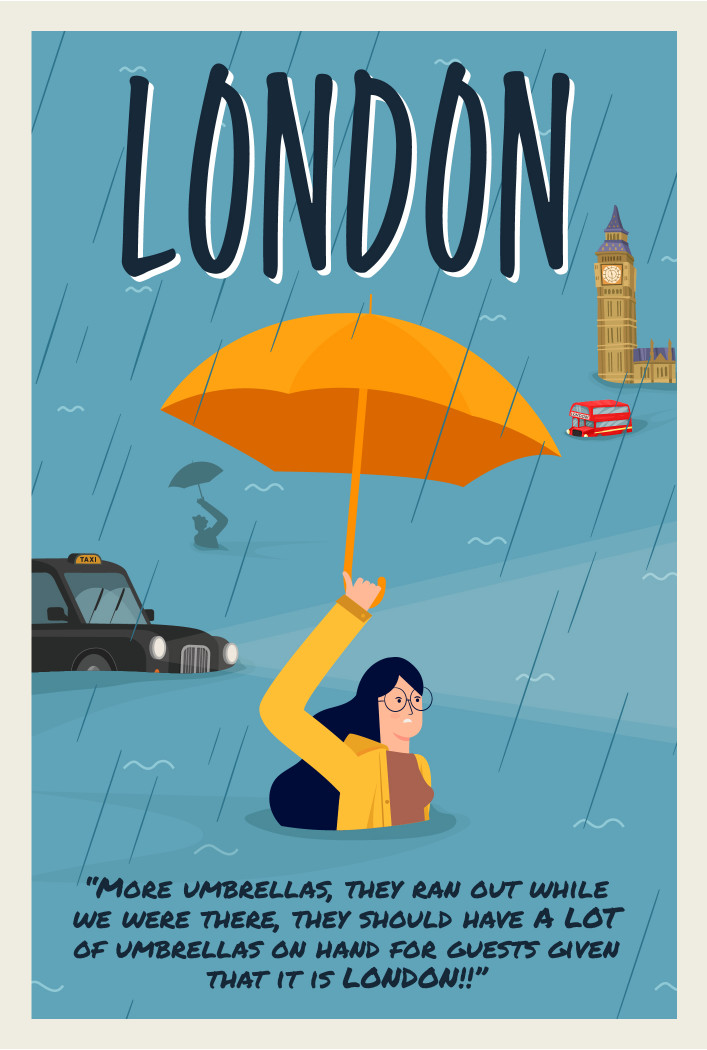 Always pack an umbrella when holidaying in London, as one reviewer is eager to draw attention to: "More umbrellas, they ran out while we were there, they should have A LOT of umbrellas on hand for guests given that it is LONDON!!"
Apparently, travelling back in time is literally possible in London. "I really enjoyed the time travel to the 80's." No clues as to whether a DeLorean was involved.
Sometimes your hotel pillows are hard, but that's okay, you're happy with that. Sometimes they're fluffy, but again, that's just how you like it. Sometimes, however, they're made out of food and, well, you don't really know what that means. As one reviewer in the capital stated: "Pillows were pancakes."
"I won't talk about the rotating door at reception. ;-)" Actually, it would be of great benefit to us if you did.
Location (75,399)
Room (53,776)
Clean (46,908)
Staff (46,518)
Friendly (27,910)
Bed (27,813)
Breakfast (27,392)

Comfortable (27,159)
Small (22,809)
Helpful (22,756)
Noisy (19,731)
Excellent (17,350)
Lovely (15,565)
Everything (14,360)

Easy (13,539)
Price (13,184)
Tube (13,087)
Quiet (12,328)
Perfect (11,940)
Area (11,504)

Norfolk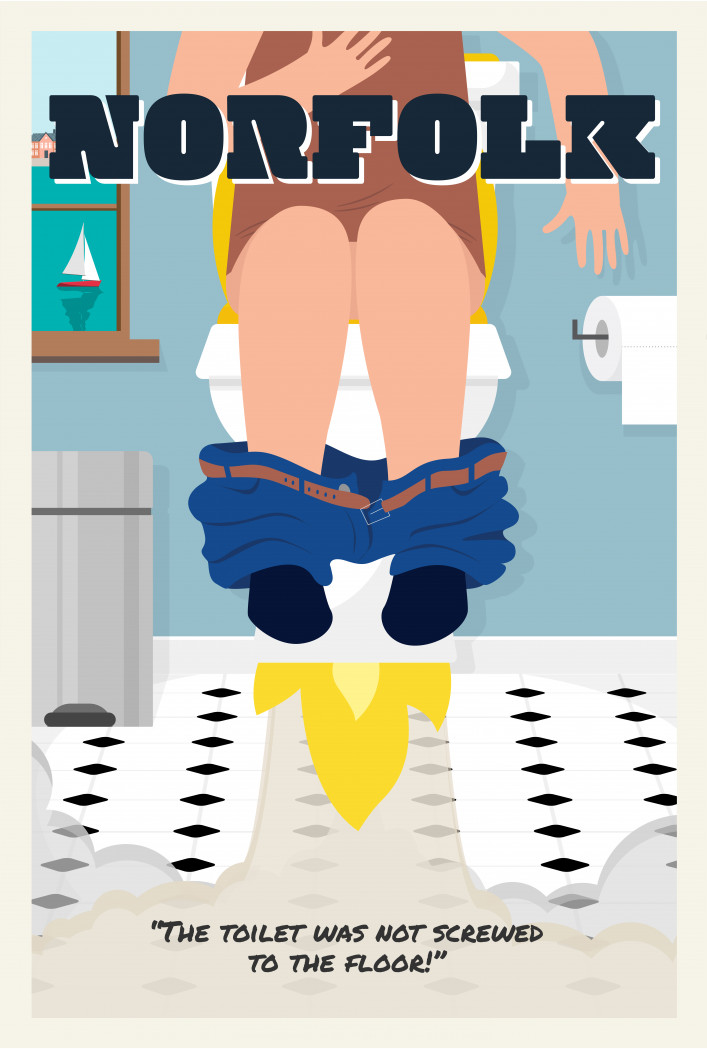 Hygiene, needless to say, is increasingly important for future travellers, so spare a thought for this poor guest at a hotel in Norfolk: "The toilet was not screwed to the floor!"
The bathroom theme continues, as another reviewer does well to illustrate: "Only one thing I feel let down my experience, and I mentioned this to the reception, was the toilet roll quality." Again, highly topical as of late.
If you enjoy the finer things in life, it may be worth sticking Norfolk on your post-Covid-19 travel wishlist, especially if the following reviewer's experience is anything to go by: "There was a decanter of sherry."
Are you a foodie with a voracious appetite? Well, "you won't go hungry here," confirms one visitor. In fact, as another reviewer reveals, your appetite may well be trumped: "The size of the main course was overwhelming."
Breakfast (11,370)
Lovely (8,742)
Clean (7,042)
Excellent (5,468)
Hosts (2,607)
Place (2,473)
Welcoming (2,314)

Quiet (2,171)
Beautiful (2,153)
Perfect (2,118)
Comfy (2,078)
Area (1,777)
Small (1,707)
Owner (1,706)

Little (1,689)
Amazing (1,638)
Home (1,636)
Fantastic (1,587)
Walk (1,537)
Spacious (1,431)

Hopefully you've found these reviews as funny as we have. If it's got you into the staycation spirit and you're looking to maybe get away for a few days – and why not, the industry is making a careful comeback, check out our expert UK hotel reviews for all of the destinations above and more here.
posted Thursday, 2nd July 2020
Search the best hotels in United Kingdom