From 'WFH' to 'Work from Hotel'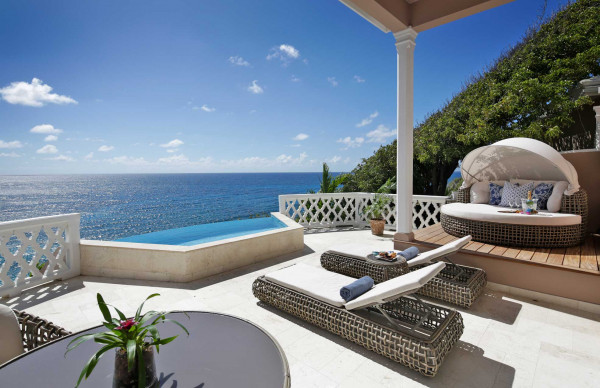 While 2020 forced us to 'work from home', 2021 will see more of us choose to 'work from hotel', thanks to the introduction of new extended visa packages now offered by some countries and new 'long-stay' packages rolled out by various luxury hotels and resorts.
If you're tempted to take a 'Workation' this year and relocate somewhere more beautiful and inspiring, Hotel Guru has compiled its top five luxury long-stay destinations, so you can turn your Zoom beach backdrop into a reality, without giving up your day job.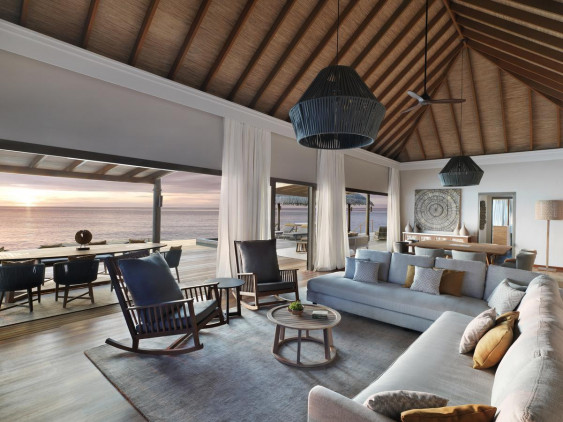 This Maldivian five-star hotel has introduced a "Work Well" package, available for guests staying for 21 days or longer. The $25,000 price tag includes a month's stay for two adults, plus a free upgrade to a bigger villa with a study, equipped with a printer and office supplies. Let your "Vacay PA" handle your everyday needs while you catch up remotely with colleagues in the "beach boardroom". Maintain your physical and mental health with daily personal training, yoga or meditation sessions, and a bespoke nutritional programme to keep you nourished. Rooms start from £592 per night.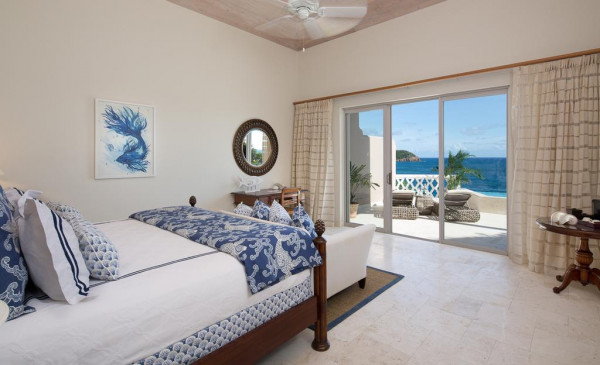 Take advantage of Antigua's new visa program, "Nomad Digital Residence", which allows visitors to "live and move freely" across the territory and benefit from Antigua and Barbuda's personal income tax-free status. Book an "Extended Stay" at the luxurious yet laid-back Curtain Bluff, a family-owned five-star resort located on a bluff overlooking two picturesque beaches. Two adults staying for 21 days or more in the Hulford Collection of suites can benefit from a 50% discount. Rooms start from £574 per night.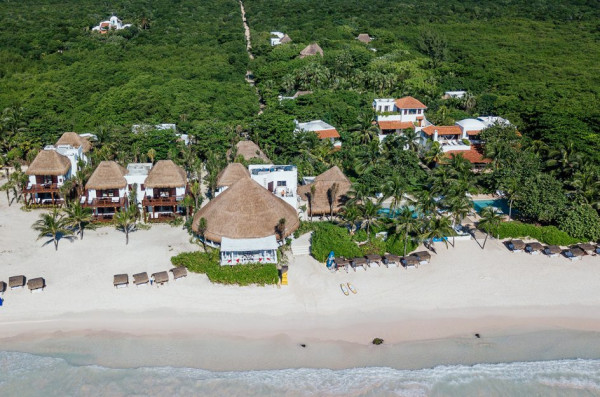 Just 30 minutes' drive north of Tulum you'll find the luxury Hotel Esencia, set on the jungle-fringed shores of the Mayan Riviera. Here, remote workers can wake up for sunrise yoga before settling in for the day on an outdoor hammock, complete with laptop and smoothie in hand. Meanwhile, over-stretched parents can pay for daily childcare at an extra cost, giving them time to wind down with a soothing Temazcal spa treatment or a good book on the beach. Rooms start from £480 per night.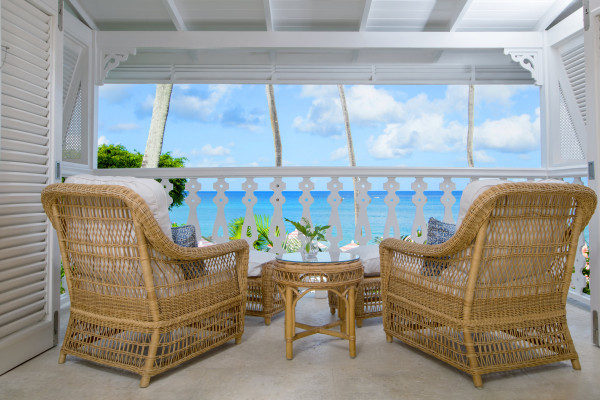 If you're dreaming of setting up your own office in paradise, then Barbados is the place to go, as visitors to this Caribbean island can now apply for a year-long 'work from home' visa. Cobblers Cove, a peaceful luxury beachfront hotel set in a former 1940s plantation house, is now offering extended stays of a minimum of 21 days. Guests can benefit from free laundry, a daily mini-bar restock, and a personal maid service. Rooms start from £386 per night.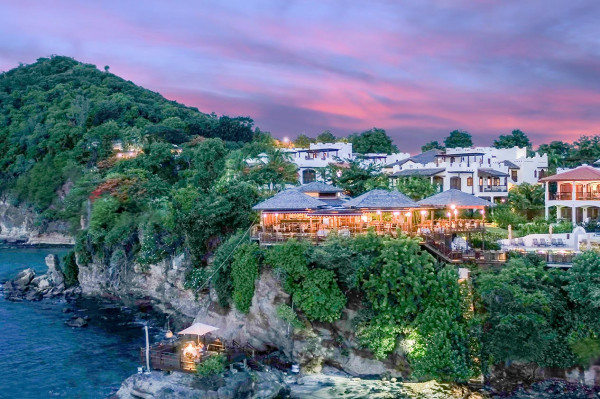 At Cap Maison in Saint Lucia, guests can book a tropical 'Workation' at this family run boutique villa resort. Make yourself at home in your private villa, which comes with a fully equipped kitchen, separate dining and living rooms, private pool and concierge service. Tutors are available for guests travelling with children, to help them keep up with their studies. And when it's time to switch off, enjoy access to a secluded sandy beach and two of the best restaurants on the island. Rooms start from £332 per night.
Vakkaru

20301 Baa Atoll, Maldives

113 rooms from £592

Honeymoons - Experience the romantic setting of the Indian Ocean and enjoy activites such as couple massages and private beach dining

Outstanding location - Baa Atoll is renowned as a place of outstanding pure beauty, reflected in its status as a UNESCO Biosphere

Families - The watersports centre SPLASH is not to be missed and kids can enjoy the activies offered by the kids club

Weddings - A picture perfect wedding venue with gorgeous turquoise waters and dazzling white sands

Recommended by - Kiwi Collection, Tablet

The resort, situated moments from the UNESCO Biosphere Reserve of Baa Atoll, offers modern and spacious villas decorated in a local Maldivian style. Watch the parrotfish swim beneath you, whilst lounging on your own deck. With fantastic cocktails and seafood, there is something for all the family. See More

Check Availability

Curtain Bluff

Antigua

72 rooms from £574

Watersports - All watersports including waterskiing and scuba diving are included in the price!

Hideaway - Relatively secluded location, access to quiet white beaches and waterfront spa

All inclusive - Price quoted includes all meals & drinks (unless you decide to upgrade your wine choices) plus watersports, tennis & much more!

Tennis - Tennis courts (including use of racquets and balls) included in the price

Recommended by - Fodors

Secluded, family friendly, luxury all inclusive beach resort with Caribbean and Atlantic facing beaches. Spacious rooms & suites feature private terraces with sea views and big marble bathrooms. Outstanding facilities for tennis and watersports. Fantastic food. Peaceful, stunning and chic. See More

Check Availability

Esencia

Riviera Maya, Quintana Roo

10 rooms from £378

Gym

Local markets - Nearby X-plor activity park for kids and the young at heart

Sights nearby - Visit the famous Mayan ruins of Tulum

Kayaking - through the mangroves at Sian Ka'an

Recommended by - Mr & Mrs Smith, Small Luxury Hotels

Boutique at its best, Esencia has it all: direct access to Xpu-Ha beach and two pools, you will have no end of places to sun yourself. That is if you can find the time with all the activities on offer! Simply yet stunningly decorated with an excellent menu. One for the entire family! See More

Check Availability

Cobbler's Cove

St Peter, Barbados

40 rooms from £386

Families - Cricket academy for children, kids club, snorkelling, tennis and family sized suites

Total relaxation - Enjoy the Sea Moon Spa, private beach, short bicycle rides and luxury dining

Sailing - Less experienced sailors will enjoy it to the fullest with tuition from the Water Sports team

Fishing - Deep sea fishing: likely to catch Barracuda, Tuna, Wahoo and Blue and White Marlin

Recommended by - Relais & Chateaux, Fodors

Enchanting 5* beachfront resort. The rooms feature white furniture, four posters, enormous bathrooms and balconies facing the sea or lush gardens. Outdoor pool, private beach, tennis courts and spa. Outstanding Barbadian and international cuisine at the restaurant. Elegant, exquisite and relaxed. See More

Check Availability

Cap Maison

St Lucia

49 rooms from £332

Groups - One-bedroomed suites can join; ideal for up to 3 couples. Sitting room with a dining area, a full kitchen and 2 verandas

Honeymoons - Splash out on a Villa Suite, some with a pool, a Jacuzzi or a roof terrace - total privacy and seclusion

Birdwatching - Little blue herons, hummingbirds, magnificent frigate birds, broadwinged hawks, mocking birds and even ospreys on the estate

Restaurant - Top notch caribbean inspired cuisine, and relaxed beachside restaurant (open selected nights for dinner too)

Recommended by - I Escape, CN Traveller

Sensational hotel above Smuggler's Cove. Rooms & villas are spacious, with shuttered windows, dark wood furniture and large verandahs. Villas have kitchens, living rooms & flexible layouts that are perfect for families or groups. Outdoor pool, gym, spa and gardens. Luxurious, intimate and serene. See More

Check Availability
posted Monday, 1st March 2021
Search the best hotels in Caribbean