✓ FREE cancellation on most rooms
✓ Save time, save money
I've been to Pisa hundreds of times
– well, maybe dozens, in my former guise as a tour director for various travel companies – and it was always the same procedure. Arrive at the parking next to the Leaning Tower, disembark the punters, walk them up through the African hawkers with their fake Gucci bags and Rolex watches, give them the spiel, then tell them to scram for an hour, when we would meet back to get back on the bus – which in the intervening period had disappeared to go park in some industrial wasteland on the edge of town. Meanwhile I would scram myself – generally nowhere near the Leaning Tower (which I don't ever remember climbing), nor very often the Cathedral, though it's a beautiful building. No, I preferred to slink off to some cafe where my clients would seldom find me, to sink a few cappuccinos (free of charge, if it was somewhere I had recommended to them for lunch), and read the International Herald Tribune, which I had nicked that morning from the hotel concierge in Florence, or Rome, or Nice, or wherever it was we had come from.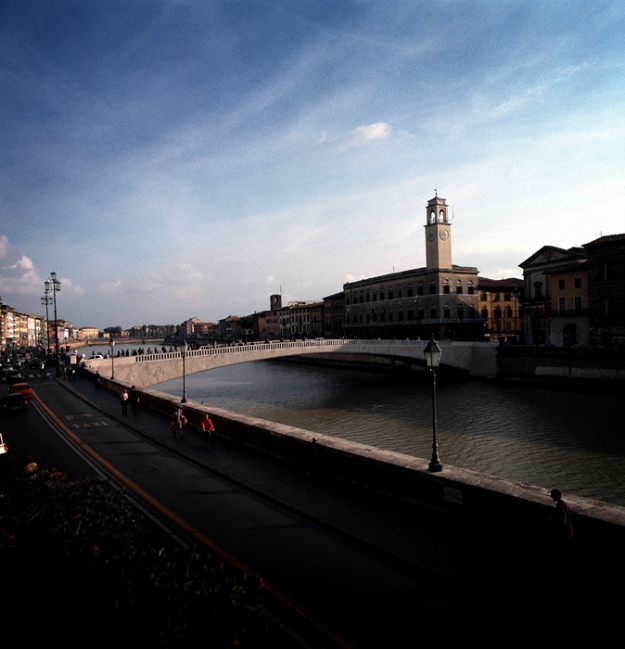 So these visits were what you would call 'flying'. Yes, I've been to Pisa dozens of times. But as I discovered on a recent trip, I'd never really been to Pisa at all, just like millions of other people. The Leaning Tower, you see, is both a wonder – one of the world's very first tourist attractions, right from when it started to tilt in 1178 – as well as a curse. Because the tourists would flock in for an hour and flock out again and seldom, if ever, venture into the town. All the best hotels were therefore in Florence, and Lucca, and in other charming towns roundabout where people would overnight. Pisa was a sink – of drugs, deprivation, depravity and gloom. OK, that's laying it on a bit thick, but you only have to look at the lack of decent hotels available, and the graffiti (had you been there, say, ten years ago), to realise this was a town that was being hung out to dry by the visitors – been the victim of a kind of tourist rape if you like. All they ever spent here were a few lire (remember them?) or euros on cappuccinos and postcards, and phoney plastic paper weights. The money for the tower went to the cultural heritage department. The only people who made money were the African refugees selling the fake stuff.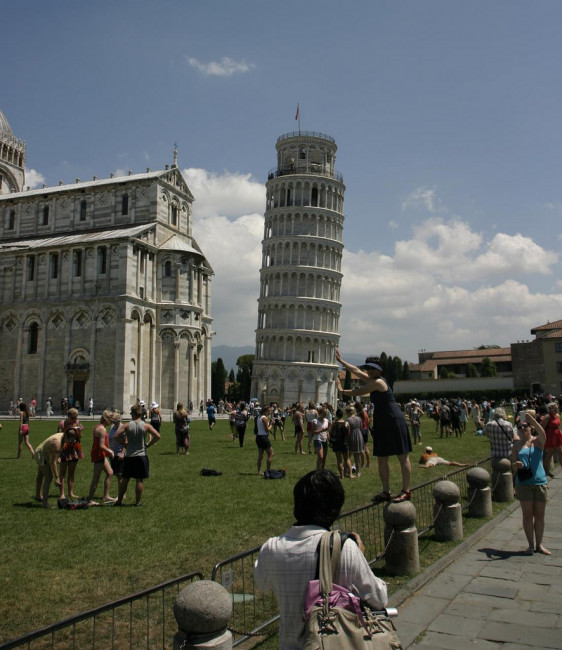 big-ashb
Anyway, I was there last week. I stayed in the old Royal Victoria Hotel on the banks of the Arno, right in the centre, and my eyes were opened. What a lively, funky, happening place Pisa now is. The bars and restaurants were packed. Granted, these were not suave Florentine types, and there were still few tourists to be seen. They were young and arty and alternative – but they were out in force. We have a couple of amazing meals, with top quality Fiorentina steaks and a wood oven fired pizza. Ice creams, as always, were to die for. We did, of course, visit the Leaning Tower, but coming from a different direction – from the centre of town – it feels like a completely different experience. The hordes of tourists were there, yes, but I felt very different from the last time I was here. You see I was now in on the secret – there's a real town here, and it's called Pisa!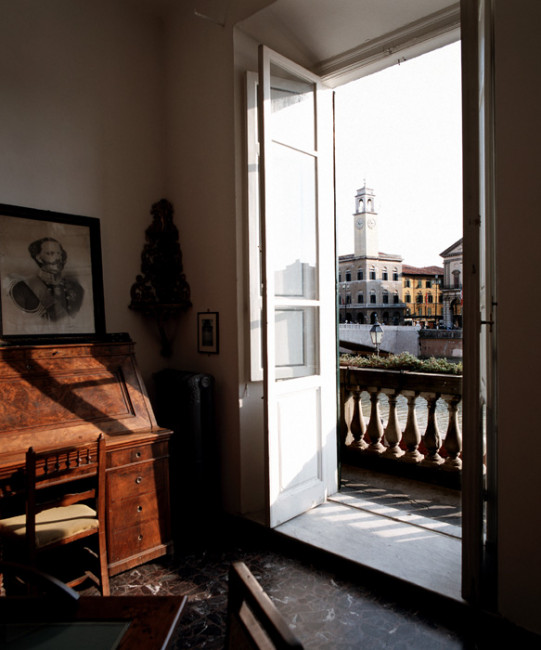 You also get a very real feel for the problems Pisa has had by staying in the Royal Victoria. This was, once, a seriously grand hotel. The walls are festooned with old photographs of famous former guests, from emperors to opera singers and poets. In one photo soldiers march past, in another a bomb goes off outside the front door. Crowds cheer, elegant dowagers pose in a grand dining hall, and copies of telegrams show important people received startling news here. Elsewhere in the hotel you find faded potted plants and religious images of nuns and popes and saints.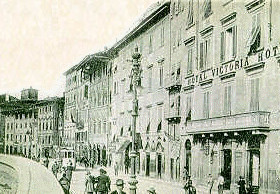 Rates are cheap. You soon see why. The rooms have not been updated for at least 30 years. Large and airy, with tall ceilings, the furniture is old fashioned and faded, the spaces cut into to make way for an old fashioned bathroom with a shower that dribbles. The floors and cold and bare, and hooks stay fixed into the wall next to the windows where sumptuous drapes once hung – now the windows are bare of ornament, with just shutters to hide the light. But of the window the view is historic – the River flows below, and you're right in the centre of town.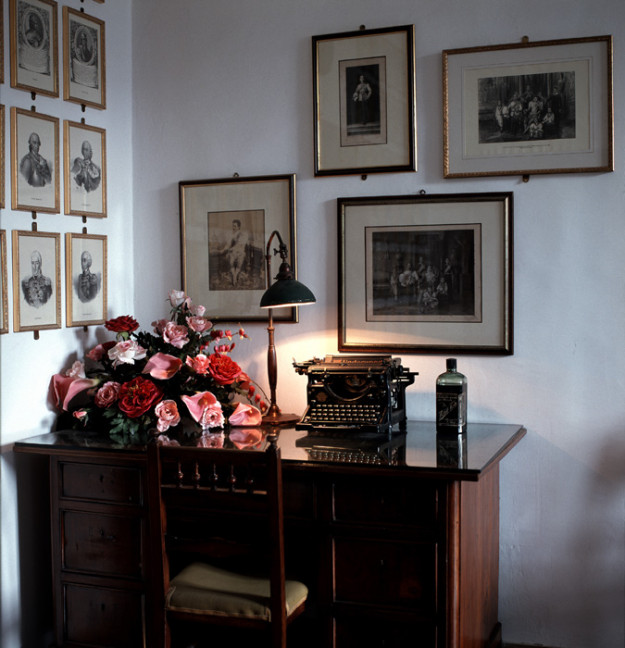 It's all strangely romantic. Speaking to the management, who are extremely charming and helpful – they sigh. Yes, they insist, they have done their very best to stay afloat through these difficult times. If only they had the funds to do the place up, they shrug – but it's a struggle. Trade is passing Italian businessmen and students – none of the modern breed of boutique tourist would venture in here. The last time Pisa was fashionable was probably in the late 50s and early 60s – before the devastating flood of the River Arno knocked Pisa backwards. Since then, it's been hard. Very hard, despite the millions of tourists flocking around their crown jewel just 500 metres away. It really is a different world.
But now, I feel, there is a glimmer of hope. Pisa is on the rise again. Next time you consider a holiday in Tuscany, or to Florence, try flying into Pisa (much cheaper) and stay a night. Just one, or be brave, and try two or three. Apart from Pisa itself, it's a great base for visiting nearby Lucca – which you can cycle to across gorgeous countryside – or the coast. It's also just a ten minute taxi ride from the airport into town. Check into the Royal Victoria, and do your bit to inch them towards rebuilding the glory that used to be their's. They are lovely people. It's also a great antidote to all those antiseptic boutiques and swanky designer hotels you will no doubt be going on to. So please, do something different. Go beyond the Leaning Tower, and spare a moment for Pisa.
posted Friday, 23rd November 2012
comments powered by

Disqus
Search & Book the Best Places to Stay