The Five Star Hotel Experience at an Affordable Price
Ever wished that you could stay in a luxurious five-star hotel without blowing the whole of your holiday budget? Well, it turns out you can do just that. The Hotel Guru has uncovered some of the finest hotels in the world you can snap up this year for a price that will leave a smile on your face.
The figures you see in this article are based on what we've worked out to be the average lowest price for one night at a five-star star hotel in cities and countries throughout the world. But that's not all. We've also factored in the thoughts and opinions of fellow travellers – for two good reasons. One, it helps level the playing field, as what passes as a five-star hotel varies considerably throughout the world. And two, because reviews matter. Cost is important, certainly, but so too are the views of other travellers (which also helps make sense of some prices).
For example, out of the 99 countries we analysed, Poland ranked 21st for the most affordable five-star hotels, and 14th for customer reviews. So it's not only affordable, but highly rated too. Similarly, we found that Ireland is the most expensive country for five-star hotels, but also 6th for customer reviews overall. So while it's going to be expensive, it's arguably worth the extra pennies.
Read on for more on affordable luxury.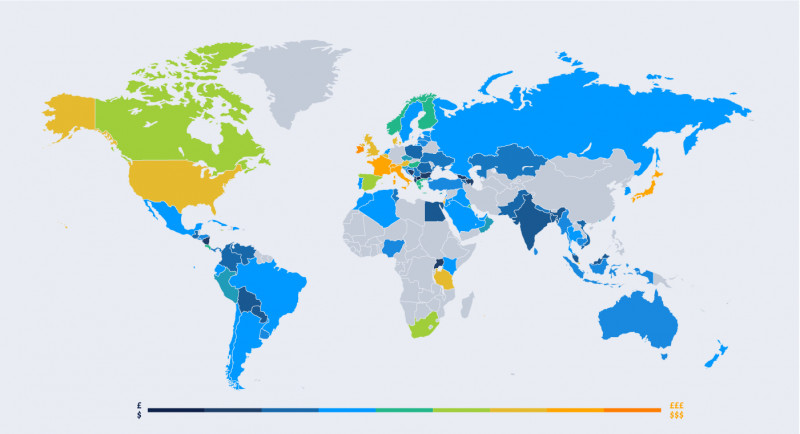 Map showing affordable five star hotel prices in countries on a scale of low to high cost per night
The best European breaks
If you're looking for a top five-star hotel experience in a European city, consider Dubrovnik. We found that the Croatian city costs, on average, £105 per night. And, that's not all. Our analysis also revealed that Dubrovnik is top when it comes to the best customer rating.
Other European destinations that tick off affordability and top customer reviews include second place Berlin and third place Porto. You can stay in five-star hotels in both cities for as little as £120 and £130 per night respectively in 2020.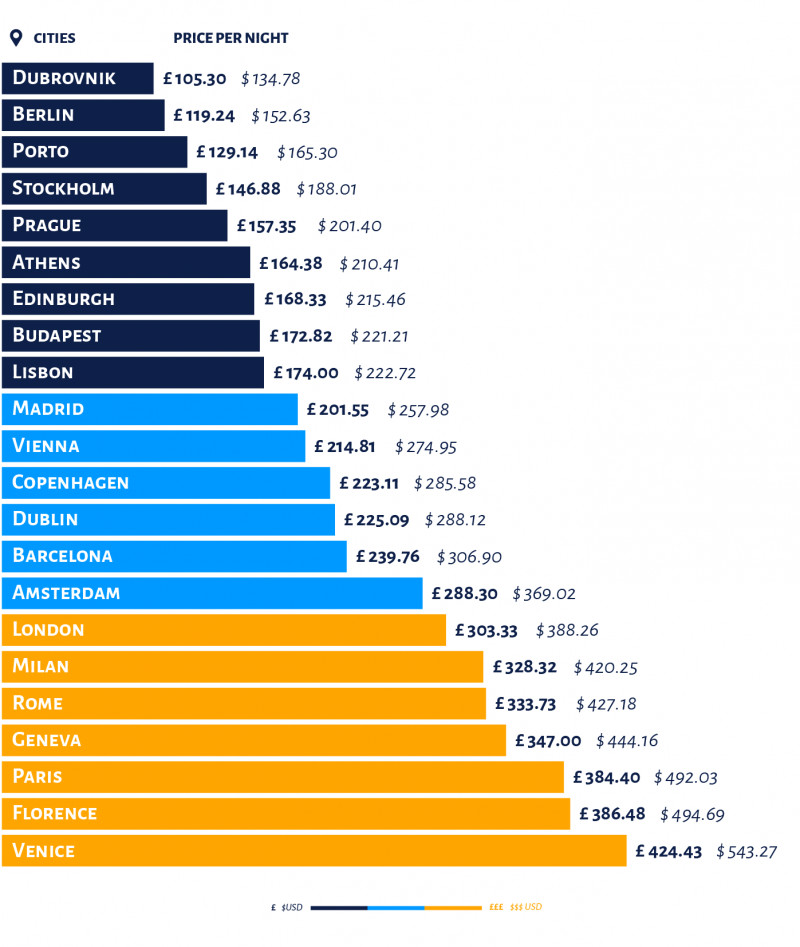 Graph showing average cost of affordable five star hotels in the most visited cities in Europe, from lowest to highest price per night.
Have your eye on Rome, Geneva or Paris? Us too – they're all tremendous destinations in their own right, whether it's the history of the Italian capital, the '1001 delights' of Switzerland's second-biggest city or the romance of the City of Lights.
Do note that a five-star hotel in any one of these cities comes with a premium price tag, especially in Paris. Here you're looking at spending over £380 a night to stay in one of its more affordable five-star hotels! But then again, would you want anything else? An extravagant hotel that matches a luxury experience in France's stylish capital just makes sense.
And how about a five-star hotel experience at a country level? Well, in Europe, while hotels may cost you more in Ireland, Italy, and Switzerland, they are, nevertheless, all highly rated by customers. Meaning, all things considered, they're probably worth paying more for.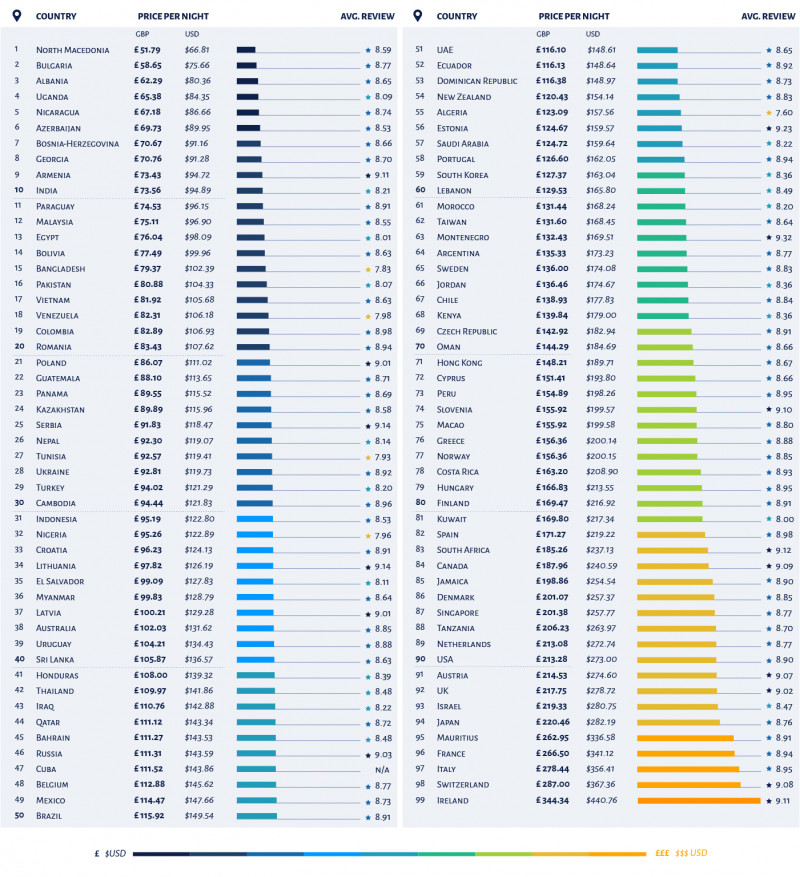 Table showing the average cost and the average review rating of five star hotels for all 99 countries, listed in order of most affordable to least.
Elsewhere, south-eastern Europe has some absolute steals, with Croatia and Montenegro offering very affordable luxury stays (£96 $124 and £116 $169 per night respectively). Why not consider the Boutique Hotel Valsabbion in Pula, Croatia, or the Boutique Hotel Casa Del Mare in Herceg Novi, Montenegro?
The best long-haul holidays
It's not just Europe that does well for affordable five-star stays. We also found that throughout the Americas there are plenty of reasonably priced five-star hotels waiting to be snapped up.
According to our analysis, the top three countries for affordable five-star hotels are Nicaragua, Paraguay, and Bolivia, with prices ranging from £67 $85 to £77 $99 per night – and highly recommended by customers, too.
It's also possible to stay in Mexico for a reasonable price. The most affordable five-star hotels in this country start from around £114 $146 per night, depending on the time of year you visit. Consider Zamas Hotel, set right on the beach in Tulum.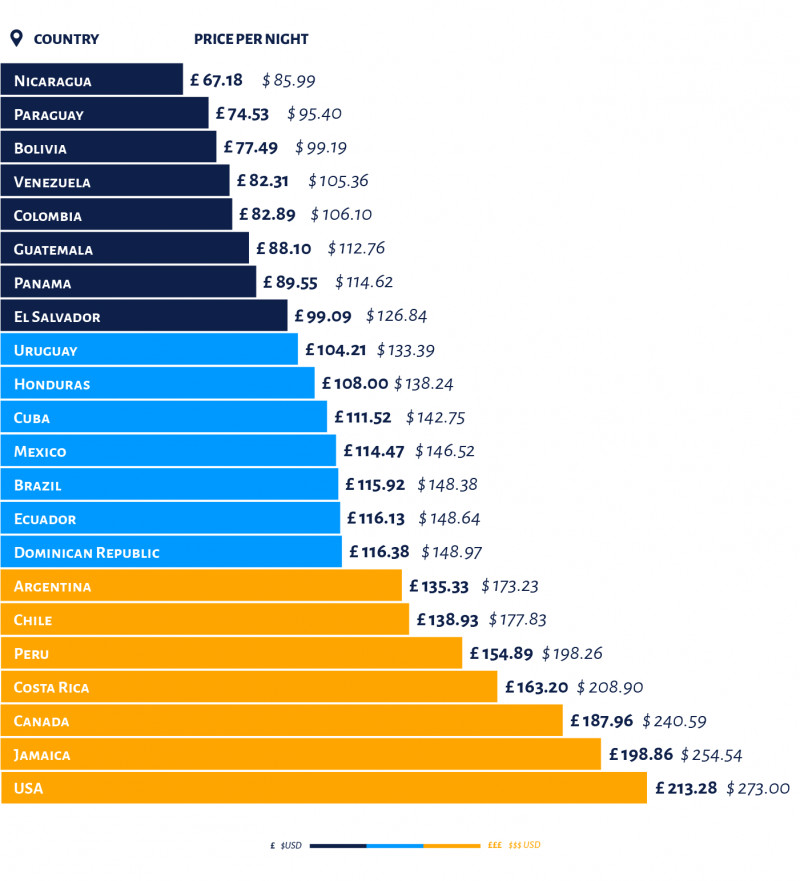 Graph showing average cost of affordable five star hotels in the most visited countries in the Americas, from lowest to highest price per night.
If it's Asia you crave to curb your wanderlust, consider flying to India. Agra, Delhi, and Mumbai, for instance, are all home to five-star hotels that won't break the bank. And, to boot, all rank highly for customer reviews. An indulgent stay in any of these Indian cities will cost you, on average, between £65 $84 and £93 $120 a night.
In southeast Asia, meanwhile, Cambodia is a good choice for a long-haul break. There's a wealth of affordable five-star hotels to be found here. Case in point – you can stay in a hotel like the luxury Blue Lime Hotel in Phnom Penh for as little as £38 $49 per night. Alternatively, if you're looking to indulge in Kuala Lumpur, Malaysia, you could stay in Hotel Maya for £90 $115 per night.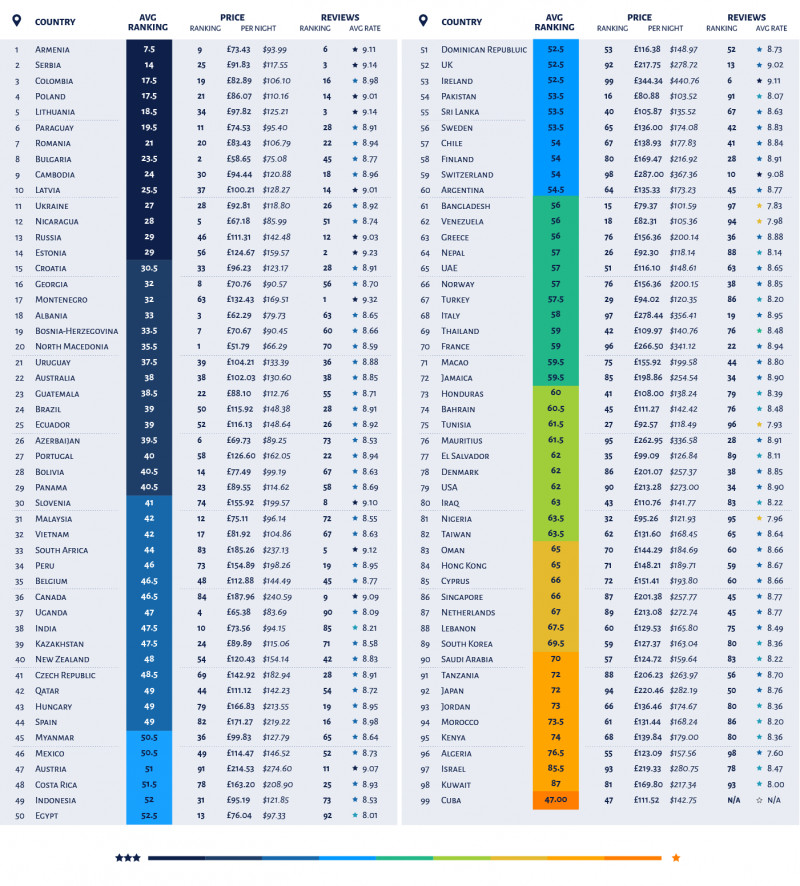 Table ranking countries based on a combined average of five star hotel ratings (highest rating = 1, lowest rating = 99) and five star hotel prices (cheapest = 1, most expensive = 99)
About the study
The above is based on analysis of data gathered from Booking.com. All five-star hotels listed on the travel website have been considered for all metrics. We have only featured countries that have more than 10 five-star hotels on the website. For each five-star hotel we analysed the price, customer ratings and reviews to give an average of each city and country. All USD costs were calculated on 4th March 2020 using 1.28 exchange rate
About The Hotel Guru
The Hotel Guru find and review the best independent hotels across the world to give its customers the finest recommendations for their wanderlust. We work alongside top travel journalists to ensure readers only get valuable critique of hotels, B&Bs, apartments and other wonderful places. We also partner with Booking.com to provide a seamless experience for users when booking holidays. Our mission is to be your one-stop shop for wherever you want to stay in the world.
posted Thursday, 5th March 2020
Search the best hotels in Cambodia