Head for the Waterfront of Leith
Edinburgh's historic waterfront is on a roll. Hip new bars and restaurants are popping up all over. Michelin-starred eateries helmed by Martin Wishart and Tom Kitchin have been joined by acclaimed upstarts like the Little Chartroom and ethnic diners like Mumbai Street Food. Edinburgh Council is poised to confirm a long-awaited tram line, creating a direct link to the airport. Screen Scotland has ambitions to transform a cavernous dockside building – locally known as the 'big blue shed' - into a landmark film and TV production facility.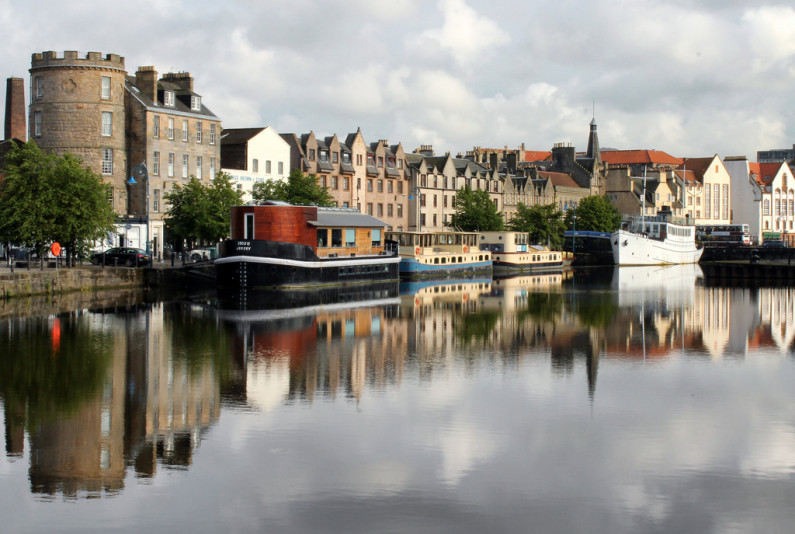 Waterfront of Leith.
Leith is Edinburgh's most ethnically diverse district. Near the foot of Leith Walk, the long thoroughfare that links it to the city centre (a 10-minute bus ride away), Chinese, Turkish and Polish supermarkets stand cheek-by-jowl. A Sikh gurdwara and a Hindu mandir serve long-standing Scots-Asian communities, and the wide green spaces of Leith Links are the venue for the annual Edinburgh Mela, Scotland's biggest celebration of Asian and world music, dance and culture.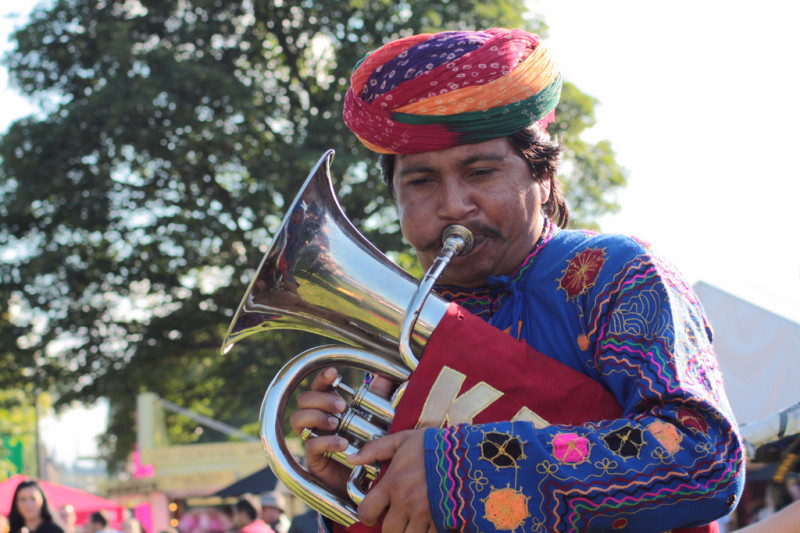 Mela Festival on Leith Links in August.
Near the corner of North Junction Street and Ferry Road, a gable-end mural created in 1986 by Tim Chalk and Paul Grime celebrates the burgh's working-class heroes and heroines. A few steps away, Leith Theatre, built in 1932 but 'dark' since the 1980s, was reborn in 2018 as a local hub for the arts and a performance venue for both the Edinburgh International Festival and the burgh's own Leith Festival,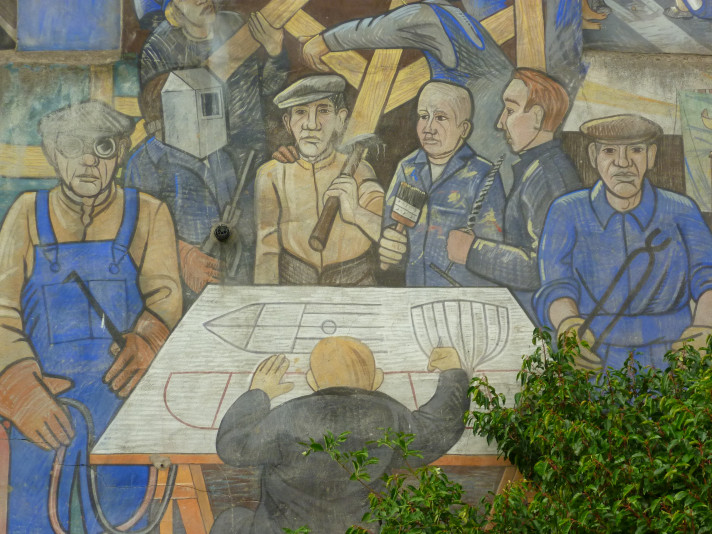 Henry Robb's mural depicting the shipbuilding era in Leith - part of the huge mural described above.
Until the 1990s, Leith seemed to be going nowhere fast. Its maritime history stretched back more than five centuries, but the last of its shipyards closed in 1984, leaving a post-industrial wasteland. Doldrum years followed, epitomised by Trainspotting, Irvine Welsh's dark tale of local low-life, published in 1993. Ironically, by the time the film version came out in 1996 Leith was already past its nadir.
The opening of the Malmaison was one of the sparks that lit the slow fuse of rejuvenation. In 1994, the former seamens' mission (and one-time house of ill repute) reopened as one of the first boutique hotels in Edinburgh. Along with Sir Terence Conran's Ocean Terminal building, Malmaison paved the way for a rejuvenation that now lures international visitors – and a new breed of Leithers - to Edinburgh's ancient seaport.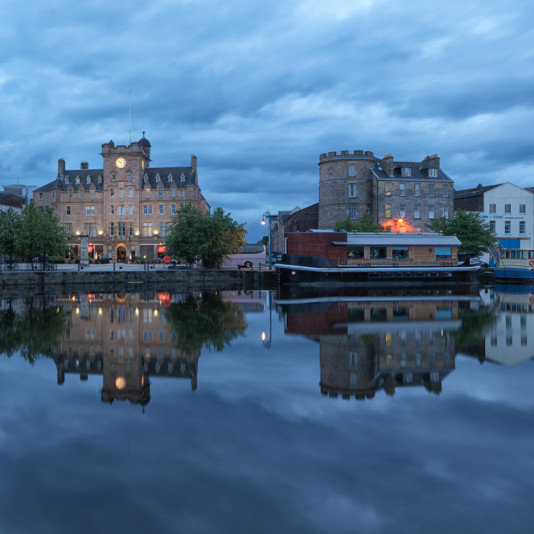 Malmaison Hotel.
Near the hotel, The Shore, where the Water of Leith meets the Firth of Forth, became a gastro hotspot. with a string of great pubs and seafood restaurants. And from this cobbled quayside where medieval merchant ships once moored, gentrification has crept inland.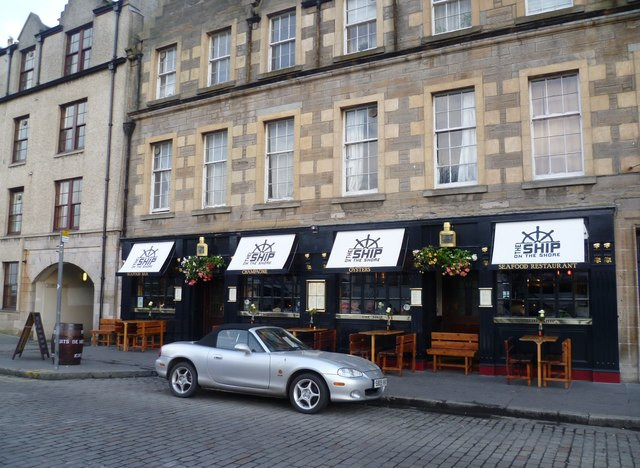 The Ship on the Shore.
In the Lioness of Leith, near the foot of Leith Walk, bearded hipsters tap away at tablets and smartphones, hooked into the wireless global world to discuss their latest startups, while sipping Paolozzi, the locally-brewed lager named in honour of one of Leith's famous sons, sculptor Eduardo Paolozzi.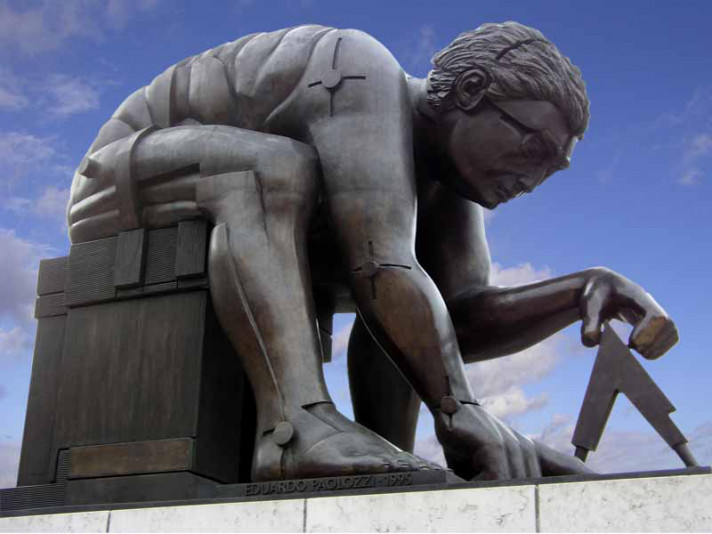 Sculpture of Eduardo Paolozzi.
On Constitution Street, the smell of designer coffee and fresh pastries drifts from a cluster of new coffee-houses, cheek-by-jowl with former seamen's dives like the Port of Leith. Nobles, a grand Victorian pub once owned by a famed local distillery, now serves a more upscale audience of yummy mummies and new-man dads. At the Malt Whisky Society, housed in an 18th-century wine warehouse on Giles Street, you can sample a flight of Scotland's finest tipples before buying. And a couple of blocks away, next to Ocean Terminal, two young entrepreneurs have launched the Port of Leith Distillery to bring whisky and artisan gin-making back to the waterfront.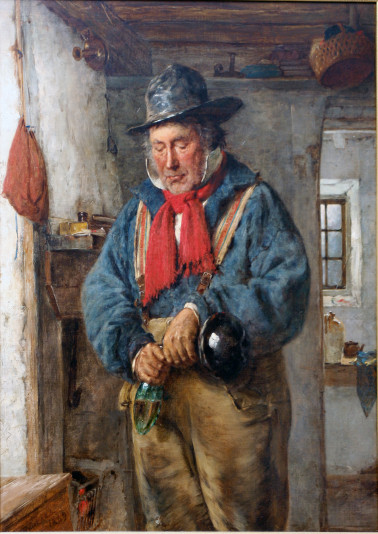 A nip against the cold. - Erskine Nicol.
Exciting times. Leith's ancient motto is 'Persevere'. After years of hard times, perseverance may, at last, be paying off.
City Style - With its trade-mark contemporary chic rooms and suites, all with rolltop baths, this is a smart city base

Sights nearby - The Royal Yacht Britannia is five mins away or hop on a bus and it's only 15 minutes from the Royal Mile

Restaurant - Chez Mal Brasserie offers a good range of traditional bistro cuisine plus bar snacks and cocktails

Lively - Hip and happening.

Recommended by - Frommers, Michelin Travel

Trendy hotel in former seaman's mission in the heart of Leith. Trademark comfy beds and roll top baths. State of the art gym, restaurant, stylish bar. See More

Check Availability
posted Monday, 25th February 2019