The 10 Best Hotels in London's West End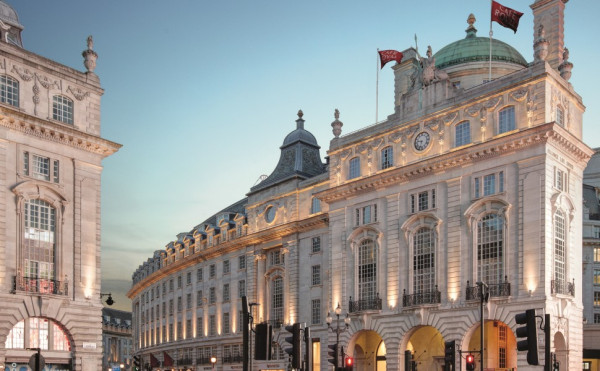 London's West End is generally agreed to include Covent Garden, Soho and Leicester Square. if you're coming to London to see a couple of shows and do some shopping then the 10 best hotels in London's West End will definitely be conveniently located you. Our Guru's favourite West End hotels tend to be a bit high end, but this is the kind of place to treat yourself. And as well as staying in one of the best hotels in the West End you might also want to treat yourself to a night of fantastic theatre, a really slap up meal or drinks in truly beautiful surroundings.
Covent Garden is known as the centre of the theatre district, but it's also a great place for shopping and eating. Plus there's a beautiful church and some interesting museums, then there's the market itself.
Soho is known for its nightlife, music venues, theatres and gay community, and it's a great place to eat and drink of an evening.
Berwick Street has the independent music shops and fabric, and the area around Carnaby Street is famously great for shopping.
When we talk about Leicester Square we also mean Chinatown, Piccadilly Circus and Trafalgar Square - with the National Gallery and National Portrait Gallery. Actual Leicester Square is known for its film premieres.
The 10 Best Hotels in London's West End
The Best West End Hotels For a Special Occasion
The Hotel Cafe Royal is a London institution recently, and luxuriously, reinvented. The 160 rooms and suites are spacious and marry the period features perfectly with modern design chic. The bathrooms, carved from stunning Carrera marble, deserve a special mention. And the spa and pool are very cool. As are the dining and drinking options.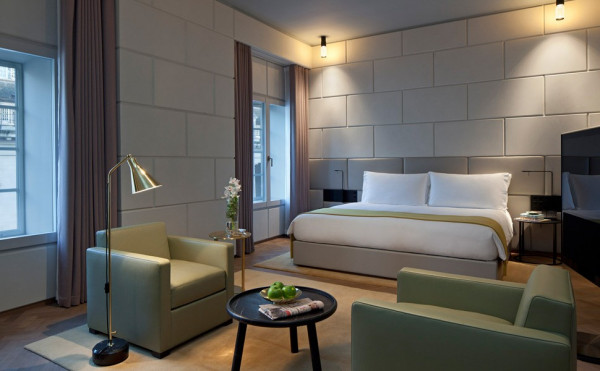 The Best Hotels in London's West End for Theatre Lovers
Brimming full of character, Hazlitts has been converted from three Georgian townhouses in the heart of Soho. Close to nightlife, top restaurants and most of the major sights, it's the ideal base for a city break with real style.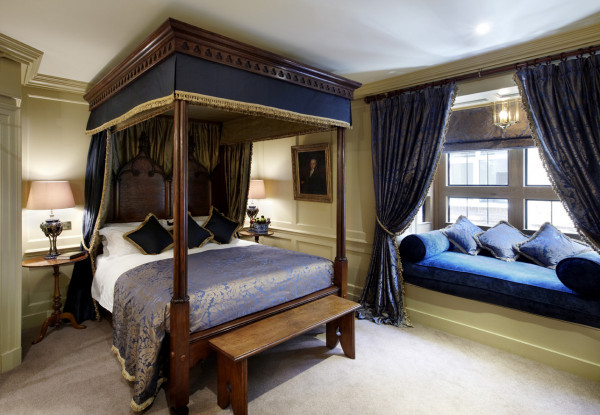 The Haymarket Hotel has a super central location and effortless, contemporary style. The restaurant is buzzy and there's a very cool indoor pool. You're at the bottom end of the West End close to the National Gallery and Leicester Square.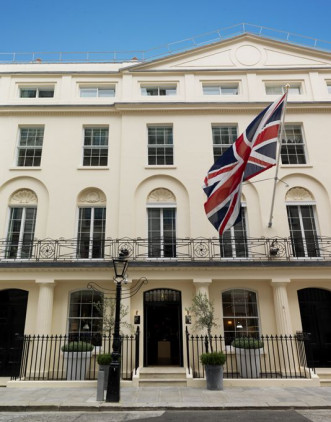 One Aldwych is perfectly located on the corner of Wellington Street and The Strand. Its Axis bar and restaurant is a large expanse of design chic and the spa is luxurious. There are 105 rooms and suites which are as contemporary as the rest of he decor - but on the outside this is classical London.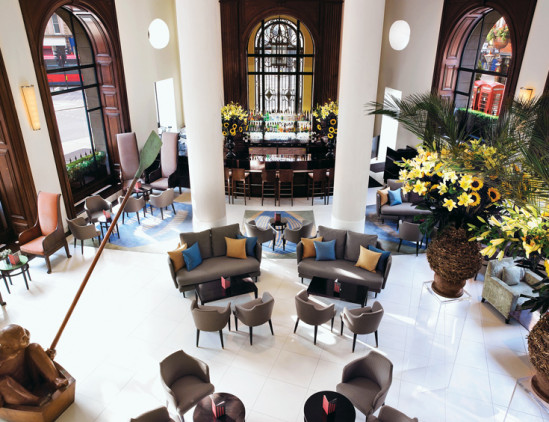 The Most Romantic Hotels in London's West End
The Covent Garden Hotel is a 58 room hotel just by the Opera House in the heart of Covent Garden. The decor is classical and romantic - all very carefully decorated and luxurious and with enormous attention to detail. Cocktails in the drawing room and breakfasts are both know for being lavish affairs.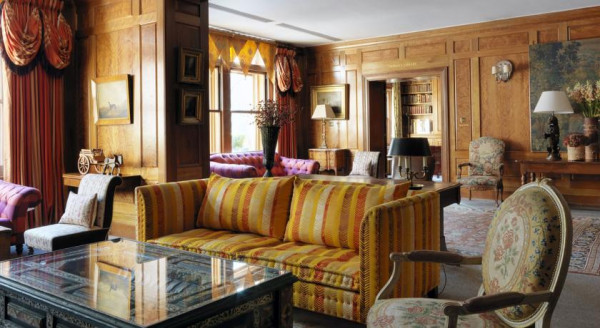 The Best Hotels in London's West End for Shopping
The Ham Yard Hotel is a five star property with 86 rooms, individually designed and decorated by Kit Kemp. Some of the decor is extravagant, but some is calmer, and the hotel wants you to take your pick. You're just ten minutes walk from Trafalgar Square, via Leicester Square and Regents Street.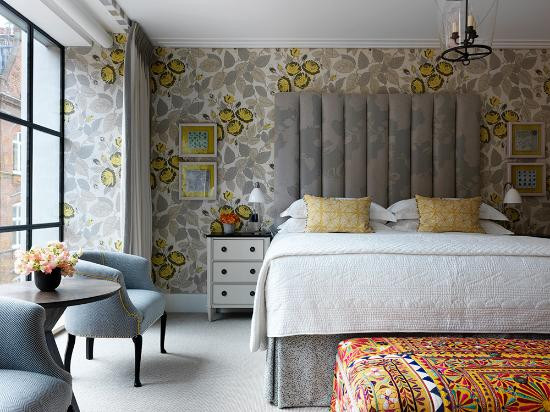 Some people would argue that the Charlotte Street Hotel is the wrong side of Oxford Street to qualify as a West End hotel, but it's only a few streets back from it, and its stylish, contemporary design and fashionably media clientele means it very much fits the vibe of a West End haunt. There's a private cinema, a cosy sitting room and buzzy public areas to add to its restaurant and 52 rooms and suites.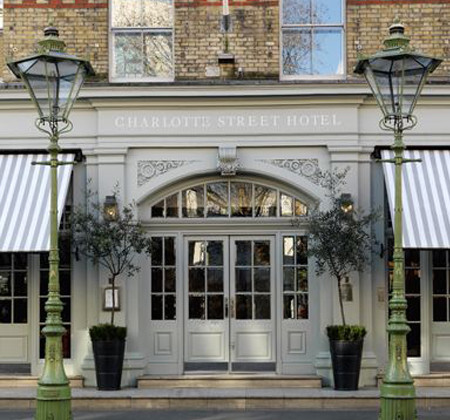 Hip and Happening Hotels in London's West End
Designed by Philippe Starck, St. Martins Lane is a design classic, perfectly positioned for seeing London - you're between Covent Garden and Leicester Square. Fashion types and rock stars love it, and it's famous for its light effects, buzzy bar, nightclub and restaurant.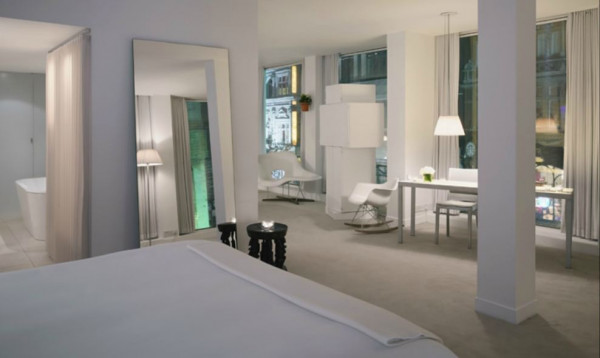 Formerly a textiles factory, today the Sanderson is a hip and happening design hotel by Ian Schrager. There are 150 rooms and suites, a great, two storey spa and gym, and a fashionable bar.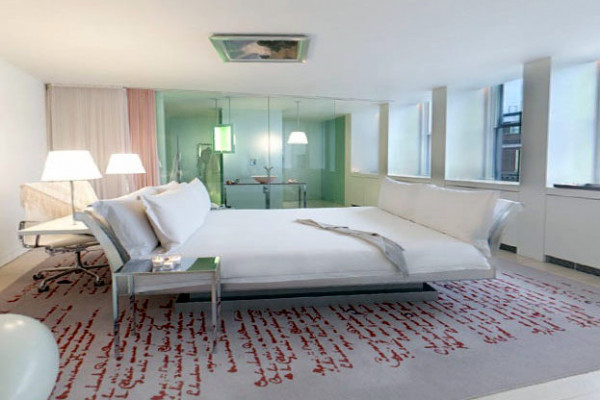 The Soho Hotel is probably best known for its lively bar and restaurant, but it's also known for its 90 odd fashionable rooms, designer interiors, and for its cinema and gym. And for its superbly central location. The feeling is house-party-y, so this is a great choice if you want to meet people.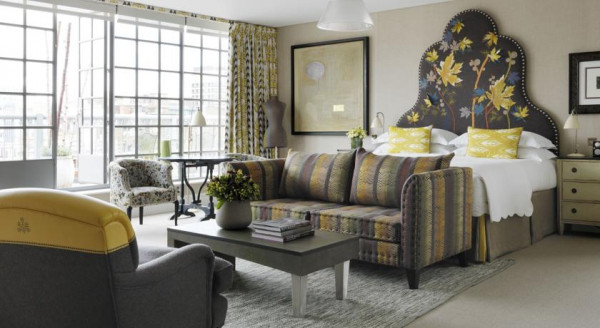 The Best Value West End Hotels
It may not seem inexpensive, but for around £170 per night, the Dean Street Townhouse is really great value. These converted, elegant Georgian townhouses are in an excellent location for the theatre and everything else the West End has to offer, and the hotel is beautifully designed - think mahogany four-poster beds, claw footed bath tubs and Farrow & Ball's Duck Egg. The restaurant looks quite ritzy but it's also good value, and the bar is as sophisticated as the rest of the hotel.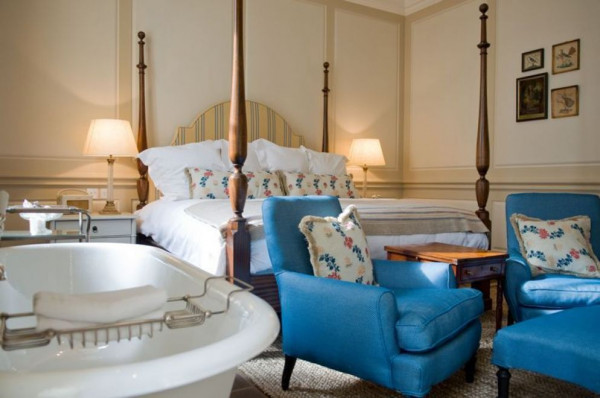 If you haven't found your idea of the best hotels the West End on our Guru's list of the 10 best hotels in London's West End you could:
The 10 Best Hotels in London's West End
Hotel Café Royal

London (West End)

160 rooms from €507

Local exploring - Perfectly situated in the heart of London with easy access to all the best sights and nightlife

Spa - Stunning subterranean spa with surely the coolest pool in town

Sights nearby - You can easily get to all of London's top attractions either on foot or by tube

Swimming Pool - Fabulous 18m indoor pool

A luxurious reinvention of a London institution. Spacious rooms and suites whose interiors perfectly blend the modern and contemporary with beautiful period features and bathrooms of sheer indulgence, carved from stunning Carrera marble. Good dining options and a seriously cool spa and pool. See More

Check Availability

St Martins Lane

London (West End)

204 rooms from €346

Lively - Buzzy bar, restaurant and nighclub

Theatre - In the heart of theatreland

Designer - Philippe Starck interiors

Sights nearby - Well located for major sights.

Recommended by - Tablet, Frommers, Michelin Travel

It's not often you find a fun hotel with both high comfort and exemplary service levels, but this hits the spot. The funky design, ultra-smooth bedrooms, Pan-Asian food and decadent bar combine to make a relaxed and tempt-you-back stay. See More

Check Availability

Hazlitt's

London (West End)

27 rooms from €248

Lively area - In the thick of the action.

Full of character

Traditional

Romantic - Good for couples.

Recommended by - Mr & Mrs Smith, I Escape, Tablet, Frommers, Good Hotel Guide

This charming Georgian boutique is full of character and literary associations since 1718. This townhouse is in thick of it on vibrant Frith Street, home to lively bars and popular restaurants. Elegant wood paneled rooms are the perfect base, relax with a book or explore town as and when you wish. See More

Check Availability

Haymarket Hotel

London (West End)

50 rooms from €373

City Style - A chic boldly styled hotel in the heart of central London.

Conference facilities

Great walks - Take a stroll through St James or Green Park.

Swimming Pool - Stunning underground pool

Recommended by - Mr & Mrs Smith, I Escape, Tablet, Frommers, Kiwi Collection, Michelin Travel

A chic hotel in a perfectly central location, with effortless contemporary styling, a buzzy restaurant scene and a glitzy indoor pool. See More

Check Availability

One Aldwych

London (West End)

105 rooms from €386

Restaurant - Indigo - modern British & Eneko Basque Kitchen & Bar

Child friendly - DVD and games library plus wii console and games

Theatre - Perfectly positioned for London's theatreland

Swimming Pool - Large Indoor Pool - chlorine free

Recommended by - Tablet, Frommers, Good Hotel Guide, Kiwi Collection, Michelin Travel

The perfect base for those wanting to be in the heart of Covent Garden and Theatreland. Classic on the outside, but wonderfully contemporary on the inside. Spacious rooms and suites, buzzy lobby bar, superb dining and a luxury spa for relaxing after a hard day's sightseeing! See More

Check Availability

Sights nearby - You're bang in the centre of London, so everything is within easy reach!

Local markets - Covent Garden is known for its famous early-morning flower market

Lively area - In the thick of the action.

Full of character

Recommended by - Mr & Mrs Smith, Tablet, Fodors, Frommers, Good Hotel Guide, Kiwi Collection

Traditional elegance meets sexy chic, making a sexy and buzzy, designer hotel in prime Covent Garden location. Classic rooms are exquisitely decorated, with all luxuries considered and children more than catered for. Breakfast is a lavish affair, as is an evening cocktail in the drawing room. See More

Check Availability

Ham Yard Hotel

London (West End)

91 rooms from €559

Designer - All rooms individually designed by Kit Kemp

Hotel - 5* extravagant hotel

City - Central London

City Style

Five star luxury and design are paramount in this hotel, which comes with a spa, bowling alley and fitness centre. Ideal for high-profile business meetings or lavish events with huge, well-equipped meeting facilities. Ideally located in central London, with Trafalgar Square only a 10 minute walk. See More

Check Availability

Lively - Hip and happening.

Four poster beds - For romantics.

Recommended by - Mr & Mrs Smith, Tablet, Frommers, Kiwi Collection, Michelin Travel

Fashionable media land hangout, with stylish contemporary interior design, a private cinema, buzzy public areas and a cosy sitting room See More

Check Availability

Sanderson

London (West End)

150 rooms from €386

Spa - Two storey spa

Lively - Hip and happening.

Designer - Uniquely designed interiors.

Recommended by - Tablet, Frommers, Kiwi Collection, Michelin Travel

Ian Schrager's second design hotel in London, in a former textiles building in the rag trade area north of Oxford Street. Great spa and gym, and a fashionable bar. See More

Check Availability

The Soho Hotel

London (West End)

96 rooms from €449

Sights nearby - Soho is as much about its live music and gigs, as well as the theatres.

Lively - Hip and happening.

House party feel - Be prepared to meet people.

Full of character

Recommended by - Mr & Mrs Smith, I Escape, Tablet, Frommers, Kiwi Collection

Fashionable, designer interiors make this chic Soho hotel, complete with a cinema and gym, a hot spot. Large stylish rooms exude comfort and class. And the popular buzzy bar and restaurant are not to be missed. Fantastic location makes this ideal for theatre goers, live music lovers and exploring. See More

Check Availability

City Style - Grown up and sophisticated style, in a hip part of town- think mahogany fourposters, clawfooted tubs and Farrow & Ball Duck Egg.

Foodies - Mouthwatering modern British cuisine, always interesting, varied and au point. Afternoon tea is a London favourite.

Great walks - Head south towards Trafalgar Square and to Enbankment where you will find the Thames - the perfect guide to mapping out London.

Sights nearby - Picadilly Circus is closeby and a great place to check out what is on at the theatres in the West End.

Recommended by - Mr & Mrs Smith, I Escape, Fodors, Frommers, Kiwi Collection

Elegant Georgian townhouse in London's vibrant Soho district. Stylish rooms are designed with panache, and focus on the young and fashionable business and leisure traveler. All British food all day at the snazzy restaurant. A true gem in the heart of the UK's capital city. See More

Check Availability
posted Monday, 22nd April 2019
Search the best hotels in London