Apartments and Holiday Rentals in Courchevel
Courchevel is situated in the unbeatable Three Valleys region of France. Renowned for its high end hotels and chalets and accompanying A-list clientele, it might appear to be out of the reach of us mere mortals! However this is not the case, especially if you opt for self catering accommodation. From chic little studio flats in the town centre to chalets that are perfect for larger families or groups of friends our favourite holiday rentals specialists can offer the lot!
Booking.com is one of the behemoths of the travel industry. It has worldwide coverage and lists more than 28 million properties all over the globe.
Booking.com has a growing number of self catering properties for all tastes and budgets in a wide range of ski resorts from Europe to the USA, Canada and Japan.
From the most basic studios, to seriously high-end properties with ski-in ski-out locations, outdoor hot tubs and much more!
Yes you will have to trawl through a long list of possibles, but you certainly won't lack for choice.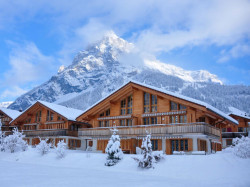 Interhome boasts a portfolio of around 35000 holiday homes and apartments spread throughout 27 countries across the globe.
When it comes to wintersports holidays they have a particularly good selection from luxury chalets to budget studios
Properties are located in diverse resorts from crowd pleasers like Val d'isere, to off-the-beaten-track hideaways in the Swiss Alps
As well as 24/7 customer service, they have staff/partner agencies/key holders on the ground to help with any onsite issues
If you require ski-hire Interhome partners with Ski Set who can offer you preferential rates