✓ Book Online Now
✓ Save time, save money
10 Hotels in Paris with Character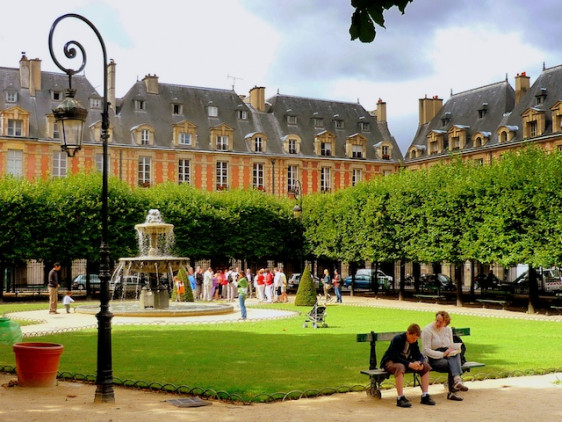 We are often asked for Parisian addresses with at least a whiff of genuine, Gallic charm and character - for hotels with Paris charm, or hotels in Paris with character. Sadly our gurus report that such hotels are a dying breed, with some of their favourites now too elderly to recommend whole-heartedly. And while Paris retains its character as France retains its language, you can still see global brands creeping into the small crooked, medieval lanes of Le Marais and the raked streets of Montmartre. But while our gurus can't plot a guide for you through Paris avoiding sight of all Starbucks, they can still recommend some great hotels with Paris charm in their list of 10 hotels in Paris with character.
Historic Hotels in Paris with Character and Charm
Paris has many beautiful and historic townhouses, some of which have been converted into hotels with Paris charm. The vast squares and grand boulevards are lined with discreetly marked hotels, and even within village-y Montmartre and the medieval lanes of the Marais, which was only saved from being converted into more grand boulevards by WWI, you'll find tiny, yet charming places to stay.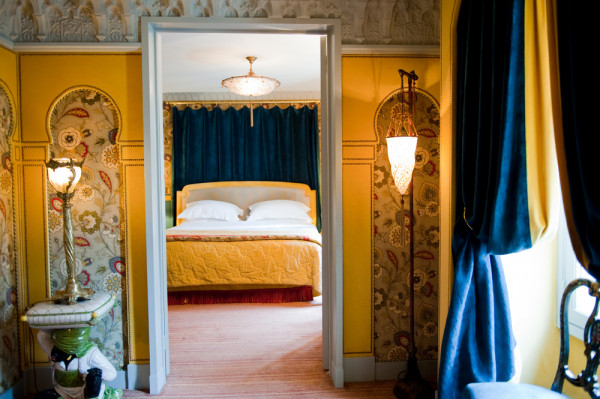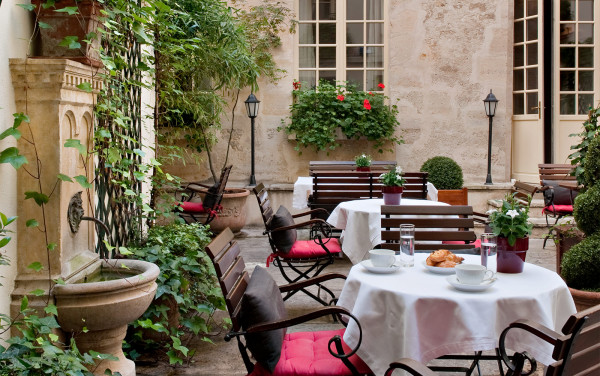 Left Bank Hotels in Paris with Character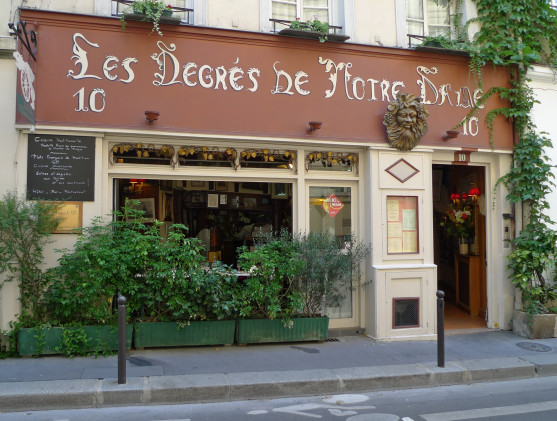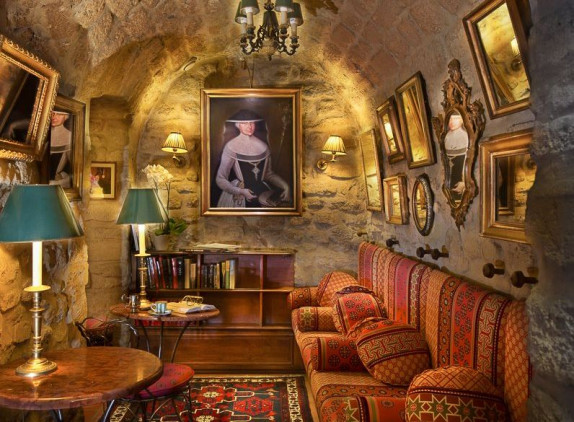 Luxurious Parisian Character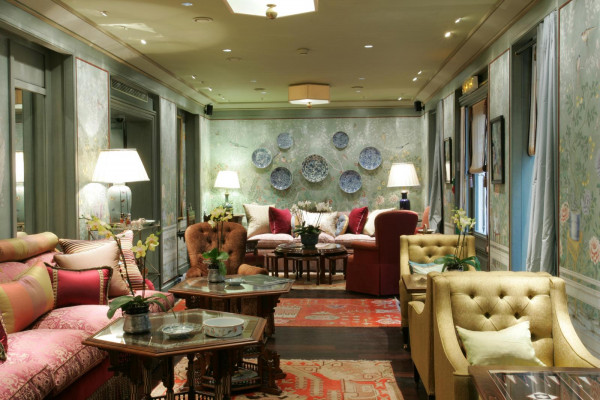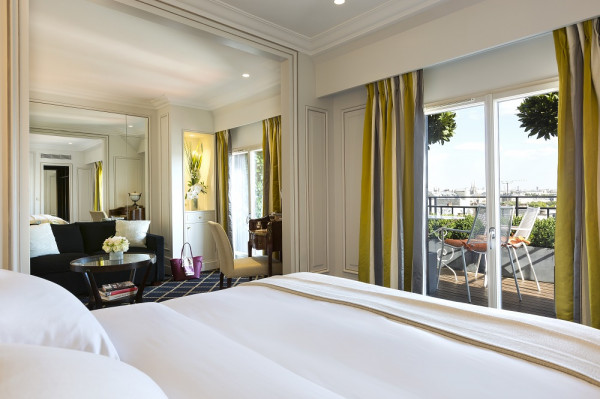 Hotel San Régis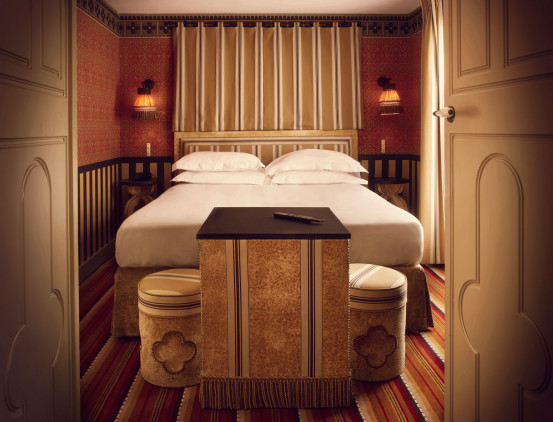 Conveniently Located Hotels in Paris with Character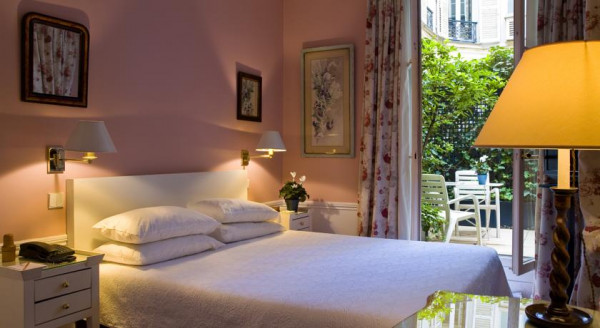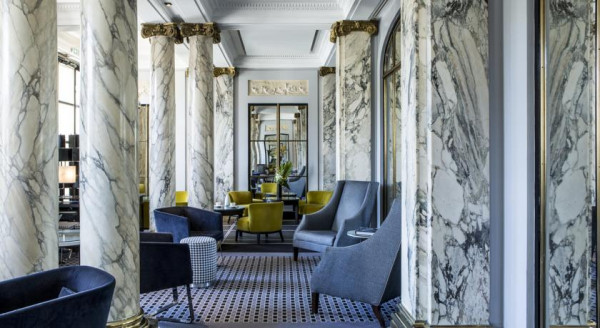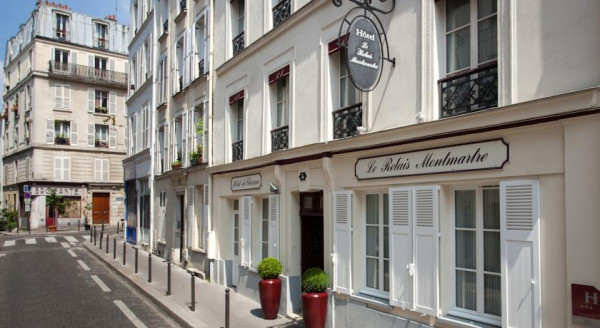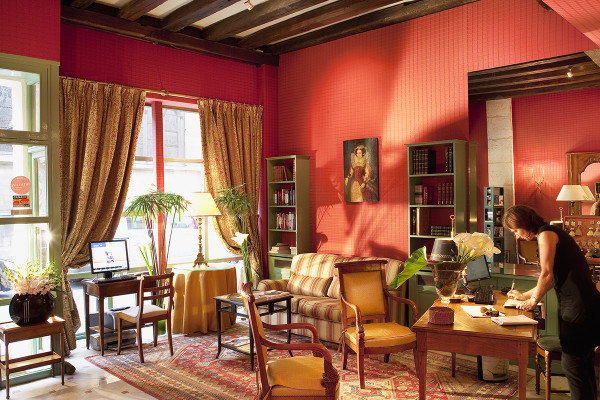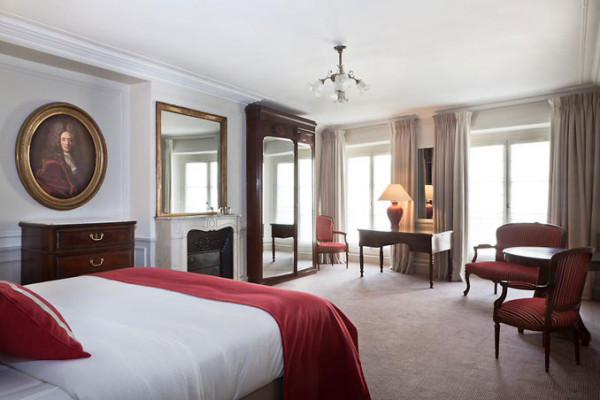 Character filled rooms with a view of Paris
For the ultimate experience of hotels with Paris charm try to book well in advance and ask for the best rooms.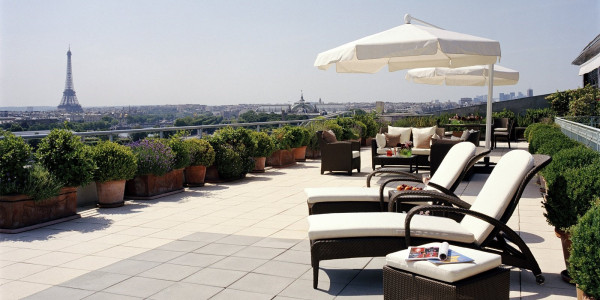 If this list of hotels with Paris charm feels a bit frou frou for you, and your idea of real Gallic character is more like traditional family-owned-and-run simplicity, then check out our guru's list of Budget charmers: Paris Budget Charm. If you thought this list wasn't quite fancy enough, then try our chic list: Chic Paris Hotels. Alternatively take a look at our recommendations for the best hotels in Paris.
10 Hotels in Paris with Character
L'Hôtel 20 rooms from £285

Paris

Iconic, small, five star hotel where Oscar Wilde once lived on the Left Bank. Flamboyant interiors by Jacques Garcia, Michelin starred Le Restaurant and the popular Le Bar. Comfortable and romantic rooms are dark and intimate - the perfect luxurious bolthole in the heart of Paris.

Gourmet - Famous Michelin starred Le Restaurant and the chic Le Bar.

Sights nearby - Just across the river from the Louvre.

5* Luxury - The smallest 5* hotel in Paris.

Swimming Pool - Small plunge pool.

Recommended by - Mr & Mrs Smith, Tablet, Frommers, Kiwi Collection, Small Luxury Hotels

Check prices

Paris

17th-Century honey-stone townhouse turned luxury hotel. Ideally situated on the Left Bank of the Seine, this period-style hotel is smart and well run. Comfortable rooms are decked with quality furnishings and exposed beams. Enjoy a drink at the Piano Bar or on the quiet patio.

Writing a novel - Café Laurent has been the gathering place for literary giants (Sartre, de Beauvoir, and Camus) since the eighteenth century.

Total relaxation - Shed the stress of the Paris streets with a massage in the comfort of your plush room, or read a book in the leafy courtyard.

Local exploring - The heart of cultural Paris, surrounded by famous cafes frequented by all the greats, museums and show stopping shopping!

Sights nearby - A scenic ten minute walk towards the river brings you to Notre Dame Cathedral, a Paris must see!

Recommended by - Frommers, Fodors

Check prices

Paris

Charming bedrooms for great value make this a sought-after base in the Latin Quarter, with views over Notre Dame. Large attic room has best views, suitable for families. Traditional French breakfast to kick start the day of exploring. A local find full of character and antiques.

Sights nearby - Notre Dame is within walking distance.

Views - Of Notre Dame, best from attic suite.

Full of character

Traditional

Recommended by - Fodors

Check prices

Paris

This romantic and intimate, formerly private, Parisian home is decked with plush fabrics, stylish interiors keeping tradition and elegance the main focus. Wallpapered rooms are small but delightful in their unique and comfortable charm. Prime location near St Germain and the famous Rue du Bac.

Sights nearby - Musee d'Orsay within walking distance.

Lively area - In the heart of the Left Bank.

Traditional

Recommended by - Sawdays

Check prices

Paris

East meets West in a most glamorous fashion at this charming central Townhouse. Individually decorated rooms are dripping in Oriental treasures, fine fabrics and modern comforts. Fine dining at the cutting edge restaurant and cocktails in the lounge. Sublime location, with a rooftop suite to boot!

City Style - A chic and central townhouse adorned with 18th century French bespoke hand-painted Chinoiserie wallpaper and Syrain antiques.

Romantic Break - An ideal spot for discerning couples with its central location, plush Oriental silks, marble bathrooms and sumptuous beds.

Sights nearby - You can see the Eiffel Tower from the fifth and sixth floors.

Views - Rooftop suite has Eiffel Tower views.

Recommended by - Mr & Mrs Smith, Tablet, Kiwi Collection, Relais & Chateaux

Check prices

Paris

Small and intimate 5 star luxury hotel with a smart address in the 'Golden Triangle', much loved by fashionistas. This 19th Century townhouse is classically decorated in country house style making a beautiful finish throughout. Fine dining and an intimate bar for meetings, great location.

City Style - Just off the Champs Elysees, individually designed rooms by Pierre-Yves Rocho featuring antiques and 18th-century oil paintings.

Honeymoons - Sumptuous silk and damask fabrics, Eiffel Tower views and romantic dining in the glass roofed winter garden- heaven!

Sights nearby - Just off the Champs Elysees, within a five minute walk of Arc de Triomphe de l'Étoile.

Great walks - Head down to the Seine and walk her banks taking in the sights and scenes that unfold.

Recommended by - Small Luxury Hotels

Check prices

Paris

A handsome and compact Parisian townhouse turned sultry Moorish palace. The heavily adorned, compact boudoirs boast rich fabrics, innumerable tassels, dim lighting and scented canals. Enjoy breakfast in bed, lounging in the plush sitting room or stepping out into lively Paris. Wonderfully sensual.

Romantic Break - An opulent and sultry love nest, think miles of red velvet, subdued lighting and Byzantine alcoves with mosaic-tile tubs.

Sights nearby - Marais is brimming with galleries, historic sights and museums, the most notable, Notre Dame, is just down the road.

Lively area - In the heart of the Marais.

Designer - Jacques Garcia interiors.

Recommended by - Frommers, Fodors

Check prices

Paris

Elegant and warmly decorated hotel decked with classical antiques. Family run and intimate, a charming choice with good rates. Rooms are stylishly designed. This is a quiet haven, not far from the action and with its own tranquil garden to relax in after a day exploring.

Local exploring - Spend time exporing this area, teaming with historic cafes, innovative museums and architectural masterpieces.

Great walks - Just two minutes from the famed Luxembourg Gardens, head out for a stroll.

Views - Great views from hotel

Romantic - Good for couples.

Check prices

Paris

An art-filled four star hotel on Rue de Rivoli and with views of Tuileries Garden. Classically decorated rooms and suites, insulated from the busy street. Enjoy true French breakfast and the bar with its bay windows and views. A top choice for families and couples intent on sightseeing.

Great walks - No better place to take a stroll in Paris than the lovely Tuileries, right on your doorstep.

Sights nearby - Just across from the Louvre and the Eiffle Tour, and Place de la Concorde.

Views - Of the Tuileries Gardens and Eiffle Tour.

Full of character

Recommended by - Fodors

Check prices

Paris

The epitome of Parisian luxury takes form at this five star, fantastically located, hotel. Old empire style throughout. Large, beautiful and chic rooms vary in size. Michelin star dining, popular Bar 228 and the spa are for guests to truly unwind in the capital. A real treat, when in Paris!

Families - Expect pampering for everyone from tots to dogs, with special toys and entertainments arranged at the drop of a hat.

Foodies - Le Meurice Restaurant by Alain Ducasse, with its three Michelin stars is one of the finest restaurants in Paris.

City Style - Opulence in the heart of the city- suites dripping in chandeliers, period furnishings and rich fabrics.

Sights nearby - Opposite the Louvre, and under ten minutes walk from the Place de la Concorde and the Champs-Elysées.

Recommended by - Frommers, Kiwi Collection, Tablet, Fodors

Check prices

Paris

Charming hotel in the village-like district of Montmartre, on a quiet street, just behind Sacre Coeur. Pretty rooms are tastefully decorated and with modern bathrooms. Breakfast is served in-room or in garden. Intimate and romantic (connecting rooms for families) spot to explore Paris at ease.

Value chic - Great value for its prime location in the popular district of Montmartre, charming rooms, courtyard and modern amenities.

Sights nearby - Walking distance from Butte Montmartre, Sacré-Cœur and Place du Tertre.

Lively - Hip and happening.

Full of character

Recommended by - Sawdays, Frommers

Check prices

Paris

An elegant little hotel overlooking the Église Saint-Germain l'Auxerrois, in the first Arrondissement. The chic rooms feature individual detail, classic French furnishings and unparalleled views of its historic surroundings. Perfectly reflects the romantic charm of Paris.

Great walks - Take a stroll through the Jardin des Tuileries, one of the most elegant gardens in Paris.

Local markets - Explore one of Paris' oldest open air market streets, rue Montorgeuil.

Sights nearby - Located between the Louvre and Notre Dame.

Lively - Hip and happening.

Recommended by - Sawdays

Check prices

Paris

Absorb the famous Place Vendome from a handsome, antique-filled 4* boutique hotel. Each room possess its own character and is decorated in a quintessentially Parisian style. All this for great rates in the centre of town.

Sights nearby - Place Vendome is one of the most famous squares in Paris and even the world.

Full of character

Romantic - Good for couples.

Traditional

Check prices
posted Friday, 12th February 2010
comments powered by

Disqus
Search the best hotels in Paris