7 of the Best self catering apartments and villas on Crete
If you want to keep costs down and/or you prefer more flexibility on holiday, a self-catering apartment or villa is often the best option. Despite appearances to the contrary - all those luxury, all-inclusive resorts - Crete offers a good choice and our selection of the best self catering apartments and villas on Crete has something to suit all budgets and tastes.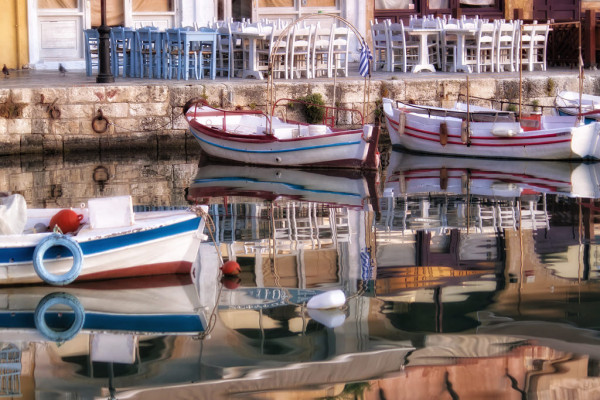 Flickr user Theophilos Papadop
Often the self catering options are tucked away in the quieter seaside villages or are in the heart of the island's historical towns. Chania, for example, with its Venetian harbour and old port, or Réthymno with its medieval old town, Venetian fortress and mix of beautiful architecture, are good places to look. The latter is also close to Crete's longest sandy beach.
Very often, the best self-catering apartments and villas on Crete are in wonderfully restored buildings full of charm and real Cretan character.
7 of The best self-catering apartments and villas on Crete
The Best Cottage Accommodation on Crete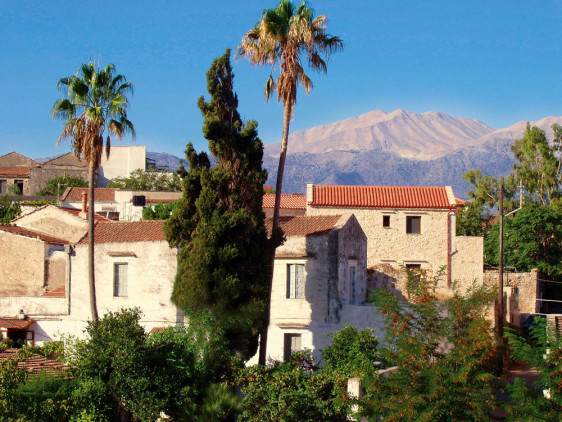 The cottages at Vamos Traditional Village are all owned by the locals so you can expect lovely personal touches such as fresh flowers or a carafe of the local raki as well as authentic rustic furnishings - although kitchens are bang up-to-date and some cottages have private pools. Peaceful situation but close enough to larger villages with tavernas.
Tucked away in a quiet valley yet near the pretty village of Makriyialos on the south-east coast, White River Cottages are beautifully but simply converted shepherds' cottages with whitewashed interiors, stone-flagged floors and timbered ceilings. Surrounded by olive and citrus trees, and close to lovely walks, this makes for a peaceful base with the added bonus of a pretty pool.
The Best Apartments and Villas in Chania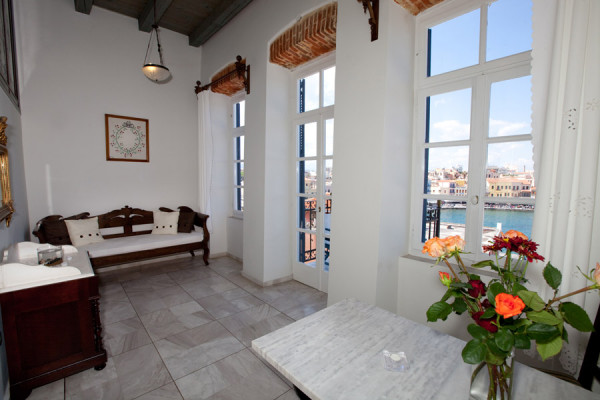 In the heart of Chania, with views over the old town and harbour, Pandora Suites has a boutique-hotel feel. The suites are light, white and airy with modest but adequate kitchens. There's also a courtyard and rooftop terrace for drinks and sunset views.
Also in the heart of Chania - and also with a rooftop terrace for drinks and views - Nostos Hotel is a brightly painted townhouse with simple but comfortable apartments and a very friendly atmosphere.
For style and seclusion, take a look at Metohi Kindelis, a 17th-century farmhouse just outside Chania converted into three airy apartments. Interiors are large, high-ceilinged and elegantly furnished, often with antiques, while outside each has a private pool nestled in lush gardens. Fridges are stocked with produce from the farm's orchards, local bread and cheeses.
The Best Apartments and Villas in Rethymno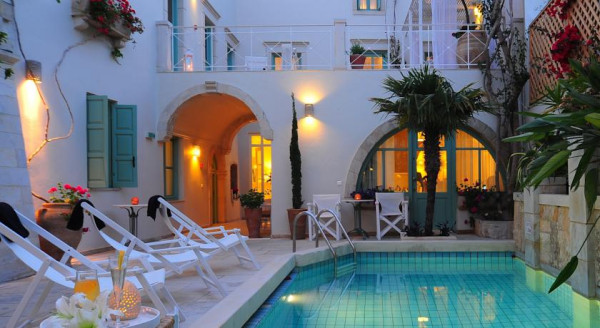 Two venerable Ottoman-Venetian buildings hide a charming inner courtyard with a tiny, refreshing pool, one of the charms of Mythos Suites in the heart of Réthymno. Apartments are light and elegant, some with private terraces and all with mini-kitchens - though lovely breakfasts are also provided.
Crete's Chicest Villas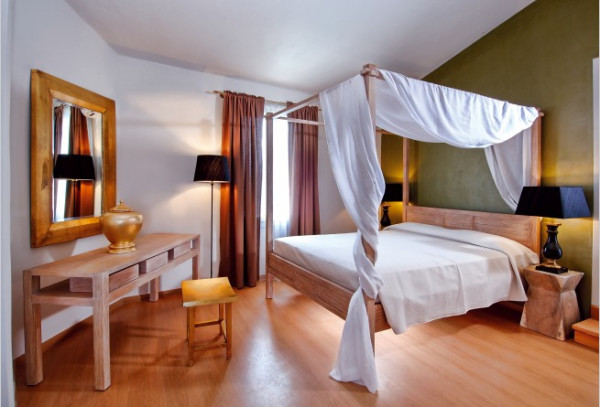 If a smart villa with private pool is more your thing then look no further than Paradise Island Villas. They have twelve beautifully chic options. All beautifully designed and able to sleep between 2 and 6 guests. Add to this private pools and jacuzzi bath tubs, plus pool bar and a couple of dining options - you won't want to leave!
If you want to get to the heart of the island - shop at local markets, chat with the locals - choosing to stay in one of the best self-catering apartments or villas on Crete can be an easy introduction.
But if you haven't found your perfect villa or apartment on our Guru's list of 7 of the best self-catering apartments and villas on Crete you could:
7 of the Best Self-Catering Apartments and Villas on Crete
Families - Private villa accommodation, perfect for families

Value chic - Charming villas available at an inviting price

Cooking classes - Traditional cooking courses housed in an old olive mill are a popular activity

Great walks - Guided walks are on offer to learn more of the local history, folklore etc.

A shining example of how to do low-impact tourism. Vamos is a collection of locally owned self-catering accommodation in and around a sleepy village. Interiors are comfortable and rustic and many feature private pools. Stunning views of the White Mountains are thrown in too. Ideal for families. See More

Check Availability

Romantic Break - The charmingly rustic self contained studios and apartments are ideal for couples looking for a bit of privacy and romance.

Hideaway - Off the tourist track, this peaceful retreat is set in stunning natural landscape and only a 15 min walk to the beach.

Great walks - Explore this amazing landscape on foot, full of olive groves, citrus trees and lovely landscapes.

Sights nearby - Walk down through the olive groves to Makriyialos, the prettiest town on this stretch of coast.

Recommended by - I Escape

A charming hamlet of 13 former shepherds cottages surrounded by olive groves and citrus trees. The self catering studios are rustic and quaint and with stunning views of the local area and sea. This authentic and secluded spot is a 15-minute walk from the beaches and local town. See More

Check Availability

Pandora Suites

Chania (Crete)

14 rooms from £78

Local exploring - Situated right in the old town, within easy walking distance of the port and the main shopping and eating spots.

Groups - These spacious and charming self catering apartments, of 2-4 beds, are ideal for groups travelling together.

Great walks - Wander the streets of Chania's Old Town, full of hidden treasures and charming spots.

Sights nearby - Check out the historic Venetian Harbour and its famed lighthouse.

This townhouse turned boutique self-catering option has fabulous harbour views from the pretty roof terrace. The rooms are light and breezy, and generous with two or four beds. Enjoy the luxury of a mini kitchen for self-catering. Great spot for local exploring, beach and nightlife. Family friendly! See More

Check Availability

Nostos Hotel

Chania (Crete)

12 rooms from £72

Local exploring - Ideally located for exploring the historic old town, full of historic buildings, food markets and jewllery shops.

Sights nearby - The stunning Venetian harbour and lighthouse can be seen from the terrace and is a short walking distance.

Local markets - Just a few minutes walk from the main markets and leather shops of the old town.

Seaside - Ideal for a seaside holiday.

These colourful and simple self-catering apartments are in the hub of the Old Town of Chania. Good value studio rooms with views of the harbour make for a great base. Do not miss sunset from the roof terrace before stepping out to explore the local restaurants and bars. See More

Check Availability

Metohi Kindelis

Chania (Crete)

3 rooms from £165

Back to Nature - Situated in a secluded walled garden, brimming with flowers, palms and euclyptus trees and surrounded by lush organic orchards.

Romantic Break - A wonderfully peaceful couples hideaway, with high walls surrounding private gardens with pool and al fresco dining, heaven!

Cooking classes - Join the Tastes of Crete cooking class, on Tuesday and Saturday mornings, followed by a lavish wine filled lunch.

Sights nearby - Explore Chania, with its lovely Venetian-era fishing harbour ringed with cafes and tavernas.

Recommended by - I Escape

Beautiful terracotta farmhouse dating from 1650, with central courtyard and lush gardens. Stunning self catering apartments marry old and new with admirable elegance. Fridges are daily stocked with wonderful organic produce from the hotels orchards. Privacy, style and a truly homely feel. See More

Check Availability

Mythos Suites

Rethymno (Crete)

15 rooms from £104

Value chic - This charming ivy covered hotel is great value for money, with airy, chic rooms boasting private balconies and courtyard pool.

Sights nearby - Be sure to check out the historic and impressive Venetian Fortress, within a few minutes walk of the hotel.

Swimming Pool - Stunning outdoor pool

Seaside - Ideal for a seaside holiday.

This boutique self-catering setup is a peaceful and friendly haven in the heart of Rethymno. Light and comfortable rooms have private balconies, small kitchens and access to lovely breakfasts. Enjoy the small pool and being near the hub of the town. See More

Check Availability

Local exploring - 1km from the Traditional Cretan Villages of Koutouloufari, Old Hersonissos and Piskopiano.

5* Luxury - All villas are individually designed with private pool & every comfort

Private villas - 12 separate villas to rent.

Groups - Villas from 2 to 6 guests

Recommended by - Mr & Mrs Smith, CN Traveller

A super chic collection of villas in sophisticated Cretan style. Each villa has its own pool and living areas. Romantic rooms have parquet floors, four poster beds, and attractive furnishings. Excellent restaurant, lots of spa treatments. Romantic, grown-up, close to the beach, and family friendly. See More

Check Availability
posted Saturday, 29th June 2019
Search the best hotels in Crete