Best Palace Hotels in India
A formally feudalistic country, in almost every state you look you will find palaces ensconced by crumbling forts, opulent abodes owned by ruling Thakurs and art deco new builds home to modern maharajas. Today such dwellings can be more of a burden than a blessing and almost financially ruinous to maintain. Luckily for the rest of us, many a maharajah turned to hospitality and unbolted the gates to tourism. Some of the top palaces are now the the best palace hotels in India and providing mere mortals with a truly unique experience.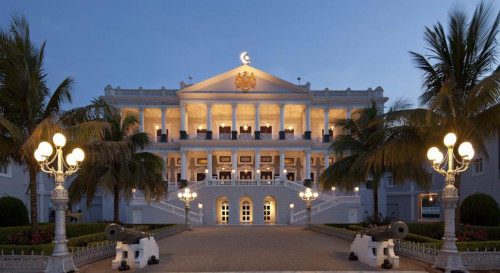 India's best Palace Hotels
For ultimate luxury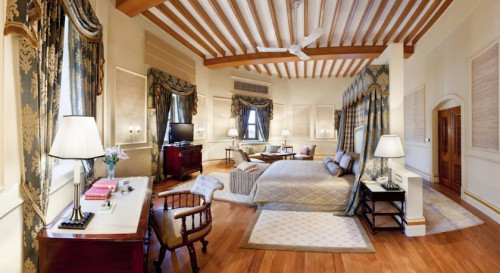 For romance
It doesn't get much more romantic than a stay in one of the best palace hotels in India. Here's our pick for an indulgent stay with your loved one:
For a chic stay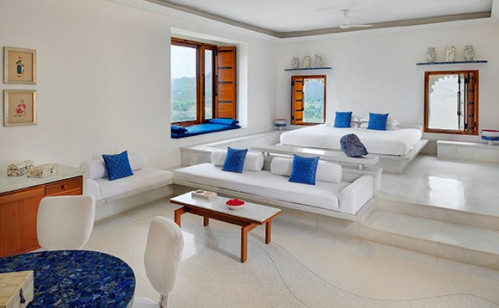 "Chic" is not necessarily an adjective that springs to mind when imagining the best palace hotels in India. But they're not all period interiors........the design conscious amongst you need not be disappointed!
Great Value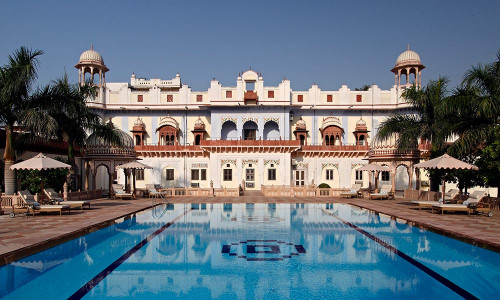 Off the beaten track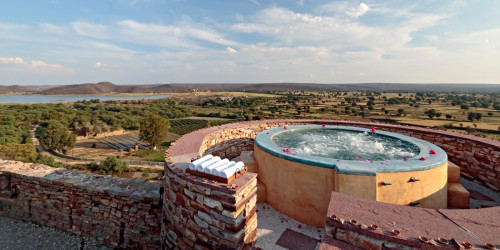 For a boutique stay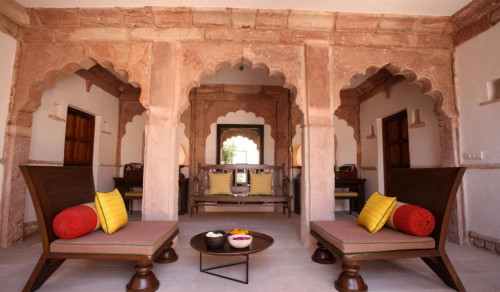 Nothng amongst our pick of the best palace hotels In India that fits the bill? Check out our recommendations for Rajasthan's best palace hotels, expand your search to include all our India collections, or contact a friendly guru for advice.
Taj Falaknuma Palace

Hyderabad (Falaknuma)

60 rooms from £268

Great walks - Walk through the well maintained gardens surrounding the ancient Qutub Shahi tombs.

Cooking classes - Learn the art of Hyderabad's famous biriyanis at Alka's Cooking Academy.

Sights nearby - Chowmahalla Palace is well worth a visit for more historic charm.

Local markets - Good for local colour.

Recommended by - Tablet

If you are a fan of Taj palaces then this is the cream of the crop. Sitting 2000 feet above the city, resplendent amidst 32 acres of manicured lawns, Falaknuma takes your breath away. Perfect pastel bedrooms are brimming with antiques and India's finest silks. Foodies will love the grand dining. See More

Check Availability

Spa breaks - The Taj's signature JIVA spa is the ultimate in indulgent spa breaks.

Palace - Astounding art deco Maharaja's palace

Romantic Break - Opulent suites are made for romance.

Sights nearby - Mehrangarh Fort is a must visit.

Recommended by - Kiwi Collection

The only way to experience the real magic of Jodhpur. This exquisite Maharaja's palace is the ultimate in grandeur and luxury. Elegant rooms with Art Deco trappings, swimming pools, spa, billiards, yoga - the list goes on. A truly romantic and old-world setting. See More

Check Availability

City Style - The ultimate stay in Calcutta. Why do things by halves?

Sights nearby - Kolkata has many historical landmarks. From the Victoria Memorial to Tagore House, The Indian Museum to Mother Teresa's memorial

Swimming Pool - Stunning 18m pool. The centrepiece of the wonderful quadrant garden, surrounded by palm trees

Views - Great views from hotel

A beautiful, luxury hotel built in the 1880s. It is easy to see why it was the choice of leading historical figures. Even now it hosts grand functions for Heads of State. Elegant, lavish rooms, a lobby known for its 200 year old handmade piano and iconic chandelier, spa, pool, gym. Indulge yourself. See More

Check Availability

Swimming Pool - Indoor and Outdoor Pools

Sights nearby - The Amber Fort, Hawa Mahal and Jantar Mantar are all must sees.

Local markets - Bapu Bazaar is awash with sparkling sarees and jewellery.

Lively - Hip and happening.

Recommended by - Tablet, Kiwi Collection

Royal treatment in the home of the former Maharaja of Jaipur. The interior decoration and surrounding grounds echo the magic of a bygone era - marble floors, beautiful colonnades, and acres of luscious gardens. A fabulous place to stay. See More

Check Availability

The Lalit Grand Palace

Srinagar (Jammu and Kashmir)

113 rooms from £146

Spa - Provides complete holistic experience: aroma, ayurvedic, herbal & natural therapies, patented colour healing & yoga.

Sailing - A private boat trip on the Dal Lake where you can see the floating gardens and villages is an unforgettable day.

Birdwatching - Srinagar's lakes are a magnet for migratory birds as well as being home to many native duck species.

Swimming Pool - Large indoor pool

Built in 1910, Grand Palace was the former residence of Kashmiri royal family. True to its regal roots rooms are decorated in an opulent, yet not ostentatious style: quilted bedspreads, artwork and some four posters and fireplaces. There's a walnut clad bar and North Indian cuisine at The Chinar. See More

Check Availability

Samode Palace

Jaipur (Village Samode)

43 rooms from £199

Total relaxation - Located outside of town, in rural Jaipur with a luxurious spa. There are plenty of ways to unwind.

Romantic Break - Candlelit dinners, sumptuous rooms and a divine spa.

Romantic - Good for couples.

Local markets - Jaipur's famous textile market is great for fabrics and rugs.

Recommended by - I Escape, Mr & Mrs Smith

A traditional Rajput palace just outside Jaipur. Wonderfully romantic rooms and suites, all individually decorated, but each as magical as the next. Terraces, pools, tennis courts, camel safaris, fantastic Rajasthani and European food. Regal and luxurious. See More

Check Availability

Taj Lake Palace

Udaipur (Rajasthan)

83 rooms from £296

Sights nearby - Located in the heart of Udaipur, most of its sights are within walking distance.

Local markets - Bada Bazaar is a favourite amongst tourists and locals alike.

Lakeside - On Lake Pichola.

Private Hot Tub

Recommended by - Fodors, Kiwi Collection

As iconic as Udaipur. A shimmering white and gold vision located on Lake Pichola it is accessible only by hotel boat. Rooms are quite literally fit for a maharajah: stained glass windows, plush velvets, gilt work, and intricate murals. Plus a pool, famous rooftop restaurant and novel 'spa boat'. See More

Check Availability

Ahilya Fort

Maheshwar (Madhya Pradesh)

13 rooms from £422

Sights nearby - A two hour drive away the ancient 15th city of Mandu is worth a visit.

Hideaway - Authentic, luxurious Indian experience without the crowds.

Great walks - Along the ghats with views of the ancient fort above.

Views - Great views from hotel

Recommended by - I Escape

An 18th century fort overlooking the Narmada River. Thirteen chic bedrooms with private balconies are spread across six buildings plus there is romantic tented accommodation with a private pool and garden. Continental and Indian dishes are served and what's more the hotel is all inclusive. See More

Check Availability

City Style - There is some stiff competition but with interiors by Adil Ahmad this is the chicest in town.

Sights nearby - Enjoy a private tou or the City Palace.

Designer - Uniquely designed interiors.

Romantic - Good for couples.

A rose-tinted palace in The Pink City, its fourteen desirable rooms have stylish interiors courtesy of the acclaimed Adil Ahmed. Rooms are decorated in chic palettes of contrasting colours: turquoises with pinks, blue with white - very photogenic. Dining is an equal parts aesthetic and tasty affair. See More

Check Availability

RAAS Devigarh

Udaipur (Delwar)

39 rooms from £225

Total relaxation - Away from the hustle and bustle of town it is a wonderfully relaxing location to explore Udaipur from

Romantic Break - Luxurious suites and a romantic ambience make this a perfect couples retreat

Spa breaks - A spoiling spa providing both Western and traditional Indian treatments

Architectural - 18th century palace renovation.

Majestic Five Star 18th century palace restoration outside Udaipur. Minimal interior designs frame original historic architecture. Luxury boutique suites combine stone floors, marbles, hot tubs, balustraded terraces with all the mod cons. Fabulous views, excellent restaurant, extensive spa and pool. See More

Check Availability

Laxmi Vilas Palace

Bharatpur,, Rajasthan

30 rooms from £45

Value chic - A stay in a palace for under £50 is a serious bargain.

Sights nearby - The former Mughal capital of India Fatehpur Sikri, and the Taj Mahal are a short drive.

Four poster beds - For romantics.

Spa

A great place to stay when visiting the Taj Mahal and Fatehpur Sikri, without having to stay in chaotic Agra. Boasting an impressive dining hall, manicured grounds and rooms decorated with traditional furnishings. Largely North Indian dishes are served, plus a continental breakfast. Well priced. See More

Check Availability

Rajakkad

Dindigul, Tamil Nadu

7 rooms from £90

Eco break - On 60 acres of farmland most of the food is grown here. Green fingers plus green credentials makes this an ultimate eco break.

Total relaxation - Time slows down here. There's no pool or TVs but there is a well stocked library. That is the point.

Back to Nature - Surrounded by verdant hills enjoy guided nature trails, bird and animals spotting.

Hideaway - A quiet spot in less touristy Tamil Nadu: the ultimate south Indian hideaway.

Recommended by - I Escape

Ingenious and utterly charming. An 18th century palace constructed by the Maharaja of Travancore and re-erected in the Western Ghats by Jeremy Fry in the 1990s. Enjoying a cool climate there is no AC - just large sliding doors. Understated chic reigns supreme. Communal dinners are delicious. See More

Check Availability

Jehan Numa Palace

Bhopal (Madhya Pradesh)

100 rooms from £73

Families - Boasting a large pool and gardens. The gateway to Madhya Pradesh's wildlife parks.

Sights nearby - The 'Museum of Man' is within walking distance.

Swimming Pool - Outdoor Pool.

Spa

Owned by the royal family of Bhopal and providing easy access to the wildlife parks of Madhya Pradesh with all the comforts of a palace stay. Featuring a large outdoor pool, simple yet modern rooms and neat grounds. Italian dishes are available at La Kuchina whilst Under the Mango Tree is Indian. See More

Check Availability

Ramathra Fort

Rajasthan

12 rooms from £144

Hideaway - The tarmac roads disappear on the last 100km approach. A rural retreat totally worth the journey.

Romantic Break - Escape with a loved one. Palace and tented rooms are made for romance.

Birdwatching - Grey partridges, night jars, hawks, doves, peacocks, orioles, curlew, pelicans, kingfishers and cranes can all be spotted.

Full of character

Seventeenth century charm; twenty-first century luxury. This lovingly restored hilltop hideaway provides lavish accommodation for those prepared to venture the extra mile. Choose from palace or tented accommodation. Impossibly romantic, guests can enjoy candlelit dining and spa treatments. See More

Check Availability

Stok Palace

Ladakh

6 rooms from £170

Great walks - There are some beautiful walking routes, across the Indus River, leaving directly from the property.

Back to Nature - Surrounded by the Zanskar mountain range this property is ensconced by nature.

Cooking classes - See how it is done in the traditional, open plan, Ladakhi kitchen.

Hideaway - A historic hideaway with pristine rural surrounds.

Built in 1820, Stok Palace is still the abode of the remaining Namgyal dynasty. Now open to the public it houses a fascinating museum filled with family heirlooms. Rooms are decorated with authentic Ladakhi furnishings including hand painted mandala paintings. One of a kind. See More

Check Availability

Ranvas

Jodhpur (Nagaur)

34 rooms from £177

Honeymoons - A regal and romantic escape with candlelit dinners in the fragrant gardens and indulgent interiors worthy of the Maharaja.

Total relaxation - Unwind in style in the frescoed halls, temples, and Mughal pleasure gardens, not to mention the spa.

Sights nearby - The desert towns of Bikaner, with its incredible fort and Mandawa konwn for its painted havelis are a drive away.

Great walks - Hike the perimeter of the 12th-century fort's magnificent ramparts.

Recommended by - I Escape

Following a twenty year renovation by the Maharajah of Jodhpur this collection of havelis is a chic oasis in the heart of the Thar desert. Film set worthy rooms and impossibly romantic candlelit dinners make it ideal for couples. One of the best places to embark on a horse or camel safari. See More

Check Availability

Romantic Break - The Maharawal Suite in particular is made for romance.

Sights nearby - A visit to the family's former palace, the 13th century 'Juna Mahal' is just 15 minutes drive.

Lakeside - Overlooking Lake Gaibsagar.

Views - Great views from hotel

Recommended by - I Escape

One of a kind. Handed down the generations each of the reigning maharajas has added their own twist - giving each room and wing a unique feel. There is a picture perfect outdoor pool, with lake views, plus two dramatic dining halls. Decor ranges from traditional Rajasthani to art deco chic. See More

Check Availability
posted Tuesday, 25th October 2016
Search the best hotels in India