The Best Hotels near the Tadoba Tiger Reserve, India
Maharashtra's oldest and largest tiger reserve;, over 60 years old and totalling an area of almost 1800 km2, it is home to some 43 Bengal tigers, all logged and tracked, as well as a healthy Sambar deer population and skulking leopards. The wetlands surrounding Tadoba Lake attract the Muggar crocodile and a colourful variety of migratory birds. Our pick of the best hotels near the Tadoba Tiger Reserve are all located on the edge of the reserve and provide luxurious accommodation and a great stay for spotting the local wildlife.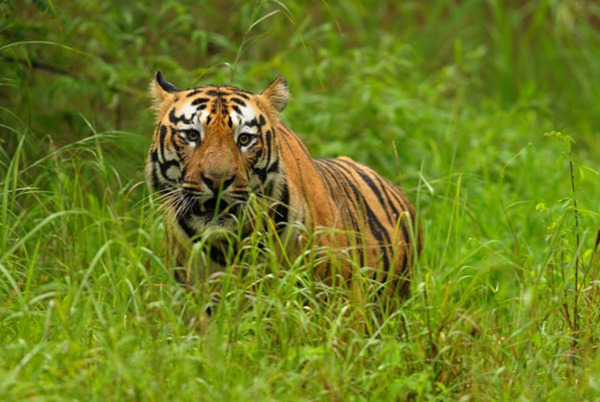 Legend has it that a former village elder, Taru, was killed by a ferocious encounter with a mythological tiger. Today a shrine dedicated to him can still be found beneath an old Banyan tree, along the banks of the Tadoba Lake. If visiting between December and January try and catch the annual fair held in his honour.
For the best weather visit the Tadoba Tiger Reserve between the months of October and March. Avoid the monsoon months of August and September when wildlife spotting is difficult and roads are bad.
The Best Hotels near the Tadoba Tiger Reserve, India
The Best Family Hotels near the Tadoba Tiger Reserve
Children and adults love a safari holiday. However at Svasara Jungle Lodge they have enough onsite activities to keep the kids entertained all day long. An attractive price and family suites add to the allure.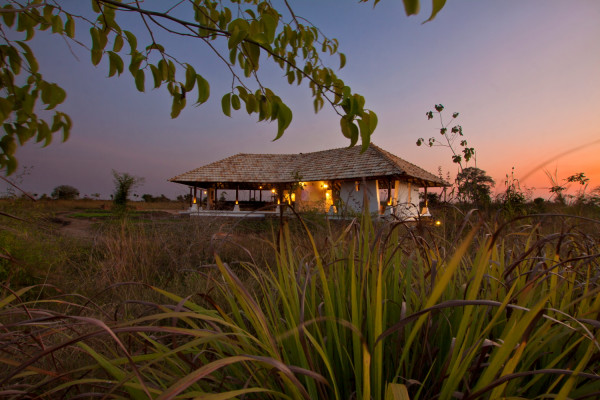 The Best Safari Hotels near the Tadoba Tiger Reserve
With its own private watering hole from where tigers can (sometimes) be spotted TigerTrails Jungle Lodge is for serious wildlife fanatics. Combined with luxurious rooms and your own watering hole in the form of its fabulous infinity pool you could not want for a more immersive stay amongst nature.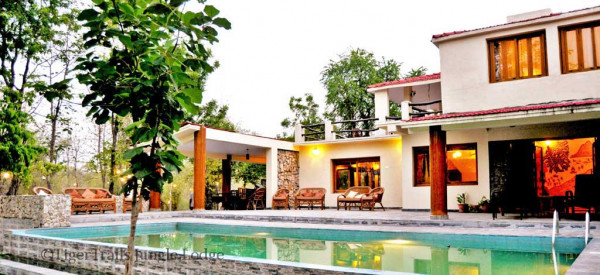 If you haven't found your idea of the best hotels near the Tadoba Tiger Reserve on our Guru's list of the Best Hotels near the Tadoba Tiger Reserve, India, you could:
The Best Hotels near the Tadoba Tiger Reserve
Wildlife Area - Daily Safari Drives in the Tadoba-Andhari Tiger Reserve

Birdwatching - Fantastic bird watching opportunities

Great walks - Safari Walks

Remote - Off the beaten track.

Luxurious jungle lodge in the Tadoba Tiger Reserve, set amid 11 acres. Enjoy this secluded spot and feel at one with nature. Suites are decorated with earthy hues & all have private courtyards with veranda seating. The restaurant serves unique regional 'Varadi' cuisine under the outdoor gazebo. See More

Check Availability

Birdwatching - Fantastic birdwatching at the water hole

Wildlife Area - Tadoba-Andhari Tiger Reserve

Cooking classes - Afternoon cooking classes

Kayaking - Boat and Kanoe trips

On the boundary of one of India's best kept tiger reserves, this hotel is renowned for its safari drives. Bedrooms are simple, comfortable and air conditioned. Guests can enjoy home cooked Indian cuisine afternoon teas. Spot tigers at the hotel's private waterhole on the live screens in the lounge. See More

Check Availability
posted Wednesday, 8th May 2019
Search the best hotels in Maharashtra