8 of the Most Romantic Hotels on the Amalfi Coast
With its dramatic cliffs and sparkling-blue seas, hidden coves and hard-to-reach villages, the Amalfi Coast provides the perfect backdrop for romance. You can choose from grand palazzi and old-school glamour to modern minimalism and cool chic. Add sea-view terraces, infinity pools, luxury spas and private beaches into the mix and our choice of the best romantic hotels on the Amalfi coast could be the place to pop the question, celebrate an anniversary or have an idyllic honeymoon.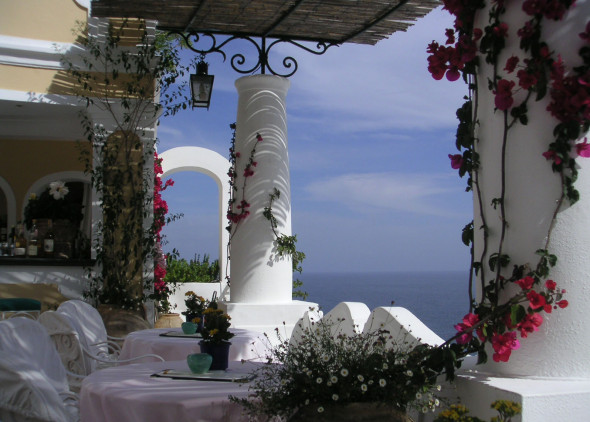 And it's not just confined to one area. Tiny tucked-away Conca dei Marini guarantees privacy; Positano, with its chic shops and restaurants offers glamour; the cliffs above Amalfi town have gorgeous views; while lovely Ravello with its exquisite gardens and even more ravishing views, makes the perfect romantic stage-set.
8 of the Most Romantic Hotels on the Amalfi Coast
The Most Romantic Hotel Views on the Amalfi Coast
The adults-only Hotel Botanico San Lazzaro above Mairori, enjoys dreamy views, especially from its dining terrace. Rooms combine tradition with craft - think hand-painted furniture, tiled floors and silk fabrics. Terraced gardens are heady with lemons and orchids, plus there's a pool. And it's only a stroll away from a lovely beach.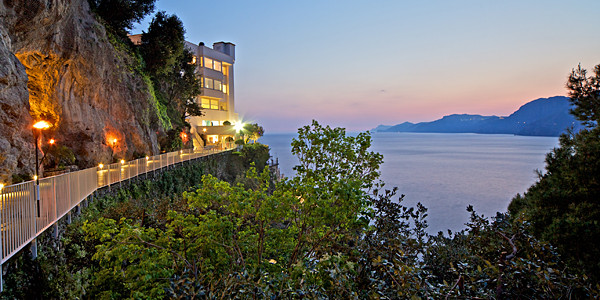 For those who prefer their accommodation to be sleek and modern then Casa Angelina is the perfect romantic property. It's a cool designer pad with more stunning views and stylish accommodation which includes gorgeous little converted fishermen's cottages for two, right on the beach.
The Most Romantic Honeymoon Hotels on the Amalfi Coast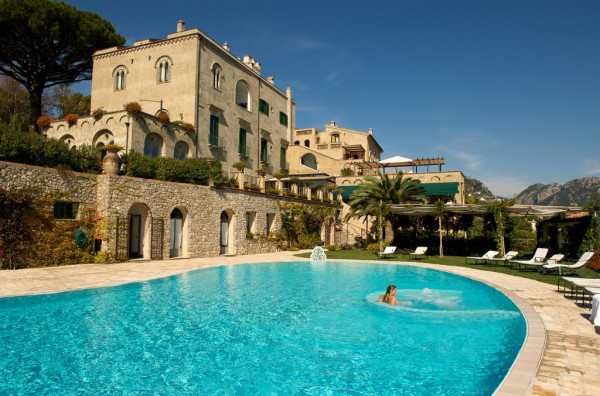 For spoiling luxury and romance, for many people it has to be the stunningly situated town of Ravello, high above the coast. Villa Cimbrone, set on a hilltop of its own just outside the town, makes both the perfect wedding and also honeymoon venue. Gardens roll away to the cliff edge while the rooms of this former private villa are grand with vaulted ceilings, frescoes, tiled floors and antiques. There's also a pool and Michelin-starred restaurant.
If you really want to impress - and have deep pockets - Ravello's Belmond Hotel Caruso won't let you down. Oozing old-school glamour, its rooms combine classic Italian styling - rich fabrics, exposed stonework, antiques - with modern comforts; most have private balconies. There's a beautiful dining terrace with unbelievably romantic views.
The Most Romantic Spa Hotels on the Amalfi Coast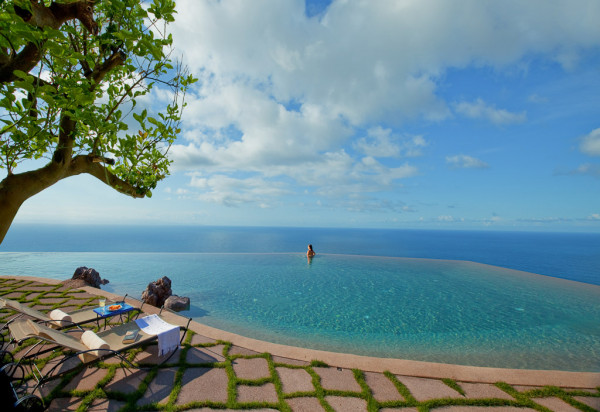 Clinging to the cliffs above the tiny fishing village of Conca dei Marini, Monastero Santa Rosa Hotel & Spa guarantees privacy. The former convent has been converted into just 20 bedrooms, classically understated and each with stunning views. With a top-notch spa, terraced gardens and infinity pool, this is a place for romance and relaxation.
The Most Romantic Hideaway Hotels on the Amalfi Coast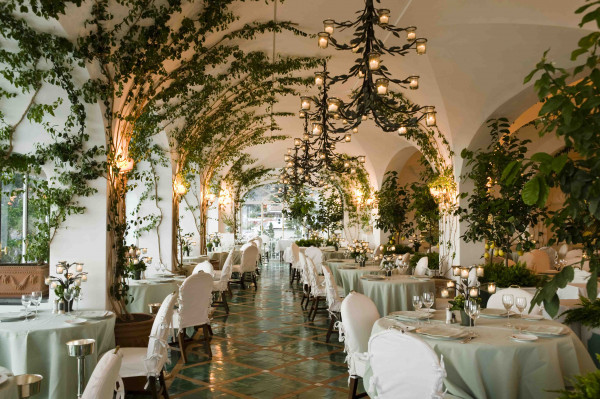 If you want privacy but also to be close to the action, choose pretty Positano where the buildings seem to tumble down to the sea. Le Sirenuse, a former 18th-century palazzo, is as seductive as it sounds, with rooms shimmering with Vietri-tiled floors, glowing-white walls and beautiful Italian antiques. Lemon trees line the pool terrace while the Michelin-starred dining-room, flickering with candles, has to be the prettiest on the coast.
The family-run Hotel Santa Caterina, just outside Amalfi town, is a grand, 19th-century villa tucked into the cliffs and with a private beach. Rooms are boldly styled - some with private pools - mixing the contemporary with Italian antiques and rich drapes. There are also two very pretty, gourmet restaurants.
The Most Affordable Romantic Hotels on the Amalfi Coast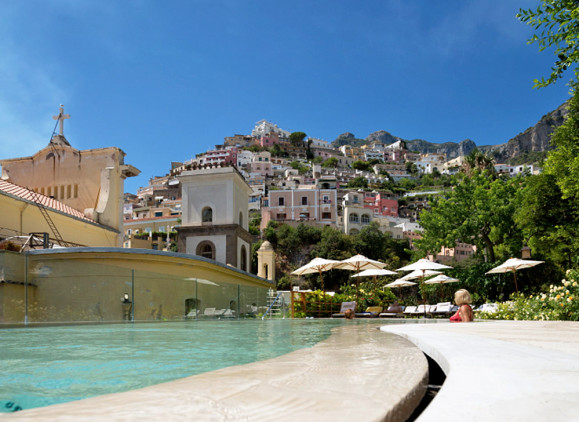 The bougainvillea-draped terraces of Palazzo Murat, an elegant 18th-century townhouse tucked away in the centre of Positano, are a perfect romantic backdrop to lazy breakfasts and early-evening drinks. Rooms are large, cool and elegant, many with private terraces, plus there's a lovely sleek infinity pool.
Italy is often considered the world's most romantic country so choosing one of the best romantic hotels on the Amalfi coast has to be a near-perfect romantic gesture. But if you can't find the perfect hotel in our Guru's collection of 8 of the Most Romantic Hotels on the Amalfi Coast you could:
8 of the Most Romantic Hotels on the Amalfi Coast
Elegant

Views - Great views from hotel

Luxury

Spa breaks

A monastery renovated with romance and elegance. Its celestial views from its perch on a cliff top are to die for. The hotel captures the essence of la dolce vita with its location, understated but immaculate style, and its incredible spa facilities. A romantic destination. See More

Check Availability

Beach Life - Guests ride an elevator down to a private beach and enjoy stunning seaviews from the property.

Sailing - Book a private motorboat and spend a day exploring the Amalfi Coast by sea.

Sights nearby - Visit the ancient towns of The towns of Pompei and Herculaneum.

Views - Breathtaking views over the sea.

Recommended by - Tablet, Michelin Travel

A luxurious retreat in a stunning location. Beautiful rooms in whites and creams with splashes of colour and private balconies. Fabulous restaurants, private beach (reached by a glass lift through the cliff face) and luscious gardens with citrus groves. A tranquil and romantic spot. See More

Check Availability

Romantic Break

Restaurant - With romantic terrace overlooking the sea

Restrictions on children - No children allowed, over 18s only.

Views - Lovely views over the Bay of Maiori

A romantic boutique hotel in a cliff top setting with an infinity pool. Authentically decorated rooms and suites with hand-painted furniture and ceramics, four poster beds, and mezzanine levels. Fabulous orchids; exotic and botanical gardens. Oozing with Amalfi charm. See More

Check Availability

Le Sirenuse

Positano

58 rooms from £519

Romantic Break - A fabulous and sophisticated break for two, with sumptuous suites, black-sand beaches and sparkling sun terraces.

Foodies - La Sponda restaurant holds one Michelin Star and is lit every evening by 400 candles.

Swimming Pool - Beautiful Outdoor Pool.

Seaside - Ideal for a seaside holiday.

Recommended by - I Escape, Tablet, Kiwi Collection

Sheer romance at this family-run hotel in an 18th-century palazzo. A celestial Amalfian fairytale - heavenly bedrooms with private balconies, Michelin-starred restaurant, and a pool terrace filled with lemon trees. A magical spot for romantics and foodies. See More

Check Availability

Palazzo Murat

Positano

31 rooms from £156

Local exploring - Located steps from the Piazzetta dei Mulini and the Spiaggia Grande, right in the heart of Positano

Foodies - Sample exquisite dishes from the Amalfi Coast in the elegant restaurant

Sights nearby - Situated in the centre of Positano, close to all the major attractions

Swimming Pool - Pool with stunning views

Recommended by - CN Traveller

Fabulous 17th century townhouse in Positano with spectacular views. Bougainvillea strewn terraces, an infinity swimming pool, and dreamy rooms and suites with private terraces overlooking the sea. Very romantic, very centrally placed. See More

Check Availability

Villa Cimbrone

Ravello (Ravello, Salernes (Campania))

19 rooms from £573

Writing a novel - Join the list of illustrious authors who have gained inspiration here- E M Forster, T S Eliot, Virginia Woolf, D H Lawrence...

Honeymoons - Perched on a sheer-sided cliff high above the Amalfi coast, with fragrant rose gardens, and romantic poolside dining.

Foodies - Enjoy Michelin starred dining at the Italian restaurant Il Flauto di Pan

Great walks - Wander hand in hand through the stunnig gardens, the best time is early morning before they open to the public.

Recommended by - I Escape, Fodors

A regal and romantic complex with out of this world views. The villa has beautifully manicured botanical gardens that sprawl towards the cliff face. Bedrooms ooze understated elegance, and there's a fantastic Michelin starred Mediterranean restaurant. Renowned as the ultimate wedding destination. See More

Check Availability

Casa Angelina

Praiano

39 rooms from £170

Hotel boats for hire - Private skippered boat for guests.

Luxury

Honeymoons

Romantic Break

Recommended by - Mr & Mrs Smith, I Escape, Tablet, Kiwi Collection, Small Luxury Hotels, Michelin Travel

A very cool designer hotel set in the cliff face. Sleekly minimalist with white washed walls, exposed stone work, and clean lines. Rooms, suites, and separate cottages have private sea-facing balconies. Fantastic spa, restaurant and private beach. Ideal for honeymooners. See More

Check Availability

Great walks - Through the stunning Villa Cimbrone Gardens.

Cooking classes - Check for timings.

Views - Great views from hotel

Romantic - Good for couples.

With former guests including Greta Garbo and Jackie Kennedy you know you are in the lap of luxury. The infinity pool, suspended between sea and sky, is straight from the movies as is the al-fresco, restaurant. Hollywood glamour continues in the bedrooms with chandeliers, mosaic tiles and balconies. See More

Check Availability
posted Thursday, 16th May 2019