The 12 Best Budget Hotels on Lake Garda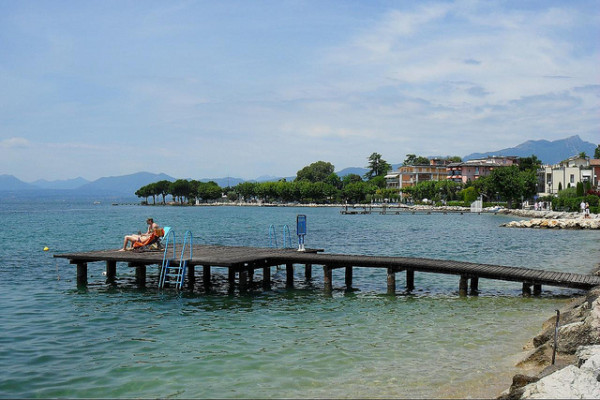 Thomas Kohler via Flickr
Italy's spectacular lakes are known for being as glamorous as they are beautiful, so it may seem an unlikely place to be considering a low cost holiday. Actually, Lake Garda is a great spot for keeping costs low. Verona is a 15mile bus ride from the lake, and plenty of low cost airlines fly there, so then it's just a matter of choosing the best budget hotels on Lake Garda, and our Gurus have done that work for you.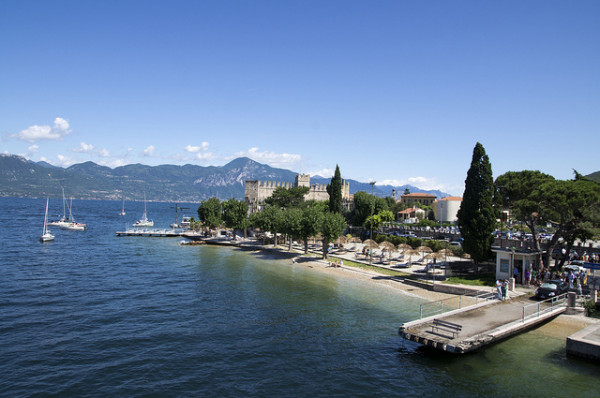 Willy B via Flickr
Their recommendations for the 12 best budget hotels on Lake Garda include special suggestions for families, foodies and those looking for a romantic, but inexpensive break. Then you just have to fill your time and that's easily done! The lake itself is a wonderful playground, with lovely towns and villages dotted around it - easily zipped to by ferry. There are castles, groves of citrus fruits and olives, mountains to hike as well as the shore and plenty of local sights worth a look-in. You'll also find a wealth of options when it comes to meals, with plenty of inexpensive but delicious pizza, pasta and local wine on the menu.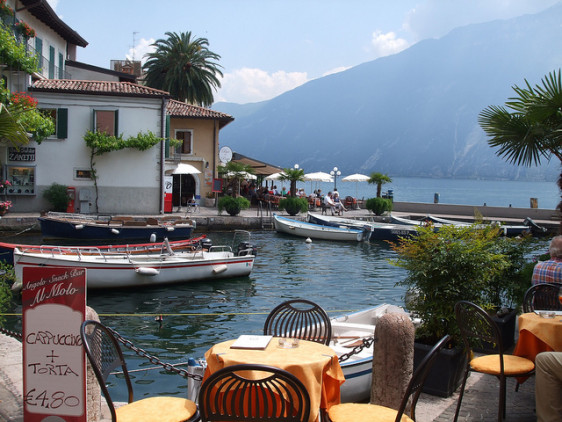 Shearings Holidays via Flickr
The 12 Best Budget Lake Garda Hotels
The Best Budget Hotel Views on Lake Garda
Hotel Castello in Malcesine is a small, contemporary hotel right by the side of the lake. Some rooms have private balconies overlooking the water, there's lovely terrace and restaurant, and guests have their own private beach. Romantic but also family friendly. Rooms start from around £100 per night.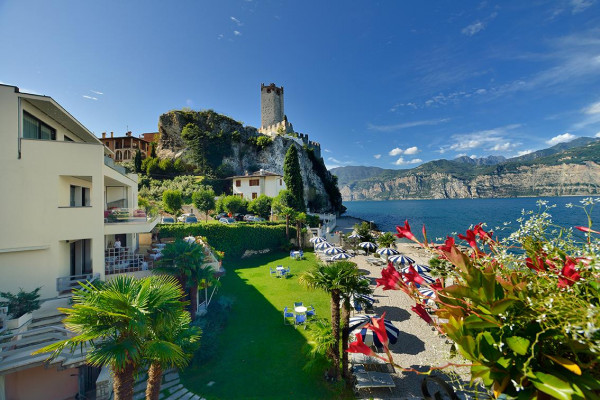 Hotel Gardenia Al Lago, is located just outside Gargnano and boasts a wonderful lakeside position affording panoramic views of both Lake Garda and the mountains beyond. It offers great value in its classically styled rooms, with prices starting at £100 per night including breakfast for a standard double.
Gardesana, in the pretty fishing village of Torri del Benaco, has 34 simple, comfortable rooms, great views and excellent food. It's also wonderful value, with room starting from under £100 per night, and it's quite romantic.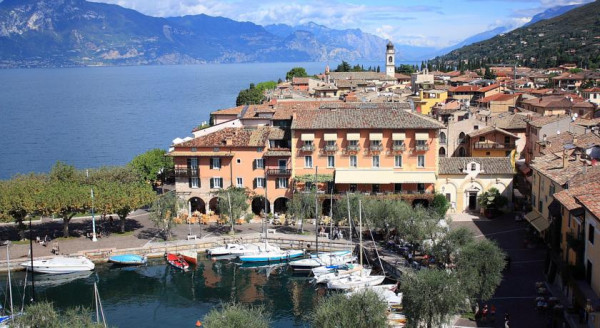 The Best Budget Hotels on Lake Garda for Couples
The Hotel du Lac is a charming 19th century Venetian style villa (right beside the lake) with just twelve rooms each classically decorated with period furnishings, and all mod cons. There's a roof terrace for soaking up the views and a gorgeous, romantic lakeside dining terrace which virtually floats abvove the water. Standard doubles start at around £110 per night B&B.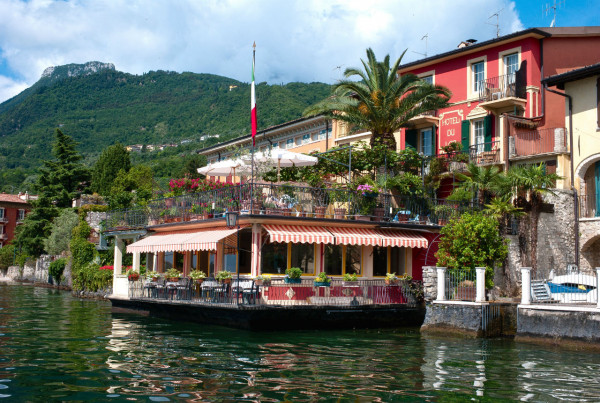 Originally built for the imperial family, the Grand Hotel Fasano in Gardone Riviera is an historic grand hotel in a privileged lakeside position. The architecture is romantic with fairytale turrets and lovely details, but its private terraces, pebbly beach, spa and tennis courts mean it's also a good choice for families. The 76 rooms start from around £100 per night.
The AQVA Boutique Hotel in Sirmione is a calm, modernist hotel with 18 neutral-shaded rooms, a peaceful garden and a small jetty. You're just 600 metres from from Scaligero Castle and within a short stroll of Sirmione's thermal baths. Rooms from around £100 per night.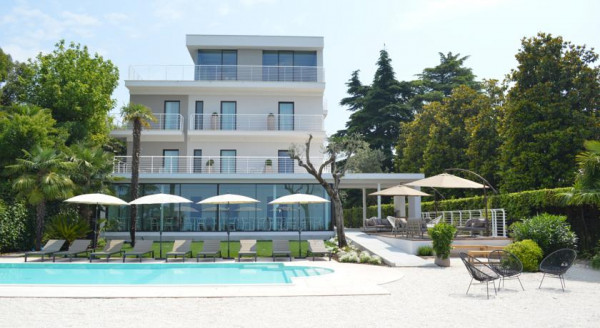 The Best Budget Hotels on Lake Garda for Families
Salò's Hotel Laurin, a stunning hotel with 30 rooms and suites, is right on the shores of Lake Garda. Converted from an elegant 20th Century villa, guests can expect parquet floors, frescoes and Art Nouveau furniture. There's also a lovely pool in shady gardens and an excellent restaurant.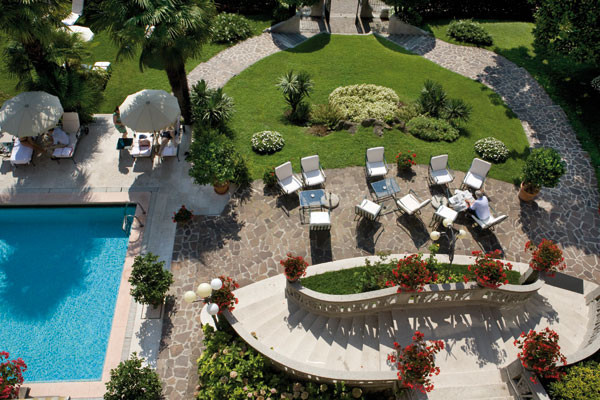 The Garni Gianmartin in Limone is a seven room B&B on the main square, just minutes from the beach. The rooms are simple and comfortable and the suites have their own private terraces with lovely views. The breakfasts are hearty, and the rooms, with breakfasts, start from around £70 per night.
The Villa Vittoria in Gardone Riviera is a graceful villa set amongst palm trees. There are eight large bedrooms, with chic, white interiors, beamed ceilings and Persian rugs. There's also communal living and dining areas. Rooms start from around £75 per night.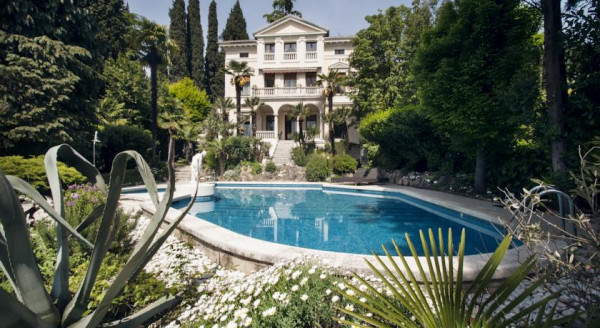 For around £5 more a night you can stay in La Dimora del Garda, in Sirmione, a simple, sophisticated house with four comfortable, air conditioned rooms and an airy communal breakfast room. Each room has a small outdoor terrace.
The Best Budget Hotels on Lake Garda for Foodies
The Osteria Antico Brolo in Gardone Riviera is a gorgeous restaurant with four chic, all-white rooms and suites you can stay in. Private and comfortable, and very good value, with rooms starting from a bargain of around £60 per night.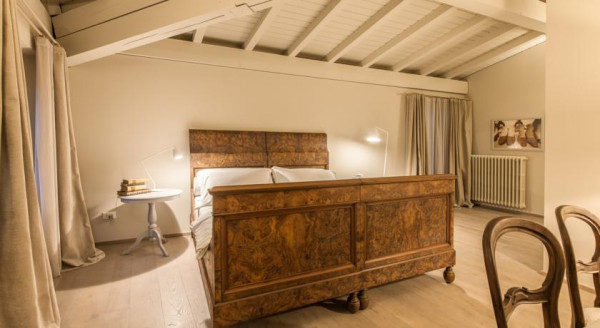 Also in Gardone Riviera, the Locanda Agli Angeli is a similar offering, a charming restaurant with nine romantic rooms - some with four-poster beds. The decor is simple, think whitewashed walls and exposed beams. And there's a small pool. Rooms start from around £70 per night.
Still not sure which of our Guru's recommendations for the 12 best budget Lake Garda hotels might be perfect for you?
The 12 Best Budget Hotels on Lake Garda
posted Thursday, 21st March 2019