The 3 Best Hotels on the Gran Vía, Madrid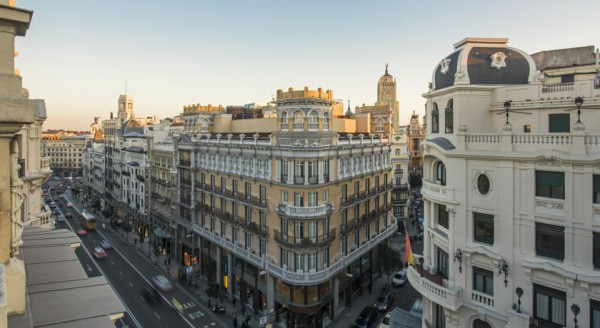 The Gran Vía runs through the centre of Madrid, right through the Plaza de Cibeles, the Plaza del Callo and the Plaza de España, which is also where it finishes. From the best hotels on the Gran Vía it's only five or ten minutes walk to Chueca, Santa Ana and Malasaña. Where there's plenty of places to eat, drink and shop. And it's within a short stroll of many of Madrid's highlights. And it's almost always teeming with people, in fact it's known for being one of the busiest streets for nightlife in Europe - the 'Spanish Broadway'.
The Gran Vía sounds grand, and it is, rather, with some prime examples of 20th century architecture lining its way. You'll see Art Deco grandeur next to Vienna Secessionist style and Spanish Moorish Revival design. Just like Broadway this is also where you might come to see a show, be it an internationally regarded musical or flamenco performance.
Aside from shopping, eating, drinking and being entertained, the Gran Vía is close to the Monasterio de las Descalzas Reales. This impressive monastery was founded by Joanna of Austria (daughter of King Carlos V of Spain and Isabel Empress of Portugal) in 1559, and its treasures include the dowries of several noblewomen. The Inglesia de San José and Parroquia San Marcos are two other local churches of interest for their art and architecture. And there are some lovely private palaces too.
The 3 Best Hotels on the Gran Vía
The Best Contemporary Hotels on the Gran Vía
The Iberostar Las Letras Gran Vía is located right on the Gran Vía, close to many of the city's highlights. It boasts contemporary interiors alongside original features.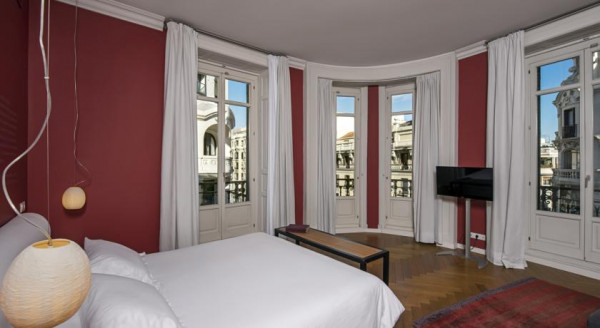 The Grandest Hotels on the Gran Vía
The Principal is a majestic hotel set on the very top floors of a grand building dating from the 1920s. There are 76 rooms, all of them decorated in monochrome shades, with incredible city views and indulgent bathrooms. There's also a fabulous terrace cocktail bar and an elegant restaurant.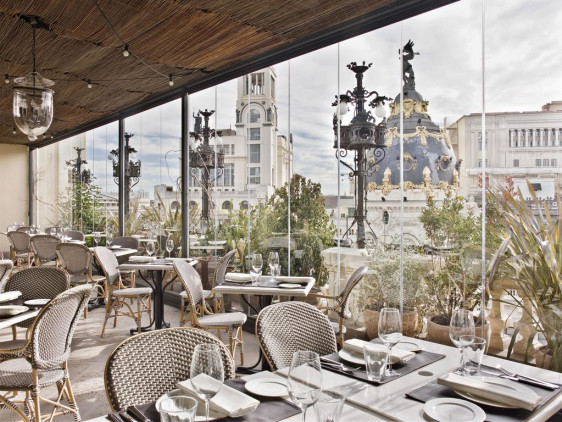 The Best Value Hotels on the Gran Vía
Just one street back from the Gran Vía, Room Mate Oscar has 74 individually designed rooms which are anything but dull - do you prefer wide-awake orange, vivid lime green or a chessboard of black and white? Rooms start from around £85 per night.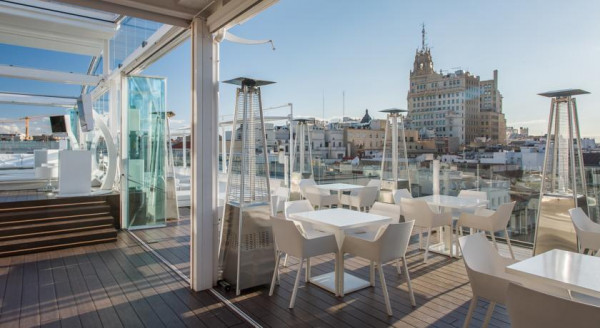 If you haven't found your idea of the 3 best hotels on the Gran Vía on our Guru's list of the 3 Best Hotels on the Gran Vía you could:
The 3 Best Hotels on the Gran Vía, Madrid
City Style - Ornate classic façade of arched windows, wrought-iron balconies and a corner tower meets bold modern interiors to great effect.

Local exploring - At the beginning of the Gran Vía, in one of Madrid's hippest neighbourhoods, walking distance to major sights and trendy bars.

Local markets - Check out El Rastro's Sunday Flea Market, a treasure trove for antique hunters and collectors.

Great walks - Head to Retiro Park, a green oasis with sweeping lawns, waterfalls and a boating lake.

Recommended by - I Escape, Tablet, Fodors, Frommers

The writing is on the wall at this cool location, literally. Contemporary but still classically elegant - vivid reds, ochres, chic whites, and quips from literary figures. Great roof terrace with views and mouth-watering Japanese food at the restaurant. See More

Check Availability

City Style - Expect elegant surrounds, alfresco cocktails and fine-dining in the heart of the city.

Great walks - Take gentle strolls through the picturesque Buen Retiro Park.

Romantic - Good for couples.

Designer - Uniquely designed interiors.

Recommended by - Mr & Mrs Smith, Tablet

A majestic hotel set in the top floors of a grand 1920s building in the heart of the city. Grown up rooms are decorated in monochrome shades, boast indulgent bathrooms and the best have sweeping views of the city. A fabulous restaurant and cocktails served on the terrace make this a special stay. See More

Check Availability

City Style - A unique and cosmopolitan central hotel, which draws a lively crowd to it's uber modern and chic suites.

Sights nearby - Explore the nearby Puerta del Sol, always a-wash with people of every kind.

Lively area - A great central location

Full of character

Recommended by - I Escape, Fodors, Frommers

A lively hotel in avant-garde design in the shopping and nightlife mecca. Individually designed rooms vary from wide-awake orange, vivid lime green, or chessboard black and white. A sleek city destination. See More

Check Availability
posted Monday, 22nd August 2022