The 25 Best Hotels on the Riviera Maya, Mexico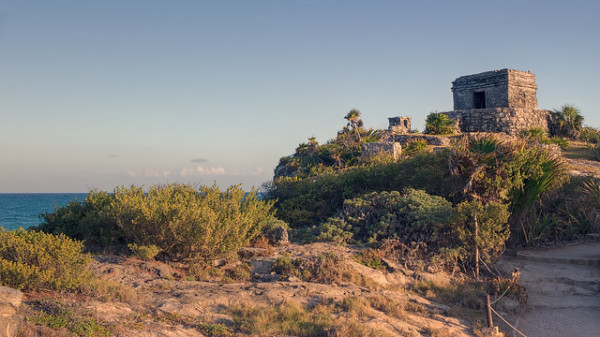 The lush jungles of the Mayan Riviera hide many treasures, but while some visit for the ancient Mayan temples, some folks are drawn to the perfect Caribbean coastline that the jungles fringe...The Mayan Riviera is the area on the eastern side of the Yucatán Peninsula, including party-central Cancún, dive centre Cozumel and the ancient ruins surrounding Tulum, the most famous of which is wonderfully ancient and astronomically correct Chichén Itzá.
Chichén Itzá will be top of many lists, but it's worth popping into the colonial town of Valladolid on your way. And about 90kms east of Chichén Itzá is the Pre-Columbian city of Coba - once home to 50,000 people. You probably also want to visit Tulum. Perched on a cliff, overlooking pristine beaches and an aquamarine sea, the ruins here make even the most banal holiday snaps beautiful.
Divers and snorkellers will definitely want to visit Cozumel. Between this island and the mainland are the spectacular coral gardens of the Palancar Reef and the Great Mayan Reef. As well as being beautiful the reefs are a magnet for marine life. There are amazing sights to see both for novice divers and snorkelers and for more experienced divers. Right across from Cozumel, Playa del Carmen is definitely one of the best places to stay on the Riviera Maya for divers and snorkelers.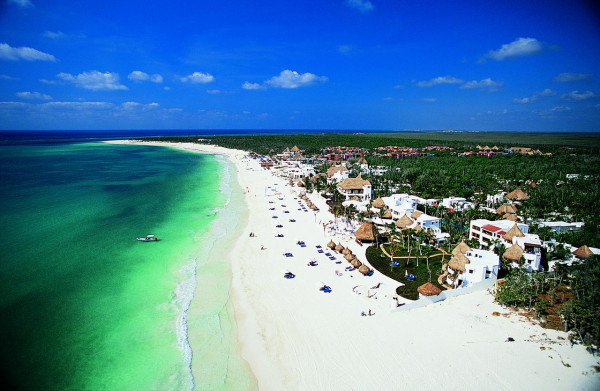 On the Riviera Maya it's always cerveza time, but in the evenings the places to be are Coco Bongo and Dady'O in the Zona Hotelera. Quinta Avenida, Playa del Carmen's main pedestrian corridor is the place to see and be seen. By evening its boutiques and uber chic lounges are where the party starts but after midnight Playa's fun moves to the beachfront discos.
Our selection of the best hotels on the Riviera Maya cater for all. From boutique chic in the heart of Playa del Carmen to hidden gems on the Isla Mujeres.
The 25 Best Hotels on the Riviera Maya
The Best Hotels on the Riviera Maya for a Special Occasion
Rosewood Mayakoba is a secluded, luxury, family friendly property with beach on one side and jungle on the other. It may not be small, with 128 suites, but the accommodations are beautifully appointed and many have their own private plunge pool. There are various dining options, sumptuous spa, and activities galore.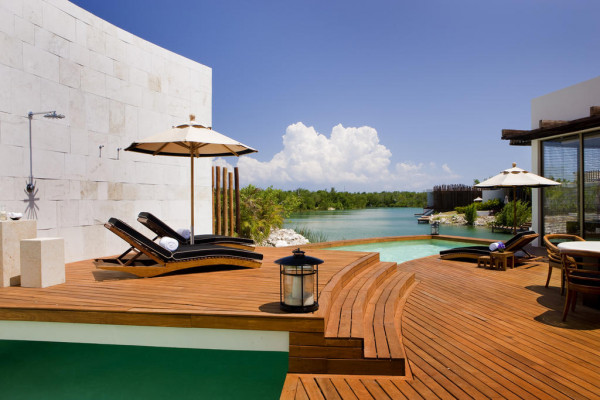 The Hotel Secreto on the Isla Mujeres, just off the coast of Cancún is a luxurious 12 room boutique hotel in an extremely private spot overlooking its own private beach. The rooms have original art works and floor to ceiling windows overlooking the infinity pool and the beach. Apparently the bar serves dangerously good Margaritas.
Belmond Maroma is luxurious, secluded and beautiful, perfect for honeymooners. The nearby beaches are some of region's most beautiful and the massive range of activities and treatments means you don't have to leave.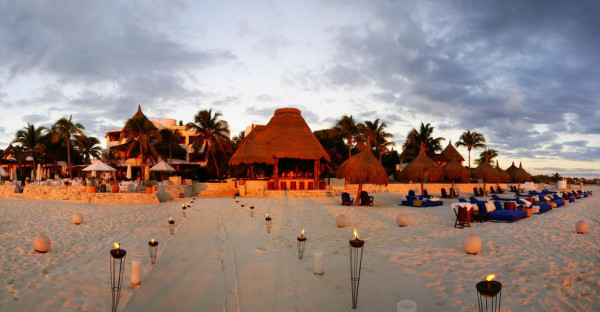 Casa de Las Olas is a seven suite boutique deco-hotel on its own private beach. Rooms are traditional and decorated in white and the atmosphere is one of intimacy and peace. No children under five.
Jashita is a luxurious beach-side property overlooking Tulum's glittering turquoise waters. There are 26 indulgent suites decorated all in white plus spectacular views and and excellent Italian/ Mexican fusion restaurant.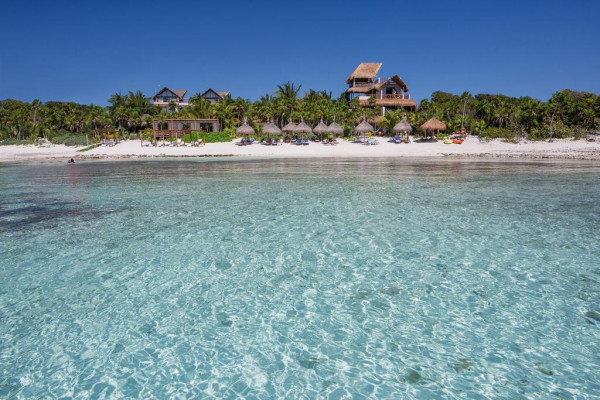 The Best Beach Hotels on the Riviera Maya
There are plenty of hotels right on the sand in Tulum, but Ana Y Jose Hotel is in a great spot even by Tulum's standards, close to one of the best sea swimming spots along this stretch of coast. There are 23 rooms and an exotic spa to top it off.
Tulum's The Beach also demands to be included in this section of the list, but it's deserving, with 28 boho-chic, white-on-white rooms and lovely views just steps from a secluded stretch of white sandy beach.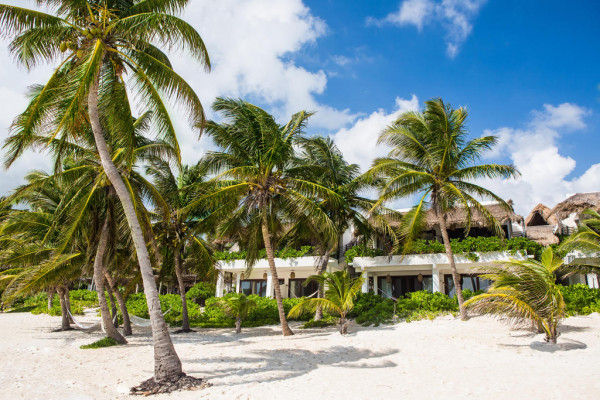 The Thompson Playa del Carmen is a chic beach property with 120 contemporary, minimalist rooms with large terraces and epic views. Their Mexican restaurant is right by the beach, there's also a hip rooftop bar serving memorable cocktails.
Playa del Carmen's Viceroy Riviera Maya is a a stunning collection of 41 rooms and villas surrounded by tropical forest and white sand. The restaurant specialises in exceptional seafood and there's a fantastic Mayan spa. Great if you want to relax on the beach or try every watersport under the sun.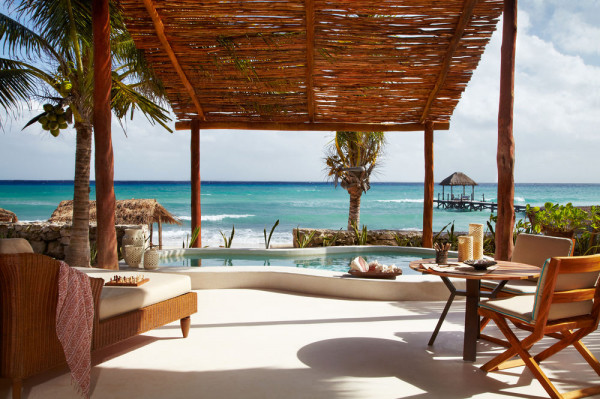 The Nizuc Resort & Spa has a beachfront spot on the Punta Nizuc, which is just out of Cancún proper, and offers panoramic views of the Caribbean. This is a big hotel - with 274 rooms and suites - with chic, contemporary decor, a luxurious spa and a choice of six onsite restaurants.
The Best Hotels on the Riviera Maya for Adventure
Casa Ticul in central Playa del Carmen is a favourite of the diving contingent.
Just outside Tulum, in a beautiful beachfront spot, Sanara is a low-key hotel with 19 rooms and suites and a great spa. There's also a superb restaurant perfect for after your post-sunset-beach-stroll.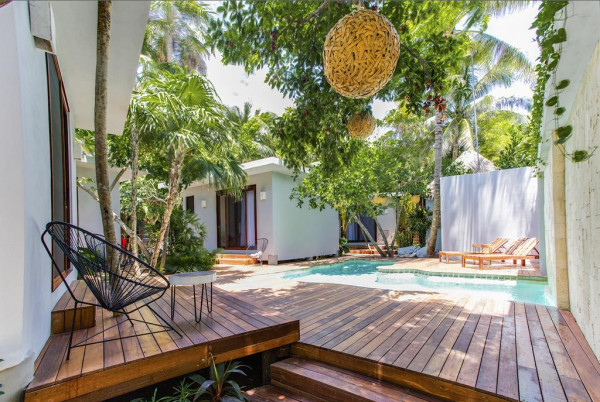 Mezzanine is a nine room, eco-friendly resort beside a secluded beach. There are tropical gardens and breathtaking sea views, plus plenty of activities on offer.
The Best Hotels on the Riviera Maya for Barefoot Luxury
If you like the idea of a small property right on the beach then Encantada Tulum is a for you. There are just eight rooms and you're set directly against a pristine stretch of white sand. The large terraces have incredible sea views and inside the decor is simple and chic with plenty of wood.
The Papaya Playa Project is a collection of 73 sustainable boho-chic rooms and cabanas on a secluded stretch of white sandy beach. The decor is hip and Mayan, while the beach club is hip and Mexican.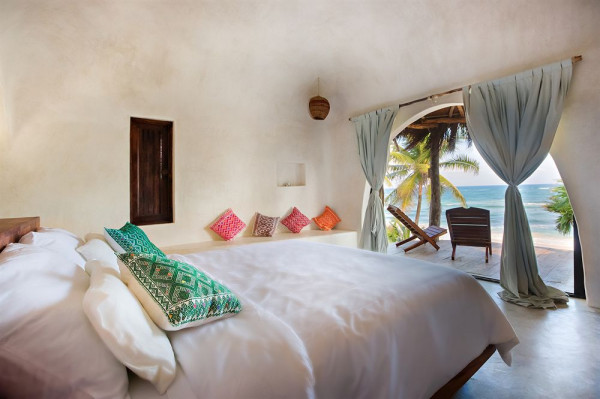 Nomade Tulum is a 38 room hotel in a stunning, beachfront spot. The accommodation is in a range of rustic tents, villas and suites and there's a retreat feel to the place and a great vegetarian restaurant.
The Best Hotels on the Riveira Maya to Escape to
Hotel Secreto is a modern white cubist building with stylish, but bare interiors - think limestone floors and huge mirrors inside and daybeds and an infinity pool outside. Situated on the Isla Mujeres, this hidden gem is easily one of the best places to stay in the Riviera Maya if you want to avoid the crowds.
Hidden within the jungle, Be Tulum is a collection of 20 atmospheric suites with rustic chic decor and free-standing baths. The romantic restaurant blends Mediterranean and Mexican flavours and there's a pool and spa as well as the beach right on your doorstep.
La Zebra is a 16 room boutique style hotel on a quiet stretch of beach. The decor is contemporary with plenty of natural light. There's a great seafood restaurant and a lively tequila bar if you need a bit of a kick.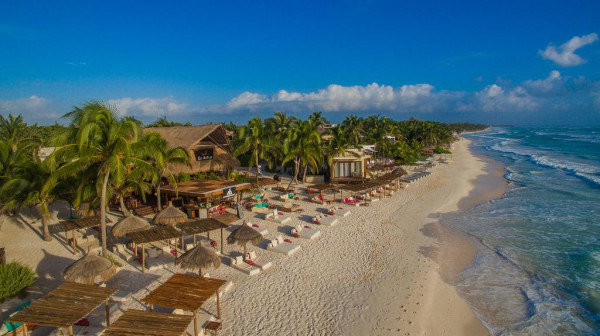 The Most Fun Hotels on the Riviera Maya
Soho Playa is in just the right district of Play del Carmen, surrounded by cool bars, good shopping and a hip vibe - all just a few steps from the beach. They help you get into the right frame of mind with yoga and meditation in the mornings.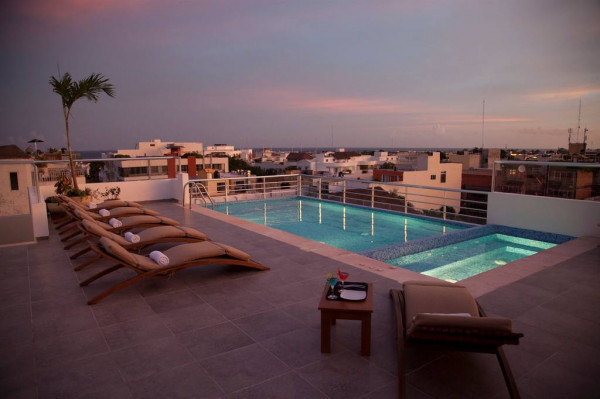 Also in Playa del Carmen, Be Playa is a chic boutique property with contemporary rooms with wood floors, hot tubs and excellent views. There's a rooftop pool, a hip bar and a creative seafood restaurant.
Casa Malca is a trendy private-beach-side hotel with 40 rooms and suites, three pools and a lively bar. The decor is white on white and contemporary fabulous.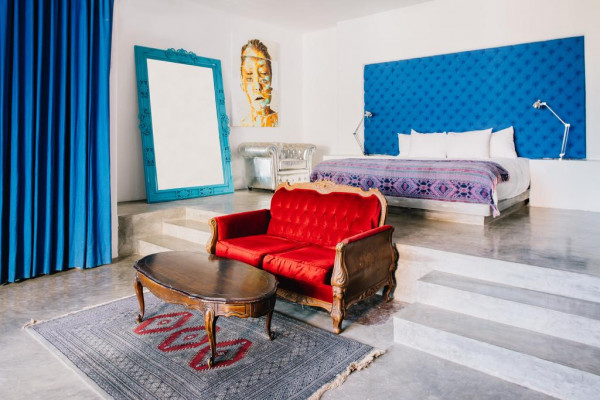 The Best Value Hotels on the Riviera Maya
Casa Ticul is a relatively new adult's only 20 bedroom boutique hotel in Playa del Carmen with traditional decor but all the mod. cons.. There's a small outdoor pool and you're well located for exploring town and the beach. Rooms start from around £85 per night.
Some of the Hotel La Semilla's nine rooms start from just over £100, but this is a more stripped-back and fashionable Playa del Carmen property with well chosen flea-market furniture and no TVs.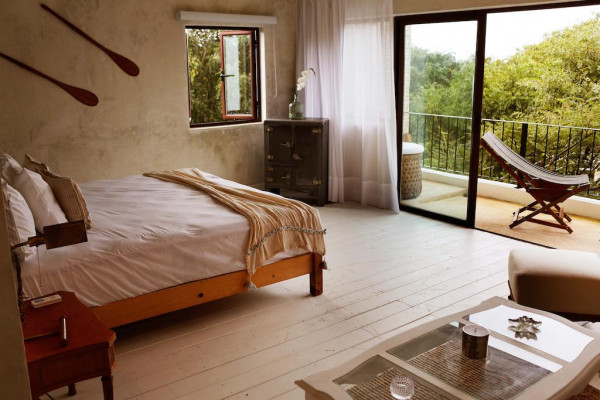 The Zamas Hotel is a laid-back 20 room property on one of Tulum's most beautiful stretches of beach. The decor is rustic chic with wooden furniture in sort-of-tile-floored-huts. There's also a private villa for families and the restaurant has great traditional Mayan fare. Rooms start from around £100 per night.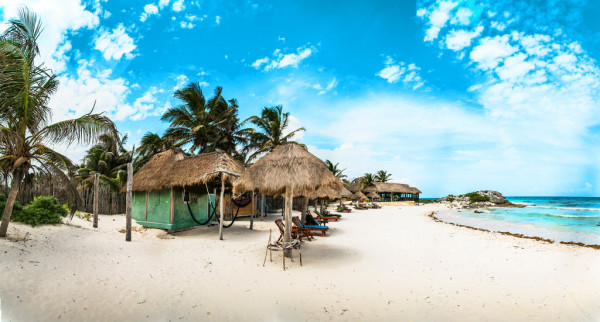 Also for around £100 per night you can stay at the Hotel Tiki Tiki, a 15 room boutique hotel in quiet, leafy surrounds. The decor features plenty of glass and minimalist design.
If you haven't found your idea of the best hotels on the Riviera Maya on our Guru's list of the 25 Best Hotels on the Riviera Maya you could:
The 25 Best Hotels on the Riveira Maya
posted Friday, 4th November 2022