20 of the Best Riads in Marrakech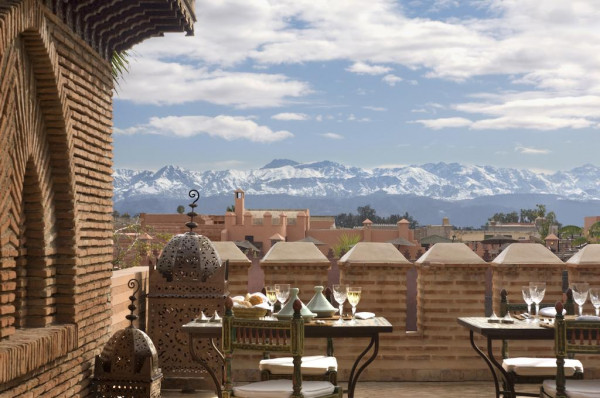 Marrakech and its riads have it all: gorgeous gardens, exciting shopping, exotic interiors. And our Gurus have gone though around 1500 of them, to pick out the 20 best riads in Marrakech. Riad (which can also be spelt Riyad or Ryad) is the Arabic word for a traditional house or palace with an interior garden, designed to provide both cool shade from the heat outside, as well as privacy for the family. Consequently the walls of a Marrakech riad are typically very thick, with no exterior facing windows, just a grilled entrance and a heavy studded door. Once inside, however, a magical world is revealed, of delicate mosaics, carved woodwork, scented potted plants, lemon trees, birdsong, and often a tinkling fountain.Yes, there are large hotels in Marrakech for sure, but for those who want to experience something more authentic the rise of the Marrakech riad is a revelation, and there are some seriously cool hotels here. These converted townhouses, deep in the heart of the hub of the city, are transforming the hot, dusty, noisy medina into a 21st-century lifestyle destination.
For a Traditional Riad Experience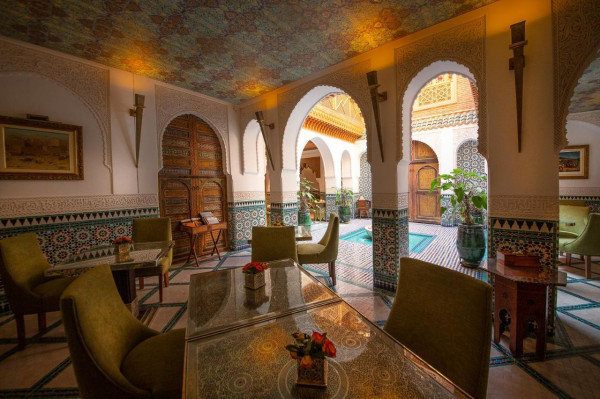 The Riad Elegancia is one of our picks for anyone who loves Moroccan design and architecture. This charming, 11 room riad was refurbished in 2020, and returned to its former glory of painted cedarwood ceilings, geometric Moroccan tiles and chiselled copper features. We think it's one of the most authentic riad experiences in Marrakech — but with all the modern luxury of a five star hotel. The hammam and spa are the perfect sanctuary, plus there's a rooftop pool and terrace and incredible cuisine.
Beautifully restored, and in an incredible spot in the heart of the medina, the Riad Camilia is surprisingly spacious, as well as being traditionally romantic. Just six rooms and suites surround the riad's lush central courtyard, and from there you have access to the stunning rooftop. Traditional meals are available on request.
For the Scrapbook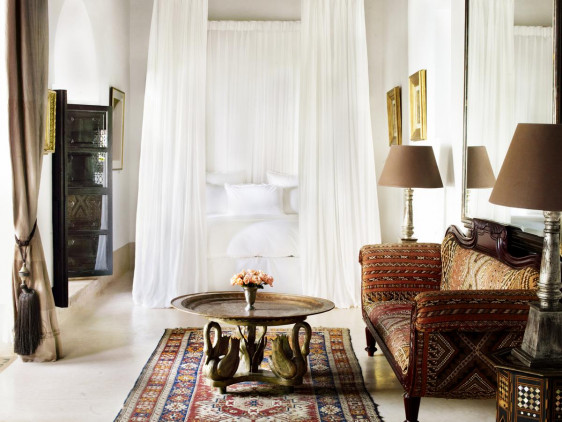 Riad Be is a stylish, ten room riad in Bab Doukkala, close to the souks and the medina. Decorated confidently, with patterned tiles and a range of ice-cream colours, this is a memorable pick. The Moroccan cuisine is superb, they offer cooking classes, there's a gorgeous courtyard with a pool, and a roof terrace.
Luxurious, stylish and private feeling, L'Hotel Marrakech has just five suites, all sublimely decorated, with intricately carved furniture, gorgeous lighting, and four-poster beds draped in voile. Jasper Conran is the owner and designer of this hideaway, and his eye for traditional craftsmanship is impressive.
For Romance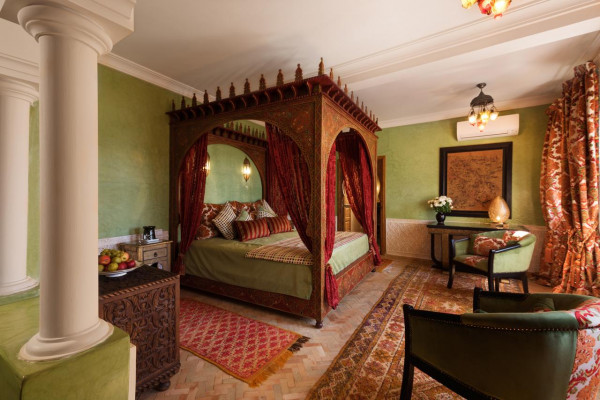 The Riad Kheirredine offers a sumptuous feeling merging of traditional Moroccan design and contemporary comforts, and we think it's one of the most romantic riads in Marrakech. There are 11 rooms and suites, some with curtained, four-poster beds, two pools, a hammam and spa, a wonderful Moroccan-Italian fusion restaurant, and a gorgeous roof terrace.
Just minutes from the main square, the Riad Mena & Beyond has been converted from a stylish private residence. Its seven individually designed rooms and suites all have sleek, whitewashed walls and an eclectic decor of antiques and vintage pieces. The courtyard is large and shady, and there's a plunge pool.
For Roof Terrace Views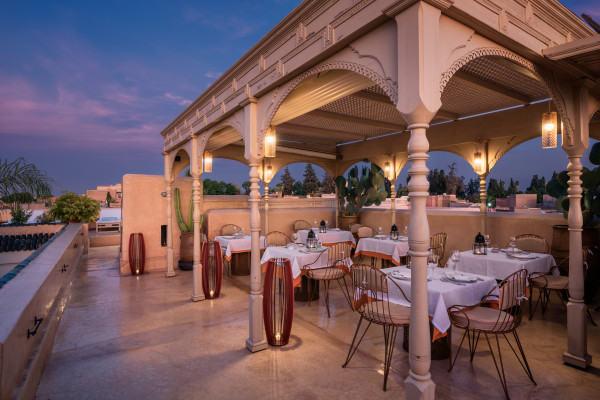 With its subtle, Italian influenced, design, 72 Riad Living is considered one of the most fashionable riads in the medina. Its 13 rooms and suites are all individually decorated and two of the suites have private rooftop hot tubs. The dining room atmosphere is enticing, as is the food, and the views from the rooftop bar are unsurpassed.
Dar Les Cigognes has two roof terraces lined with geraniums, palms and citrus fruits, because this is two riads joined into one. Each of the 11 rooms and suites are a unique blend of Moroccan style and European design, and it's all very elegant. As is the spa and hammam, and the restaurant, which serves Moroccan and Mediterranean dishes.
For the Medina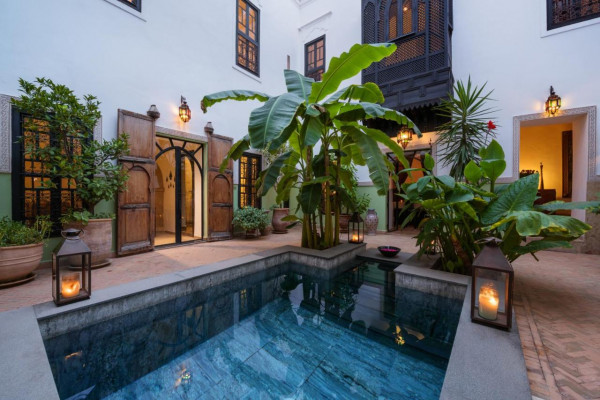 The Riad Azzar is a great little owner-run riad in the heart of the historic medina, with just six rooms and suites around a gloriously tropical courtyard and plunge pool. The suites are romantically decorated, and all of the rooms and common areas offer an attractive mix of traditional decor and comfortable, unfussy contemporary detail. The dining room off the main courtyard serves traditional breakfast and moroccan dishes, or you can eat in the courtyard or roof terrace.
The Riad Adore is an elegant, contemporary riad in a superb central spot minutes from the Souk Cherifia. The ten rooms and suites are spacious, airy and bright, with large windows and balconies, and sumptuous furnishings. The menu is inspiring, and the small spa has an impressive menu too, plus there's a hammam. And the roof terrace is glorious!
For Pampering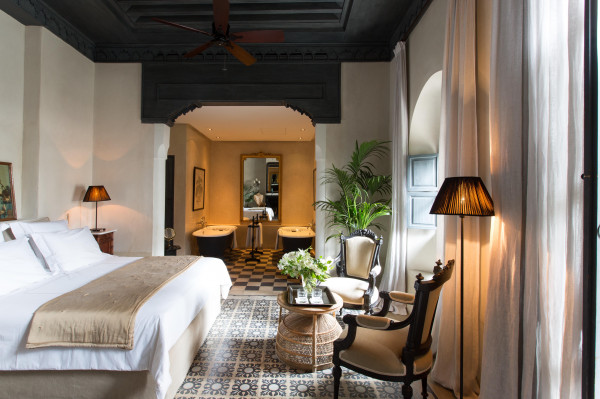 The Riad de Tarabel is a spacious, elegant, colonial-style riad perfectly secluded in the bustling medina. It's certainly a wonder that these ten rooms and suites, with their beautiful tilework and French antiques, could be such a haven of peace when it's so busy around them, but that's the magic of traditional Moorish architecture. The tree-filled courtyards provide plenty of private nooks — one has a heated, tiled pool — and there's an incredible roof terrace, plus of course the traditional hammam and spa.
For Luxury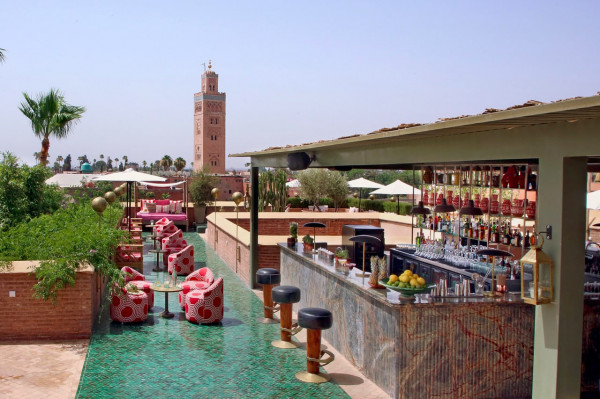 El Fenn is a hotel made up of a string of interconnected riads on the edge of medina. All together there are 12 riads, taking up around a whole acre of space, yet the way the buildings and courtyards are all intertwined gives a feeling of a cosy escape — albeit a grand one. There are just 31 rooms and suites — all huge, with 17ft high ceilings and multiple rooms — plus two cocktail bars, a library, boutique, a spa and a huge rooftop terrace with a restaurant and pool, from which you'll have views of the Atlas Mountains.
La Sultana is a luxurious, five-star riad (an amalgamation of five smaller riads), with incredible Atlas Mountains views from its roof terraces and tucked away in a quiet part of the Kasbah. The decor is a wonderful fusion of traditional and contemporary luxury, and varies amongst the 28 rooms and suites. In addition to the multiple roof terraces there are also multiple courtyards with pools, and a spoiling spa and hammam.
For Foodies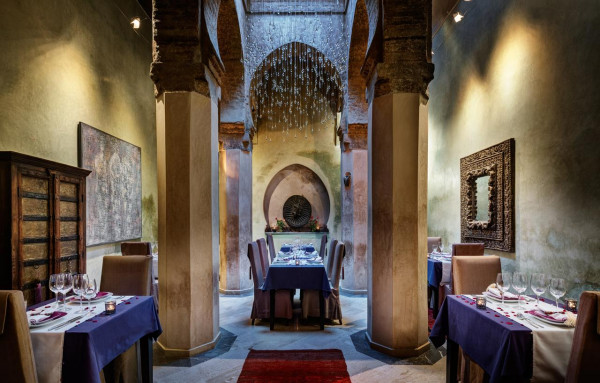 Beautiful and luxurious, the Riad Siwan is a another elegant merging of traditional Moroccan design and contemporary comforts. The seven rooms and suites have some exquisitely carved woodwork, grand ceilings, mosaics and original art. There's a wonderful rooftop restaurant specialising in traditional Moroccan cuisine, using food largely sourced from the owner's gardens. The location is ideal for exploring Marrakech on foot.
Right in the heart of Marrakech, the Riad Farnatchi's nine airy suites offer a stylish, romantic haven, complete with a beautiful and traditional white marble hammam. The restaurant serves a delicious menu of Moroccan and European dishes, and they run an extensive range of cooking classes, which range from multi-day courses, to a few hours, or a foray into the market followed by learning a couple of dishes.
For Families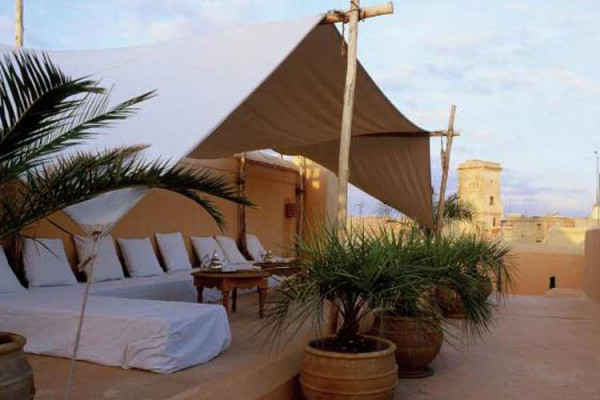 The 15 room Riyad El Cadi has been formed through the joining of five 14th century riads, now connected by a maze of corridors and courtyards. Calm pervades into the cool, whitewashed rooms with their fine furniture and art, and onto the peaceful roof terraces too. There's a pool and hammam, and a restaurant known for its impressive tagines. This is a great pick for families: it's calm, friendly and unfussy, and they offer babysitting too.
The Riad Abracadabra has the feel of a boutique hotel, with eight individually decorated rooms and suites — all with contemporary white walls, but an eclectic mix of stylish decorations. Some suites sleep four. The location is excellent, just five minutes walk from Djemaa el-Fna, and the panoramic views from the roof terrace are impressive. The restaurant serves up Moroccan and Spanish cuisine.
For Great Value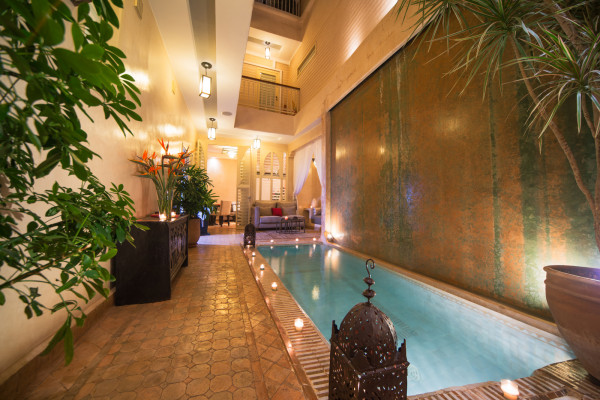 The Riad Cocoon defines its intentions with the name, planning to wrap guests in luxurious comfort within the bustle of Marrakech. There are just five rooms, all individually designed in a relatively minimal, contemporary style for a riad, plus a plunge pool, hammam and a roof terrace. The Moroccan cuisine is gourmet, and the friendly owner/host is French.
The Riad Shambala is a small, owner managed property offering a wonderfully traditional riad experience, complete with Moroccan accents, and all natural materials, but offering modern Western comforts too. The restaurant is a prime example of this, it serves a fusion of dishes, and a continental breakfast. There are just five rooms, a roof terrace, and an inviting courtyard plunge pool.
Riad Dar Zaman is a charming little riad in the heart of the medina. With just four rooms, all traditionally decorated with Berber rugs and original art and antiques, you don't have many other guests to share the plunge pool and beautiful sun terrace with. The food is excellent, also traditional, and they offer cooking classes too. And you can see the mountains from the roof terrace.
Still not sure where to book?
posted Thursday, 10th February 2022