20 of the Best Riads in Marrakech
Marrakech and it's riads have it all: gorgeous gardens, exciting shopping, exotic interiors. The 20 best riads in Marrakech are listed here - there are over 1500 of them. Yes, there are large hotels for sure (famous La Mamounia reopened its doors in 2009 after a two year closure), but for those who want to join in the party the rise of the Marrakech riad is a revelation, and there are some seriously cool hotels here. These converted townhouses (spelt riad or riyad), deep in the heart of the hub of the city, are transforming the hot, dusty, noisy medina into a 21st-century lifestyle destination.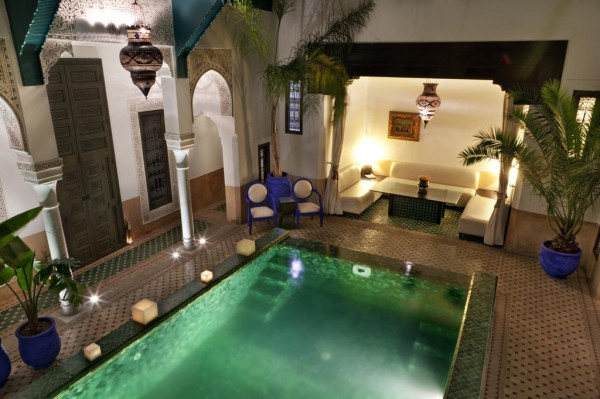 What is a Riad?
Riad, which can also be spelt Riyad or Ryad, is the Arabic word for a traditional house or palace with an interior garden, designed to provide both cool shade from the heat outside, as well as privacy for the family, especially the women. Consequently the walls of a Marrakech riad are typically very thick, made of mud, brick or clay, with no exterior facing windows, just a grilled entrance and a heavy studded door. Once inside, however, a magical world is revealed, of scented potted plants, lemon trees, birdsong, and often a tinkling fountain.
Characterized by plain facades, duck-your-head doorways, and decorative interior courtyards, the best of the riads in Marrakech are in the heart of the action, but at the same time providing a cool oasis from the noise, dust and hubbub. They provide your own utterly authentic oasis. These riads are intimate affairs, and most have fewer than ten beds.
We've categoried them into most romantic, best roof terrace, best riads in the medina, most luxurious, best for foodies, best for families and best value.
20 of the Best Riads in Marrakech
The Most Romantic Riads in Marrakech
Riad de Tarabel

Quartier Dar El Bacha Marrakech Médina

10 rooms from £200

City Style - An elegant colonial-style riad filled with French antiques.

Local markets - Situated amidst the Medina, step out of the hotel and scour the souk for treasures.

Romantic - With stylish French interiors it's hard not find Riad de Taravel utterly romantic.

Boutique - Small, private and peaceful, Riad de Tarabel is close to perfection.

Spacious and elegant, this colonial style riad in the bustling Marrakech medina is the epitome of luxury. French antiques are scattered throughout the property alongside traditional Moorish architecture. Feast on regional classics, be pampered in the spa. Perfectly placed for city exploring. See More

Hotel Website

Dar Zemora

Marrakech

6 rooms from £195

Country Escape - A totally tranquil property near the bustling city of Marrakesh making it the ideal place to relax after a days exploration

Romantic Break - A romantic haven, with lavish fourposter beds, incredible six-course dinners and lush gardens for strolling hand in hand.

Tennis - Access to tennis courts can be arranged by the hotel.

Swimming Pool - Two outdoor pools

Recommended by - I Escape, Mr & Mrs Smith

Understated luxury in the Palmeraie a short drive from the medina that will appeal to couples and small groups seeking poolside peace in a beautiful garden location. Ideal for completely unwinding. See More

Check Availability

Riad Camilia

Marrakech (Kaat Benahid)

6 rooms from £148

Roof terrace - At over 650sq metres, this quintessenital Marrakech rooftop is one of the largest of any boutique hotel in the city

Romantic Break - Dar El Bacha Suite has honeymoon written all over it; enjoy fireplaces, spectacular soaking tub & private courtyard

Local exploring - Fab location means it's an easy 5 min walk to the Rahba Kedima spice souk, Marrakech Museum & Medersa Ben Youssef

Hideaway - Tucked away down meandering sidelanes this is a true hidden haven & urban oasis

Tucked away in the heart of Marrakech's atmospheric medina, this beautifully restored riad is the epitome of boutique chic. Romantic rooms & expansive suites are wrapped around a lush interior courtyard that leads to a stunning rooftop. Traditional dishes are available on request. Hidden gem. See More

Check Availability
The Best Riad Roof Terraces in Marrakech
Dar Les Cigognes

Marrakech Medina

11 rooms from £143

City Style - Magical rooms in a stylish Riad, with award winning restaurant and extensive spa services- all in the center of Marrakech!

Elegant

Cooking classes - Learn to cook traditional Moroccan food with the school that was voted Best Moroccan Cooking School in the world.

Local markets - Less than a ten minute walk away you'll find Jamaâ El Fna Square, the main market in Marrakech

Recommended by - Mr & Mrs Smith, Tablet

An understated and elegant Riad, in the heart of Marrakech. The beautifully decorated rooms fuse Moroccan and European styles to create enchanting spaces. Fantastic views from the roof top terrace, while you chow down on award winning delicious food. Simply magical. See More

Check Availability

La Sultana

Marrakech (Kasbah)

28 rooms from £269

Sights nearby - The famous Jemaa El Fna square, Saadian Tombs, Royal Palaces and Bahia Palace are all within walking distance.

Cooking classes - Spend a morning with the hotel chef and learn the secrets of Moroccan cuisine.

Local markets - Explore Marrakesh's enormous souk and hunt for a treasure.

Romantic - Good for couples.

Recommended by - Small Luxury Hotels, Tablet

A bijou five star property comprising five co-joined riads in a quiet area of the Kasbah. Cool courtyard and delightful roof terrace for relaxing and evening cocktails. A spoiling spa and hammam will ease away any stress. Highly recommended. See More

Check Availability

Dar Kandi

Marrakech (Marrakesh 40000)

6 rooms from £178

City Style - An ideal pied-a-terre situated in the heart of the atmospheric medina, close to souks and sights

Great walks - Head to the stunning Jardin Majorelle botanic garden with lovely walks and its stunning indigo blue art deco house

Local markets - Wander around the spice market 'Souk Place des épices', and 'Souk Semmarine', Marrakech's biggest souk

Sights nearby - Explore the famous Bahia Palace and the stunning ruins of El Badi Palace

Recommended by - Tablet

An idyllic riad hotel with an airy and leafy central courtyard and a pretty rooftop lounge area with pool. Elegant interiors feature pretty tiling, lattice-work and classic furniture, while sumptuous rooms combine traditional Moroccan elements with stylish modern fittings. A truly tranquil haven. See More

Check Availability
The Best Riads in Marrakech's Medina
The Most Luxurious Riads in Marrakech
Royal Mansour

Marrakech (RUE ABOU ABBAS EL SEBTI)

53 rooms from £868

Total relaxation - Be completely spoilt in this uber luxurious property set in lovely Moorish gardens.

Spa breaks - Book one of the spa suites for some pure indulgence.

Local markets - Explore Marrakesh's lively souk and find anything from leather to spices.

Sights nearby - Visit the nearby Bahia Palace and famed Djemaa El Fna square.

A collection of 53 opulent riads commissioned by King Mohammed VI. Set in a quiet Moorish garden yet just minutes from the heart of the city. Find no luxury spared in the private villas decorated with geometric mosaic, carved cedar wood, stained glass and silk carpets. Utterly spoiling. See More

Check Availability

Riad Farnatchi

Marrakech (Rue Souk el Fassis)

9 rooms from £225

Local markets - Just ten mins from Jemaâ El Fna Square.

Cooking classes - There are a whole range of classes available from extensive courses to a day in the market followed by learning a dish or two.

Great walks - Guided tours to help you uncover the history of Marrakech, get your bearings in the souks or even find the perfect carpet.

Restaurant - In-house dining available for all meals. Le Trou au Mur serves a delcious mixture of Moroccan and European dishes.

Recommended by - Mr & Mrs Smith, I Escape, Tablet, Kiwi Collection

An elegant luxury riad right in the heart of Marrakech. The chic airy suites feel spoiling and romantic, with private balconies, Egyptian cotton sheets and handmade furnishings. Traditional white marble hammam is an ideal way to unwind after a day in the Souks. A really exquisite and intimate spot. See More

Check Availability

Riad Jaaneman

Marrakech

5 rooms from £174

City Style

Romantic Break

Sights nearby - Situated in the heart of the medina, a stone's throw from the souks and the Dar el Bacha Palace

Views - Wonderful views of the Dar el Bacha Palace over to the Atlas Mountains

A highly luxurious boutique Riad in the Medina. Romantic chic suites, some with four poster beds, have marble floors, photographs on the walls, delicate Italian bedding, enormous bathrooms, and balconies with views towards the Atlas mountains. Glorious courtyard and roof terrace. A stylish haven. See More

Check Availability
The Best Riads in Marrakech for Foodies
La Maison Arabe

Marrakech (Bab Doukkala)

37 rooms from £180

Luxury

Restaurant - Recommended.

Local markets - Ten minutes from Jamaâ El Fna Squarem, with plenty of smaller souks nearby.

Great walks - Head out to Majorelle Gardens for a peaceful stroll.

Iconic restaurant turned luxury hotel, in the Medina of Marrakech. The decor is a sublime combination of traditional Moroccan craftsmanship and smart European style. Every detail sings charm, old-school elegance, and history. See More

Check Availability

Riyad Al Moussika

Marrakech (Kennaria)

5 rooms from £200

Great walks - Explore The Medina's famously rabbit warren-esq streets, be sure to bring a hotel card as getting lost is all part of it!

Local markets - Just five minutes from Jamâa El Fna Sqaure where you can find killer bargains, or simply observe the hustle and bustle.

Sights nearby - Explore the magnificent Bahia Palace and Gardens, orginally built by a slave who rose to be grand vizier.

Restaurant - Pepe Nero serving organic Italian alongside traditional Moroccan dishes

Recommended by - Tablet

Opulence and gastronomy come together in this impressive restaurant guesthouse, once one of the residences of Lord of the Atlas, with five remarkable rooms. For couples and solo travellers who want to experience a slice of historical splendour in the middle of the medina. See More

Check Availability

Riad Siwan

Marrakech (Riad Zitoun Jdid,)

7 rooms from £216

Romantic Break - Tucked away within the riad for greater privacy, the Walata suite boasts a roaring fireplace & romantic four-poster bed

Local exploring - Well-located between the Djemaa el Fna and the Kasbah, a short walk from Bahia Palace, Badi Palace & the Saadian Tombs

Short fly break - Fab location makes this a perfect choice for a short sunshine-filled weekend; walk to almost everything in Marrakech

Views - Climb the viewing tower for incredible vistas over the entire city & snow-capped Atlas Mountain beyond

Recommended by - Mr & Mrs Smith

A beautiful boutique riad that has aced the combination of traditional beauty & laid-back contemporary luxury. Expect mosaics, exquisitely carved woodwork & grand soaring ceilings in art-filled rooms. Rooftop restaurant serves particularly good Moroccan fare. Chic centrally-located pied-a-terre. See More

Check Availability
The Best Riads in Marrakech for Families
Riyad el Cadi

Marrakech (Dabachi)

15 rooms from £125

City Style - Five stunning 14th-century Riads, with enchanting interiors, cool leafy courtyard and tented roofterrace, right in the Medina.

Local exploring - Just around the corner from the all-singing, all-dancing, fire-eating, snake-charming, food-vending madness of Djemaa el-Fna.

Artworks - Lofty architecture, museum-worthy textiles, historic objects d'art and original frescoed features

Local markets - Explore the wonderful and wild souks haggle over an array of textiles, carpets, leatherwork, spices and jewellery.

Recommended by - I Escape

Calm, stylish refuge filled with fine furniture and art. Beautiful white washed patios and roof top sun terrace. A place of tranquility and calm. Its accommodations are well suited for families. A stay in history, amidst history. See More

Check Availability
The Best Value Riads in Marrakech
Dar Layyina

Marrakech (Lieu-dit Tabouhanit Commune Sidi Abdellah Ghiat)

6 rooms from £61

Value chic - With stylish rooms starting from just €70 per night, this is great value.

Swimming Pool - There are two outdoor pools, the larger one has a sound system and the smaller one is heated.

Sights nearby - With Marrakech just 15 minutes away, you're wihin easy reach of all the sights.

Great walks - Enjoy a day's trekking in the foothills of the Atlas mountains

Charming boutique hotel 15 minutes from Marrakech with an authentic Moroccan feel. Spacious rooms and suites, contemporary/traditional style with cool, soothing hues. Outside there are two pools, tennis court and spa. A laid back, intimate spot from where you can experience both city and country See More

Check Availability

Riad Shambala

Marrakech (Arest Ihiri)

5 rooms from £49

Sights nearby - Koutoubia Mosque, Jemaa El Fna and the Saadian Tombs are just some of the sights within easy reach.

Cooking classes - Check for timings.

Views - Great views from hotel

Full of character

This boutique, owner managed property is a perfect blend of old and new, East meets West. From the food (there is a continental breakfast and fusion cuisine) to the simple yet stylish rooms: muted palettes, Moroccan accents and natural materials of exposed stone and wood. Plus an inviting pool. See More

Check Availability

Riad Dar Zaman

Marrakech (Sidi Ben Slimane)

4 rooms from £69

Groups - Take over the whole riad for a stay to remember!

Views - Fantastic views over the medina and to the Atlas Mountains in the distance from the roof terrace.

Restaurant - Delicious Moroccan cuisine served either on the terrace or dining room (in winter).

Cooking classes - Scour the souks for ingredients, then return to the Riad to learn how to cook them.

Recommended by - I Escape

Charming four roomed riad situated in the heart of the medina. Traditionally decorated rooms feature berber rugs and original hand-crafted pieces. Delicious Moroccan cuisine and cooking classes available too. Beautiful sun terrace with views to the mountains. An excellent value chic retreat. See More

Check Availability
if you haven't found your idea of the perfect place to stay in Marrakech on our list of 20 of the Best Riads in Marrakech you could:
posted Monday, 14th December 2020