The 10 Best Hotels in Malá Strana, Prague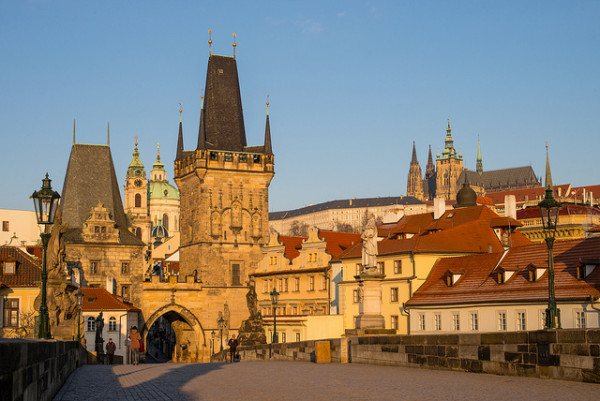 Roman Boed via Flickr
Malá Strana translates to 'Little Side', or 'Lesser Side', which refers to its position on the left bank of the Vltava, below Prague Castle. As well being right by the castle, Malá Strana is just over the other side of the beautiful Charles Bridge from central Prague and its many treasures. So choosing to stay in one of the best hotels in Malá Strana will see you well located for sightseeing on foot, and in amongst some of this city's most beautiful and historic cobbled streets.
Malá Strana's graceful, largely Baroque, architecture doesn't truly date the area, it was burnt down in the 16th Century and rebuilt, but there have been streets and buildings here for a lot longer. One of the most impressive Baroque buildings is the Wallenstein Palace, which includes 16 houses, five courtyards and a huge garden styled like a French Park. But the churches might be even more impressive - St. Nicholas with its huge, green cupola is probably most famous.
And then of course there's the Charles Bridge and all its glorious statues and monuments, its stallholders, its visitors and appreciators. It's been flooded many times in its long history - its construction was finished in 1390 - and one of the most fascinating markers on the bridge is the 'Bearded Man', a carved stone head on the Staré Město side of the bridge: when the water reached this level locals knew it was time to head for higher ground.
Petřín Park is another wonderful place to stroll, which people local to Malá Strana seem to have sole use of at the beginning and end of the day. You'll also find John Lennon's Wall, the charming Savoy and the Shakespeare and Sons bookshop in Malá Strana.
The 10 Best Hotels in Malá Strana, Prague
The Best Hotels in Malá Strana for a Special Occasion
The Aria Hotel, Prague is a wonderfully quirky hotel with historic architecture, modern design and a classical music theme. There are 51 grand bedrooms and suites - all with individual decorations and some with a private balcony. There's also an excellent restaurant and a spa. And they have family suites too.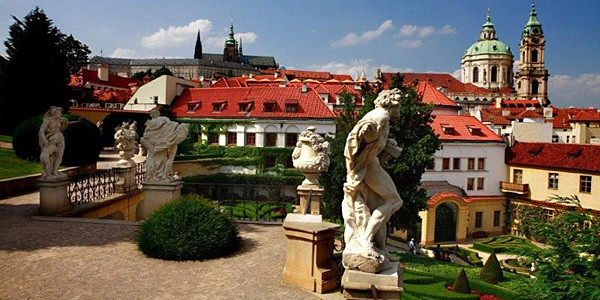 The Golden Wheel is a four star hotel on historic Nerudova street. The facade is Baroque, but inside its 17 rooms are cosy and romantic, with wooden floors, whitewashed walls and lots of natural light. Guests have views of Prague Castle and Petřín Park, and there's a small Italian coffee shop at street level.
The Best Traditional Hotels in Malá Strana, Prague
The Alchymist Grand Hotel & Spa offers 46 lavishly decorated rooms within a 16th century Baroque landmark. The beds are four-poster, the walls decorated with striped silks and there are some beautiful antiques and frescoes. Plus a lovely pool, regal restaurant and an indulgent spa.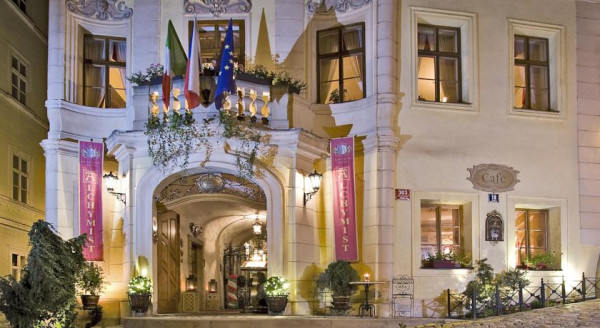 The Best Hotels in Malá Strana for Location
The Nicholas Hotel Residence is a collection of nine rooms and suites, each with their own kitchenette, located on Lesser Square. The decor is romantic and cosy - think exposed beams and wooden floors. And even though you have a kitchenette, they still offer a complimentary continental breakfast each morning.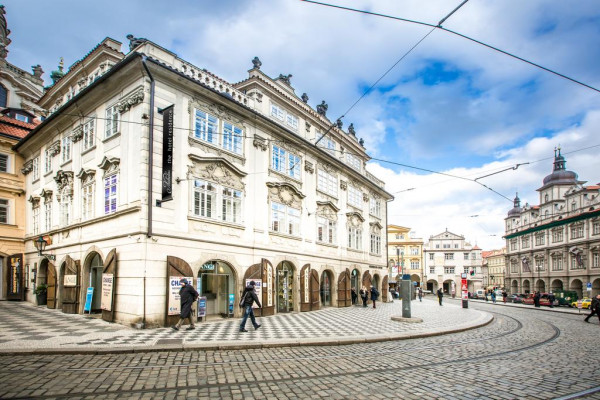 Domus Balthasar is a charming hotel in a great position just a stone's throw from Charles Bridge. The decor is simple but chic, with exposed wooden beams and plenty of white. There are just eight rooms.
The Appia Residences are a collection of 21 rooms, suites and apartments in an attractive sandstone building close to Prague Castle. Built around a central courtyard and gardens, the rooms are mainly traditional, but with plenty of natural light and some contemporary style.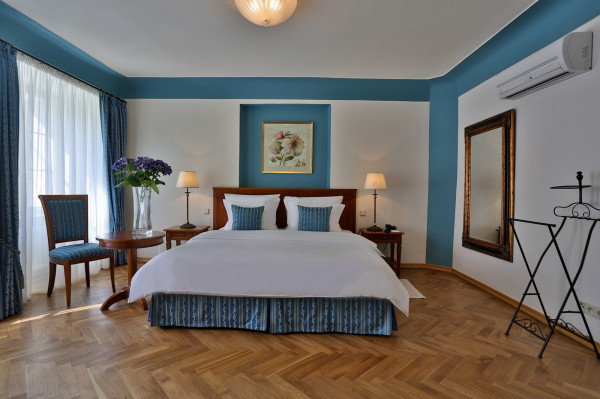 The Best Hotels in Malá Strana for Families
The Hotel Neruda is a chic, contemporary hotel in the Old Town with 42 bright rooms and a charming cafe-restaurant. You're within walking distance of the city's highlights. Family friendly and fun.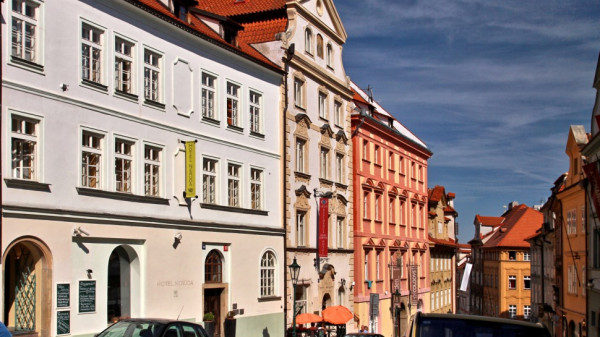 The Best Value Hotels in Malá Strana, Prague
The Hotel Sax is a contemporary boutique hotel with 20 rooms tucked away in the Old Town. The decor is fun and funky - think bright colours and eclectic, 60s era art - with excellent views of the skyline from those rooms with their own balconies. Rooms start from as little as €72 per night including breakfast.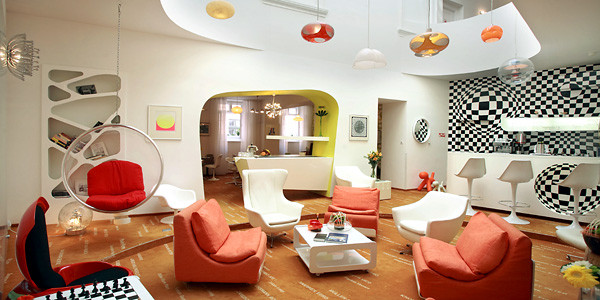 Dum u Velké Boty ticks all the cosy, family-run B&B boxes while still being very affordable. An unassuming home from home with only 12 bedrooms, if you stay here you're just 10 mins walk from either Prague Castle or the Charles Bridge.
If you haven't found your idea of the best hotels in Malá Strana on our Guru's list of the 10 best hotels in Malá Strana you could:
The 10 Best Hotels in Malá Strana, Prague
City Style

Families

Restaurant - Rooftop terrace restaurant with great views serving Czech and International cuisine.

Sights nearby - St Nicholas' Church, Prague Castle, osefov, the Old Jewish Quarter.

A wonderfully quirky spot that combines historical architecture, modern design and themes of classical music. Grand bedrooms and suites have all the mod cons, private balconies, and individual decoration. Excellent restaurant, rooftop terrace and family friendly accommodation. See More

Check Availability

Views - Great views over Prague Castle and Petrin Park

Sights nearby - Prague Castle, Charles Bridge.

Local markets - Nové Mesto.

Great walks - Petrin Hill.

Recommended by - I Escape

A good Four Star Baroque-style hotel on the historical Nerudova street. Small, cosy and romantic with large spacious rooms filled with natural light, wooden floors, and white washed walls. Views of Prague Castle and Petrin park, a small Italian coffee shop, and good value. Great for a weekend. See More

Check Availability

City Style - A gilded and stuccoed hotel with wonderfully opulent interiors, handpainted wallpaper and frescoes, in the lovely Malá Strana.

Spa breaks - The Ecsotica spa has every indulgence including a relaxation area, hammam, steam bath, saunas and an extensive treatment list.

Sights nearby - Walk to the Old Town Square across the Charles Bridge, just outside the hotel.

Romantic - Good for couples.

Recommended by - I Escape, Fodors, Kiwi Collection

An opulent historical hotel, lavishly decorated in gold with antiques and frescoes. Rooms with four-poster beds, striped silks, and oriental carpets. An indulgent spa, lovely swimming pool and a restaurant fit for royals. A magical hotel in a great location. See More

Check Availability

City Style

Views - Great views from hotel

Sights nearby - Excellent Old Town location next to the Charles Bridge

Local markets - Good for local colour.

Charming hotel in an excellent location, a stones throw from Charles Bridge. Wooden beams and simple but chic décor lend plenty of character. With only eight rooms and friendly staff, Domus Balthasar is an oasis of calm in the hubbub of Prague. See More

Check Availability

Value chic

Romantic Break

Romantic - Good for couples.

Sights nearby - Situated close to Prague Castle and Charles Bridge

A romantic traditional hotel close to Prague Castle. An attractive sandstone building with rooms scattered around a central courtyard garden. Pastel bedrooms have floral fabrics, light wooden floors, and lots of natural light. Beautiful garden area and close to all the attractions. Excellent value. See More

Check Availability

Romantic Break - The Nicholas Hotel Residence features romantic suittes kitted out with wooden floors, ceiling beams and soft furnishings

Local exploring - With so many attractions just around the corner there's no excuse not to see all that the city has to offer

Sights nearby - Check out the Prague Astronomical Clock, head over to Old Town Square of visit the impressive Prague Cathedral

Great walks - Meander through the city's historic streets and take in the wonderful achitecture

The Nicholas Hotel Residence is located in Lesser Square, Prague. It offers a variety of cosy and contemporary rooms, plus each unit comes with its own kitchenette and free wifi. Enjoy a complimentary full continental breakfast each morning to set you up for the day! A charming stay. See More

Check Availability

Hotel Neruda

Prague

42 rooms from £77

City Style

Spa - Spa area with hot tub and sauna and a range of massages and treatments

Restaurant - Glass ceilinged restaurant serving Czech and International cuisine

Sights nearby - Situated next to Prague Castle and close to the Charles Bridge

Recommended by - I Escape

A lovely contemporary chic hotel tucked away in Prague's Old Town. Bright rooms have big comfy beds, light wooden floors, and stand alone bath tubs. Charming cafe-restaurant and walking distance from main attractions. Excellent value and family friendly. See More

Check Availability

Hotel Sax

Prague

20 rooms from £62

Views - Wonderul roof top views.

City Style

Sights nearby - Situated in the heart of the Old Town a stone's throw from all the major sights.

Restaurant - The restaurant serves complimentary afternoon tea at 5pm every day.

Recommended by - I Escape

A contemporary boutique Hansel and Gretel style in Prague's Old City. Funky rooms and suites have eclectic furnishings and excellent views over the city skyline, some with private balconies. A stylish, family friendly spot close to the main attractions. See More

Check Availability

Local exploring - A charming and quaint BnB tucked away on a narrow lane, where the owners will give you insider tips on where to go in Prague.

Writing a novel - Popular with writers due to it's quiet location, excellent rates and homely feel.

Sights nearby - Walk to the famed Charles Bridge and the magical Prague Castle.

Full of character

Recommended by - Frommers

Cosy family run BnB in a quiet area. Interiors are full of traditional paintings and antiques. Rooms feature exposed stone walls and terracotta floors. Charming breakfast room for morning feasts. Reasonable rates and friendly owners. A great find for those in search of an 'authentic' experience. See More

Check Availability
posted Wednesday, 24th April 2019