The 3 Best Hotels in Celio, Rome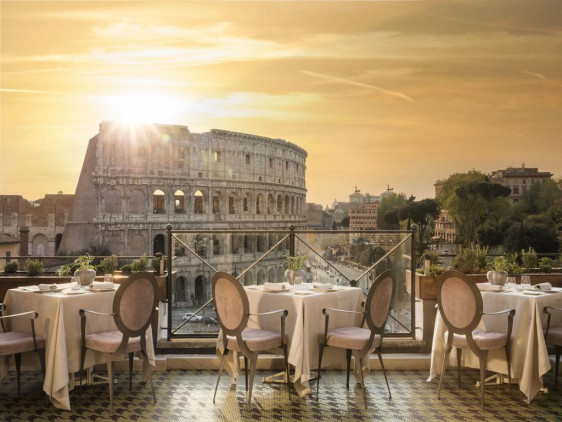 If you want to be close to the Colosseum and the Imperial heart of Rome, then the Celio district will be a good place to start looking for accommodation. As well as the Colosseum, this area has the green expanses of the Villa Celimontana City Park and the Park deli Scipioni - which create an opportunity to get a bit of peace and a surprisingly residential feel so close to some of Rome's main attractions. But it's also known for the buzzing cafes, bars, restaurants and shops of the Via di S. Giovanni in Laterno. And our Guru's recommendations for the 3 best hotels in Celio are close to both.
Celio isn't one of the most prestigious addresses in town, those are the next suburbs over, where you'll find the high end boutiques and Michelin starred restaurants. But it is clean and safe and well loved by the Romans who live there.
As well as the Colosseum and the Villa Celimontana, Celio and the Caelian hill - which is one of Rome's famed seven hills, are where you'll find the Arch of Constantine, the Basilican of San Clemente, the Basilica of Santi Quattro Coronati and the Church of Santo Stefano Rotondo. Unless you have been studying Rome's churches, these ancient places of worship might not ring a bell for you now, but they're definitely very noteworthy in amongst a city of noteworthy churches. But it's not just the sights right on your doorstep that make the best hotels in Celio some of the best places to stay in Rome, it's also your proximity to Rome's other treasures…
The 3 Best Hotels in Celio, Rome
The Best Hotel Views in Celio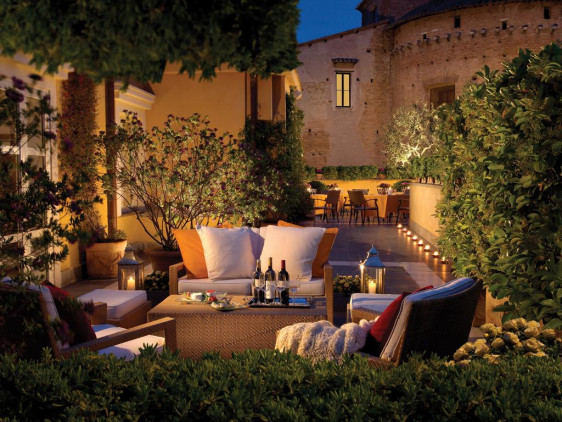 Capo d'Africa is a sleek, contemporary hotel with a gorgeous roof terrace directly overlooking the Colosseum. Not only are you right in the heart of things, you're staying somewhere stylish. It also has an excellent gym, restaurant and bar. The ideal urban retreat.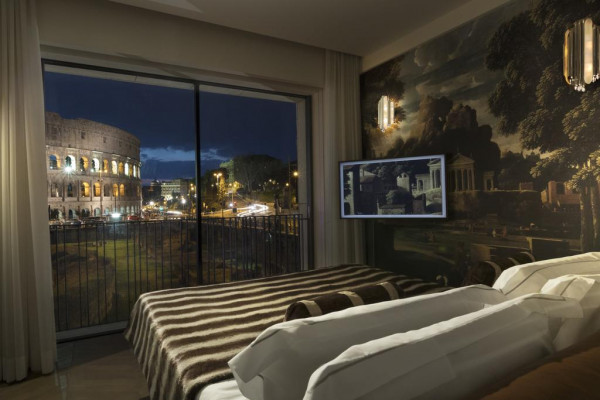 The Palazzo Manfredi has just 16 luxurious rooms, suites and apartments, many of which have incredible views onto the Colosseum and the Roman Forum. The Palazzo also has as an excellent rooftop restaurant with truely amazingly unforgettable views.
The Most Romantic Hotels in Celio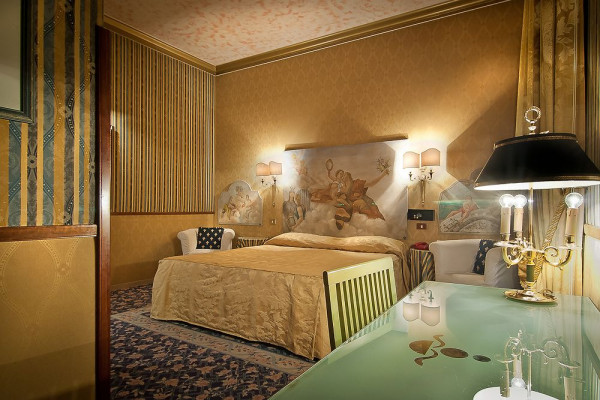 Or you might try the Hotel Celio? It's directly opposite the Colosseum and has 19 exquisite rooms, with features like mosaic floors, frescoes, trompe-l'œil paintings. But all the mod, cons. too.
If you haven't found your idea of the best hotels in Celio on our Guru's list of the 3 Best Hotels in Celio you could:
The 3 Best Hotels in Celio, Rome
Roof terrace - A roof terrace is pretty specatucualr in Rome, and this roof terrace is no exception

Sights nearby - Located in the heart of Imperial Rome, a stone's throw from the Colosseum

Townhouse - The hotel was once a school built in the early 20th-century

Restrictions on children - Adults only property

Recommended by - Tablet

Contemporary, sleek hotel in the shadow of the Colosseum in the centre of Rome. Gorgeous roof terrace over looking the city bell tower and Colosseum. Attentive staff. Bedrooms are retro and stylish. Excellent gym, cool Centrum bar and La Terrazza serves the best pasta. Near perfect urban hotel. See More

Check Availability

Hotel Celio

Rome

19 rooms from £175

Romantic Break - Sunbathe on the roof terrace, stroll through the streets of Rome, enjoying St Peter's Square, the Vatican, Trevi fountain

City Style - Hotel is seconds from the Colosseum; all of Rome's mueseums, restaurants, shops and sights on the doorstep

Sights nearby - Basilica di San Clemente, Colosseum, and Arch of Constantine. Also nearby are Roman Forum and Basilica di San Giovanni

Local markets - Campo dei Fiori Market, Piazza Vittorio Market, Porta Portese Flea Market

An exquisite hotel opposite the Colosseum. Individual rooms feature mosaic floors, frescoes, trompe-l'œil paintings and all the modcons. Roof terrace and children's pool, and an impressive breakfast room. An unbeatable location in the city. A luxurious and romantic choice for city exploring. See More

Check Availability

Local exploring - Located besides the Colosseum, as a location, it doesn't get much better than this

Families - Children are well looked after with a babysitting service and kids' menus

5* Luxury - Very high service standards.

Sights nearby - Next to the Colosseum and Roman Forum

Recommended by - Mr & Mrs Smith, Relais & Chateaux, Tablet

Five Star luxury next to the Colosseum and the Forum with exceptional views of both from an excellent roof top restaurant. Chic rooms, suites, and apartments in contemporary classic design. Fantastic food, unique views, and wellness too. Rome in style. See More

Check Availability
posted Thursday, 2nd July 2020
Search the best hotels in Rome