The 5 Best Hotels in Alfalfa, Seville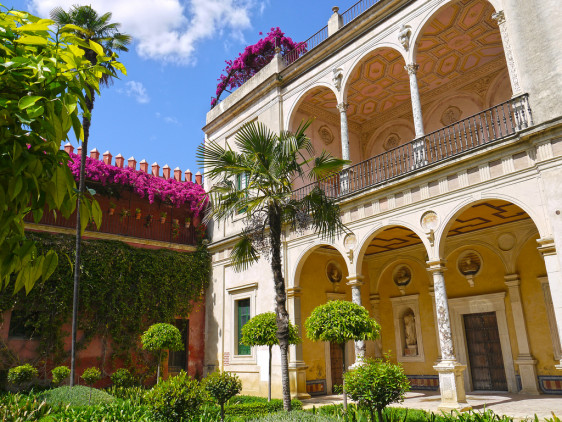 Flickr user kkmarais
Hip, historic Alfalfa offers up the history of Seville in one small melting-pot area. With plenty of lively cafes and tapas bars to help you appreciate the way many people have influenced local flavour as well as this city's architecture and culture. From Roman ruins to Moorish design and a grand church built during the golden age of Christianity, Alfalfa has plenty for the eyes to feast on too. Some of our Guru's recommendations for the best hotels in Alfalfa are also on their list of the best places to stay in all Seville. This area is central and totally unique. And of course there's all that choice when it comes to meal times…
Conveniently positioned between beautiful Santa Cruz and useful Centro Seville, modern Alfalfa is also a great place to uncover a trendy boutique or gallery, and the Casa de Pilatos palace has tiles to rival those of the Alcazar. In fact it's becoming quite hipster, as well as being fairly well to do.
The 5 Best Hotels in Alfalfa
The Best Hotels in Alfalfa for Classic Seville
The Hotel Casa Imperial is a 16th century Moorish mansion arranged around several courtyards. There are 26, individually decorated bedrooms, some with their own terrace or courtyard, plus a restaurant with outside dining. Despite the indoor/outdoor vibe this is a very private feeling hotel.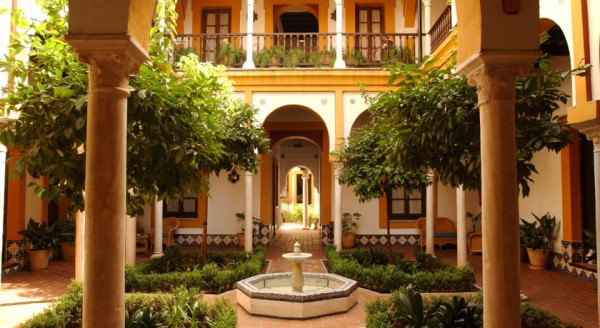 Casa No. 7 is a six room boutique hotel housing a beautiful collection of antiques. All set around a characterful central courtyard. The hotel feels elegant and intimate.
The Corral del Rey is a beautifully converted 17th century mansion with 13 chic, individually decorated rooms arranged around a pretty central courtyard. They say they offer old world charm and modern comfort.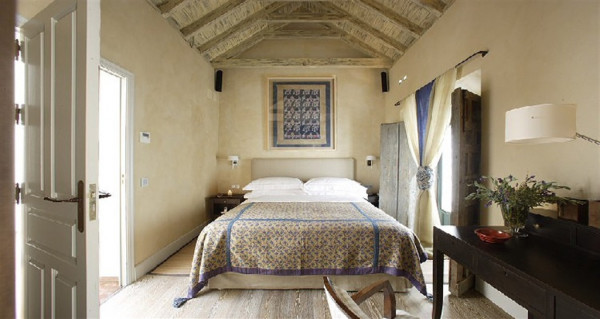 The Best Hotels in Alfalfa for Foodies
There's loads to do in Seville, but lots of people are here to let their tastebuds go on an adventure too. Las Casas del Rey de Baeza is a good base if that's the kind of visit you're looking for. They offer Iberian Ham Tastings and an impressive range of tapas, which you can have by the rooftop plunge pool or in the lovely central courtyard. There's also an Andalusian restaurant. And the decor is elegant and minimalist.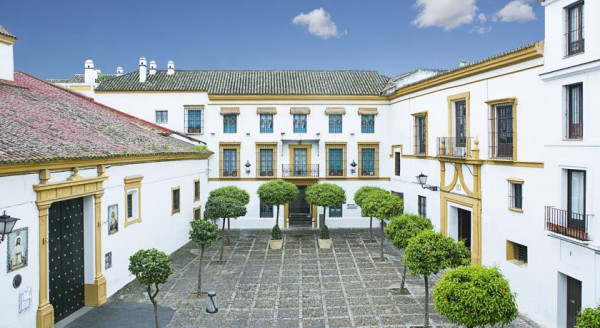 The Best Value Hotels in Alfalfa
La Casa del Maestro is a family-run boutique hotel, which was once the home of one of Spain's great flamenco musicians - if you were wondering about the name! There are 12 rooms, and an Andalusian style when it comes to the decor, with plenty of colour. There's also a patio and a fantastic roof terrace. Some rooms are under £100 per night.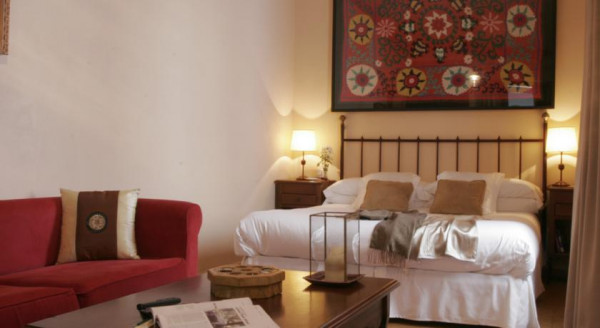 If you haven't found your idea of the best hotels in Alfalfa on our Guru's list of the 5 Best Hotels in Alfalfa you could:
The 5 Best Hotels in Alfalfa
Value chic - Amazing value in the heart of Seville

Sights nearby - Visit The Alcázar

Great walks - Maria Luisa Park

Lively area - In the thick of the action.

Recommended by - Frommers

Sixteenth century Moorish mansion. Arranged around several courtyards, with individually decorated bedrooms, some with courtyard or terrace. Restaurant and outside dining area. Private feel, ideal for a romantic break. See More

Check Availability

Great walks - Take part in the Jewish Heritage Tour with Moises Hassan.

Sights nearby - The Alcazar, the cathedral

Swimming Pool - Rooftop plunge pool.

Full of character

Recommended by - Mr & Mrs Smith, I Escape, Kiwi Collection

Beautiful converted 17th-century mansion in Alfalfa District Old Town Seville. The chic, individual rooms are arranged around a pretty central courtyard. Old world charm meets modern comfort. Romantic and stylish. See More

Check Availability

Foodies - They offer an Iberian Ham Tasting as well as an extensive range of mouthwatering Tapas, either poolside or in the courtyard.

Romantic Break - Elegant suites overlooking the charming terrocaota filled courtyards, and romantic meals for two under the stars.

Sights nearby - The nearby Alcazar palace is well worth checking out as a sublime example of Moorish architecture.

Swimming Pool - Rooftop plunge pool.

Recommended by - Mr & Mrs Smith, I Escape, Tablet, Frommers

Sophisticated, chic boutique hotel in 18th Century building centralised around beautiful Andalusian courtyards. Elegant, minimalist rooms with access to a rooftop plunge pool and small spa. Enjoy the local, but modern, Andalusian cuisine at the restaurant. Only Ten minutes walk to the centre. See More

Check Availability

Local exploring - This warm family run hotel is an ideal launch pad for exploring Seville like a local with insider tips and helpful guidance.

Value chic - Central location, stylish rooms, spectacular chilled out roof terrace and authentic Seville vibes- at a reasonable price.

Great walks - Explore the old Jewish quarter, Barrio de Santa Cruz, a treasure trove of winding narrow lanes and hidden jems.

Sights nearby - The stunning La Casa de Pilatos palace is literally just around the corner, must see.

Recommended by - I Escape, Michelin Travel

19th Century family-run boutique, in the traditional district of Santa Catalina. Former home to one of Spain's great flamenco guitar players. Andalusian style and charm make up the B&B, where bedrooms are vibrant with colour, have their own patio and the roof terrace boasts stunning views. See More

Check Availability
posted Tuesday, 16th August 2022