Best Hotels in the Canary Islands for Walking Holidays
The big mistake with the Canary Islands is to imagine they are all about beaches, blue seas and busy seaside resorts. While the islands have plenty of these - plus virtually guaranteed, year-round sunshine - they also have some terrific walking country. And many of the best hotels in the Canary Islands for walking holidays ensure not only easy access to walks and views but also a more authentic slice of Canarian life.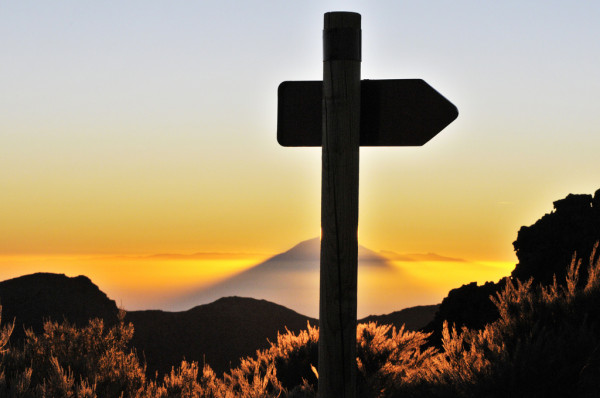 Flickr user Alexis Martin
As volcanic islands, their interiors offer dramatic scenery from ancient calderas, rugged peaks and stark rock formations to lush, pine-clad hills and acres of almond blossom. These landscapes are a walker's paradise; the adventurous can even aim for Mount Teide, Spain's highest mountain (3718 metres), on Tenerife. The perfect peak of Teide is surrounded by a moonscape of dusty-red, volcanic, rock formations in what is Spain's largest national park.
There are equally dramatic landscapes on Lanzarote where the Parque Nacional de Timanfaya and the Parque Natural de Los Volcanes offer a series of volcanoes, calderas and lava fields. By contrast, La Palma - the greenest island - is often considered to be the prettiest with a lush natural beauty while Fuerteventura offers vast natural sand dunes and open plains dotted with cacti, scrub and goats.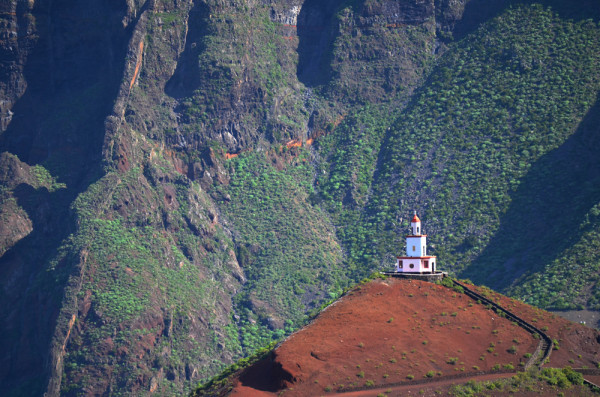 Flickr user Jack Montgomery
For variety, take a look at Gran Canaria, often referred to as a 'continent-in-miniature' due to its varied landscapes from pine-clad hills to rugged and dramatic mountains. One lovely area for walking is in the Guayadeque Ravine with its lush vegetation.
Tiny La Gomera offers perhaps some of the Canary Islands' finest walking, with its ravines, forests and high cliffs - and with fewer visitors you really can get away from it all. Or for a true escape, head to El Hierro, the smallest island of the group, with a stark volcanic interior, high cliffs and slow pace of life.
Use our guide to 10 of the Best hotels in the Canary Islands for walking holidays and start to plan your active break. If you already know which island you want to visit, simply click the link to get the full list of recommended hotels for walkers in that location.
10 of the Best Hotels in the Canary Islands for Walking Holidays
The Best Hotels for Walkers on Lanzarote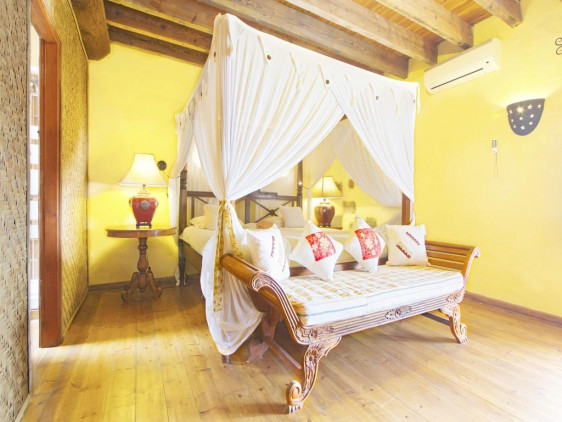 Cool and stylish, with a Moroccan theme, the six villas of Casa Tomarén, right in the centre of the island, are a great choice for families or groups of friends - villas sleep up to eight - on a walking holiday. Breakfast-only but there's a self-service bar by the outdoor pool.
The owners of Finca Malvasia are happy to organise walking trips for guests. These four self-catering villas, set in a working vineyard, are a modern take on Canarian architecture and offer mountain views and a relaxed atmosphere.
The Best Hotels on Tenerife for Walking Holidays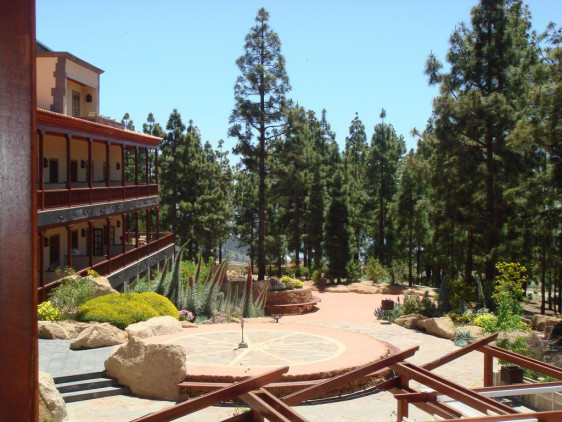 In a perfect location in the mountains near Teide National Park, the rooms - most with balconies - at Hotel Villalba enjoy stunning views. Rooms are unpretentious, plus there's an indoor pool.
The Best Hotels for Walking Holidays on Gran Canaria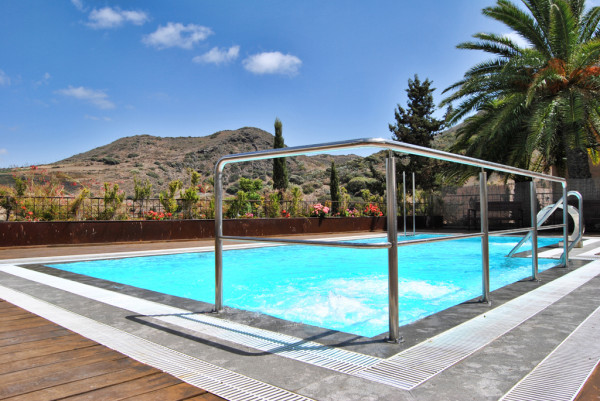 With walks on the doorstep, Hotel el Mondalon, a traditional finca with rooms with exposed-stone walls and wooden floors, is a good family choice. Most rooms have a private terrace plus there's a pool.
High in the heart of the island Parador Cruz de Tejeda is surrounded by craggy, tree-cloaked mountains and enjoys spectacular views. The 86 rooms are crisp and contemporary plus there's a pool and spa. An excellent choice if you want days of relaxation as well as walking.
The Best Hotels for Walkers on La Gomera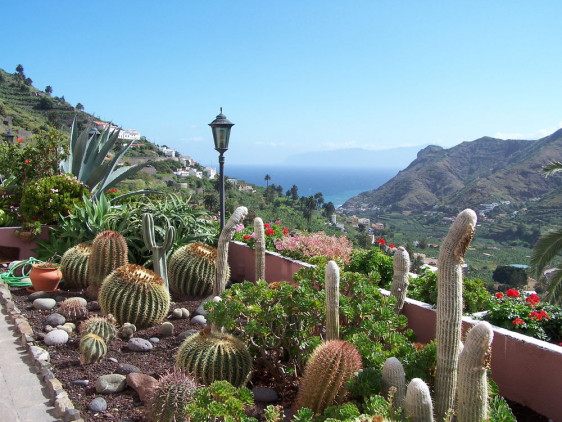 With walks on the doorstep and gorgeous views over the Hermigua Valley, Hotel Rural Ibo Alfaro offers traditionally furnished rooms - some with exposed-stone walls - a terrace and gardens for relaxing after a day's hiking. A great-value choice.
Also overlooking the Hermigua Valley, and equally good value, Casa Los Herrera is a family-run guesthouse with charming, traditionally furnished rooms and a small pool.
The Best Hotels for Walking Holidays on Fuerteventura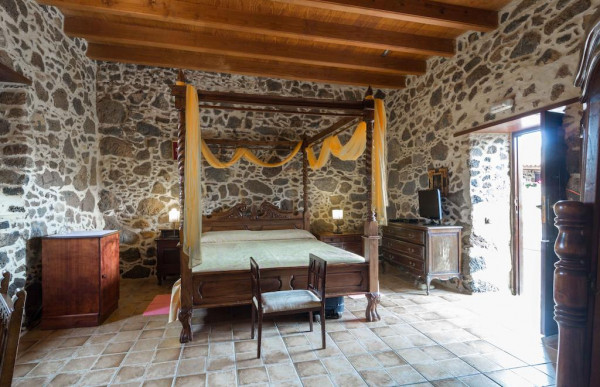 Far away from the seaside resorts, and close to the Malpais de la Arena for good walks, Mahoh is a traditional Canarian guesthouse with exposed-stone walls and tiled floors; simple and charming, and great value.
El Hierro's Best Hotels for Walking Holidays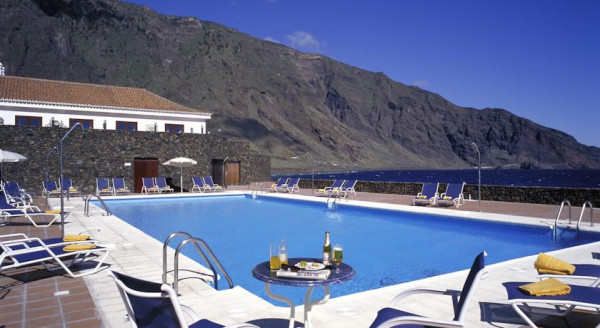 In a remote location at the foot of the cliffs and on a beach, Parador de El Hierro is well-placed for both coastal, clifftop walking and hikes in the interior. Rooms are comfortably traditional; the best have sea views.
If you haven't spotted your idea of the perfect place to stay on the Canary Islands on our Guru's list of 10 of the best hotels in the Canary Islands for walking holidays you could:
10 of the Best Hotels in the Canary Islands for Walking Holidays
Finca Malvasia

Masdache, Lanzarote

4 rooms from £126

Families - Self catering cottages, with a pool and plenty of space for running around, only 20min drive to the beach.

Great walks - Take a guided tour throught the dramatic volcanic scenery, your helpful hosts will organise it all at the drop of a hat.

Diving - The Canary Islands are known for their crystal clear waters, be sure to check out the dive centres on the island.

Swimming Pool - Lovely Outdoor Pool

Recommended by - I Escape

Four self-catering cottages set in a charming, working vineyard. An oasis of tranquility with beautiful central pool area and stunning grounds. Built in hommage to the island's famous designer César Manrique, they embody rustic Canarian with a simple modern twist. Sweet and chic. See More

Check Availability

Casa Tomarén

Mozag, Lanzarote

7 rooms from £98

Families - Ideal for a family getaway, self catering villas with pool access, close to the beaches and babysitters on standby!

Birdwatching - La Geria,the neighbouring nature reserve is an ideal spot for birdwatching.

Great walks - Explore the national park and volcanic peaks.

Swimming Pool - Lovely Outdoor Pool

Recommended by - I Escape

Rural chic setting fitted with a film-star pool. Six luxury villas with Moroccan and Indonesian influences and surrounded by vineyards, orchards and gardens. A perfect oasis for families and groups of friends on the island for a relaxing holiday. See More

Check Availability

Hotel Villalba

Vilaflor, Tenerife

27 rooms from £108

Total relaxation - With a deluxe wellness centre, sauna, hot spring bath, lovely gardens and an outdoor pool, it's the perfect spot to unwind.

Back to Nature - Set high in the mountains on Tenerife, just on the edge of the Teide National Park, it's removed from the tourist bustle.

Great walks - Tucked away in this stunning landscape there are loads of walking routes around El Teide and beyond.

Restrictions on children - Adult only.

Hotel Villalba is a relaxing hillside retreat set in the mountains near the Teide National Park. The rooms are modestly decorated and feature attached balconies with great views out over the surrounding valley. Explore the nearby UNESCO World Heritage El Teide and its lunar landscape. See More

Check Availability

Country Escape

Views - Wonderful views over the surrounding countryside

Restaurant - Specialising in regional Canarian cuisine

Swimming Pool - Outdoor and Indoor Pools

A large hotel surrounded by nature, mountainous ranges, and valley views. Large traditional chic bedrooms and suites with stunning views from private balconies. Excellent restaurants, bar, swimming pool, spa, and verdant gardens. A fabulous back to nature experience with excellent facilities. See More

Check Availability

Hotel el Mondalon

Los Hoyos, Gran Canaria

10 rooms from £78

Value chic

Restaurant - Traditional dishes with many of the ingredients grown on the hotel's land.

Great walks - Wonderful walking on the doorstep

Swimming Pool - Heated pool

Recommended by - I Escape

A traditional finca near a natural park with fantastic facilities. Traditional chic rooms, pretty gardens and pool, excellent restaurant, fitness areas, spa therapies, and lots of family oriented activities. A great value spot for families. See More

Check Availability

Country Escape - This rural retreat offers startling views from rooms and terraces, and there is plenty of gorgeous countryside to be explored.

Sights nearby - Wander through the historic village of Hermigua and be sure to visit the remarkable "Santo Domingo" church.

Great walks - Discover the picturesque surrounding valley on long rambling walks.

Full of character

Recommended by - Great Small Hotels

A traditional property commanding epic views of the Hermigua valley. Each of the 17 individually styled rooms has its own charm; think quaint prints, antique furniture and original features. The perfect spot to start out on a days hiking. Ideal for those in search of complete tranquility. See More

Check Availability

Casa los Herrera

Hermigua, La Gomera

8 rooms from £69

Country Escape - The hotel sits opposite the church square in the centre of Hermigua, a small rural town along a picturesque ravine.

Great walks - Make the most of the stunning walking trails in Parque Nacional de Garajonay.

Full of character

Views - Great views from hotel

A charming family run guesthouse in rural La Gomera. The rooms are individually appointed with bespoke antique furnishings and have a distinctly rustic feel. Start the day well with a delicious breakfast before exploring the beautiful valleys and coasts of the island. An excellent low-cost option. See More

Check Availability

Mahoh

Villaverde, Fuerteventura

9 rooms from £68

Country Escape - Tucked away in the countryside, away from all the mega seaside resorts, with stunning views of the mountains

Full of character - With exposed stone walls and plenty of antiques

Great walks - This rugged landscape offers great walking, especially in the nearby Malpais de la Arena

Sights nearby - Visit the charming fishing town of El Cotillo, six miles from the hotel

Mahoh is a traditional 19th century Canarian house, awash with heritage and charm. The rooms are dominated by great antique beds and are given added character from their exposed stone walls. Sample typical Canarian food at the hotel's restaurant. A delighful, low-cost option. See More

Check Availability

Parador de El Hierro

Villa de Valverde, El Hierro

45 rooms from £90

Hideaway - Set directly on a beach at the foot of cliffs, is this perfect hideaway spot, on an island once considered the end of the world.

Total relaxation - Unwind on this tiny, tropical island of El Hierro, with sauna, hot tubs and massages available.

Diving - Diving can be arranged by the hotel and is a great way to explore the island from another perspective!

Great walks - Guests will love exploring the rugged coastline, or wandering towards the mountains.

Parador de El Hierro is a spectacular hotel with an unmistakable edge of the world feel. The rooms are spacious and comfortable with many boasting superb views over the Atlantic. Explore the quiet beauty of the island or simply relax on the beach. The perfect hideaway. See More

Check Availability
posted Monday, 2nd May 2022