The 10 Best Hotels with Hot Tubs in Cornwall
Cornwall is somewhere a lot of us want to be, especially during the busy summer months. Families and couples alike are drawn to its incredible coastlines, beautiful beaches, huge skies, bucket-and-spade seaside villages, wild moorland, secret valleys and deep, high-sided lanes. And when seeking out the 10 best hotels with hot tubs in Cornwall we have found something to please both the families and the couples. Our collection of the best hotels with hot tubs in Cornwall includes some adults-only grown up escapes, and some of the most romantic hotels in Cornwall, as well as some wonderful family options where children are positively encouraged.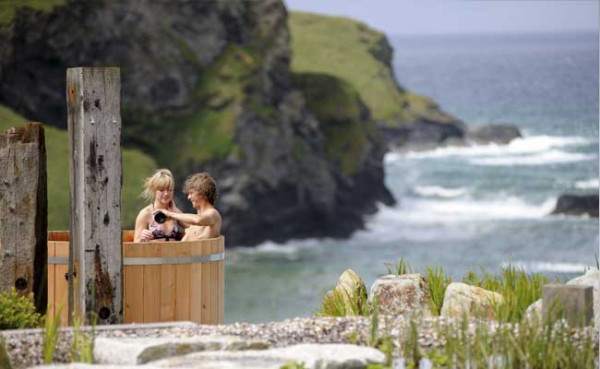 The 10 Best Hotels with Hot Tubs in Cornwall
The Best Hotels with Private Hot Tubs in Cornwall
Just outside pretty St. Austell is Lower Barns, a delightful boutique B&B. There are six rooms here, decorated with bright colours inspired by the owners travels, and two of them have private hot tubs. And you're surrounded by gorgeous mature gardens and rolling countryside. They also offer a table d'hote style suppers. And you're six miles from the Eden Project.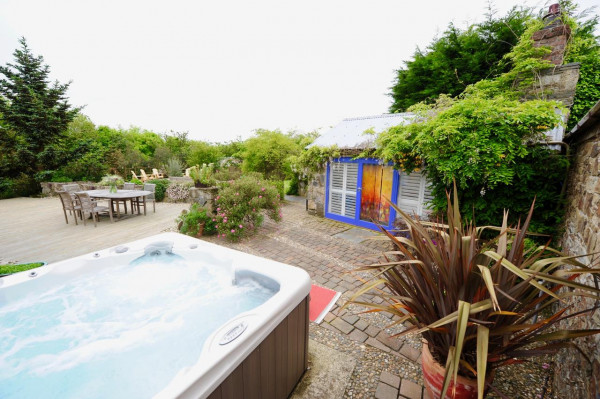 The Best Beach Hotels with Hot Tubs in Cornwall
The Nare is a country style hotel which sits right up against a golden, sandy beach. It has 36 large, elegant, Colonial-feeling rooms, with sea views, both indoor and outdoor pools, a tennis court, croquet lawn, a choice of two restaurants and an outdoor hot tub which looks right over the bay.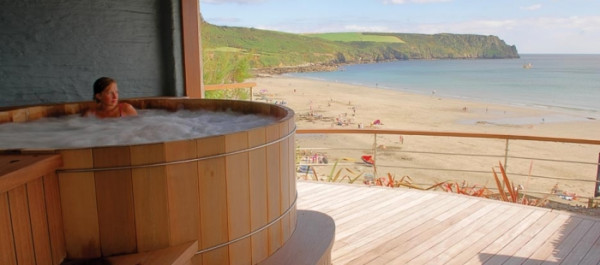 The St Moritz is an airy, stylish, seaside hotel with a great Art Deco history and great beach access. It's perfect for surfers, walkers or families, with its indoor and outdoor pools, brasserie style eating, and huge range of activities on offer. Including a Cowshed spa with a hot tub, and a hot tub which fits up to five people beside the indoor pool.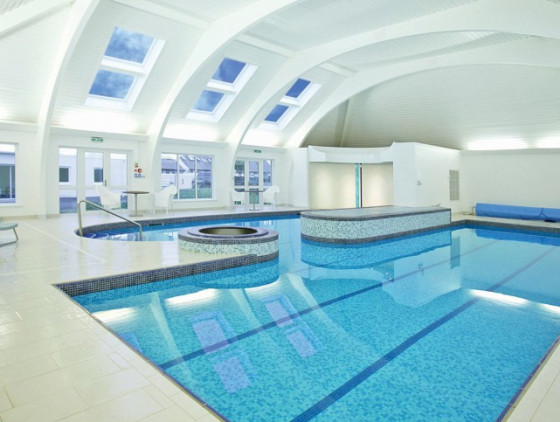 The Carbis Bay Hotel in St Ives overlooks one of Cornwall's most beautiful bays, and many of its well designed rooms offer incredible beach views, as well as crisp design. The restaurant specialises in seafood - unsurprisingly.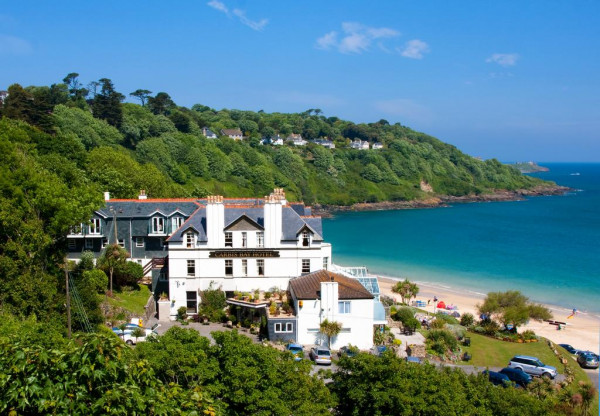 The Most Romantic Hotels with Hot Tubs in Cornwall
The Scarlet is a carefully, and rather elegantly, designed eco-hotel overlooking Mawgan Port Beach. The design and decor are contemporary, and there are incredible sea views - especially from the cocktail lounge and stylish restaurant. There's also a gorgeous spa, and a hot tub right on the cliff top, which is available to hire.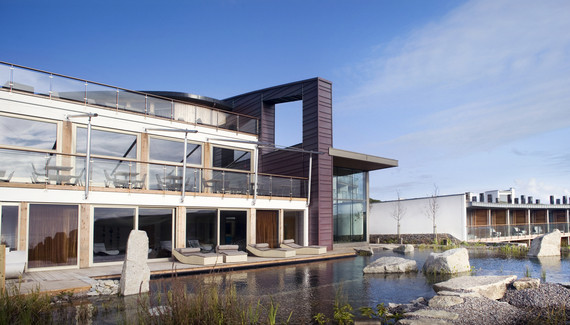 The Gannet Inn is a boutique inn just outside St. Ives, with 20 individually styles rooms ranging from 'Cosy' to 'Quirky', and named as such. This is a friendly place to stay, perfect for exploring the region. And the food is supposed to be good too.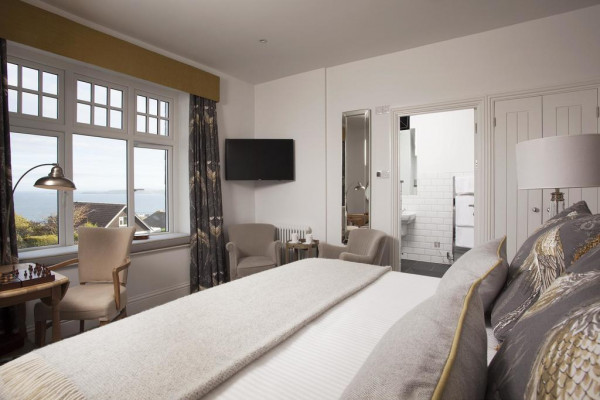 Cornwall's Best Spa Hotels with Hot Tubs
St Michael's Hotel in Falmouth, is a a great value hotel with its focus clearly on providing guests with a comfortable, relaxing stay. There are just 32 peaceful, quite luxurious rooms, and a state of the art spa and gym. The restaurant is excellent too, and there are a couple of particularly pleasant coastal paths leading right out of the hotel grounds.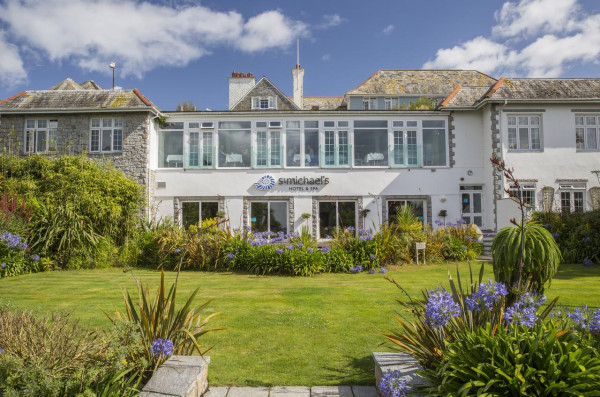 The Best Hotels with Hot Tubs in Cornwall for Families
Fowey Hall is a small-and-charming country house hotel overlooking the south Cornish coast and Fowey's river estuary. You're five minutes from the beach and ten minutes from the Eden Project, and there's a creche, nannies and Kid's Club available to your smalls if you want to spend an afternoon in the hot tub overlooking the sea.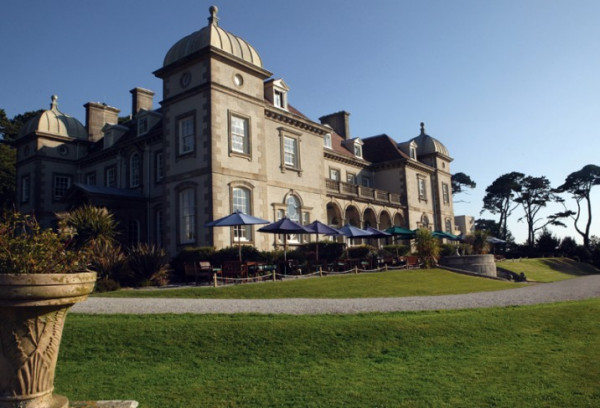 The Bedruthan Steps Hotel & Spa is another great family friendly hot tub hotel with sea views. They have an extensive spa menu too, and both indoor and outdoor pools, plus an adults-only dining room as well as a family one, and an OFSTED inspected nursery, a Kid's Club, babysitting facilities. Here the hot tub is part of the Sensory Spa Garden experience. Again you can pamper yourself whilst the kids are being entertained elsewhere.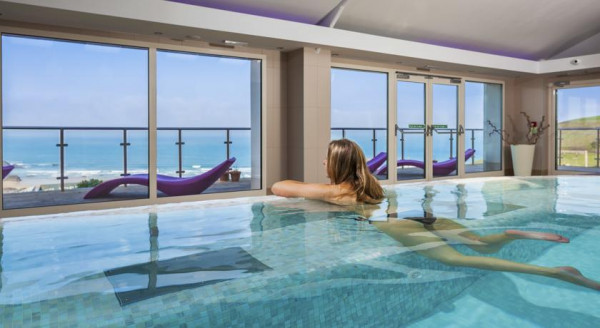 The Best Value Hotels with Hot Tubs in Cornwall
Falmouth's Merchants Manor is in a great spot, just a short stroll from the beach. It has 39 simply but smartly decorated rooms, an award-winning restaurant with an emphasis on local ingredients, and the option of yoga or a soak in the hot tub. And all starting from around £70 per night.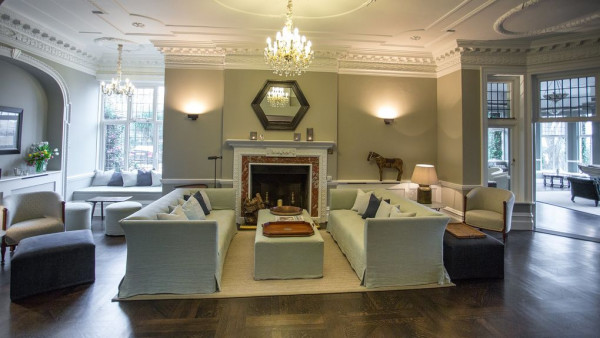 Newquay's Fistral Beach Hotel is another great value option, with 71 rooms, great views, a superb spa and an excellent restaurant. And rooms here start from around £80 per night.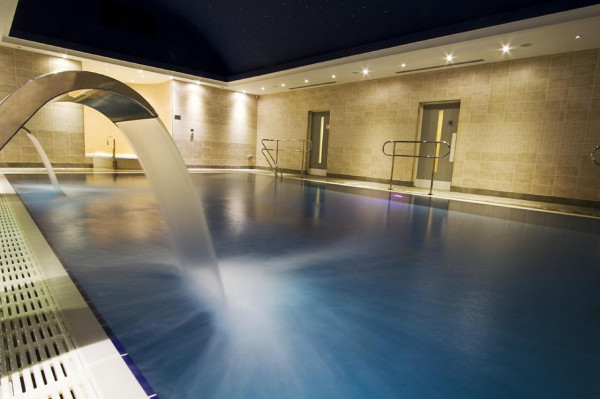 If you haven't found your idea of the best hotel with a hot tub in Cornwall on our Guru's list you could:
The 10 Best Hotels with Hot Tubs in Cornwall
Bedruthan Steps Hotel

Mawgan Porth, Cornwall

101 rooms from £159

Eco break - A sustainable and environmentally minded hotel with an extensive responsible tourism pledge, see website for further details.

Groups - This hotel is ideal for an active creative group holiday with workshops, open air theatre and plenty of fun facilities.

Spa breaks - Pamper yourself at the top of the range luxury spa, using all natural products and treatments- heaven!

Families - With family orientated rooms, activities, nursery and kids club its ideal for all the family.

Recommended by - Good Hotel Guide

Fantastic spot overlooking the Atlantic Ocean from a family-friendly hotel. Modern interiors throughout with the comfortable rooms capturing the beach views. Herring Restaurant is Cornish throughout using locally sourced ingredients. Relax by one of the two pools, or at the spa. See More

Check Availability

Fowey Hall

Fowey, Cornwall

36 rooms from £175

Families

Swimming Pool - Indoor Pool

Views - Great views from hotel

Kids Club - Fully staffed.

Recommended by - Mr & Mrs Smith

Small country house hotel overlooking the south Cornish coast, kitted out for families, with pool and spa - so beware if you have none in tow. See More

Check Availability

Romantic Break - You, your loved one (and even the pooch) can enjoy an indulgent coastal stay

Spa breaks - Excellent spa with a range of Ayurvedic treatments

Swimming Pool - Outdoor and Indoor Pool

Great walks - South West Coast Path.

Recommended by - Mr & Mrs Smith, Good Hotel Guide, Sawdays

Relaxing, purpose-designed eco-friendly hotel overlooking Mawgan Porth beach. Contemporary furniture and modern local art adorns bedroom walls. Great sea views from the cocktail lounge and stylish hotel restaurant. Fantastic spa facility for ultimate relaxation and great outdoor activities nearby. See More

Check Availability

Lower Barns

St Austell (South Cornwall)

6 rooms from £130

Local exploring - In the heart of rugged Cornish countryside, it's a great launchpad for exploring the area around St. Austell.

Private Hot Tub - Two of the rooms have their own private hot tub and secluded garden. One even has a woodburner.

Sights nearby - Six miles from the amazing Eden project, it boasts an enormous indoor rainforest.

Great walks - The surrounding countryside has a whole host of lovely walking routes.

Delightful boutique B&B nestled amidst rolling Cornish countryside outside St. Austell. Six individually designed rooms featuring bright colours inspired by the owners' travels, two with private hot tub. Gorgeous mature gardens and table d'hote style dinners. Perfect for a romantic hideaway. See More

Check Availability

St Moritz

Trebetherick, Cornwall

48 rooms from £120

Great walks - Good for walkers.

Families

Surfing - Suitable beaches nearby.

Swimming Pool - Outdoor and Indoor Pools

An airy, stylish and family friendly seaside hotel near great surfing and walking. Offers a Cowshed spa, two pools and good deals off season. See More

Check Availability

St Michael's Hotel

Falmouth (South Cornwall)

32 rooms from £100

Local exploring - Explore Falmouth's charm and the beautiful surrounding countryside.

Sailing - The surrounding coastline is perfect for sailing holidays.

Great walks - Superb walking trails along the surrounding coastline.

Birdwatching - The surrounding coastline is a haven for birdlife.

Designed for indulgent spa retreats, St Michael's Hotel is fully focused on providing a comfortable stay. Featuring deluxe rooms, a state of the art spa and gym facility, as well as an excellent restaurant, this hotel has all the components for a superb stay on the south coast. See More

Check Availability

The Nare

Cornwall

36 rooms from £290

Beach Life - Situated at the Carne Beach, guests may indulge in volleyball, cricket or a short stroll by the sea. Dogs are welcome too.

Local exploring - Cornwalls world famous gardens, art galleries, hidden churches are not to be missed

Sights nearby - The Lost gardens of Heligan and The Eden Project are worth a visit

Great walks - Roseland offers many secrets best explored on foot

A country-style hotel on the beach. Large, elegant rooms with colonial furniture and sea views. Outdoor and indoor pool, spa, a tennis court and a croquet pitch for your enjoyment. Choice of two restaurants and a bar and lounge. Secluded and magnificent. See More

Check Availability

The Gannet Inn

St Ives (West Cornwall)

20 rooms from £160

Local exploring - An ideal base to explore the chic town of St Ives, access the beach and discover Cornwall's countryside.

Great walks - Discover Cornwall on foot taking long walks along the coastal path.

Swimming Pool - Outdoor pool

Romantic - Good for couples.

A boutique Inn located in a picturesque village just outside St Ives. Individually styled rooms are named to reflect their character. From 'Cosy' to 'Quirky' each is stylishly designed and comfortable. The staff are exceptionally friendly and the food both hearty and skilfully crafted. See More

Check Availability

Carbis Bay Hotel

St Ives (West Cornwall)

47 rooms from £240

Surfing - The surrounding coastline is full of great surfing spots.

Great walks - Superb nearby coastal walking trails.

Views - Great views from hotel

Seaside - Ideal for a seaside holiday.

Overlooking one of Cornwall's most beautiful bays, the Carbis Bay Hotel is a superb place to stay. The well designed rooms are crisp and accentuate the hotel's magnificent views. Spend a day at the beach and return to the hotel's restaurant to enjoy some delicious locally caught seafood. See More

Check Availability

Merchants Manor

Falmouth (South Cornwall)

39 rooms from £63

Sights nearby - Go visit Pendennis Castle, St Mawes Castle or Trebah Gardens

Great walks - Head off for long, romantic walks along the coast at sunset

Seaside - Ideal for a seaside holiday.

Spa

Located in the heart of Falmouth, Merchants Manor is just a short stroll from the beach. Boasts smartly decorated rooms featuring plenty of blues and whites. Award-winning cuisine served up in the restaurant, with an emphasis on local ingredients. Unwind with a spot of yoga. A classy coastal stay. See More

Check Availability

Fistral Beach Hotel

Newquay (North Cornwall)

71 rooms from £80

Surfing - Some of Cornwall's finest surfing spots are just a short drive away.

Great walks - The surrounding coastline is full of stunning walking trails.

Birdwatching - The Cornish coastline is a hotspot for seabirds.

Sailing - Launch your boat from Newquay and set sail.

Wonderful views and a relaxing atmosphere abound at this coastal charmer. Delightful rooms, a superb spa and an excellent restaurant are just a few reasons to visit Fistral Beach Hotel. See More

Check Availability
posted Tuesday, 5th February 2019
Search the best hotels in Cornwall