The 10 Best Boutique Hotels in Cornwall
If you're planning a Cornish jaunt, chances are you're looking for a charming seaside spot rather than a big resort hotel. Cornwall is no place for big cookie-cutter hotels, this is owner-managed-country! You'll find an abundance of truly charming local features in our list of the 10 best boutique hotels in Cornwall, and plenty of Cornish craftsmanship. And Cornwall's best boutique hotels do well both on the decor and on restaurant tables.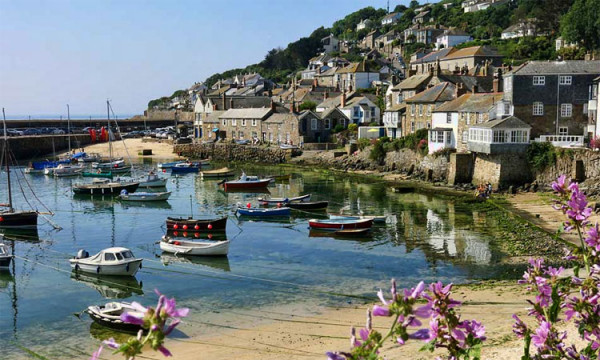 As with anywhere, not all the best boutique hotels in Cornwall are created equally, and you can still find fading old guesthouses with plastic flowers and chintz calling themselves 'boutique', but the boutique hotel concept was practically coined in Cornwall and the best boutique hotels in Cornwall are prime examples of this type of hotel.
And why Cornwall? Tourism has well and truly overtaken fishing as Cornwall's largest trade. People come for the seaside, the beautiful little coves and the dramatic cliffs of the north coast. But they come back again and again because there's loads to do here! There are old fishing villages and market towns to poke around in, thousands of years of maritime history to unravel, plenty of spectacular open coastal space to explore, the wonderfully futuristic greenhouses of the Eden Project and countless galleries of all shapes and sizes.
The Best Boutique Hotels in Cornwall
Classic Boutique Hotels in Cornwall
Cornwall's best boutique hotels include several prime examples of the classic boutique hotel.
Including Hotel Tresanton, which, when it was launched in 1997 by Olga Polizzi, felt like a breath of fresh seaside air - a whole new kind of hotel. Where was the pool? Nowhere to be seen. And how do you get into this collection of higgledly piggledy old houses turned yachting club, turned hotel? Who knows! What's important is that when you do you're surrounded by effortless elegance and stunning views. The wide terrace overlooks the pretty bay and St Mawes, and the bar and restaurant beckons. For added uniqueness there's also a private screening room - Hotel Tresanton attracts numerous A-list celebrities - and a private yacht and motorboats available to guests. Hotel Tresanton is yet to find an equal in many regions, but in Cornwall its launch was like laying down the gauntlet, and there were many hotels ready to follow, bringing their own unique takes on boutique hotel ideals.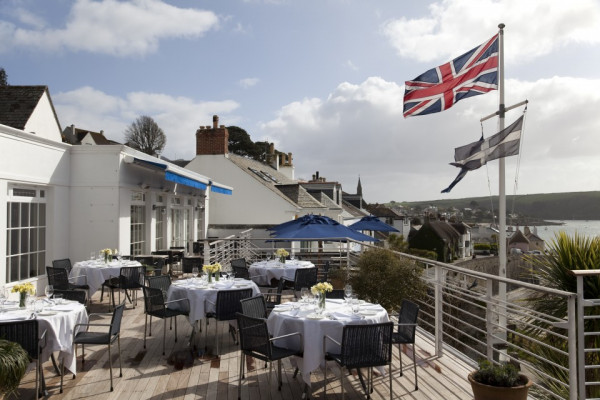 A great competitor for the Hotel Tresanton, Driftwood Hotel is another very special place to stay, this time in a more remote spot up the coastline from St. Mawes. Quiet and romantic, Driftwood has superb views and a perfect crescent of private beach at the end of the garden. And a Michelin starred restaurant. It's also perfectly positioned for exploring the coastline on foot. And if you're looking for Cornwall's best boutique hotel for families consider Driftwood's private cabin, halfway down the cliff. Which is also perfect for honeymooners...

Blue Hayes also fits into the classic category. Malcolm Herring and his team have perfected the art of looking after their guests at the "private" five bedroom hotel. But as well as impeccable, friendly service you get light airy elegantly decorated rooms, beautiful gardens and breathtaking views over St Ives from the property's cliff top position.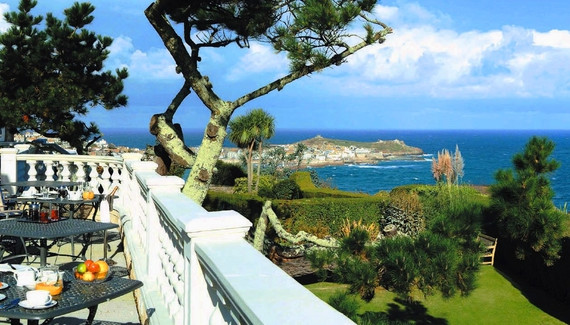 The Best Boutique Hotels for Coastal Character!
It's not just about facilities and Michelin stars, a boutique hotel must also have a memorable character. And these properties have reams!
The Old Quay House Hotel has a restaurant which spills out onto a teak deck with spectacular views over the quay and the estuary. It's this view, and its beautiful old building, at the centre of charming Fowery, which help it qualify for out list of Cornwall's best boutique hotels. Inside the decor is more modern though, so this is a great choice if you prefer simple, unfussy chic.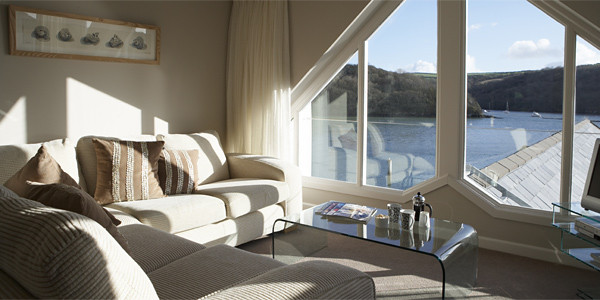 The The Old Coastguard in Mousehole also has a restaurant - an excellent one! Though the main charms of the Coastguard are in its laid-back, quirky feel and very reasonable prices. The sea views, via an almost tropical garden, are million dollar, but until recently this hotel was a bit of an old dog. Its makeover hasn't polished up the rough edges, but this is one of Cornwall's best boutique hotels for people who appreciate simplicity, comfort, excellent food and bags of character. In short The Old Coastguard is somewhere you'll want to be.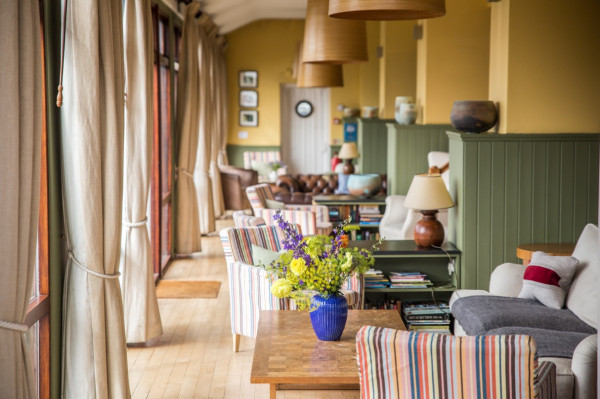 Luke Brown
The Trevalsa Court Hotel is probably technically a country house hotel, but its original Arts and Crafts, 1930s era charms abound with costal character, so it deserves a mention. This was a much loved family home and many of the wonderful original features remain - like colourful bursts of Designer's Guild wallpaper and charmingly detailed oak panelling - but its wonderful position means it's now a secluded base from which to explore the Roseland Peninsula. The coastal path runs just below the hotel, and below that again there's a perfectly proportioned private cove. As you might guess, the dining room serves up some impressive seafood.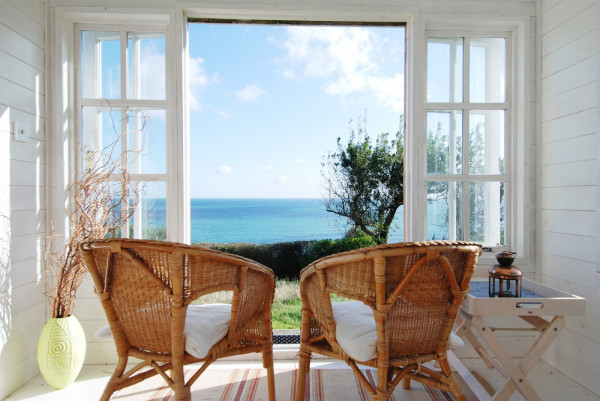 The Most Romantic Boutique Hotels in Cornwall
While many of Cornwall's best boutique hotels are romantic, not many are as perfect for romance as The Scarlet. From the views of Mawgan Porth beach, the restrictions on children, the natural outdoor infinity pool cut into the rocks, to the Ayurvedic spa, the food and the relaxed atmosphere, this is a place to be yourself in. It also has an excellent reputation for being eco-friendly.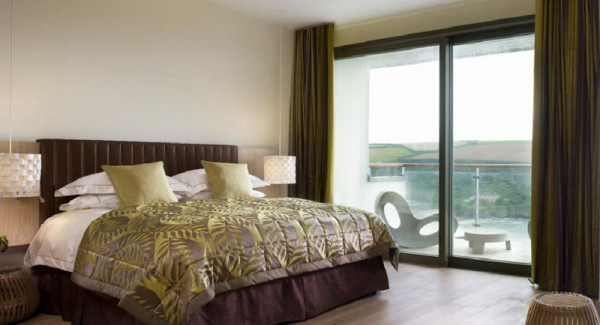 The Best Boutique Hotels in Cornwall for Unfussy Design
The Idle Rocks is an un-fussy boutique option right by the harbour wall in St. Mawes. Popular with a younger crowd, this 20 room hotel has simple, nautical inspired decor and a wonderful seafood restaurant.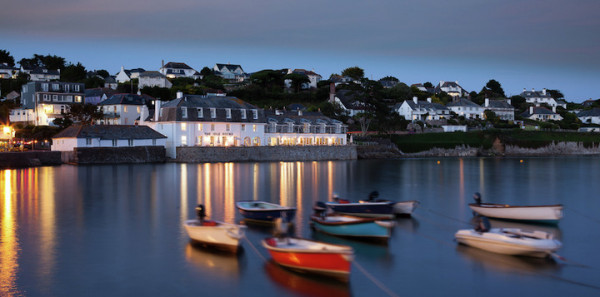 The Boskerris Hotel defines itself with its beautiful interiors in stylish pales, reminiscent of the Med.. It too has spectacular panoramic views, this time of Carbis Bay, St. Ives and the lighthouse which inspired Virginia Woolf. The Boskerris pretty much has the sandy bay below to itself, but it's also a short walk along the South West Coast Path into St. Ives where you can visit the Tate.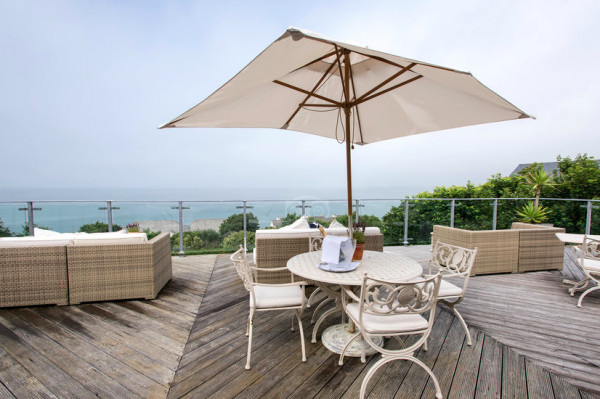 The Gannet Inn is just outside St. Ives, in a quiet, picturesque villa. It has 20 individually styled rooms and suites, named for their characters, from 'Cosy', to 'Quirky'. This is a friendly spot with a hearty restaurant, and outdoor pool, in a great location for exploring Cornwall.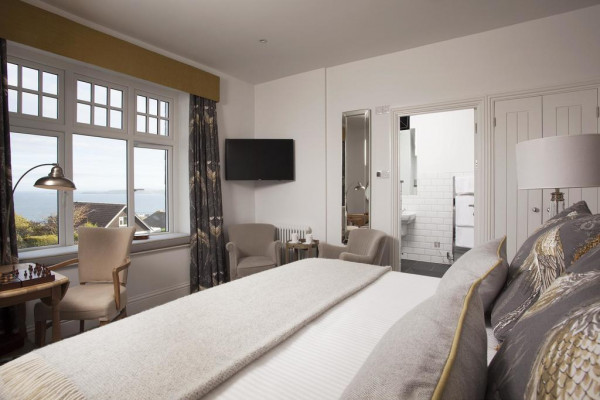 Though technically a B&B, the wonderful Victorian conversion, The Beach at Bude, makes it onto the list of Cornwall's best boutique hotels because, while it doesn't have a restaurant, it does have a huge sun terrace, a library, a business centre, and a laundry. And Bude has plenty of excellent restaurants, so all the boutique standards are to hand. Each of The Beach at Bude's fifteen charming rooms has unique, yet always impressive decor, and five have private seaside terraces.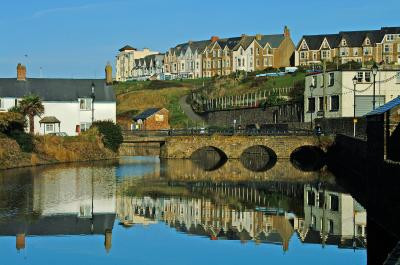 If you haven't found your idea of the best boutique hotels in Cornwall on our Guru's list you could:
The Best Boutique Hotels in Cornwall
posted Saturday, 23rd November 2019
Search the best hotels in Cornwall