8 Best hotels for the Wye Valley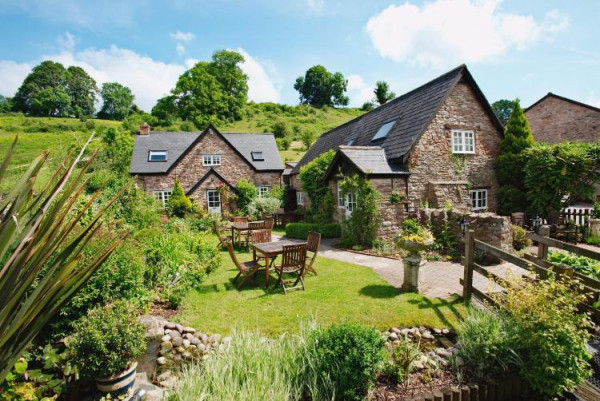 The Wye Valley is an Area of Outstanding Natural Beauty right on the border of England and Wales — so it's protected and scenic, and in some places, especially where the river forges rocky limestone gorges, quite dramatic. Surrounding the river are dense forests adding to the remote feel (which makes this is an ideal destination for a rural hideaway). Due to its obvious lures for visitors, there are a good selection of quality hotels which can make selecting the right hotel for you a time-consuming task. With this in mind, our hotel experts have compiled a concise collection of the best hotels for the Wye Valley selected on their location, design, service, and amenities. Whether you are looking for a river-side stay, a rural-chic boutique hotel, or a traditional country house — there is something to suit most tastes and budgets. So why not browse through our collection to start planning your next getaway?
For foodies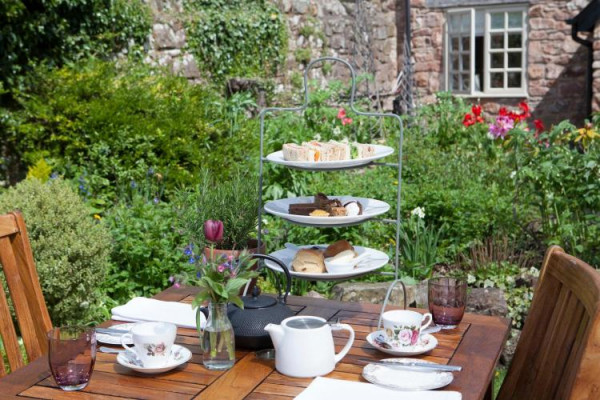 Whitebrook Restaurant with Rooms is a refined Michelin starred restaurant with eight rooms at the top of the Wye Valley, with views over the valley itself. The facade and the rooms are simple, but the food is seriously impressive.
Tudor Farmhouse is set in the lovely Forest of Dean. This picture-perfect country house hotel offers charming rooms and suites, an acclaimed British restaurant, and its own beautiful grounds and gardens.
For a country escape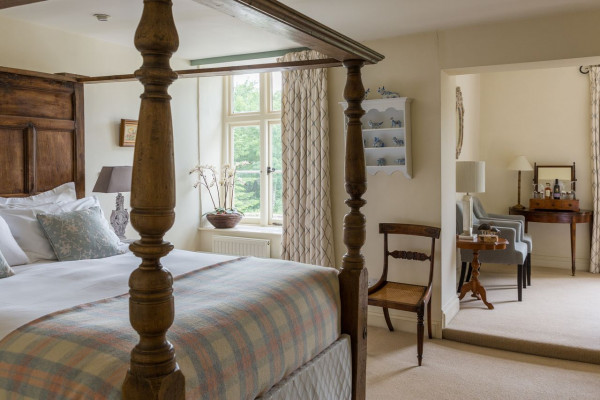 The Bell at Skenfrith has been stylishly converted from an old coaching inn into an 11 room hotel with plenty of charm and a relaxed atmosphere; perfect for families, outdoorsy folk, and fishing enthusiasts.
Brooks Country House enjoys a serene countryside setting near Ross on Wye. This Georgian manor house offers wonderful accommodation combining original features with contemporary touches. Come back after a day out hiking and unwind in the sauna — a very relaxing choice.
Glewstone Court is a luxurious rural choice. This stately home turned boutique hotel, is set in two acres of manicured gardens. Spacious, individually styled rooms are traditionally dressed and the award-winning restaurant is worthy of a visit alone.
The Bridge House is a stunning white Georgian house set on the River Wye. Here, the views are spectacular, breakfasts delicious, and there's plenty to keep everyone entertained in the surrounding countryside.
For river views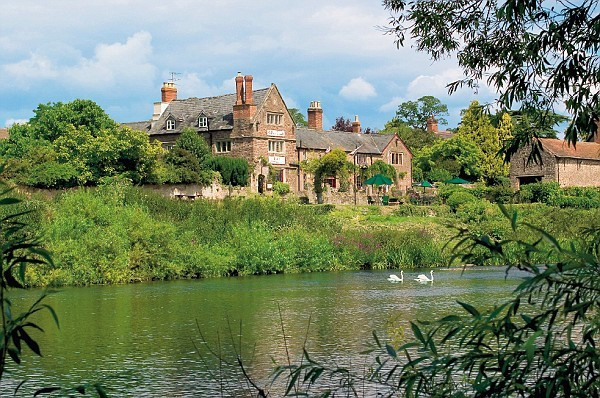 Slightly up from the valley is Ross-on-Wye, where you'll find Wilton Court, a country restaurant with rooms right on the River Wye. There are just eleven peaceful elegant rooms, beautiful gardens, and access to excellent fishing.
The Saracen's Head is a picture-perfect half-timbered Inn offering modern accommodation and river views. Simply designed rooms are light and airy and the fantastic restaurant is the perfect spot to return to after a day's exploring.
Still not sure where to book?
Expand your search to include all the best places to stay in the Wye Valley.
Refine your search to the best places to stay in Monmouthshire or the best places to stay in Gloucestershire.
Alternatively, contact one of our friendly Gurus for advice.

Bell at Skenfrith

Abergavenny (Wales)

11 rooms from £160

Foodies - The simple, unpretentious menu hits the right note everytime thanks to the full flavours of locally sourced organic produce.

Hideaway - With no mobile phone reception and a deep-black star-lit sky at night this truly is a retreat from everyday life.

Country Escape - Surrounded by beautiful gardens complete with fragrant orchard and superb kitchen garden.

Great walks - Circular walks from the door. Special walking break packages available.

Recommended by - I Escape, Good Hotel Guide, Sawdays

Monmouthshire old coaching inn turned stylish hideaway - perfect for the great outdoors. Charmingly quaint rooms with chic touches. Superb food straight from the organic kitchen garden. Relaxed atmosphere, family friendly and perfect for outdoorsy types. See More

Check Availability

Tudor Farmhouse

Clearwell, Gloucestershire

23 rooms from £130

Views - Stunning woodland walks and views over bubbling brooks and meandering rivers.

Active Holiday - The countryside landscape offers plenty of activities.

Country Escape

Foodies

Recommended by - Sawdays, Good Hotel Guide

A picture perfect country house hotel set in the stunning landscape of the Forest of Dean and the Wye Valley. Charming chic rooms and suites, an acclaimed British restaurant, acres of emerald garden, and plenty of countryside pursuits to choose from. The perfect country escape. See More

Check Availability

Wilton Court

Ross-on-Wye, Herefordshire

11 rooms from £125

Four poster beds - For romantics.

Restaurant with rooms

Fishing - Excellent fishing nearby.

Great walks - Good for walkers.

Recommended by - Good Hotel Guide

Country restaurant with rooms on the banks of the River Wye. Wholesome country food, elegant rooms, beautiful garden lawns. See More

Check Availability

Foodies - A phenomanal Michelin starred restaurant serving up locally sourced seasonal produce, crafted to technical perfection.

Local exploring - Ideal base for exploring Wye Valley, Brecon Beacons and Black Mountains. As well as local rambling through the woods.

Great walks - Pack some wellies and walk directly from the hotel through St Margarets Wood.

Sights nearby - Tintern Abbey and Raglan Castle are nearby, and worth checking out.

Recommended by - Sawdays

Refined Michelin starred restaurant with rooms set in peaceful Welsh valley. Modern rooms with large comfortable beds and luxury bathrooms. Friendly service, understated setting and exceptional cuisine often using locally foraged produce. A real culinary treat. See More

Check Availability

Romantic Break - Divine accommodation, a lovely quiet setting and superb cuisine-the ideal choice for a romantic getaway

Foodies - Brooks Country House uses local produce to serve up truly wonderful dishes

Country Escape - Feel a million miles away from city life at this tranquil rural spot

Great walks - Head off on long walks through the beautiful surrounding countryside

Brooks Country House enjoys a serene countryside setting near Ross on Wye, Herefordshire. This Georgian manor house offers wonderful accommodation combining various original features with contemporary touches. Come back after a day out hiking and unwind in the sauna! A top retreat. See More

Check Availability

Glewstone Court

Ross-on-Wye (Herefordshire)

8 rooms from £72

Country Escape - Expect manicured gardens for a stroll and acres of glorious walking country surrounding the property.

Great walks - Explore the miles of scenic walking trails running through the Forest of Dean.

Sailing - Take a scenic cruise down the River Wye.

Views - Great views from hotel

A stately home, turned boutique hotel, set in two acres of manicured gardens. Nine individually styled rooms are traditionally dressed and spacious. A number of elegant lounges feature roaring fires and antiques. The award winning restaurant is worthy of a visit alone. See More

Check Availability

The Saracen's Head

Ross-on-Wye, Herefordshire

10 rooms from £90

Country Escape - A riverside property set in a particularly beautiful part of the British coutryside.

Great walks - Take long walks along the river and through the beautiful countryside.

Fishing - The Inn provides free licenses to fish on the River Wye.

Sights nearby - Visit the majestic 12th century Goodrich castle.

A half timbered Inn offering modern accommodation and outstanding views across the beautiful Symonds Yat. Ten simply designed rooms are light and airy with crisp white linen, white-washed walls and parquet flooring. A fantastic restaurant is the perfect spot to return to after a day's exploring. See More

Check Availability

Country Escape - A gorgeous Georgian country house with endless country pursuits in the surrounding area.

Fishing - The Wye Valley and Forest of Dean offers some excellent fishing both on the River Wye itself and its many tributaries.

Great walks - Enjoy some of the loveliest walks in Britain to be found in the hillsides and meadows surrounding Ross on Wye.

Kayaking - The River Wye is renowned as being one of the best places to kayak and canoe in Europe.

Recommended by - Sawdays

A stunning white Georgian house located on the River Wye. Elegant white-washed rooms feature well placed paintings and a few choice antiques. The views are spectacular, breakfasts delicious and there's plenty to keep all entertained in the surrounding countryside. See More

Check Availability
posted Wednesday, 2nd February 2022