The Best Hotels for Denali National Park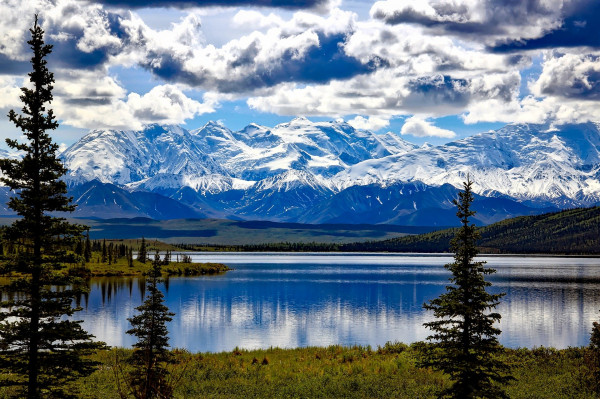 Image by David Mark from Pixab
Denali National Park offers its visitors a chance to be in true wilderness. It spans six million acres of wildland made up of tundra, spruce forest and glaciers with just one road running through it. In the centre is the stunning Mt McKinley, North America's tallest peak. During the summer months, the National Park draws a crowd who want to mountaineer, hike, and bike. However, if you are visiting simply for nature, beyond the vistas there are grizzly bears, wolves, moose, caribou and Dall sheep to spot. The best hotels for Denali National Park are well positioned to enjoy the spectacular scenery right from your accommodation. Hotels range from well-equipped resorts to properties that focus on a back-to-nature experience. Whatever your preference, why not browse through our collection to start planning the ultimate escape?
For a resort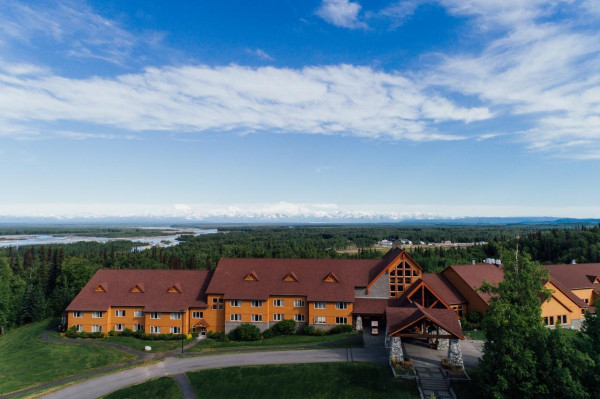 Talkeetna Alaskan Lodge is a classic all-American holiday resort in the Alaskan wilderness surrounded by mountains and thick forests. Interiors are traditional and make good use of local wood and stone while dining options range from fine dining to casual fare. With endless activities on offer, this is ideal family holiday material.
For a back to nature escape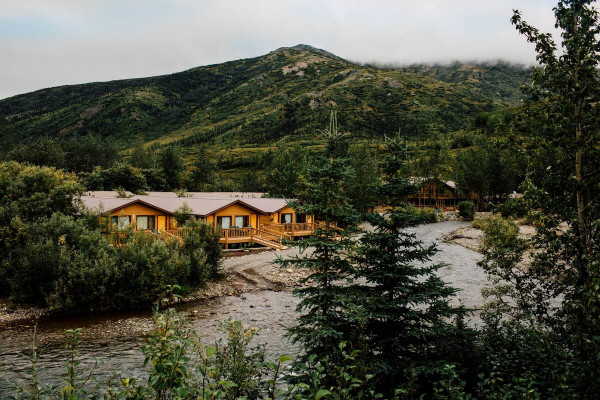 Denali Backcountry Lodge is a collection of cosy cabins boasting a remote and beautiful riverside location in the heart of Denali National Park. Cabins are simply styled with comfortable beds and plenty of pine (plus very efficient heating). There's no wifi or phone network making this the perfect place to get back to nature.
Still not sure where to book?
Explore our pick of all the best places to stay in the Yukon, Canada's neighbouring wilderness.
Widen your search to include all our recommendations for the best hotels in Alaska.
Alternatively, feel free to call or email one of our gurus for advice.

Back to Nature - Nature surrounds you here. Enjoy stunning mountain views, thick forest surroundings and a rushing river nearby

Active Holiday - Spend active days outdoors hiking, cycling, boating, fishing and enjoy the surrounding natural landscapes

Restaurant - Both restaurants offer traditional Alaskan cuisine including seafood, steaks and game

Whirlpool Bathtub - Suites come with spa baths

A classic all-American holiday resort in the Alaskan wilderness. Manicured grounds surround the main lodge whose interiors make good use of local wood and stone & features a huge river rock fireplace. Dining options range from fine dining to casual fare. Expect a plethora of activities for all ages. See More

Check Availability

Active Holiday - The landscape provides the perfect playground for outdoor enthusiasts with options such as fishing, hiking, and mountain biking

Back to Nature - Located riverside in the heart of Denali National Park, a remote destination to get back to nature

Spa - A range of massages on offer plus an activity programme to help guests recover after a day of activity

Great walks - Explore the numerous hiking trails nearby, either independently or with a guide

A collection of cosy cabins boasting a remote and beautiful riverside location in the heart of Denali National Park. Cabins are simply styled with comfortable beds and plenty of pine (plus very efficient heating!). There's no wifi or phone network - a place to really get back to nature. See More

Check Availability
posted Monday, 19th July 2021
Search the best hotels in Alaska