Top Tips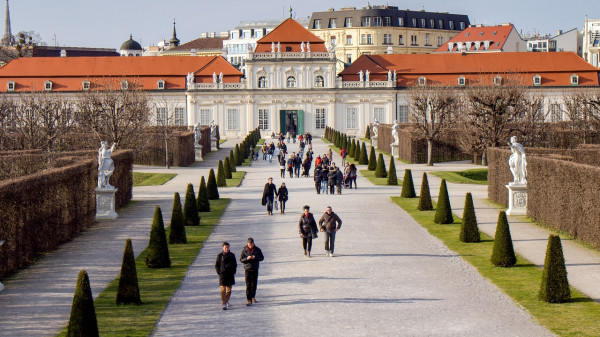 andreas N from Pixabay
We want you to use our detailed guide to Vienna's neighbourhoods to help you find the perfect place to stay in Vienna for you. Because Vienna isn't the easiest city to find the perfect accommodation in. But whether you're visiting Vienna to follow in the footsteps of The Third Man, to admire the Art Nouveau art and architecture, to see the dancing horses, visit the opera house, experience the coffee-house culture, or just try authentic sacher tort, we can recommend a neighbourhood and hotel for you.
Neighbourhood Guide to Vienna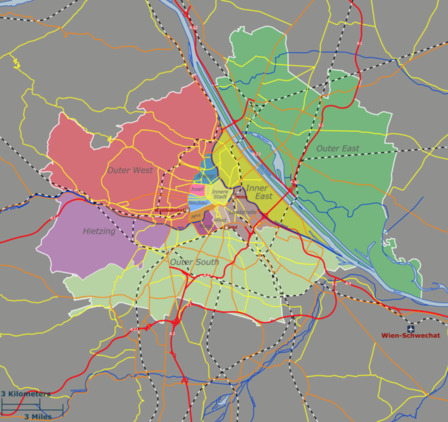 Wauteurz, CC BY-SA 4.0
With a small, walkable centre resplendent with beautiful details, Vienna is a very elegant capital. And it is very much a capital city, complete with incredible palaces, great art collections, a stunning opera house, and streets and boulevards lined with architecture that epitomises the period of its construction. It's hard to know where to start when it comes to landmarks and highlights. There's Schloss Belvedere with its incredible art collection; the Hofburg Palace complex — home to the Imperial Chapel and the Spanish Riding School; the Kunsthistorisches Museum packed with more art; and the Leopold Museum with more art still. And once you have seen the inside of these buildings you must admire the outside too. As well as art, architecture and music, the Viennese appreciation for quality infects the cuisine, the coffee, the wine and everything else. Even the sewers, which you might tour through if you follow in the footsteps of The Third Man, have a certain, unmistakable style.
Many of the sights Vienna visitors come to see are within the Innere Stadt, or city centre, which is the 1st District and encircled by the Ringstraße, a grand boulevard the follows the old city walls. Districts 2 through 9 are the next layer outwards, and have sights and landmarks too, and beyond that Vienna spreads liberally, out to the 23rd District. Vienna's public transport system is fairly efficient and easy to use, and includes an underground network called the U-bahn, trams, buses and trains. The whole centre of Vienna is a single zone, so it's one price for any journey.
Innere Stadt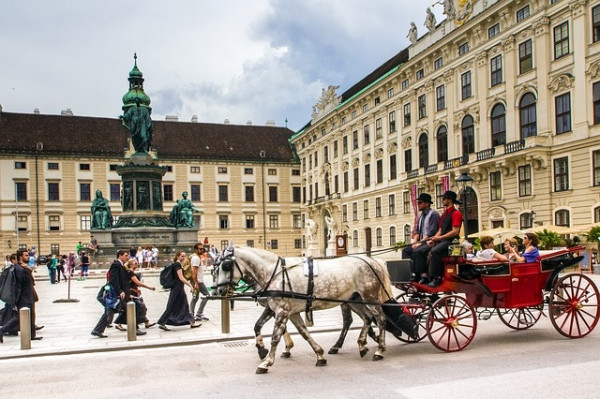 andreas N from Pixabay
Innere Stadt is at the very heart of Vienna: its Old Town, encircled by the beautiful boulevard, Ringstraße, which follows the layout of the, now absent, city walls, and is lined with elegant mansions and palaces. Until 1850 Innere Stadt was all of Vienna, so this is where most of the palaces and great imperial buildings will be found, including the neo-Gothic Rathaus. the Hofburg Palace complex, which is still the seat of government, but is also a hub of museums and galleries, the Kunsthistorisches Museum, which is Austria's largest art museum and one of the world's greatest, and the Museum of Natural History. Innere Stadt is also home to St. Stephen's Cathedral, and several more of Vienna's most notable churches. And the Secession Building, which will be notable to architecture-appreciators.
Innere Stadt's main shopping street is Kärntner Straße, which is also arguably one of its main 'everything' streets too, along with Am Graben, which is lined with beautiful residences and palaces, and features two fountains and the Pestsäule or plague column, a vast and ornate monument about six storeys high. Both these streets offer a wonderful selection of cafes, and some very nice restaurants too. In fact the whole of Innere Stadt is choc-a-bloc with excellent places to eat and drink. And of an evening there's plenty of life and colour in the bars and on the streets.
Pros and Cons
Pros: central, major sights, historic, beautiful architecture, great places to eat and drink
Cons: busy, can be touristy
Ideal For: first-time-visitors, sight-seers, history-buffs, architecture-buffs, art-lovers, foodies, romantics
Leopoldstadt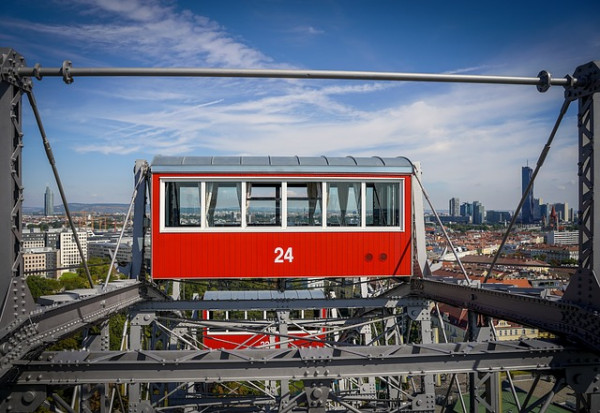 EM80 from Pixabay
Leopoldstadt, also known as District 2, occupies the southern side of a little island which sits between the Danube River and the Danube Canal. Its most famous landmark is the Volksprater, or Prater Amusement Park, which is the one with the iconic ferris wheel, but the 'Prater' part of the name refers to a former hunting forest, which becomes more tame as it gets closer to the city, until it's a formal park and then amusement park. Leopoldstadt has a second major park, the Augarten, which is a more formal palace and gardens, and currently home to the Vienna Boy's Choir. So it's a relatively green neighbourhood. To the north of the park is a forest of Neo-Baroque buildings, and the old Jewish neighbourhood of Karmeliterviertel.
When it comes to museums and galleries, Leopoldstadt has its own named arts museum, and a theatre, plus the Prater Museum, and there's a Johann Strauss Museum converted from a former residence. Leopoldstadt was once a hub of theatres, and it's still got a number of small offerings. Along with an excellent range of pubs and cafes.
Pros and Cons
Pros: central, historic, green, great value
Cons: residential
Ideal For: families, history-buffs, sight-seers
Neubau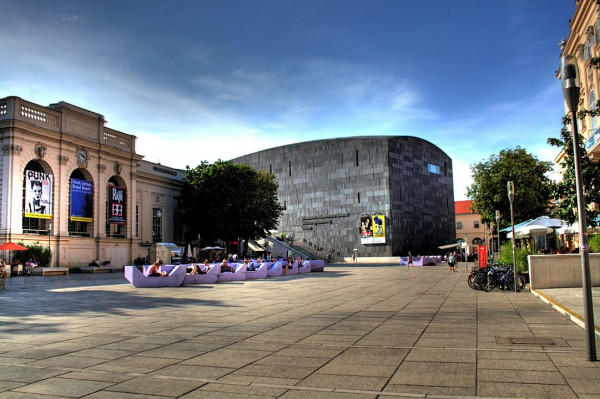 By Denis Todorut from Wien, Ös
Neubau is District 7, and starts at the Museumsquartier, an arts complex which incorporates the Leopold Museum and MUMOK, and stretches to the Westbahnhof (the western railway station). This is a pretty hip, as well as arty, neighbourhood, great for theatre too, and independent shopping. If you want to buy a beautiful print, or a unique piece of clothing, or a high concept design nick-nack, then Neubau is a great place to come. Neubaugasse and Mariahilfer Straße are good places to start shopping, and even the Museumsquartier has some fab little boutiques. There's the Naschmarkt flea market near the Secession building too, one of the largest in Vienna, and great for food as well as random finds. Neubau has a big student population, and the numbers of bars and pubs to match the demand, as well as lots of lots of cool cafes, starting from the one occupying the courtyard of the Museumsquartier. Neubau is also home to the Imperial Furniture Collection, which might sound niche, but it's certainly worth looking up if you're interested in design.
Pros and Cons
Pros: central, major sights, art and architecture, great shopping, fun atmosphere, great places to eat and drink
Cons: busy
Ideal For: hipsters, couples, art-lovers, cafe-lovers, shoppers, history-buffs, hipsters, night-owls
Landstraße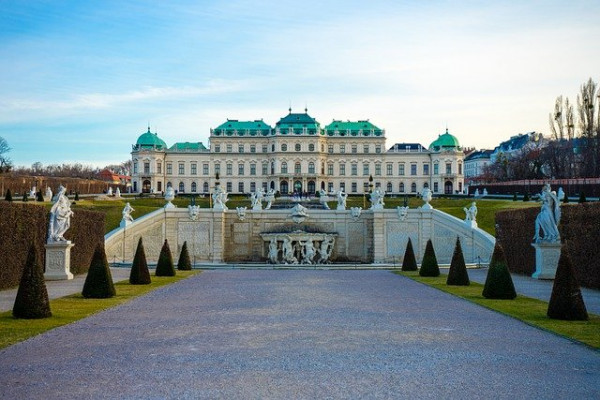 Leonhard Niederwimmer from Pix
Landstraße is District 3, located just to the south of Innere Stadt, and, probably most famously, where you'll find the Belvedere, a grand palace and gardens, now home to the Austrian Gallery. There are a few other palaces built around the Belvedere, and the neighbourhood's other main attractions include the Museum of Military History, the KunstHausWien or Vienna House of the Arts, the Museum of Art Fakes and the St. Marx Cemetery, which is where Mozart is buried. Considering how close to the centre of Vienna it is, Landstraße is quite a green neighbourhood, and, beyond the centre there are elegant residential streets. The shopping and dining here have a well-to-do feel, with a wide range of shops, cafes and restaurants, including organic food specialists, second-hand and vintage stores and classy pubs. The Rochus Market is a good place to start any shopping expeditions.
Pros and Cons
Pros: central, major sights, green, elegant architecture
Cons: can be expensive
Ideal For: families, romantics, sight-seers, architecture-lovers
Wieden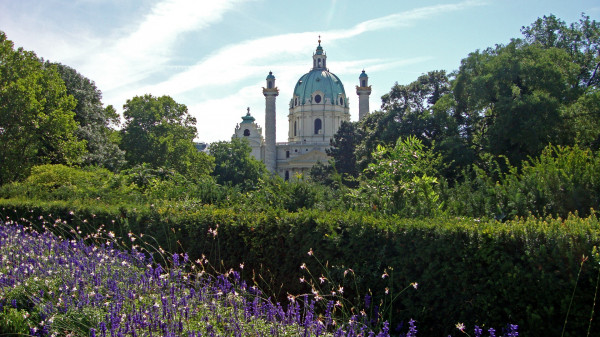 image by jgojtan from Pixabay
District 4 is Wieden, and it's right next door to Landstraße, so still close to central Vienna's main sights. Wieden isn't as pretty as the neighbourhoods covered so far, it's got a popular square, Karlsplatz, a commercial-looking high street and lots of student accommodation, but it is a vibrant, lively collection of architecture and attractions, with lots of choice when it comes to eating and drinking. It's also super cool. The boutiques here sell zeitgeist-y bits, so mentioning their wares specifically might date this article, but if it's hip, or will soon be hip, this is where you'll find it! And you're on the other end of the Naschmarkt from the Secession building, so there's lots to discover here as well. Wieden's main landmark is probably the wonderfully grand Karlskirche church, which is by Karlsplatz.
Pros and Cons
Pros: cool, great cafe and restaurant culture, great shopping, great markets, central, lively, great value
Cons: residential, student-y
Ideal For: value-seekers, cafe-haunters, hipsters, shoppers, foodies, night-owls
Margareten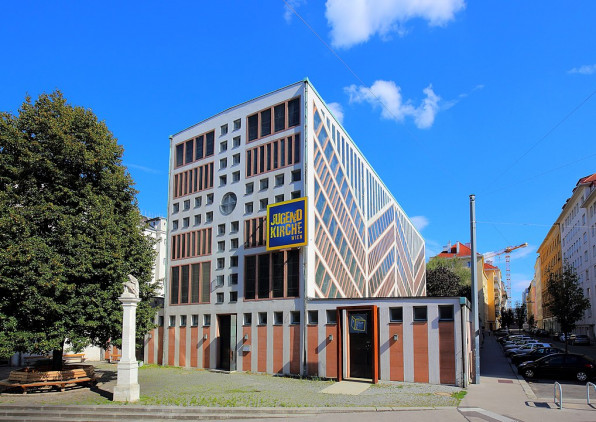 By Bwag - Own work, CC BY-SA 4
Margareten is the next neighbourhood on again, District 5, bordering Wieden to the east and the U-bahn 4 line to the north. The centre of the neighbourhood is Margareten Platz, which is also the area's oldest square, and lined with some beautiful old palaces and buildings, and the modern concrete and dark glass Florianskirche, or Church of St. Florian. Margareten is a largely residential neighbourhood, with some really fantastic 1920s, 1930s and 1950s apartment buildings, and Margareten Platz is the main hub for eating, drinking and shopping. There are plenty of great pubs and cafes as you radiate into more residential areas, though, and some real traditional, Viennese gems, so it's worth looking. Today this is a popular area with art and design professionals, and the vibe and offerings reflect that. It's also a good place to look for great value accommodation.
Pros and Cons
Pros: great value, interesting architecture, good transport links
Cons: residential, off-centre
Ideal For: value-seekers, architecture-lovers, visitors looking for an unusual base
Mariahilf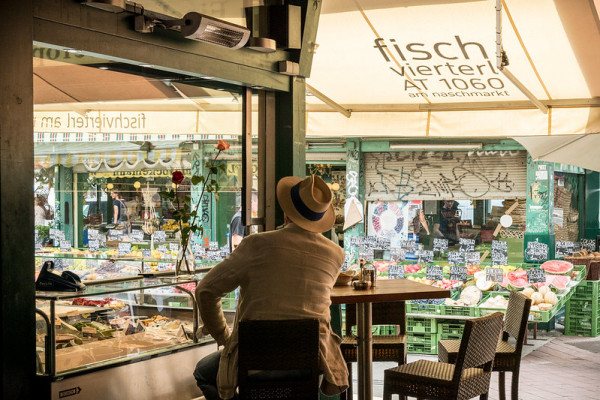 By Flickr user Sandor Somkuti
District 6, Mariahilf, is just to the southwest of the centre, bordering Neubau to the north along the Mariahilf Straße — which is one of Vienna's main shopping streets. Mariahilf is also along the route of the one and a half kilometre long Naschmarkt. So it's a good place for a bit of a browse. It's largely residential, but very cool, and behind the main streets are little cafes and bars which feel further from the busy centre than they really are.
Mariahilf's main sights and landmarks, aside from Mariahilf Straße and the Mariahilfer Kiirche, can mostly be found along Mollardgasse and Haydngasse, and include the Haydn-House, former home of the composer Joseph Haydn. The Theatre an der Wien and the Kaffeemuseum are other local sights, and Vienna's aquarium, the Haus des Meers, has been converted from a former flak tower. Mariahilf is also home to a thriving LGBT community, which adds colour to the local nightlife.
Pros and Cons
Pros: cool, great shopping, local cafes and bars, lively nightlife
Cons: residential, off-centre
Ideal For: value-seekers, shoppers, cool cats, night-owls
Josefstadt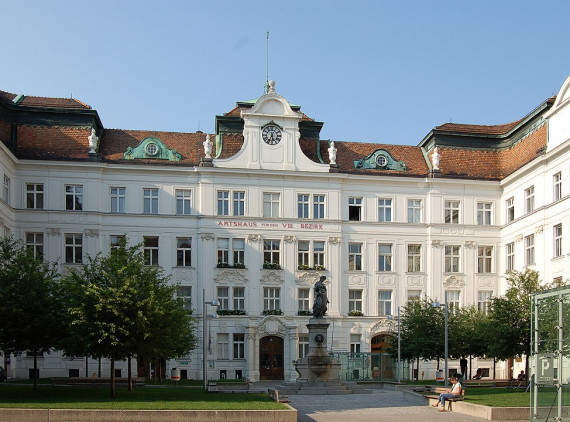 By Michael Kranewitter - Own w
Josefstadt is District 8, and the smallest neighbourhood; but it's big on beautiful architecture, having been a popular spot to build a palace during the 18th and 19th centuries. Some of the more famous and beautiful palaces are the Baroque Palais Schönborn, which is now home to the Museum of Folk Life and Folk Art, the Palais Auersperg, the Palais Strozzi, and the Palais Damian. But there are many more lesser palaces and mansions to add to your viewing list too. Josefstadt also has a museum to shoes and shoemaking, Vienna's English Theatre and the Theater in der Josefstadt, the oldest theatre in Vienna. It's a good place for a spot of shopping too, especially if you're looking for good quality, traditionally Austrian products. This isn't a particularly touristy neighbourhood, so both the shopping and cafe and bar scene is tailored to locals, which actually probably makes it much more appealing to many visitors. There are some really excellent local traditional cafes and restaurants. Josefstadt has great access to the U-bahn 2 and 6 lines, and good tram access too, so it feels even more central than it looks on the map.
Pros and Cons
Pros: not-touristy, beautiful architecture, good transport links, central, traditional cafes and restaurants
Cons: residential, expensive
Ideal For: couples, shoppers, architecture-lovers, visitors looking for an unusual base
Discover our recommended hotels in Josefstadt, Vienna.
Alsergrund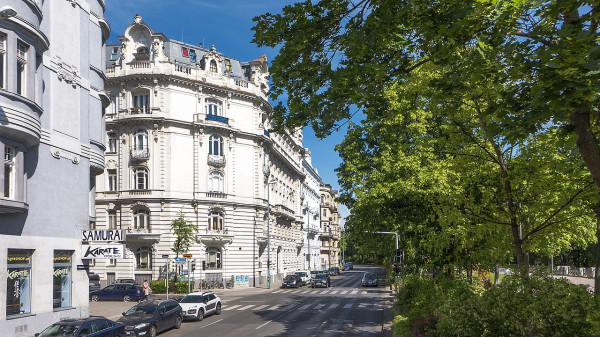 By Gugerell - Own work, CC0, h
Alsergrund, District 9, is the last in the ring of neighbourhoods surrounding Innere Stadt. It's a beautiful neighbourhood too, with graceful old architecture and the leafy grounds of the University of Vienna. This is also where a number of Vienna's most famous inhabitants lived, including Beethoven, Schubert and Sigmund Freud — Freud's old flat on Berggasse, is now a museum, as is the apartment where Schubert was born. When it comes to local landmarks the white sandstone, neo-Gothic Votivkirche is stunning. Alsergrund has a couple of sophisticated shopping streets, including Berggasse and Servitengasse, and there's a lot of choice when it comes to dining, drinking and cafes. Alsergrund is well connected by U-bahn, with line 6 to the north, 4 to the west and 2 along some of the neighbourhood's southern border.
Pros and Cons
Pros: leafy, historic, not-touristy, great dining and drinking options, beautiful architecture, good transport links
Cons: residential
Ideal For: couples, architecture-lovers, visitors looking for an unusual base
Search the best hotels in Vienna