Top Tips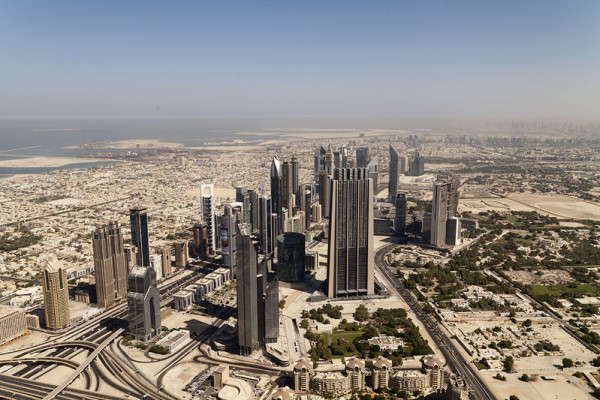 By Flickr user Julien Mattei
Discover the best neighbourhood to base yourself in Dubai, whether you're here for the paradise of beaches, the world-class shopping, the desert and the souqs, the cuisine, or to explore this incredible Emirate and its history. Our detailed guide has recommendations for the best neighbourhood for families, explorers, shoppers, couples, and combinations of all of the above and more!
Neighbourhood Guide to Dubai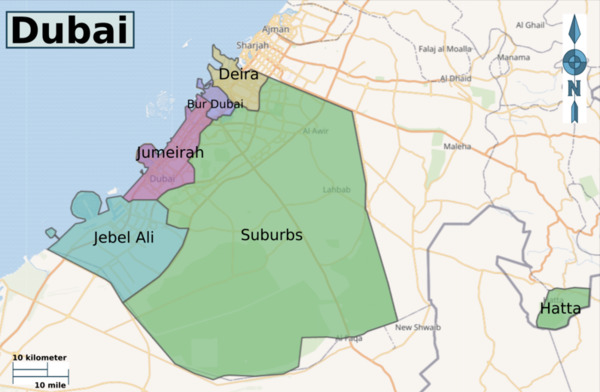 By Davide Mauro on Wikimedia C
Deliciously warm and sunny, and rather glamorous, Dubai is perfect if you're craving the beach in the winter months, an exotic, yet comfortable experience, or an opportunity to really treat yourself. Here, on the edge of the desert, the facilities are modern and air conditioned, but some of the views are ancient, and the man-made coastline is about as perfect as you can imagine. Dubai can be hectic, and expensive, but it doesn't have to be. The districts close to the centre of town are where most people stay, but they offer plenty of variety when it comes to price and ambience, and all our recommended neighbourhoods are well connected to the rest of central Dubai via the Dubai Metro and the tram lines. Dubai also has a huge bus and taxi network, but Dubai's roads are known for their periods of congestion, so probably stay off the roads during the busy periods if you can. But if you want to head out of the city into the desert it's probably a good idea to hire a car or a car and driver, once you're outside the centre of town Dubai starts to sprawl.
Downtown Dubai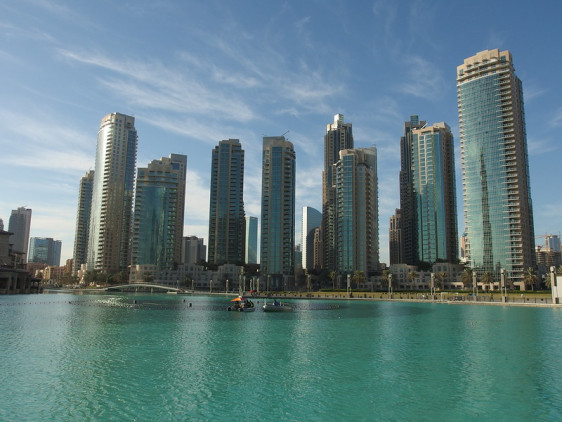 By Flickr user Guilhem Vellut
Downtown Dubai is where you'll find the Dubai Mall, the world's largest, and the Burj Khalifa, one of the world's largest buildings, and the Dubai Fountain, the world's largest choreographed fountain system. Plus the opera house, an aquarium, and an Olympic size ice rink. But it's not all big new builds, this is also where you'll find Dubai's Old Town, an area of traditional low-rise buildings arranged on narrow, twisting streets opening onto lively markets lined with traditional restaurants. There are plenty of confident, modern restaurants too; it's a very varied neighbourhood. Several stations on the Red Metro Line run through Downtown Dubai, as do a number of bus routes.
Pros and Cons
Pros: big, bustling and exciting, many shopping opportunities, huge choice of places to eat and drink
Cons: touristy, busy
Ideal For: shoppers, luxury lovers, skyscraper appreciators
Discover our recommended hotels in Dubai's Downtown.
Jumeirah Beach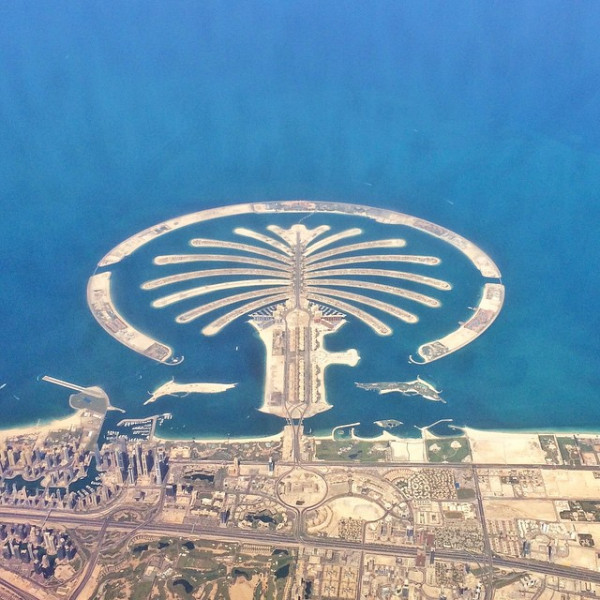 By Flickr user Thomas Galvez
Even before the remarkable act of land reclamation that is The Palm (the man-made palm-shaped piece of land jutting off Jumeirah Beach and into the sea), this was the part of Dubai known for being a glamorous beach paradise. Jumeirah Beach's long stretch of clean, white sand slopes gently into the ocean west of Dubai Creek, between the Etihad Museum and the seven star Burj Al Arab Hotel, with a line of elegant villas and hotels in between. Dubai's Marina is part of this neighbourhood too. And it's all quite glitzy. If you're looking for bragging rights stay on The Palm, but there are plenty of hotels to choose from in Jumeirah Beach, and plenty of restaurants and bars too, a lot associated with hotels. If you're looking for more variety, and a lively evening out head for the marina. The Jumeirah Beach Park is great for families. Jumeirah Beach has its own tramway and its own monorail, which runs along the 'trunk' of The Palm, and it's not far from the Red Metro Line, and has several bus routes too.
Pros and Cons
Pros: beach paradise! luxurious, glamorous, lots of restaurants and bars, lots of facilities and activities
Cons: touristy, expensive
Ideal For: beach-breakers, families, luxury-lovers
Discover our recommended hotels in Jumeirah Beach.
Deira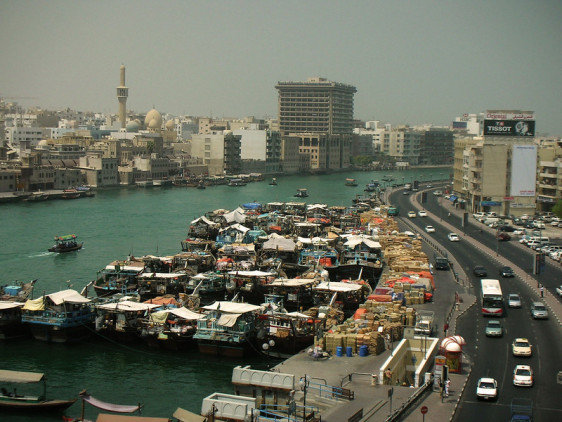 By Flickr user Liji Jinaraj
On the other side of Dubai Creek from the white sand and glass palaces of Jumeirah Beach is Deira, which is a lot more like what you'd expect a city on the edge of the desert to look like, with wharves lined with traditional dhows, busy souqs and quite a bit of dust. The souqs are fantastic places to explore, with all manner of things on sale, starting with the fish, gold and spice souqs closest to the waterfront, and the textile souq behind them. Watching everything being unloaded is quite something: nothing here travels in shipping containers, everything is in cardboard or under tarpaulin. Along the promenade towards the Corniche you'll find hotels, resorts, bars and restaurants, so there's plenty of modern conveniences too. Deira also has a beach park, the Al Mamzar Beach Park. It's more traditional, and less flashy than Jumeirah Beach, and it's a working neighbourhood as well as a great place to visit, so you'll see more locals here. The gold souq is a major transport hub, with lots of buses interchanging here, and access to the Green Metro Line, and a couple of streets back you'll find the Red Metro Line.
Pros and Cons
Pros: traditional, great markets, lively, feels authentic, good choice of restaurants, great shopping, good public transport links, lots to see
Cons: busy, dusty
Ideal For: shoppers, history-buffs, great value, foodies
Discover our recommended hotels in Deira.
Bur Dubai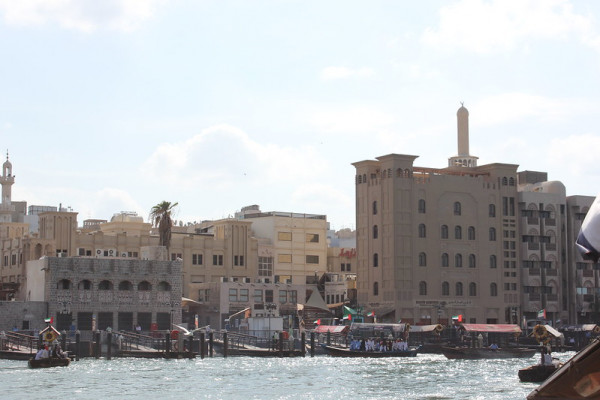 By Flickr user Isabell Schulz
Bur Dubai is the historic quarter, or Old Dubai, where the city began. This is where you'll find the historic Al Fahidi and Shindagha districts, the incredible Dubai Museum and the Grand Mosque with its impressive minarets. It runs along Dubai Creek, opposite Deira, and you can see the colourful dhows as they bring in their precious cargo. If you're interested in eating like a local, then Bur Dubai is definitely going to appeal to you, with its charmingly old fashioned waterfront cafes, and its rows of tiny eateries and restaurants. In the evening you might want to head over to Zabeel Park or Creek Park to relax, cool down and catch some more local colour. The Red Metro Line runs through Bur Dubai and links with the airport, and there are plenty of bus routes.
Pros and Cons
Pros: historic, traditional, lively, friendly, great places to eat and drink, cultural sites, central, great value
Cons: bustling, confusing layout
Ideal For: history-buffs, city explorers, couples
Discover our recommended hotels in Bur Dubai.
Search the best hotels in Dubai