21 of the Best Château Hotels in Normandy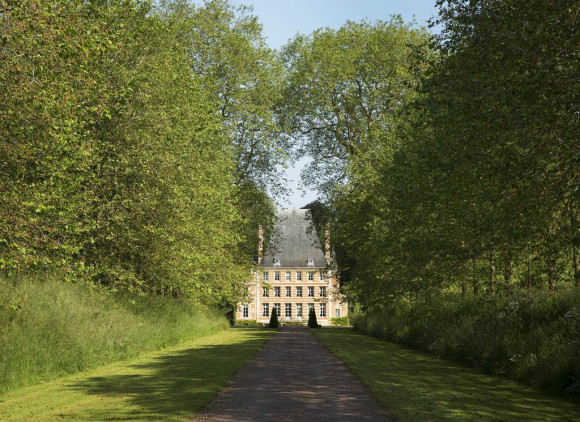 A lush rural idyll with an incredibly beautiful coastline and some of the most memorable views in France, Normandy is the sort of place you can imagine you'd want to build a country house, if you had that sort of means, so it's no wonder that Normandy has so many elegant châteaux, dating from the Renaissance period, all the way up to the 20th century. Unfortunately these days many families can't manage the upkeep on their family country house, all those huge windows and elegant parquet flooring are hard to keep going, but it does mean that many of them have been opened up as luxurious hotels or elegant B&Bs, so we're all able to enjoy waking up in these beautiful buildings overlooking green and pleasant countryside and looking forward to a day exploring Normandy! Our recommendations for the best château hotels in Normandy also includes some of the best B&Bs in Normandy, and some manor houses which give the impression of a château stay in Normandy.
Normandy's Best Traditional Châteaux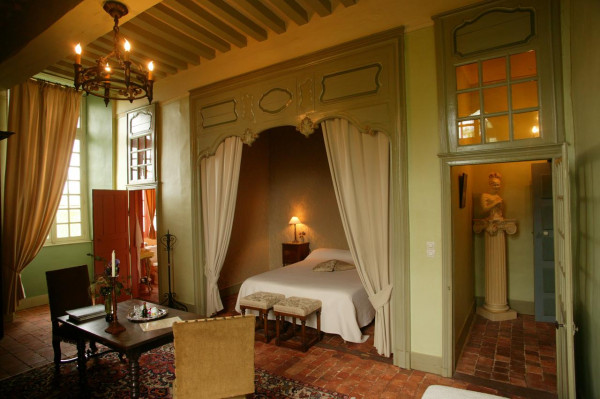 If you want to find somewhere elegant and impressive looking, with the feeling of old opulence and family history then you'll want something from this category. And we think the Château de Villiers is a good place to start. It's an elegant, beautifully restored château complete with a moat and a tall pointed roof and tower, and many huge windows, set in the Normandy countryside. Inside the five rooms have been beautifully decorated with antique furnishings and plush linens, complete with four-poster or balcony beds, wood flooring and fireplaces. There's also a separate self-catering house, and several family-sized treehouses, which can accommodate two adults and two children. The garden-to-table table d'hotes style dinners are also positively reviewed.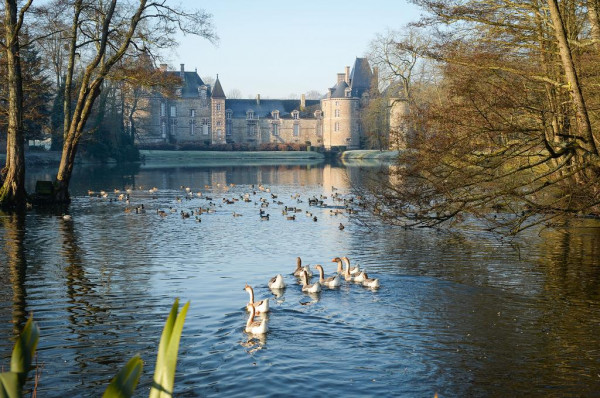 If you're really looking for a fairytale castle, our pick for you would be the Château de Canisy, a grand many-towered building set on a 700 acre estate. It's been beautifully preserved, both inside and out, and there are numerous reception rooms filled with elegant antiques, and warmed by roaring fires. The 17 rooms and suites are just as beautiful and historic; expect your bed to be hung with heavy drapes, your walls to be adorned with traditional French patterned wallpaper and oil paintings, and your bathroom to be marble.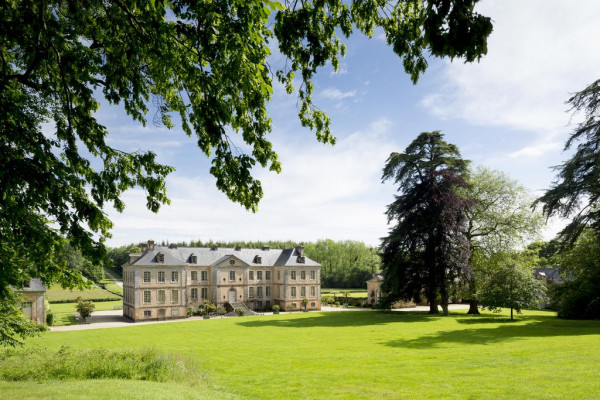 Built for the Marquis d'Ourville in 1765, the Château de Pont Rilly has that wonderful château grandeur, the symmetrical facade of white stone, with the huge windows and grey roof and the typical wrought iron, and it's surrounded by sweeping landscaped gardens and a series of small canals, so it also feels like it has a moat. Steeped in history, this charming property has just four rooms, all with beautiful marble fireplaces and parquet flooring, topped off with appropriate antiques. There are also three self-catering cottages in the grounds, which sleep four, six and eight.
The Château de Beneauville is a Renaissance château set in 50 acres of beautiful gardens and parkland, whose interiors are brimming with elegant antiques, tapestries, oil paintings, traditional wallpapers, carved wood and stone fireplaces with open fires, and some notable French design and patterns. The location, between Caen and the coast, is perfect for both explorers and those seeking an active break. But it's just as much a romantic hideaway.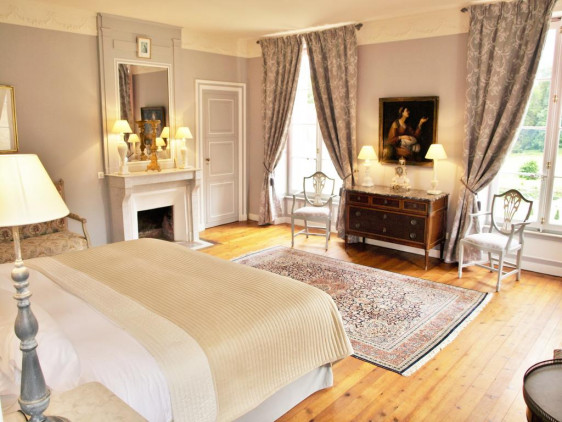 The Château de la Pommeraye is an elegant stately home in a beautiful, rural location. It has just five rooms, all of them sumptuous and traditional, with beautiful antiques, huge beds and fairytale views. For many this will match your idea of the "perfect château", from the Louis XVI furniture to the Italianate stairwells. You can also book the whole property for private use, and arrange meals as needed.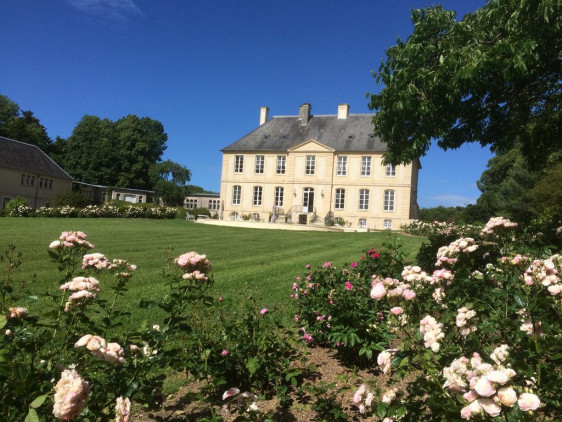 Also benefitting from a tranquil spot, Château la Ferriere is a stunning 18th century pile just outside Bayeux, with just five traditionally dressed rooms and suites. If you j'adore parquet and toile du jouy, chandeliers and drapes, antiques and busts, then you should be extremely happy here; ditto if you're looking for a small, intimately luxurious feeling château, which really feels like a château.
Some of Normandy's Best Château Escapes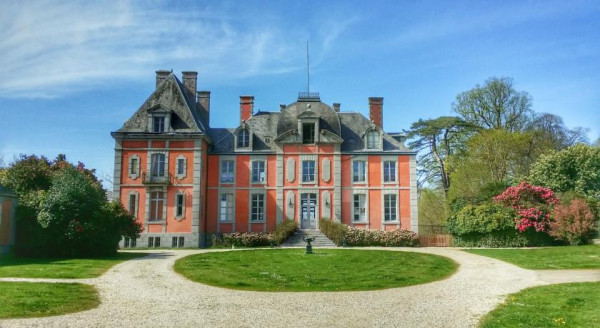 The Château de Chantore is a stunning, red-brick château just back from the coast by Mont Saint Michel, hidden amongst rolling parkland so that it feels a million miles from anywhere. There are just five rooms, all of them resplendent with patterned or embroidered fabrics and period wallpapers. This is traditional maximalism at its best in an idyllic rural location.
Elegant and romantic, it's the Château Hotel de Belmesnil's position, in a tranquil, secluded spot outside Rouen, that earns it a place on the escapes list. From the outside it looks every inch the perfect château, and on the inside it's been beautifully refurbished to the standards of modern luxury, in warm, natural colours. There are ten rooms, and public spaces where you can play table football, or table tennis, French boules or badminton.
Very close to the Parc Natural Regional Normandie-Maine, the Château de Sarceaux is an idyllic countryside escape. Originally built as a hunting lodge, then converted into more of a doll's house style château in the 18th century, this is an historic property with four individually styled rooms, each with their own fireplace and rustic wood floors, and one suite, similarly, but more grandly decorated.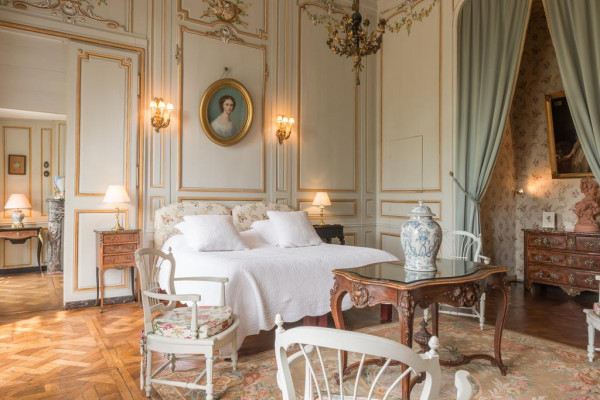 The Château de Bouceel is another property with the look of an elegant doll's house, though this time one too large to fit on your table… Also built in the 18th century, this five bedroom property has a wonderful collection of antiques, including Louis XVI-style panelling and lovely parquet floors, and some of the bedrooms are quite grand. The garden is big, and there's a pool too.
The Most Romantic Château Hotels in Normandy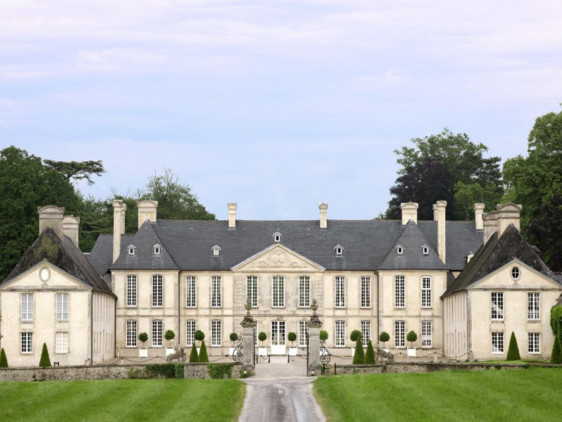 Classically beautiful, with the kind of huge elegant windows and ornate iron and stonework that châteaux are known for, the Château d'Audrieu was built in a beautiful spot in the 18th century, and is surrounded by elegant grounds. These days there's a pool and tennis courts too. Inside there are 29 rooms, varying in opulence, but all with original features, antiques and pretty patterns. The restaurant is gourmet, and you're not far from the coast.
Close to Bayeux, the Château de Sully is more of a hotel than many of our recommendations, so it's perfect if you're looking for more hotel facilities, like a spa, hot tub, heated pool and a Michelin-starred restaurant. It's still historic, built in the 18th century, and relatively small as far as hotels go, with just 23 rooms and suites, and there's the same tranquil parkland surrounds as you'll find in our other favourites.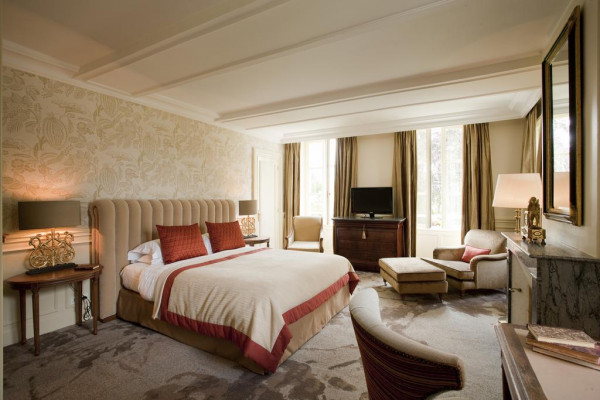 The Château la Cheneviere offers all the romance and luxury of a traditional French château, without even a whiff of a problem with the plumbing in its 29 rooms and suites, which are decorated with the height of modern luxury in mind. The elegant, 18th century building looks very much the part, surrounded by beautiful gardens and parkland, but inside it has all the mod. cons. including a cocktail bar, heated pool and tennis courts. The restaurant is classical French, and you're close to the D-Day beaches and to Bayeux, and the local golf club.
Château Hotels for Families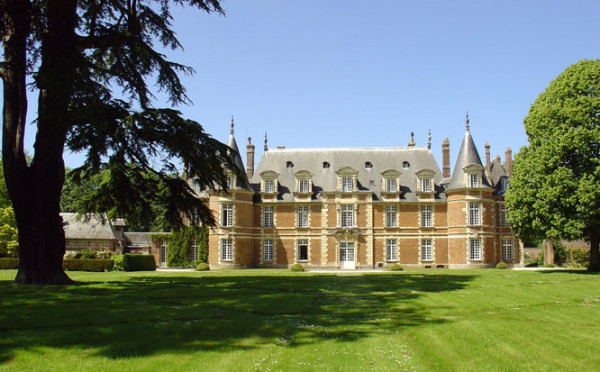 It's surprisingly difficult to find a château by the coast, but we do know of a couple, and the fact that the Château du Rozel is only five minutes drive from the sea qualifies it for us — some of the rooms even have a sea view. This isn't a symmetrical doll's house of a château, but one that has been built upon during different periods, starting in the 16th century, and it has crenelated towers, but also a row of cottages. Which equates to a variety of accommodation choices, including four rooms in the main house and two self-catering cottages ideal for families.
The Château de Miromesnil would also fit into our category of traditional châteaux, with its elegant, symmetrical design complete with corner towers and huge, ornate windows, and its five rooms are all unique and all charming, but in addition to those this château has a huge apartment which can sleep up to ten people, so it's ideal if you have a large family, or you're holidaying with in-laws etc.. Its location, just outside Dieppe, is convenient too, and there's lots to do, like play tennis, go horse riding or play golf.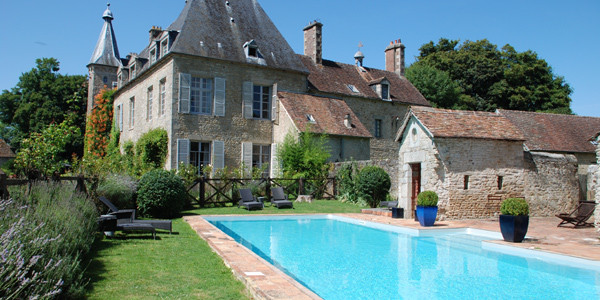 Romantic AND family friendly, the Château de saint Paterne is 15th century château with really charming hosts in an idyllic spot outside Alencon. There are nine rooms and two suites — one of the suites is in a treehouse in the woods — and the suites are part of why this château is listed in the best for families category. The other parts of the reason are the early suppertime for children, and all the things you can do here, including swimming, playing tennis or badminton, or croquet or table tennis. The interiors are very romantic, some rooms have four-poster beds, or exposed beams, some have parquet floors or painted murals, but they're all lovely. And the table d'hotes is fantastic.
Normandy's Best Château B&Bs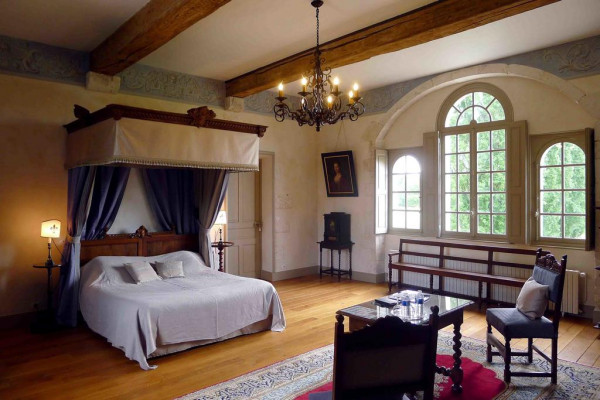 The Château de Bonnemare is in a beautiful spot, but really in the middle of nowhere, surrounded by its own rambling grounds, on which you might also discover the château's chapel, farm and cider press. Inside the decor is no less than regal in some of the rooms, others are simpler, though, and very good value.
The Château de Saint Maclou La Compagne is just outside Honfleur, though you wouldn't know it from the views out of the château's huge windows! There are just four bedrooms, all of them huge, with enormous fireplaces. One has a four-poster bed, and two can be twin rooms, but all have elegant fabrics and furnishings with a traditional feel. And there are multiple living areas and salons decorated with antiques and works of art.
For a great value stay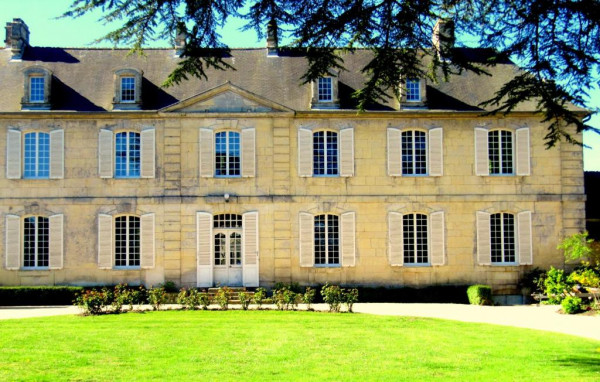 If you're the kind of traveller who appreciates personal touches then the Château de la Mouchere might be for you. It's not as intimate as some of our other recommendations, with its 37 rooms and two suites which sleep up to four, but the hosts are very welcoming, and they provide an excellent table d'hotes. It's beautiful here too, the sandstone country house with its traditional shutters set in picturesque gardens, and inside it's just as pretty, with parquet floors and fireplaces, and an Art Deco flavour.
Elegant, yet unfussy, and close to Caen, the Château Les Cedres looks like a fine manor on the outside, but feels more like a grand family home on the inside. If this is more to your taste then you might also appreciate that there are just three rooms here, and they're all simply, freshly styled, with white walls that make the most of the elegant original doors, floors and fireplaces.
Still not sure which to book?
posted Tuesday, 11th February 2020