Paris oozes chic class, whether you're shopping on elegant Rue St-Honore or in the hip Marais, strolling hand-in-hand along the Seine, or sipping coffee in a Rive Gauche cafe. So when in Paris, surely you should stay in a chic Paris Hotel? We have a good list, but we do have favourites, and here are our recommendations for top 10 chic Paris hotels.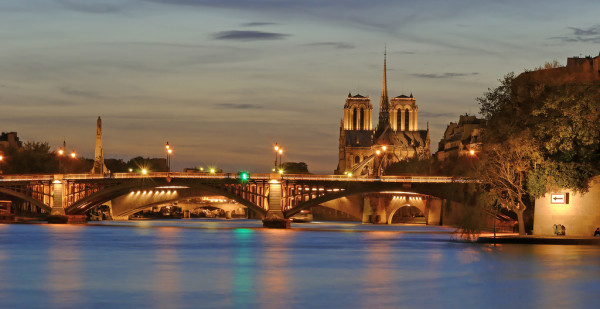 As fas as our Gurus are concerned an appealing location is essential to a chic Paris hotel. And welcoming staff: however stylish the hotel, however long its illustrious history or its celebrity guest list we can, and will, do without those ice-maiden receptionists who flick their designer wraps and watch with ill-disguised contempt as you drag your luggage across the hall and try to cram it into the world's smallest lift! We're not fussed on the food - Paris is bribing with fantastic places to eat and drink, but there should be somewhere stylish and comfortable to sit and enjoy a tete a tete, aperitif or digestif.
So here's our complete selection of top 10 chic Paris hotels with a certain je ne sais quoi. And we have tagged a few extra on - it's really hard to choose… Their order bears no reflection on our preference:
Chic Paris Hotels with Grand Dame Status
Of Paris's venerable grand dame establishments, we find the choicest to be:
One of the best luxury hotels in Paris, the Hotel Le Meurice is the epitome of Parisian style. The interiors are just stunning - think glittering gold, glass and marble, but in a way that is dainty rather than gaudy, the location is unrivalled and the dining is Michelin starred. There's also a spoiling spa. And the Belle Etoile Suite has an amazing 360º view over Paris - possibly even the best view in the city.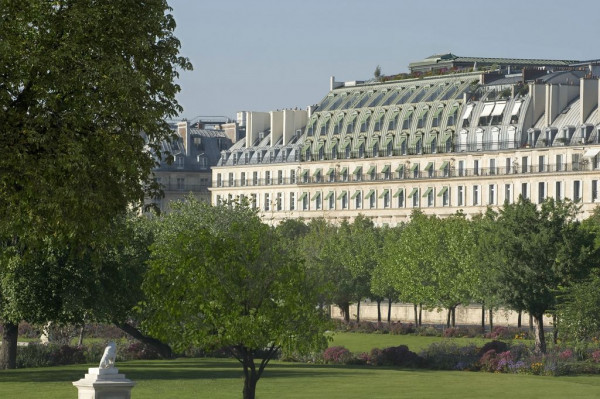 We also love Le Bristol, which boasts the only rooftop pool in Paris and has Michelin stars galore. The location, in the heart of Paris' designer district, is central and beautiful, the large, elegant rooms are stuffed with antiques and original artworks and the staff are fabulous. All up it offers the quintessential experience of Paris hotel luxury.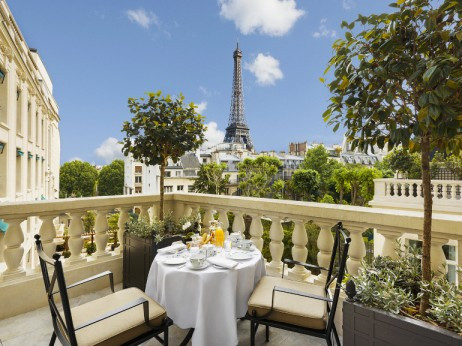 Chic Paris Hotels in Unbeatable Locations
The Hotel Thérèse is a beautifully restored 18th century building an unbeatable five minutes from the Louvre. The rooms are small and eclectically styled, but achingly chic, and they'll serve you an incredible breakfast in the vaulted restaurant or in bed. Your perfect Paris bolthole.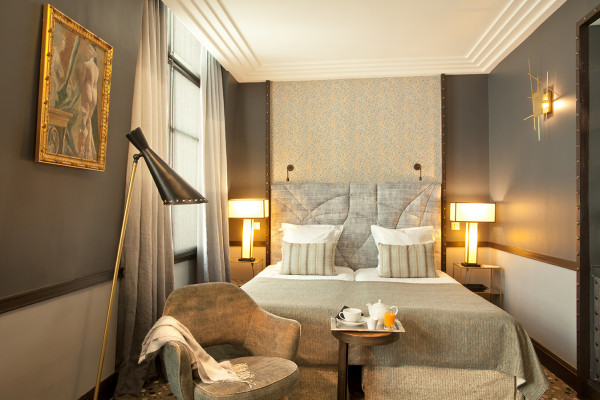 Then the Hotel Lancaster is just off the Champs Elysees? Once Marlene Dietrich's favourite chic Paris hotel, the Lancaster has been beautifully restored and sumptuously decorated in plush stylings nodding to its heyday. It's a bit like a fine, luxurious Paris townhouse, but with a Michelin starred restaurant.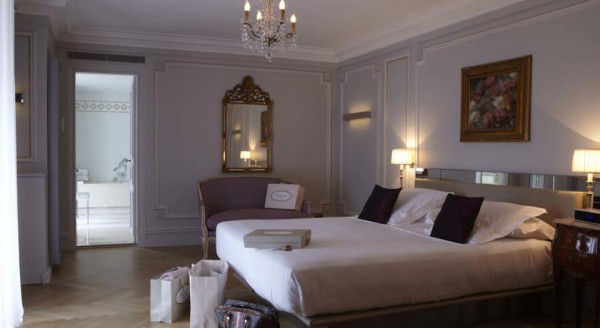 Or for classical toile de Jouy and Chinoiserie gorgeousness and rooftop views of the Eiffel Tower, there's the Hotel Daniel. This chic townhouse hotel in its unbeatable location has been decorated in wonderful East-meets-West glamour.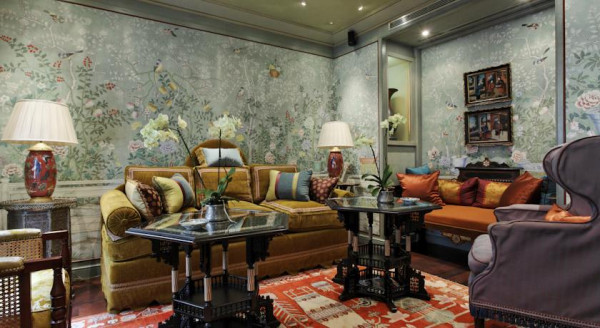 Shhh! Secret Chic Paris Hotels
If you want to lose yourself in this big, romantic city you need one of our Guru's secret chic Paris hotels.
Small, and well located for the major sights, Secret de Paris is a sleek, modern hotel with 29 individually decorated rooms - done with a flair for design. There's also a fabulous fitness centre.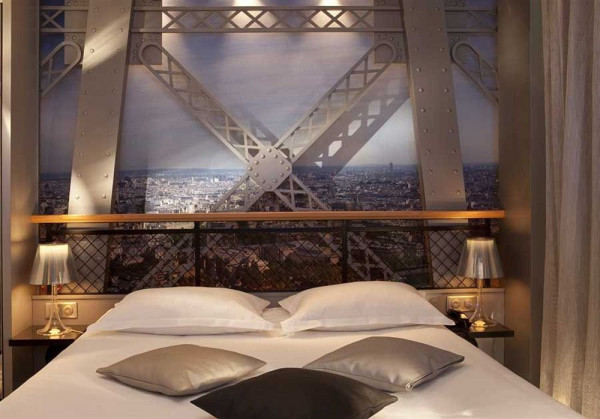 Or there's the Pavillon de la Reine, an historic 17th Century mansion tucked away in the Marais, on one of the finest squares in Paris. This was once the home of Anne of Austria, wife of Louis XIII, but it's been modernised and the decor is still plush. but it's more sophisticated than opulent. Feels like a country house hotel with its honesty bar and small spa.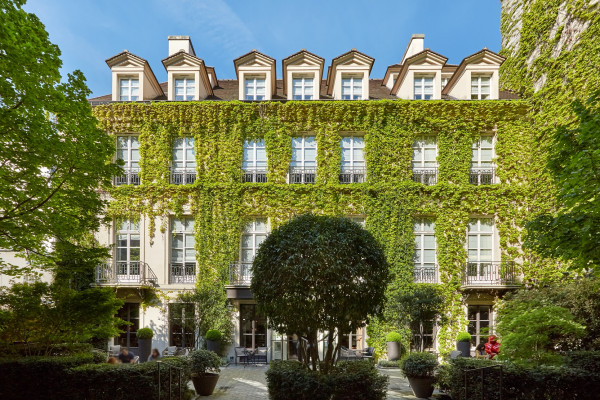 We also think the Hotel Le Sainte-Beuve is a chic Paris hotel choice. This discreet, understated hotel in Montparnasse has bohemian feel with elegant interiors and some lovely art and objets. The breakfast is excellent and the concierge team is fantastic.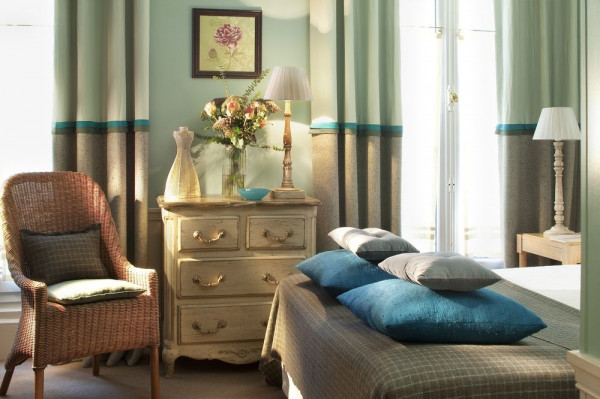 Chic Paris Hotels on a Budget
The Hotel Verneuil offers great value in a great location, St Germain des Prés, close to the Musee D'Orsay and Les Invalides. Recently refurbished in the style of an elegant private house. Rooms start from around £200 per night.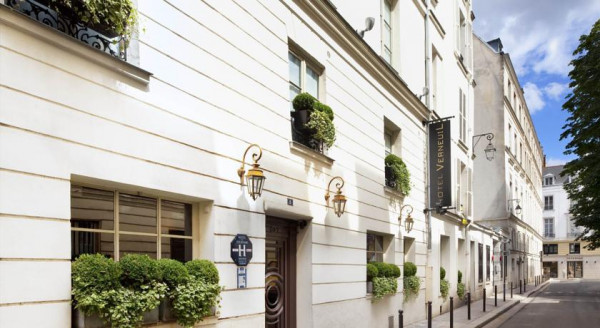 The handsomely Art Deco Hotel de Banville is another chic Paris hotel for those looking for great value. You're in the 17th arr, but very close to public transport, and the beautifully restored rooms and elegant public spaces make it an option with plenty of charm. Rooms start from around £190 per night.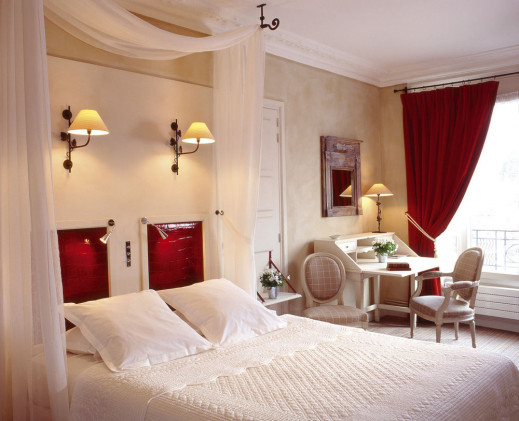 Boutique Chic Paris Hotels
The Hotel Montalembert was Paris's first boutique hotel, and, with 54 rooms, a choice between modern and classic decor, and its fashionable Left Bank location it still makes the cut for chic Paris hotels. Plus the details are quite something: right down to the doorhandles and lights.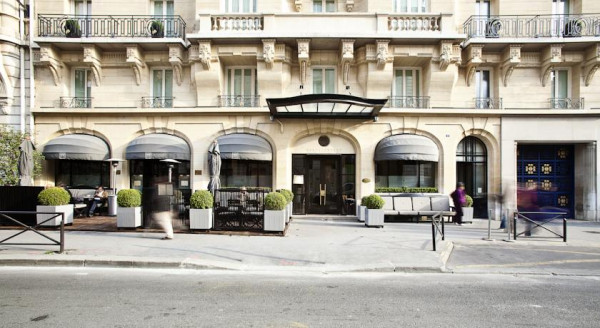 The Hotel Recamier, situated a stone's throw from the Luxembourg Gardens fits the bill due to its elegant accommodation in just 24 beautifully chic rooms and suites, which are complemented by an extremely friendly ambience.
Chic Paris Hotels for Foodies
The Hotel Balzac is a glamorous, luxurious, centrally located townhouse hotel, with Eiffel Tower views from many of the 69 rooms and from the roof terrace. And three Michelin stars.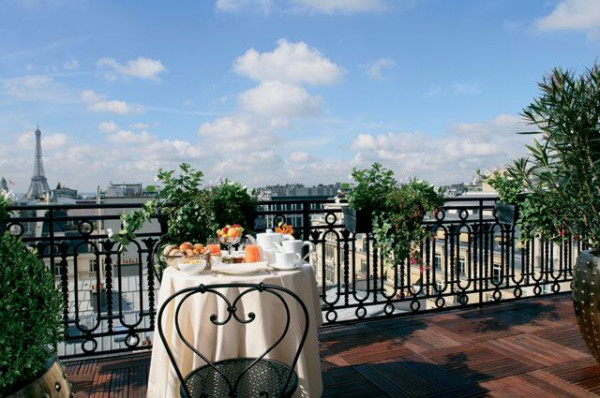 Chic Paris Hotels for Families
Just because you're avec kinder, doesn't mean you don't appreciate a chic Paris hotel.
Adele et Jules is an excellent family option in the 9th Arrondissement, or Grands Boulevards district. Smart yet homely, as well as family suites, this Haussmann property has a friendly atmosphere and complimentary afternoon tea every day.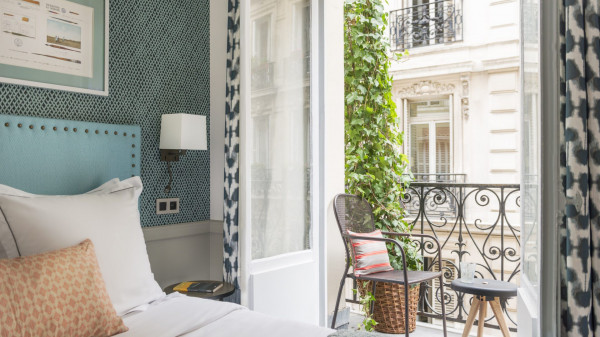 The 44 room Hotel de L'Abbaye in St. Germain near the Luxembourg Gardens is chic but cosy, and has a charming, leafy courtyard, plus chic salons and a wonderful conservatory dining room.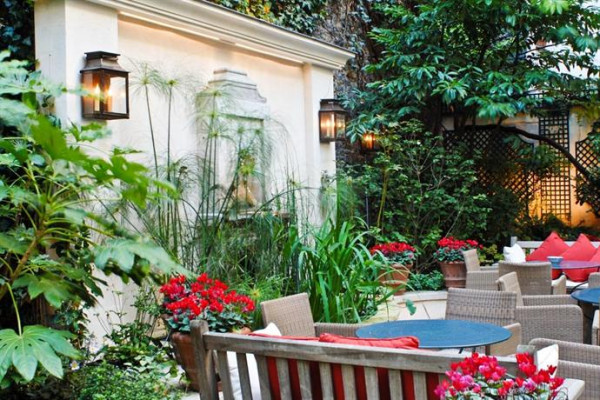 And the Villa d'Estrees, in the heart of the Latin Quarter, is intimate, calm and French empire in style with just ten spacious bedrooms and a family-run bistro specialising in classic French fare.
As for Parisian design hotels, with a capital D, they may be chic Paris hotels too, but they're a breed apart, and we tell you our favourites separately in a list of 10 Paris hip hotels.
If none of our Chic Paris Hotel recommendations feel quite right to you why not browse our list of the best places to stay in Paris?
Or you could consider the hotels on our list of 10 Hotels with Paris Character? or one of our Guru's Cheap & Charming Paris Hotels? or contact one of our friendly Gurus for advice.
10 Chic Paris Hotels (and a few more for good measure)
posted Friday, 17th April 2020
Search the best hotels in Paris