✓ FREE cancellation on most rooms
✓ Save time, save money
It started with the Daddy of them all, Hôtel Costes. So hip, so cool, so self assured that it doesn't advertise. But these days Costes is not alone; Paris has a clutch of seriously hip hotels. Hotels which work as a practical place to stay but which are also fun, with a palpable buzz of expectation around them.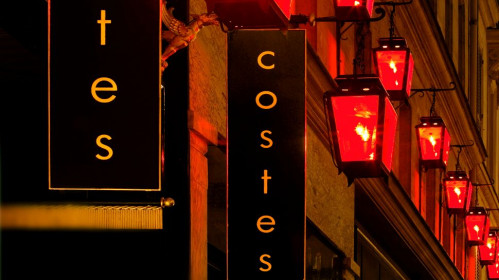 Some of these hip hotels in Paris are Design hotels with a capital 'D', some benefit from the collaboration with big names in the visual arts world. Some are tres chic in that effortlessly Parisian way, some have a cool pedigree and some are just frontrunners for future trends. All of them offer more than just a place to lay your head - these are travel experiences in themselves. Truly hip hotels in Paris need real soul - even if their light only burns bright for a short time.
There's no order to this list of hip hotels in Paris, they're just those recommended by our gurus, but if you want more information or a personalised recommendation don't hesitate to email us for advice.
Effortlessly, Parisian Hip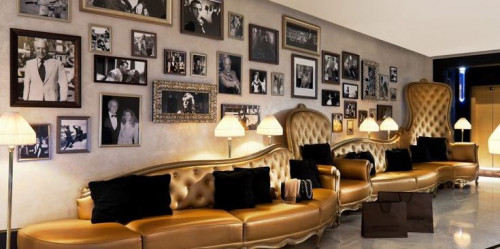 Paris Design (with a capital 'D')
Not all design hotels are designed equal(ly). And not all make the list of hip hotels in Paris. Many owners think they might have the right to instant fame and 'must go there' popularity, but having a few empty white walls, coloured plastic chairs and some modern art does not a hip hotel make!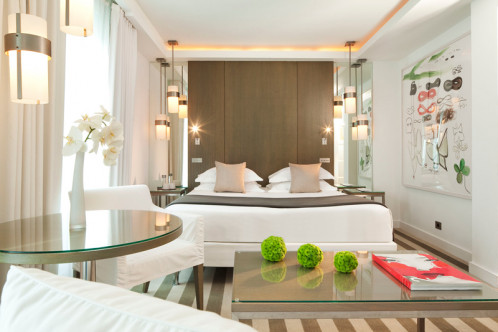 Hip on a Budget
Thrift is hip these days, and it will please you to know that hip hotels in Paris can come with an affordable price tag.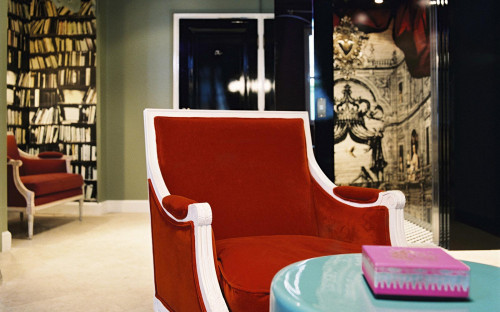 Boutique Parisian Elegance
It's great to lay your head somewhere which considers itself art as much as accommodation, but it's also great to be in a convenient location and have perfection when it comes to useful facilities as well. And often it's the hip hotels in Paris at the elegant end of the scale which provide the best blend of cool and comfortable.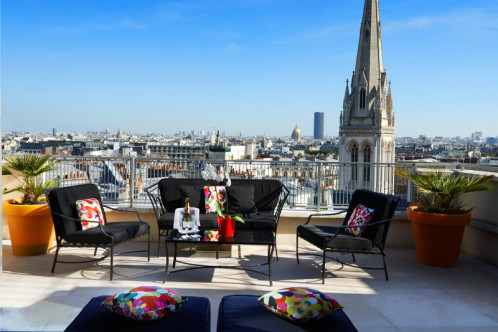 Underground Paris
The moment some hotels make the list of hip hotels in Paris can be the moment some hotels no longer deserve to be on the list. If hip hotels become too mainstream and too many people know about them then there's the chance chic Parisians will breathe a diminishing 'poh' at your suggestion of staying there. So these hotels are the ones which might appear on the list in the future… But not too soon, yeah.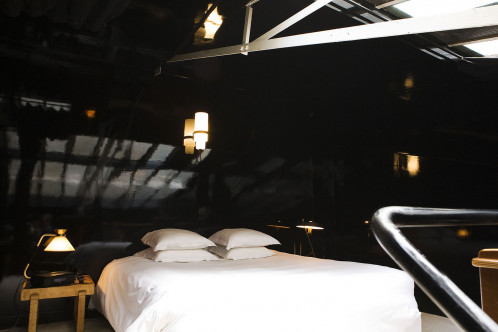 Nothing here that does it for you? Check out our full list of the best places to stay in Paris. Or contact one of our friendly gurus for some advice.
L'Hôtel 20 rooms from £285

Paris

Iconic, small, five star hotel where Oscar Wilde once lived on the Left Bank. Flamboyant interiors by Jacques Garcia, Michelin starred Le Restaurant and the popular Le Bar. Comfortable and romantic rooms are dark and intimate - the perfect luxurious bolthole in the heart of Paris.

Gourmet - Famous Michelin starred Le Restaurant and the chic Le Bar.

Sights nearby - Just across the river from the Louvre.

5* Luxury - The smallest 5* hotel in Paris.

Swimming Pool - Small plunge pool.

Recommended by - Mr & Mrs Smith, Tablet, Frommers, Kiwi Collection, Small Luxury Hotels

Check prices

Paris

Fabulous, vibrant and unique 4* boutique designed by Christian Lacroix. Each stylish and comfortable room exudes its own unique charm. Enjoy a super-chic stay at the heart of the Marais. Breakfast is served in the vintage bistro, which moonlights as guest only bar in come sundown.

Romantic Break - Romantic break in a prime location and surrounded by unique and vibrant interior design.

Value chic - Prime location, funky interiors, wonderful service and easy on the wallet!

Local markets - Head to the oldest covered market in Paris - Marché des Enfants Rouges.

Sights nearby - Picasso Museum is a just around the corner.

Recommended by - Frommers, Small Luxury Hotels

Check prices

Paris

Achingly hip boudoir style designer hotel in a prime location. A magnet for A listers, and you can see why, this hotel oozes exclusivity and class. The hip bar holds live dj sets and trendy restaurant serves avant garde cuisine. A different breed of hotel.

Lively - Hip and happening.

Chic

Great walks - Just a few minutes walk from Jardin des Tuileries.

Spa - Also a hammam.

Recommended by - Kiwi Collection

Check prices

Paris

A picturesque Napoleon III palace, on the corner of the Champs-Elysées and George V Avenues. The historic facade is contrasted with hip contemporary interiors and bold modern art. The five chic restaurants include the Michelin-stared, Le Diane. The ultimate in opulence and style.

Sights nearby - The Eiffel Tower is a 20-minute walk away and the Arc de Triomphe is five.

Great walks - Take a stroll in the romantic Tuileries Garden.

Views - Great views from hotel

Lively - Hip and happening.

Recommended by - Tablet, Frommers, Kiwi Collection

Check prices

Paris

A one of a kind fusion of style and character, near Montparnasse, featuring the interior designs of two renowned artists. A treatment room, art videos and funky, though compact, bedrooms make this a unique Parisian experience. Great value and ideal for couples.

Local exploring - Spend days immersed in this fascinating neighbourhood, now home to as many contemporary artists studios as haunts of the greats.

City Style - Glamourous, chic and totally unqiue- rooms ooze edgy decadent elegance, encapsulating the Left Bank.

Sights nearby - The hotel will organise visits to artists' studios in the area, including Jérôme Mesnager and Sophie de Watrigant.

Designer - Uniquely designed interiors.

Recommended by - Mr & Mrs Smith, I Escape, Tablet

Check prices

1K Hotel 52 rooms from £276

Paris

Self-labeled as a design hotel, this four star uber cool hotel is fantastically located in Marais and oozes nightclub vibes. Bright rooms with cool light effects and wall art - two with their own plunge pools. A contemporary menu and delicious cocktails await you. Romantic find in historical area.

Romantic Break - Built for romance, with everything from private plunge pools to gigantic round beds- a lovers hideaway in the centre of Paris.

Local exploring - Marais is one of Paris' coolest districts, full of young people, galleries, museums, bars, boutiques and cafes.

Swimming Pool - Two rooms have private plunge pools, as well as a public rooftop pool.

Lively - Hip and happening.

Recommended by - Mr & Mrs Smith, Tablet

Check prices

Paris

Five star hotel exuding elegance, in a classic Parisian mansion complete with cool designer interiors. Light rooms offer a calming atmosphere in a great central location. Enjoy the spa treatments, fitness centre and modern day essentials. Lively bar for the local crowd in the evenings.

Romantic Break - For a romantic treat book one of the panoramic suites, with private outdoor terraces overlooking the Eiffle Tower- heaven!

Sights nearby - Just steps from the Champs Elysees and Arc de Triomphe.

Full of character

Designer - Uniquely designed interiors.

Recommended by - Tablet

Check prices

Paris

A perfectly balanced collaboration between art, design and comfort, minutes from the Champs Elysées. Architectural elements, a monochrome theme and striking murals complete the experience. Rooms are mostly compact, but cool and crisp and living up to their four star status.

City Style - Sleeek minimalist interiors by Méchiche, think ebony-stained wood floors and chocolate-brown sofas.

Sights nearby - Around the corner from the Arc de Triomphe and the Champs Elysées.

Designer - By Frédéric Méchiche.

Lively - Hip and happening.

Recommended by - Mr & Mrs Smith, Tablet, Kiwi Collection

Check prices

Paris, NOT TO SHOW

Tres chic hotel-of-the-moment at the foot of Montmartre. Affordable rates, each room funkily decorated by a celebrity friend of the owner. Pretty courtyard garden, very trendy bar and restaurant.

Chic

Lively - Fashionable bar and restaurant.

Sights nearby - 200 metres from Sacre Coeur.

Designer - Each bedroom is different.

Recommended by - Frommers

Check prices

Paris

Enjoy the riot of colour, pattern and fresco in a remarkable Christian Lacroix-designed hotel. Fun and frivolous, the rooms are comfortable and unique. Enjoy breakfast on the terrace or in your room, before stepping out and exploring the city. A few steps from the Musee d'Orsay. Good value.

City Style - A flamboyant hotel that puts aesthetics before all, the chic choice in the elegant 7th arrondissement, on the Left Bank.

Great walks - This arty area is full of quirky galleries, historic monuments and pretty parks- head out on foot and discover Paris.

Designer - Interiors by Christian Lacroix.

Full of character

Recommended by - Frommers, Small Luxury Hotels, Tablet

Check prices

Paris

Stylish and hip hotel in the 20th arrondissement. Atmospheric rooms with polished concrete, modern art and dark hues. Imac screens in the bedrooms, buzzy restaurant scene and a great nightclub across the road. Funky and reasonably priced.

City Style - A hip hotel in an alternative corner of northeast Paris, with raw and funky interiors by Philippe Starck.

Sights nearby - Head down to Père Lachaise cemetery, just around the corner.

Designer - Interiors by Philippe Starck.

Lively - Hip and happening.

Recommended by - Fodors, Frommers

Check prices

Paris

Spectacular views of Notre Dame from Christian Lacroix's latest design hotel, in a 400 year old townhouse on the riverside. Rooms are decorated in retro-modern style, fantastical and fun. No restaurant, but a great position.

City Style - A wonderfully chic hotel in central Paris, offering funky interiors and unbeatable views of the Seine and Notre Dame.

Sights nearby - Having admired it from your room visit the Notre-Dame Cathedral for real.

Great walks - Take a stroll along the banks of the Seine.

Designer - Interiors by Christian Lacroix.

Recommended by - Tablet

Check prices

Paris

Designer chic hotel in a quiet area with views of the Eiffel Tower. Hip rooms and suites, some with laid-bare wooden panelling, some with granite walls and funky art. Steam room, gym, and excellent breakfast too. City slickers looking for something more private would feel right at home.

City Style

Sights nearby - Located in the 16th Arrondissement just across the river from the Eiffel Tower

Designer - Uniquely designed interiors.

Local markets - Good for local colour.

Recommended by - Tablet, I Escape, Mr & Mrs Smith

Check prices

Paris

A handsome and compact Parisian townhouse turned sultry Moorish palace. The heavily adorned, compact boudoirs boast rich fabrics, innumerable tassels, dim lighting and scented canals. Enjoy breakfast in bed, lounging in the plush sitting room or stepping out into lively Paris. Wonderfully sensual.

Romantic Break - An opulent and sultry love nest, think miles of red velvet, subdued lighting and Byzantine alcoves with mosaic-tile tubs.

Sights nearby - Marais is brimming with galleries, historic sights and museums, the most notable, Notre Dame, is just down the road.

Lively area - In the heart of the Marais.

Designer - Jacques Garcia interiors.

Recommended by - Frommers, Fodors

Check prices
posted Friday, 12th February 2010
comments powered by

Disqus
Search the best hotels in Paris