The 7 Best Hotels in Syntagma, Athens
Grand, busy Syntagma is the beating heart of Athens. Plateia Syntagma (Constitution Square) is the city's grand central hub, overlooked by some of our Guru's picks of the best hotels in Syntagma. On its west side stands the gracious Parliament Building, guarded by sentries known as evzones in traditional costume of pleated foustanella kilt (navy blue in winter), knee-length stockings and pom-pom tipped shoes.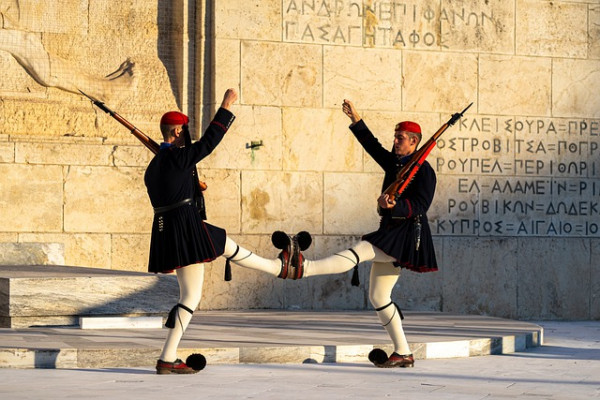 Image by Christo Anestev fro P
Cafés beneath palm trees on and around the square are great for people-watching, and from Syntagma you can stroll (or bar-hop) to the Acropolis, Roman Agora and Temple of Olympian Zeus in 15-20 minutes, or walk to Monastiraki with its funky markets and grill restaurants.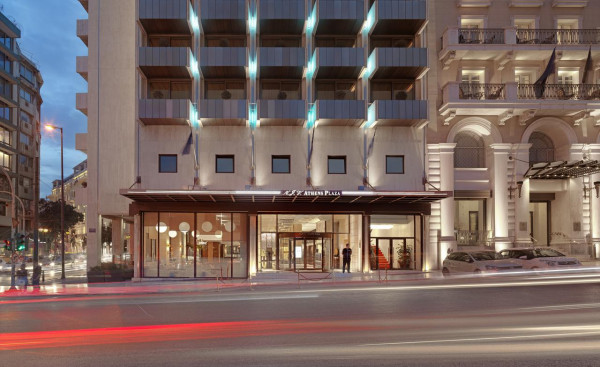 Handily located between the bustle of Plaka and posh Kolonaki, streets leading off the square are also great for fashion shopping and picking up an antique. The palatial Syntagma Metro station even has its own museum of ancient artefacts unearthed while it was being built. From here, the metro whisks you straight from Syntagma to the National Archaeological Museum and to Athens International Airport, the port of Piraeus and Larissa Station, so the best hotels in Syntagma make the perfect base for exploring Athens and travelling on.
The best hotels in Syntagma
For a luxury stay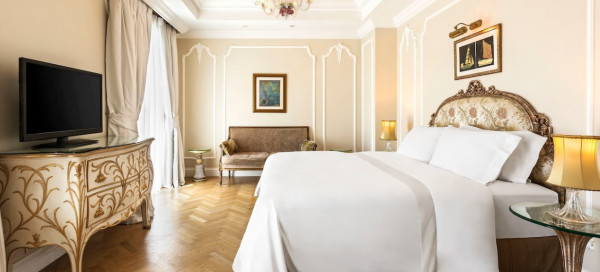 For a hotel with a pool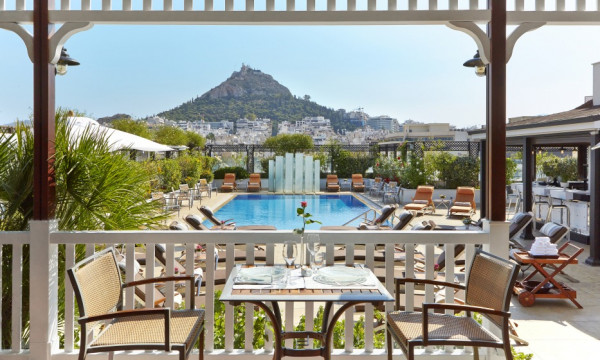 For families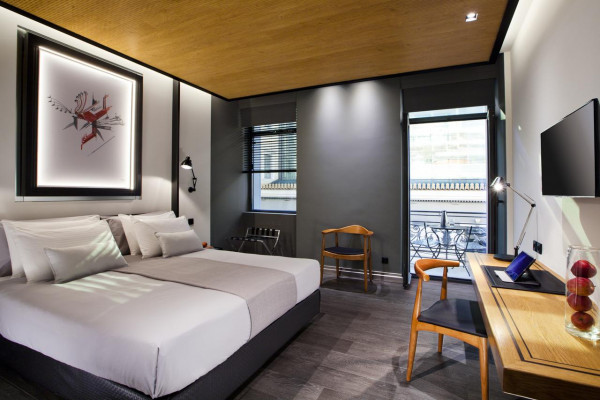 For urban chic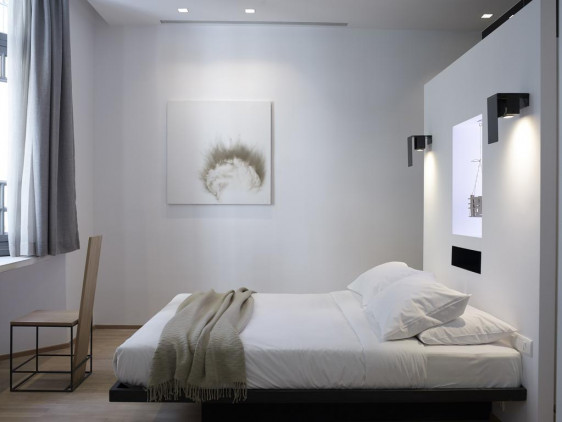 For a rooftop bar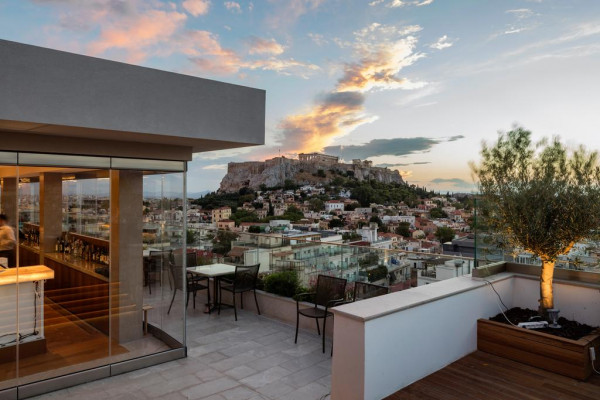 Still not sure which of the best hotels in Syntagma to book? Check out our range of hotels in neighbouring Plaka, or extend your search to include all our recommended properties in Athens. Alternatively you can contact a friendly guru for advice.
Sights nearby - A short walk to the Acropolis, containing the remains of several ancient buildings, the most famous being the Parthenon

Honeymoons - Book the Penthouse Suite with private outdoor pool overlooking the famed Acropolis — you can't get more romantic!

City Style - Oozing glamour and old world charm, with chandeliers and period furnishings creating a unique neo-classical look

Hotel Entertainment - Sip cocktails on the seventh floor balcony over looking the spectacular Ancient Citadel, The Acropolis

Recommended by - Frommers, Kiwi Collection, Michelin Travel

A neoclassical grand dame hotel, in the historic Syntagma Square. Opulent interiors with hardwood floors, classical furnishings and stunning views of the Parthenon. Everything you would expect of five-star luxury — with some contemporary twists. A luxe city base. See More

Check Availability

New Hotel

Athens

79 rooms from £157

Contemporary - A Modernist Fifties building which has been fully refurbed with exciting contemporary design

Romantic Break - With specialised couples' treatments in the spa and fine dining — this is a romantic base

Views - For seriously impressive 180-degree views of the Parthenon, book the Penthouse Suite

Foodies - New Taste serves seasonal food in a sleek setting and is worthy of booking for alone

Recommended by - Mr & Mrs Smith, Tablet

A cutting-edge designer-chic hotel. Bedrooms and suites full of natural light have all the mod cons, private balconies, and quirky modern furnishings. There's a fabulous modern restaurant and a spa complete with a hammam. A luxury choice for the design conscious. See More

Check Availability

NJV Athens Plaza

Athens (Constitution Square)

180 rooms from £152

City Style - Located in the heart of Athens, this hotel has reams of city style. Explore the sights from this great central base

Romantic Break - The plush beds and great facilities make this hotel a favourite with couples

Great walks - Discover historic Athens with a walk through the city; find your own routes or enquire at the hotel for a guided tour

Sights nearby - Visit the Acropolis, the most famous Athenian landmark where a former ancient settlement once stood

This five-star luxury hotel is located in the heart of Athens, in the historic Syntagma Square. The best of the contemporary suites offer private terraces with views of the magnificent Acropolis. Choose from the newly renovated restaurant or bar for a meal or refreshing drink. A stylish city hotel. See More

Check Availability

Hotel Grande Bretagne

Athens (Syntagma Square)

320 rooms from £329

Historic - The grand building dates back to 1842 (it was once a favourite of Winston Churchill). It's packed with antiques and oil painting

Close to nightlife - There are many bars in the surrounding area but why go further than the hotel's award-winning Alexander's Bar

City Style - The height of glamour with its grand neoclassical style, this is a must stay for total indulgence

Local exploring - Well located for easy access to the city's main attractions.

Recommended by - Tablet

A historic hotel in the heart of Athens. Find elegance in abundance throughout. Gorgeous rooms with high ceilings, large windows and filled with antiques. The marble-clad bathrooms are pretty special too. A fine-dining restaurant and glamorous bar for nights of indulgence. Highly recommended. See More

Check Availability

MET34

Athens

7 rooms from £187

City Style - Located a stone's throw from the main attractions in the centre of Athens, this is a great base for a city break

Families - The larger suites offer full self-catering and lots of living space, perfect for those travelling with kids

Groups - Groups will be happy with the size of the suites, which can sleep up to six and have cooking facilities

Local markets - Visit Athens' central market Varvakeios for a taste of how the locals shop; expect heady smells and a cacophony of sounds

This stylish hotel is located in the centre of Athens, close to the cathedral and Syntagma Square. The best of the contemporary rooms and self-catering suites have king-size beds, fully equipped kitchens and marble bathrooms. The suites are a great size for families or groups. A modern city stay. See More

Check Availability

InnAthens

Athens (Syntagma)

22 rooms from £94

Romantic Break - An elegant and tranquil hideaway — think plush bedding, cool marble bathrooms and balconies overlooking the city

Local exploring - With so many historic sights on your doorstep you'd be amiss not to take in all that Athens has to offer

Sights nearby - Visit the tiny and scenic Anafiotika neighbourhood located on the Acropolis hill

Great walks - Take a leisurely stroll through the city's Zappion National Gardens

InnAthens offers chic contemporary accommodation in a quiet but central location a short walk from Syntagma Square. Each room features Cocomat mattresses and marble bathrooms with Olive amenities. Enjoy a traditional Greek breakfast on your balcony each morning. A stylish stay, in a great spot! See More

Check Availability

Families - Families will love this all-facilitating hotel - family suites, TVs, pool, spa and urban entertainment - something for everyone

Local exploring - Get lost in the winding streets of this history-centric city. At the crossroads of modern urban culture and ancient history

Romantic Break - Athens is a romantic city full of history, art, ruins, museums, bustling night-life and cafe-culture on every street corner

Sights nearby - The absolute perfect location for visiting the world's most famous ancient ruins atop of the Acropolis

A luxurious 5-star hotel offering elegant rooms and suites. Centrally located in downtown Athens, bustling urban entertainment is around every corner. The design is retro-chic and undeniably cool. A breathtaking rooftop with bar, pool and epic views of the Parthenon make this hotel a must-stay. See More

Check Availability
posted Wednesday, 21st July 2021