✓ Book Online Now
✓ Save time, save money
Best Luxury Hotels on Santorini
Santorini is the perfect honeymoon dream. The sun streams down on spectacular views of dramatic multicoloured cliffs, white and blue sugar cube architecture and the amazing blue of the flooded volcanic caldera. The choice of exceptional romantic, ocean-view restaurants and bars is almost endless and there's plenty of charming, narrow streets to stroll amongst. Which is why there are so many contenders for the Hotel Guru's list of the best luxury hotels on Santorini.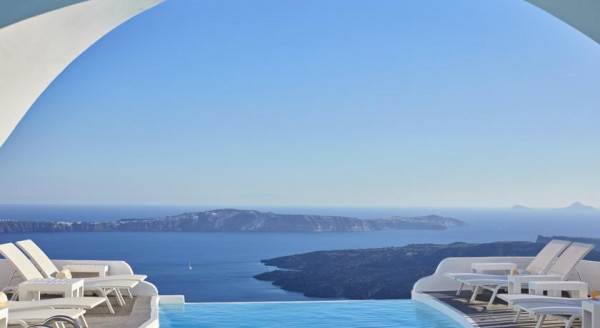 If you're travelling in your private yacht, then the Notos Therme and Spa right by the island's only marina is probably one of the best luxury hotels on Santorini. And if you're here with your whole luxury-loving family, then our Guru's list has several recommendations. There's also a five-star hideaway carved into the clifftops at Thira, a traditional charmer in tiny Oia, and a great option for luxury on rather a shoestring at Imerovigli.
Luxury Hotels for Honeymooners
Katikies is a classic honeymoon hotel, with 27 cool and dreamy white and blue rooms. The views are stunning, the infinity pool is bordering on obscene it's so beautiful, there's a great restaurant and an excellent wine bar, plus an extensive spa. And no kids allowed.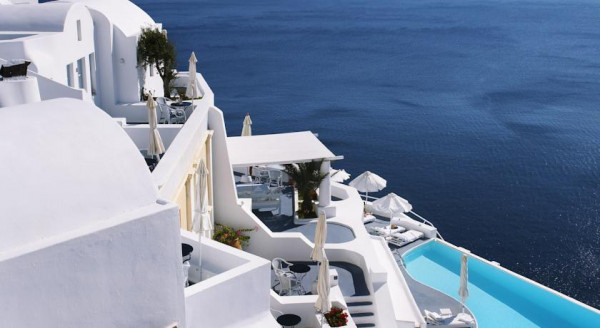 Sun Rocks in Thira has fantastic views of the sea - especially at sunset, which you can enjoy in the lovely, intimate restaurant or on one of several sun terraces. There are just 17 oh-so-chic and romantic rooms.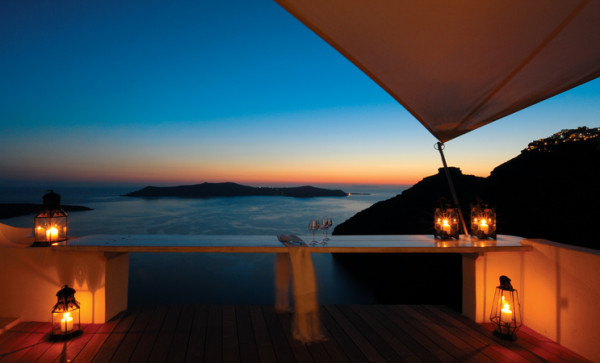 San Antonio offers five-star luxury right on the clifftop at Imerovigli. The all-white suites are gorgeous, and have private jacuzzis, balconies and butter service. Plus there's a gourmet restaurant and extensive spa. And stunning, uninterrupted views of the caldera.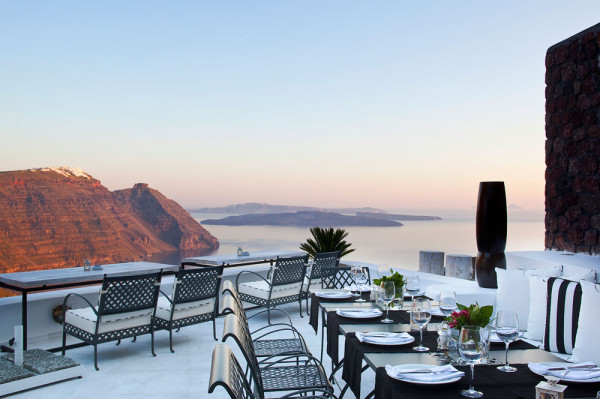 The Ikies Traditional Houses are a collection of 11 five-star, super chic rooms, suites and maisonettes with dreamy caldera views. All white furnishings and private hot tubs just a short stroll from the romantic restaurants of the centre of town.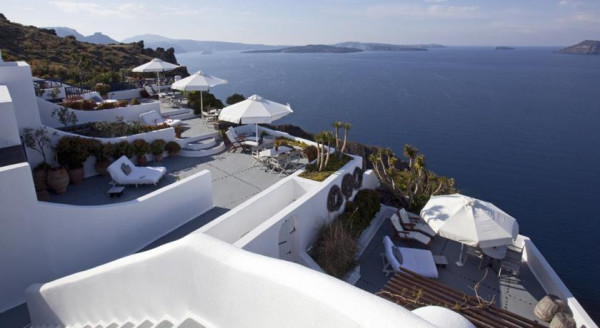 For Relaxing
The Perivolas Traditional Houses in Oia promise complete tranquility, amongst spectacular views and laid-back luxury. There are 19 rooms, converted from a collection of 300 year old traditional cave houses built into the cliffs, plus a stunning infinity pool and beautiful terraced gardens.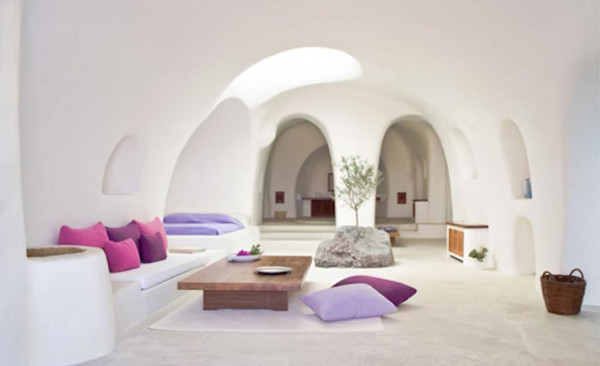 Chromata in Imerovigli has the kind of infinity pool you could spend your entire break enjoying the views from. And inside the series of converted cave houses, with their white-on-white decor, you'll have everything you need and much more, plus an intimate poolside restaurant and an absence of children under 13.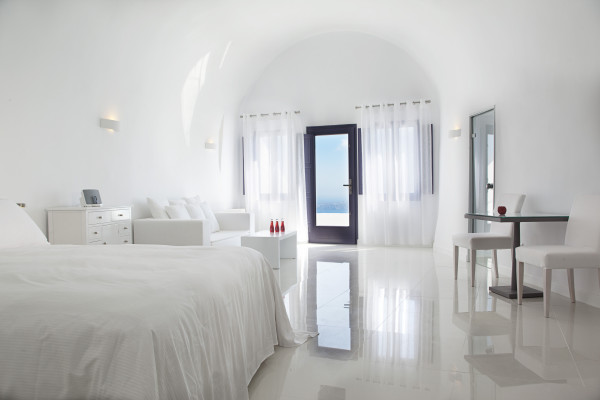 For Families
The Santorini Kastelli Resort is a white Cycladic building set within pretty gardens. Inside, there are 56 rooms and suites with fresh, contemporary interiors in soft neutrals with pops of art. There's a poolside restaurant. And you're right by the site of ancient Thira.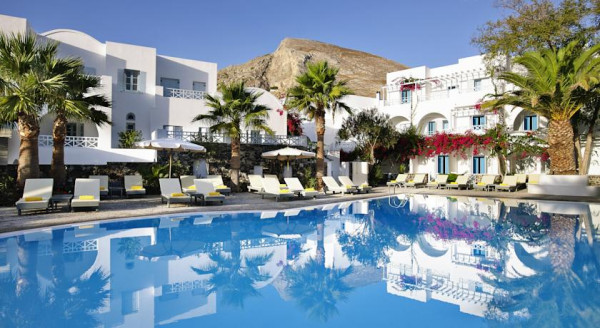 Aigialos is another great option for families, with its collection of sugar cube houses on very top of the cliff. There are houses sleeping two people and mansions sleeping five - plus in between options, and all have private balconies and access to a lovely pool and Mediterranean restaurant.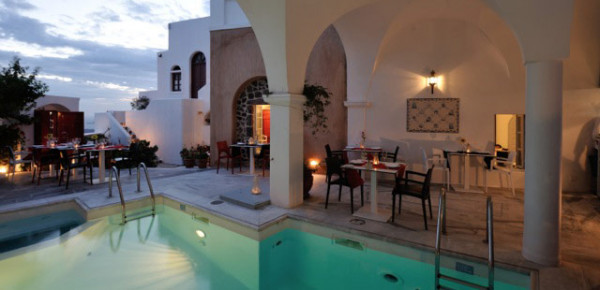 On a Luxury Shoestring
The Notos Therme and Spa is in Vihaada, on Santorini's southern coast, so you don't get the caldera views, but you do get a beautifully landscaped hotel built into volcanic cliffs beside a fishing village, stepped terraces with lovely views of the marina - the only one on Santorini, and a great spa and great restaurant.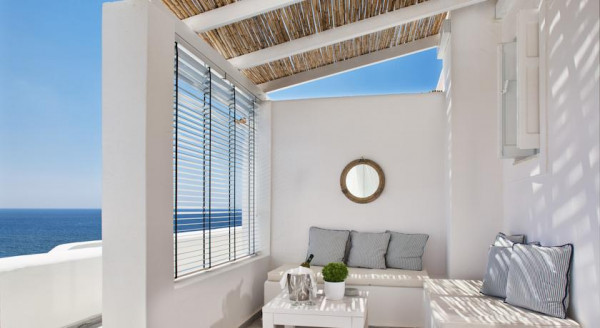 The Kapari Natural Resort also offers reasonably priced luxury, this time in Imerovigli, carved right into the cliff face. There are 19 neutral toned rooms, a few with private hot tubs, plus an excellent wine bar and restaurant with fantastic sea views.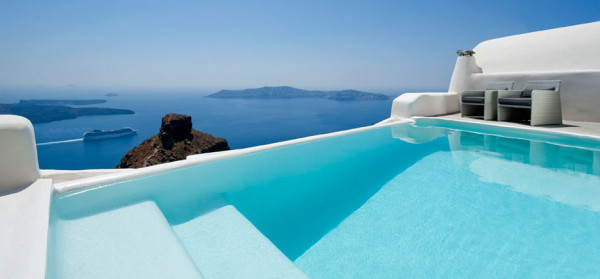 Still not sure which of our Guru's recommendations for the best luxury hotels on Santorini might be perfect for you?
posted Thursday, 21st July 2016
comments powered by

Disqus
Search the best hotels in Greece