The 11 Best Luxury Hotels in Rome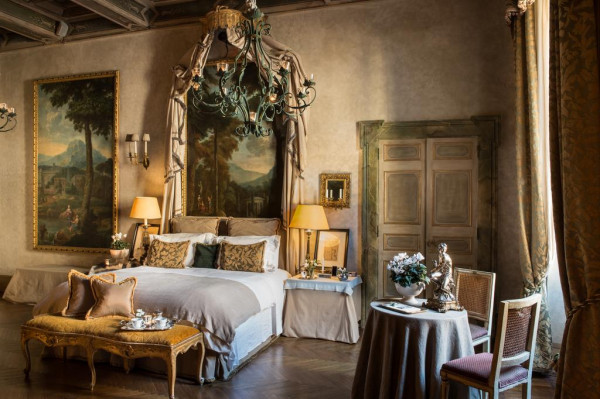 Impossibly romantic, steeped in history, and with wonderful food and fashion, Rome is an easy city to enjoy. Especially if you're travelling with a generous budget. There's no problem finding an exceptional restaurant, bar or cafe in Rome, and there are plenty with Michelin stars, and while many of the sights are free, it's nice to be able to treat yourself to a special souvenir or two. To start your luxurious Roman holiday you'll need to find the best luxury hotels in Rome, and our Gurus have done the hard work for you, even refining their favourites down to a recommendation for the 10 best luxury hotels in Rome - all beautiful, stylish and offering all sorts of special somethings to make you feel extra special.
In their search for the best luxury hotels in Rome our Gurus have endured numerous spa treatments, lapped a slew of beautiful swimming pools, sipped a seemingly endless supply of cocktails in breathtakingly beautiful rooftop bars, slept under four-poster canopies, eaten numerous canapés and been waited on hand and foot by the very best staff in Rome. So now they're ready to bring you their hard won list of the 10 best luxury hotels in Rome!
For All Out Luxury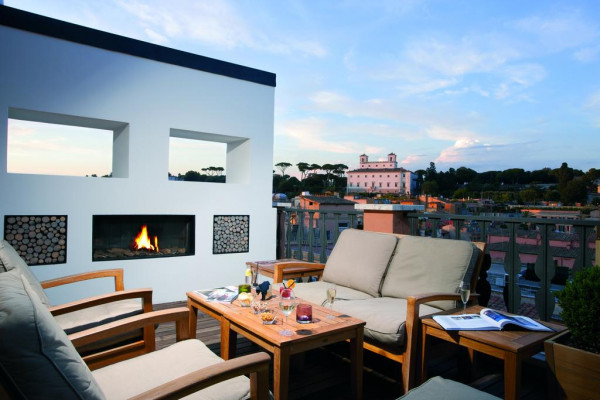 La Residenza Napoleone offers just two incredibly opulent apartment suites, with huge oil paintings, taffeta silks, Baroque furniture, antique lighting and private terraces and kitchens. There's also an in-house cook and access to a concierge service.
The Portrait Suites are almost as luxurious, but quite the opposite in decor. They're contemporary and fashionable, with haute couture designer furniture, and located in the heart of the fashion district. The 11 suites also have marble bathrooms, kitchenettes and private terraces.
The Villa Spalletti Trivelli is a beautiful renovated Roman townhouse, now offering 12 classic, aristocratic rooms complete with marble fireplaces, Doric columns, tapestries and oil paintings. Plus there's a wonderful library, gardens and spa, and an exceptional restaurant.
Luxury Hotels With the Best Views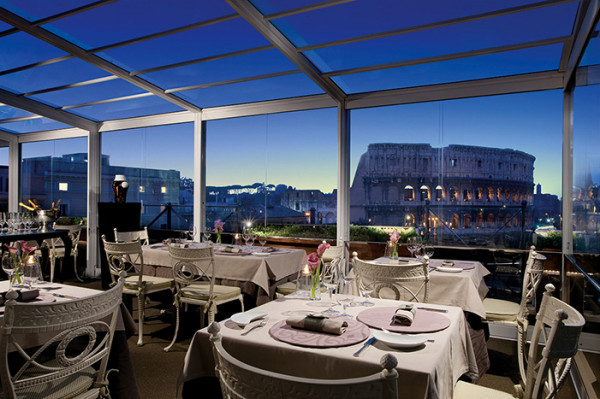 The Palazzo Manfredi is a small hotel right next to the Colosseum and Forum, with exceptional views of both from the chic, rooftop restaurant. The 16 rooms, suites and apartments are classic in design and the service is five star.
The Eden is a traditional five star hotel in one of Rome's most exclusive neighbourhoods. Opulent and old world in style there are some beautiful details, and of course great service and fantastic views, especially from the rooftop restaurant.
For a romantic stay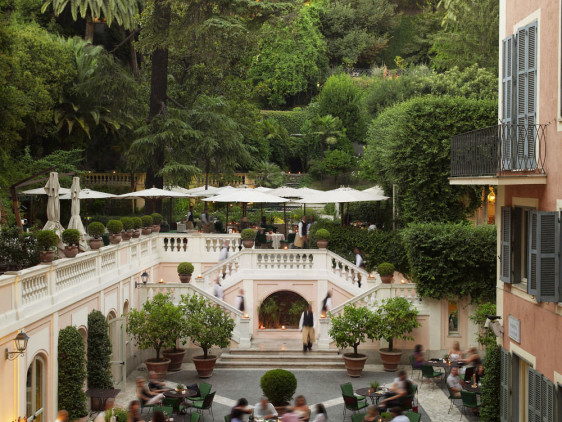 The Hotel de Russie overlooking the Piazza del Popolo, is a beautiful, contemporary hotel with 122 plush, airy rooms and a beautiful courtyard. There's also a great restaurant and a lovely pool and spa. A grown-up city escape.
The San Anselmo is a peaceful, romantic refuge in the smart hilltop Aventine district. There are 34 rooms, decorated with a mix of Baroque flamboyance and contemporary style. It overlooks the peaceful and oft overlooked Sant'Anselmo Church, and yet is also within range of many of Rome's main attractions.
The Hotel Regina is an Art Deco extravaganza on the Via Veneto, close to the Villa Borghese. The interiors are opulent and there's an excellent restaurant, spa and gym.
For affordable luxury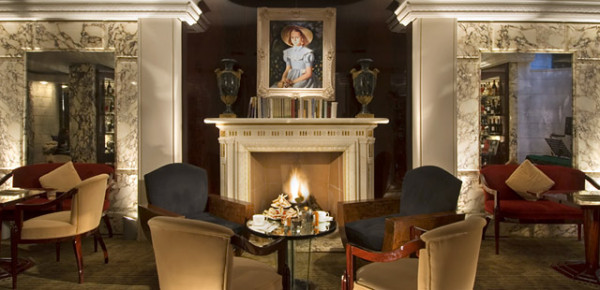 The Lord Byron is a wonderful Art Nouveau era property, just by the Borghese Gardens. There are 32 rooms and suites, some with private terraces and marble bathrooms, and all with lovely decor and huge beds. Rooms start from around €170 per night.
For Families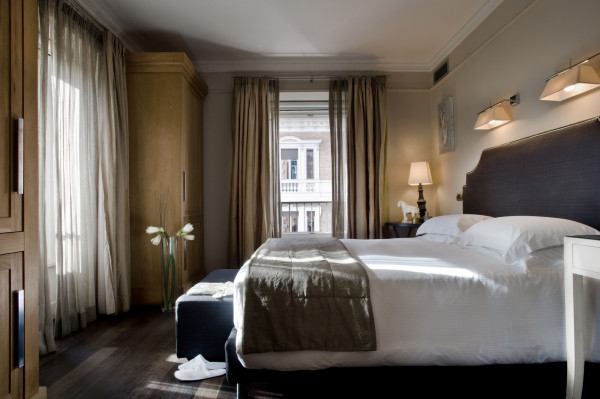 Casa Montani is a lovely luxury guesthouse situated overlooking the Piazza del Popolo where they welcome families. The spacious suites and junior suites can easily fit cots or extra beds, alternativley there's a self catering apartment close by that can sleep four. And location-wise it's perfect, just five minutes from the Spanish Steps and an easy walk from many more of the city's highlights.
The Inn at The Roman Forum is a beautiful 14 room guesthouse right by the Colosseum with attractive decoration and private balconies. There are rooms, suites and family rooms - some with four poster beds and fireplaces, and there's a lovely rooftop terrace.
Still not sure which to book?
posted Tuesday, 25th May 2021