The Best Hotels in Rome with a Pool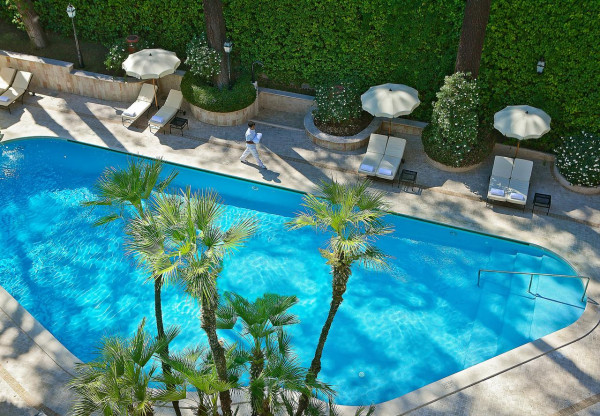 Ancient, beautiful, and romantic; Rome is the ideal destination for a city break. Discover numerous world-renowned sights, get lost in the pretty cobbled streets, and sample the city's well-loved cuisine. With so much to do, our Hotel Guru's recommend choosing a hotel with a swimming pool for a cooling dip after a busy day. Swimming pools, particularly in the city centre, can be somewhat of a rare find. However, our hotel experts have scoured the city to bring you a collection of the best hotels in Rome with a pool. The list includes some of the city's best luxury hotels as well as chic boutiques and properties with standout spas. So why not browse through our collection to start planning your next city break?
For a boutique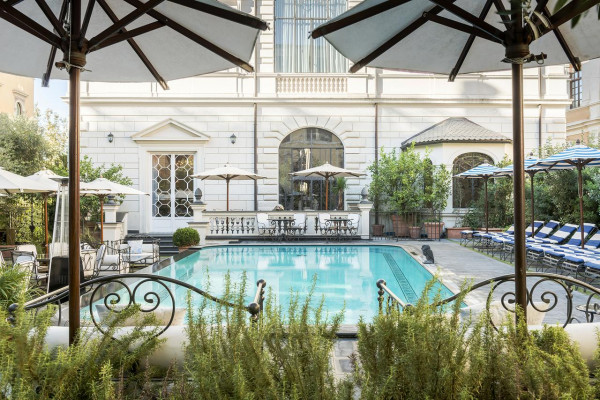 Palazzo Dama is an elegant and luxurious boutique hotel set right in the centre of Rome. Grand rooms are styled with a fresh take on traditional design. With a noteworthy restaurant, the city's sights within walking distance, and a large outdoor pool — this is a great choice for a city crash pad.
For luxury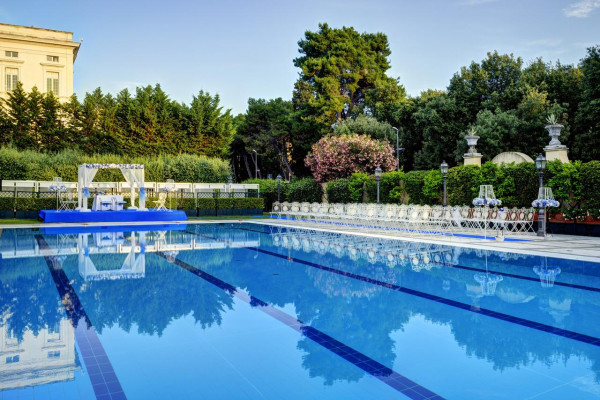 Aldrovandi Villa Borghese is a very grand stay. Suites are bright and airy with views over the pool; expect period style, antique furniture and chandeliers. There's Michelin starred dining in an elegant setting, a spoiling spa, and an outdoor pool. Luxury defined.
Parco dei Principi is an exclusive hotel and spa, situated in Rome's luxury Parioli district, with indoor and outdoor pools. Rooms are classically dressed, with rich linens and plush carpets; the best have a private terrace with panoramic views of the most famous sights. Choose between three restaurants or dine by the outdoor pool. Ideal for a couples' escape.
Hotel de Russie is a contemporary five-star hotel overlooking the Piazza del Popolo. Plush rooms are light and airy, many of them feature courtyard garden views. Expect great food, a spoiling spa, and an indoor salt-water hydrotherapy pool. A grown-up city escape.
Still not sure which to book?
You could expand your search to include all the best places to stay in Rome.
Browse through our collection of the best B&Bs in Rome, the best hotels in central Rome or the best boutique hotels in Rome.
Alternatively, you could contact one of our friendly Gurus for personalised advice.

Families - With large suites and the spacious gardens and pool to keep kids busy in, this is a good option for a luxe family break

Swimming Pool - The hotel's large outdoor pool is the real crowning glory of this hotel — a rarity in the city centre

Lively - The hotel houses the trendy Raspoutine nightclub which is a real hot spot on the weekends

Local exploring - Well positioned just a five-minute walk from Piazza del Popolo and Via del Corso

A haven of tranquility in the Eternal City, Palazzo Dama is a stellar hotel. Whether you are looking for luxurious rooms, great restaurant or a place to relax, it has all the bases covered. With central Rome on the doorstep, it's an ideal base for a romantic weekend away in Caput Mundi. See More

Check Availability

Total relaxation - With a pool, spa, bar and Michelin-starred restaurant on-site, this hotel ticks all the boxes for total relaxation

Romantic Break - Couples will swoon at the picturesque garden setting of the hotel and the romantic style of the suites

Hideaway - Hidden away behind the serene gardens of the Villa Borghese, this hotel is a tranquil bolt-hole

Great walks - Take a walk through the neighouring Villa Borghese gardens; ask the hotel to prepare a picnic basket to take with you

This luxurious bolt-hole is nestled beside the verdant Villa Borghese gardens. Suites are bright and airy with views over the pool; expect period style, antique furniture and chandeliers (the best have a private hot tub). Dine in the Michelin-starred restaurant at this elegant hideaway hotel. See More

Check Availability

Parco dei Principi

Rome (Villa Borghese Parioli)

96 rooms from £288

Foodies - Foodies will be won over by the hotel's offering of not one but three on-site restaurants, plus a cosy hotel bar

Families - The hotel's family suites are great for parents travelling with children, and kids will love the outdoor pool

Romantic Break - Couples love the high-end facilities at this five-star hotel, especially the sleek and modern hotel spa

Sights nearby - Visit Chiesa di Santa Maria della Concezione dei Cappuccini, a 15th-century church and crypt

This exclusive hotel and spa is situated in Rome's luxury Parioli district. Rooms are classically dressed, with rich linens and plush carpets; the best have a private terrace with panoramic views of the most famous sights. Choose between three restaurants or dine by the pool. An indulgent city stay. See More

Check Availability

Local exploring - With its central location and range of guided walking and biking tours, this is the perfect launching spot to explore the city

5* Luxury - The property is one of Rocco Forte's flagship hotels with top notch service, beautiful accommodation and fabulous food

Restaurant - Le Jardin de Russie Restaurant offers stylish Italian cuisine in stunning surroundings both inside and out

Garden - Stunning terraced gardens where you can dine during the summer months

Recommended by - Mr & Mrs Smith, Tablet, Fodors, Frommers, Kiwi Collection, Michelin Travel

Beautiful contemporary Roman hotel overlooking the Piazza del Popolo. Plush rooms are light and airy, many of them feature courtyard garden views. Luxury with style, great food and a spa and pool. A grown up city escape. See More

Check Availability
posted Tuesday, 1st June 2021