Venice's 16 Best Guesthouses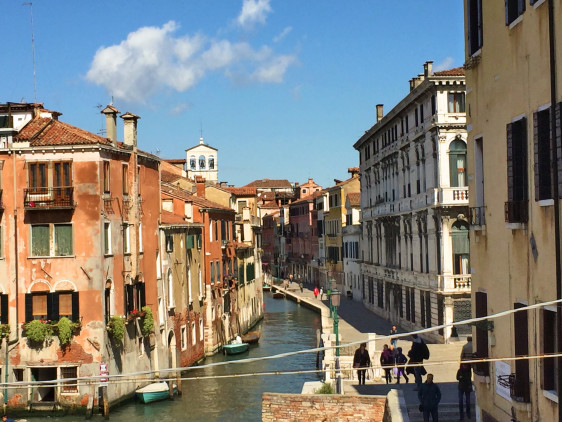 Magical, ethereal Venice is a supremely special place to stay. One of the things our Hotel Gurus recommend time and time again is that this is a place one should get lost amongst. Though we suggest you might leave a trail of something inedible in your wake, so you can find your way back to your lodgings… In Venice our Gurus also recommend considering a guesthouse stay. Venice is full of small guesthouses and B&Bs, and these conversions of townhouses and palazzos offer an opportunity for guests to experience a stay that's a bit more authentically Venetian. Their list of Venice's best guesthouses includes some extremely well priced rooms — to thwart the notion that Venice must be super expensive! — some extremely romantic ones, some rooms of family-sized proportions, gorgeously converted palazzos, and some real winners with wonderful water views.
For your First Time in Venice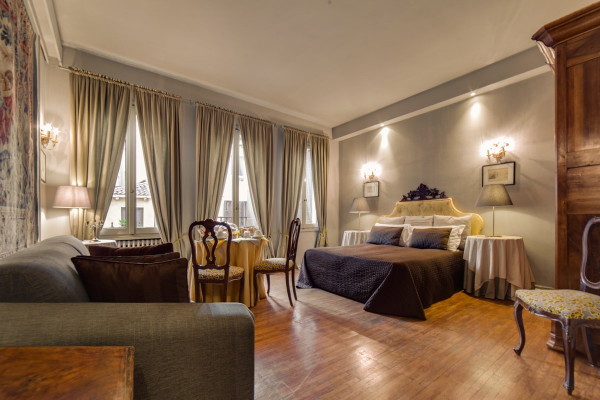 Opulent, romantic and traditional, Gio & Gio feels suitably Venetian, with its tapestries, oil paintings, antiques, heavy fabrics and gigantic beds. There are just three rooms and suites, our favourite has canal views and a Juliet balcony — it just cries out Venice! And you're only a few streets from the Rialto and St. Mark's Square.
In the heart of the San Marco district, Locanda Fiorita is a Venetian townhouse with decor that blends 18th century style with 21st century comforts. There are ten rooms and suites, some more romantic than others, and some with private balconies, plus there's a communal terrace which is gloriously sunny.
Casin dei Nobili is a newly renovated, three room B&B in a beautiful old palazzo in historic Dorsoduro, a few blocks from the Grand Canal. The rooms are large and simply styled, with big new bathrooms and whirlpool bathtubs. There's a communal terrace with river views, and a simple, light breakfast room. Two of the suites can be combined to make a large, family suite.
For Explorers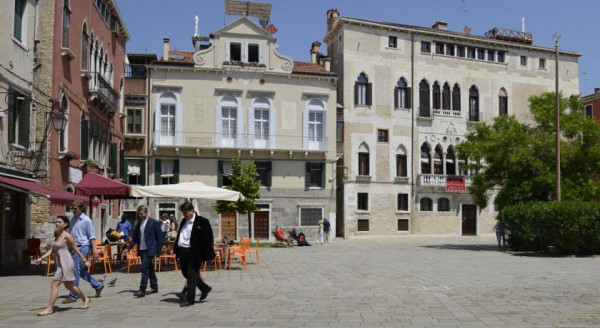 Palazzo Soderini is a charming old palazzo with surprisingly slick and contemporary interiors. If you prefer white on white decor, clever lighting and sleek, design furniture, then this is the palazzo for you. The location is great, in a quieter, more residential part of Venice — you can tell by the prices in the local shops and restaurants — but it's still only around 500 metres from the Bridge of Sighs, the Doge's Palace and St. Mark's Basilica.
Cima Rosa is a traditional Venetian palazzo dating from the 15th century, with wooden beams, marble statues in the courtyard garden, and views of the Grand Canal. There are just three rooms, all elegantly decorated in chic simple style. The Santa Croce neighbourhood is convenient for all the main sights, and the owners are very approachable and fonts of local knowledge.
Ca del Nobile is a simple, comfortable B&B just two minutes' walk from the Piazza San Marco, and five from the Rialto. The six bedrooms feature wooden beams, antique and vintage furniture, exposed brick walls, and are decorated with creamy colours and heavy fabrics.
For Romantics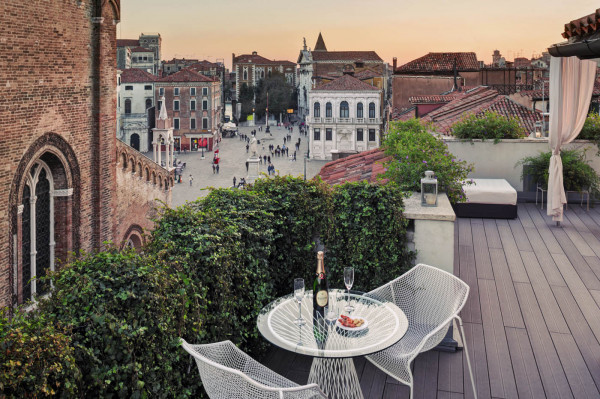 Bloom & Settimo Cielo captures some of the opulence of old Venice, but without feeling staid or stuffy, yet also offers all the mod cons and beautifully big bathrooms — something you can't always guarantee in Venice. The roof terrace has wonderful views: it's the perfect spot to watch the mist unfurl in the mornings, or sit up here with your complimentary bottle of Prosecco at sunset.
The Novecento is a chic, seductive B&B, with a hint of the orient in the decor and the smell of Marrakech in the air. Its nine rooms feel traditional and romantic, and the location is excellent, close to many of the main sights. A generous breakfast is served daily in a pretty courtyard.
For Palazzo Style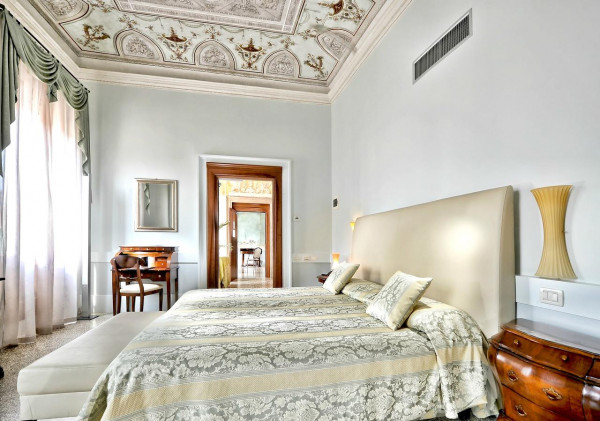 The Palazzo Vitturi is one of the oldest palazzos in Venice, just a stones throw from the Piazza San Marco. Now a very spacious, very comfortable guesthouse, the decor has cleverly combined original frescoes, terazzo floors, vast windows and painted ceilings with contemporary soft furnishings and a pastel palette, to make it feel luxurious as well as historic. 16 rooms and suites complete with picture.
Hotel Al Ponte Mocenigo is an intimate hideaway with just 15 rooms, spanning two properties on either side of a canal. Traditional, and characterful, it's also close to the San Stae vaporetto stop, and a great spot for exploring Venice on foot. There's a courtyard garden, which some rooms look out upon, and is delicious in the summer. The decor is typically Venetian, with plenty of gilt and upholstered surfaces.
For Water Views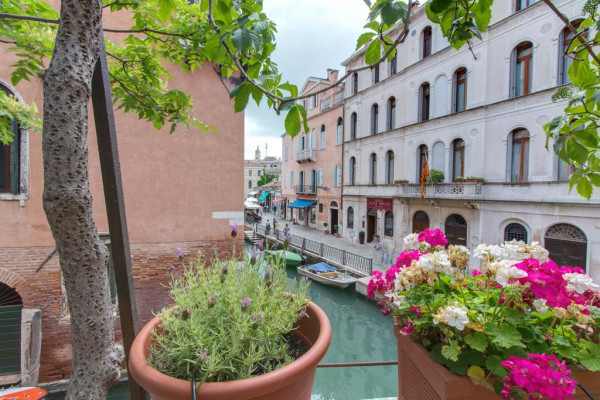 The Residenza de L'Osmarin is a small and homely B&B with friendly hosts and just three rooms and a suite. All rooms have parquet floors, wooden beams, canal views, and lots of natural light, and the suite has a private roof terrace.
For Families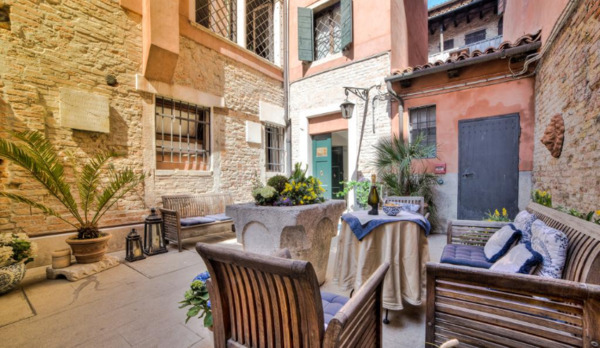 Ca Della Corte is a typically Venetian townhouse turned B&B, with a collection of 11 rooms, suites and apartments. Amongst them the rooms have frescoes, private balconies, oil paintings and chandeliers; the apartments can sleep up to seven and have self catering facilities. There's a beautiful communal courtyard, and a roof terrace too.
La Villeggiatura is an elegant, but family-friendly B&B close to the Rialto. The friendly owners let just six rooms of this third floor apartment; all of them are different and include thoughtful touches and details, and lots of light. Breakfast is served in a big table in the sunny dining area.
For Luxury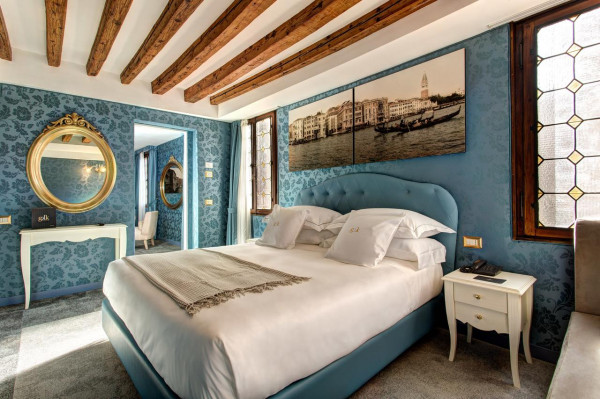 The GKK Exclusive Private Suites are a collection of six suites housed in an historic building overlooking the Grand Canal. The rooms are dressed with contemporary Venetian style, with damask style wallpaper and classically shaped furnishings. Our favourite rooms have fancy, free-standing bathtubs and pretty private terraces.
Suite 735 is a stylishly decorated, four room B&B in the arty Dorsoduro neighbourhood. There's something of a 50s feel to the shape of the furnishings, and you can still see the original features shining through. Breakfast is served on the pretty terrace.
For Great Value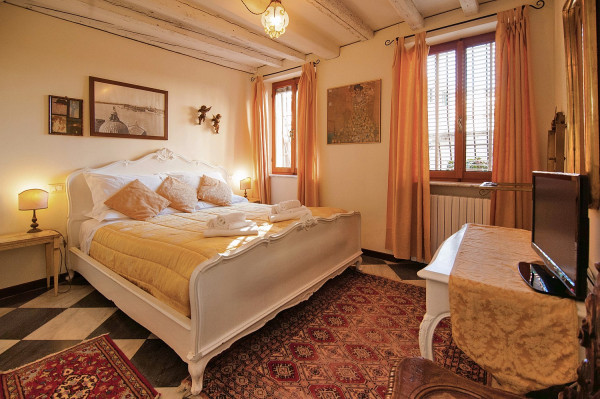 3749 Ponte Chiodo is a small, friendly guesthouse in Cannaregio, which is a more residential, less touristy, part of Venice, about ten minutes stroll from the Rialto, and well placed for the railway station. There are just six rooms, all very Venetian, with slightly ornate details, and small bathrooms. The communal areas are very welcoming, and you can help yourself to a hot drink, fruit or cake any time of day. They serve breakfast at a large communal table, or in the garden.
Still not sure where to book?
posted Monday, 15th August 2022