9 of the Best Hotels near Venice's San Marco
"The finest drawing-room in Europe" was how Napoleon summed up Piazza San Marco. Indeed, this central piazza of Venice is surrounded by some of the city's finest treasures - the exotic Basilica di San Marco, its Campanile (known from a thousand postcards), the magnificent Doge's Palace, the infamous Bridge of Sighs, a clutch of museums… to name just a few. So to choose one of the best hotels in San Marco is to be right at the heart of the action.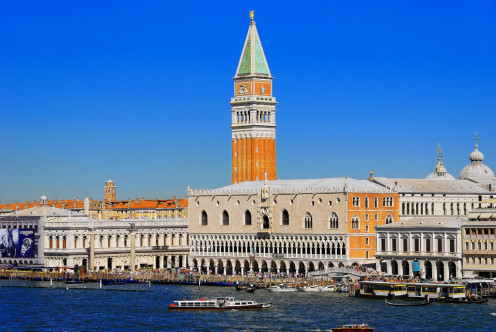 Flickr user Raging Wire
But the Piazza, which opens out onto the waterfront, and the surrounding streets, canals and bridges - including the Rialto Bridge - of the San Marco district are stuffed with treasures: San Salvatore church with its Titian paintings, Fortuny Museum in its gorgeous palazzo, the Palazzo Grassi art museum, plus numerous small squares and markets. As a result, of course, it is the most tourist-congested place in the city!
9 of the Best Hotels near Venice's San Marco
Some of the Most Luxurious Hotels near San Marco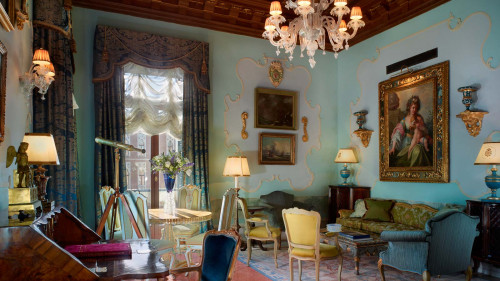 Right on the Riva degli Shiavoni, five minutes stroll from St Mark's Square and with uninterrupted views across the lagoon, Hotel Londra Palace offers sleek bedrooms with original artwork and Biedermeier furnishings. Tchaikovsky was so enchanted with the setting, he wrote his Fourth Symphony here. An excellent people-watching spot, particularly from the restaurant terrace.
Two hotels that rival one another for both luxury and peerless views are the Gritti Palace and Bauer Il Palazzo. The world-renowned Gritti Palace, a former 15th-centruy Doge's palace, has all the tradition, sumptuousness and flawless service that you would expect. An evening drink on the terrace gazing at the Santa Maria della Salute will stay long in the memory.
Others would argue that there is nothing so romantic as dining on the waterfront terrace of the Pisis restaurant of the nearby Bauer Il Palazzo, also with a faultless Grand Canal location. Bedrooms are rich, sumptuous and with a contemporary-lavish edge. There's also a rooftop Jacuzzi.
Best mid range hotels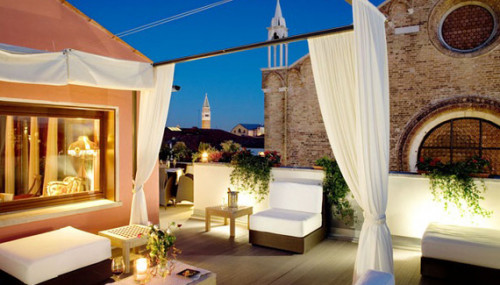 With its hidden roof terrace and chic, boutique-style bedrooms, Bloom & Settimo Cielo are two great-value, central Venice choices (B&Bs that share the same reception). Rooms are boldly coloured - expect purple, fuchsia, black-and-gold - and hung with rich fabrics, and the rooftop views terrific.
Tucked down a small street and with a whiff of the Orient about the decorations, the nine-bedroom Novecento is a lovely little romantic hideaway. Breakfast in the courtyard on sunny days..
There's more exoticism to be found in AD Place, a B&B where rooms mix bold stripes, slinky fabrics and sultry colours with gilded mirrors and elaborate bedheads. There's a gorgeously tiny rooftop terrace, too.
Some of the Best Value Hotels near San Marco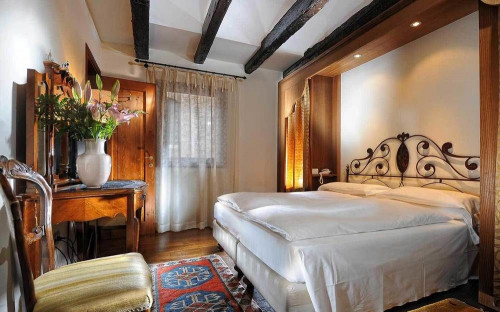 Tiny Gio & Gio is a steal. With rooms that are either bold and designer or hung with tapestries and oil paintings it is minutes from St Mark's Square. Breakfast-only but plenty of eating places in all directions.
The family-run Hotel Flora charms and disarms. Rooms are traditional but light and fresh, and there's a seductive garden; perfect for breakfasts and evening aperitifs. A good family choice, too.
Ca del Nobile is another good family choice. Just behind St Mark's Square, its six airy rooms have exposed rafters and a mix of antique and classic furnishings.
If you're going to stay in Venice, many would argue, then you have to be in the centre and this guide to the best hotels in San Marco points you in the right direction. If there's nothing here that fits the bill, then extend your search to include all our Venice recommendations, or contact a friendly guru for advice.
posted Monday, 24th February 2020