The Best Hotels in Salamanca, Madrid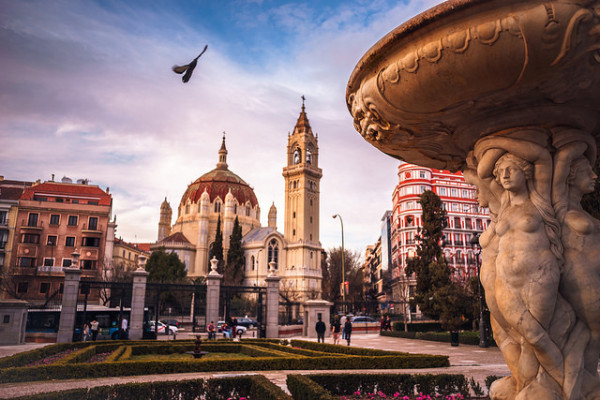 Pacónidas via Flickr
Salamanca is elegant, with broad streets - let's call them boulevards - lined with trees, smart boutiques and top restaurants. The best hotels in Salamanca are a great place to come if you're looking for something a bit special or romantic when it comes to your accommodation.
The stately mansions of Salamanca are one of the big draws of this area, and the graceful squares and gardens and really lust-worthy boutiques, cafes, bars and restaurants. There are also some charming, and quite niche, galleries and museums. Including the Museo Lázaro Galdiano, which is an incredible private art and objets d'art collection, housed in a discreetly grand Italianate mansion which belonged to the Don José Lázaro Galdiano, and the Museo al Aire Libre, a wonderful collection of sculptures, including some by Joan Miró and Alberto Sánchez, arranged in the open-air, beneath an overpass.
Salamanca is also where you'll find the Biblioteca Nacional and Museo del Libro, or the national library, in a beautiful building at the southern end of the Plaza de Colón. As well as the books there are illuminated manuscripts and an excellent cafe.
Yes, these days the Salamanca district is one of the wealthiest parts of Madrid, and even Spain, but it needn't be high end, not all of our Guru's recommendations for the best places to stay in Salamanca are pricey.
For a Special Occasion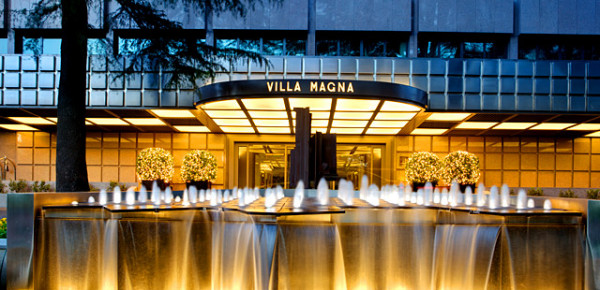 Once the residence of Spanish Counts and Countesses, and renovated to perfection, the Hotel Villa Magna is spacious and elegant, with open air terraces, grand pianos, and a gastronomically delightful restaurant. In fact if you want your own private butler and private kitchen that's possible here too.
The Hotel Único Madrid is a great choice for foodies - its restaurant has two Michelin stars. The 44 rooms and suites are elegant and stylish, and there's a stately staircase, some beautiful mosaics and a peaceful inner garden courtyard.
For a city break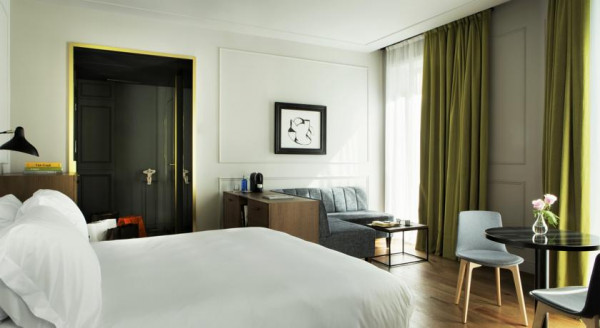 Totem is centrally located with chic accommodation and contemporary furnishings. Enjoy a few drinks in the evening at the lively cocktail bar and restaurant before setting off to see the city's nightlife. Eclectic and glamorous.
Still not sure which to book?
Families - Families are welcome here with a great range of accommodation, plus several dining options and seasonal kids' programmes

5* Luxury - As with all Rosewood properties the Villa Magna offers exceptional standards in terms of luxury and service

City Style - A stunning renovation offering understated elegance complemented by a chic finish

Foodies - The Amos Restaurant is overseen by legendary 3 Michelin Star chef, Jesus Sanchez

Recommended by - Tablet, Frommers, Kiwi Collection, Michelin Travel

A recently renovated iconic property in central Madrid. Top notch luxury rooms and suites offer a feel of understated elegance accompanied by sumptuous touches like marble bathrooms as standard. A range of dining options from a relaxed all day cafe to fine dining from a 3 star chef! A chic city pad. See More

Check Availability

Restaurant - 2 Michelin stars.

Elegant

City Style

Wellbeing

Recommended by - Tablet, Michelin Travel

A 19th century palace renovated with elegance and style. Its stately staircase, modern mosaics, and inner garden courtyard give the impression of an aristocratic private residence. Meanwhile, its facilities and Michelin-starred restaurant provide an urban oasis for city explorers. See More

Check Availability

Totem

Madrid (23)

64 rooms from £233

City Style - A stylish and contemporary hotel in the heart of Madrid's Salamanca neighbourhood, offering a trendy bar and bright airy suites.

Local exploring - Situated in the Salamanca District, moments away from the vibrant streets of Goya or Serrano

Sights nearby - Plaza de Colón, Puerta de Alcalá and Parque del Retiro cannot be missed.

Lively - Hip and happening.

A central hotel offering modern comfort to its discerning guests. A stylish hotel in the fashion district of Madrid, with wood panel finishes, contemporary furnishings and sleek design. The chic cocktail bar and restaurant comes alive each evening. Eclectic and glamorous. See More

Check Availability
posted Wednesday, 21st July 2021