Marrakech with a View: 10 Best Hotel Roof Terraces in Marrakech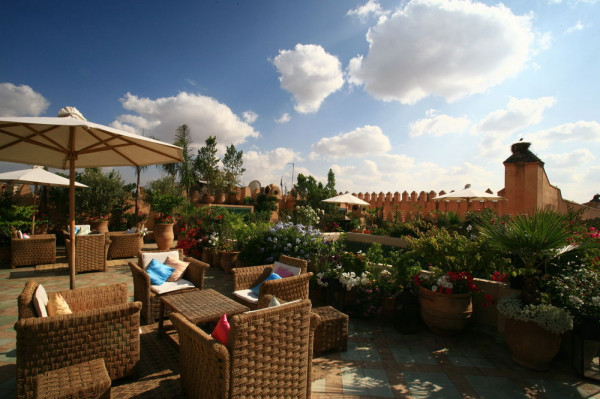 Marrakech really does have everything a visitor could want. Sun, culture, commerce, adventure and a chance to try something new. It also has every kind of place to stay you can imagine - from basic hostels where you can sleep beside Berber traders fresh off the camel, to resorts as luxurious as anything you can imagine with some of the best hotel roof terraces in Marrakech. So how to choose? Well, how about by paring back to what's really important? If you want to feel as if you're staying right in amongst the excitement of this frenetic and colourful city you need to choose one a hotel with one of the best roof terraces in Marrakech. Peering out over your city from the comfort of a private terrace is an energising and enlightening experience. This city is fascinating to watch from a bird's eye view, and if it all gets too much for you, cast your eyes towards the mountains for a glimpse of serenity.
A Roof terrace with a view
As well as being a place to unwind after a busy day's foray into the souks, your hotel roof terrace is a wonderful place to explore Marrakech from. Remotely. Many of our favourites offer mouthwatering medina views and from others the vistas stretch beyond the city to the mountains in the distance.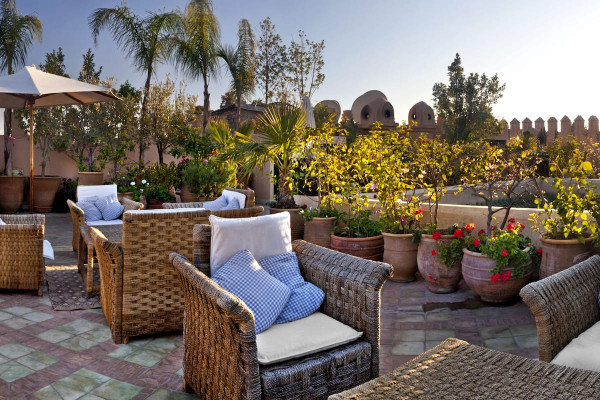 Dar Les Cigognes is in one of the oldest parts of the Marrakech Medina, right opposite the Royal Palace and its numerous nesting storks, providing a fabulous view across the Medina from a delightful rooftop garden of orange trees and bourgainvillea.
Another property whose rooftop terrace affords panoramic views of both city and Atlas Mountains, is Dar Hanane. Its loungers are shaded by a Berber Tent, and it's the perfect for spot for drinks, dinner or whiling away the hours with a good book!
Riad Tzarra also boasts a roof terrace with wonderful views of both city and mountains. As well as tables and chairs, you'll find sun loungers and a shady pergola. The perfect spot for relaxing with your favourite book or enjoying sundowners.
For a traditional riad
A stunning roof terrace is one of the best features of a traditional riad. Which is technically supposed to have a garden as well. What you can also guarantee from this selection of our recommendations is a palatial courtyard, a plunge pool and a hammam.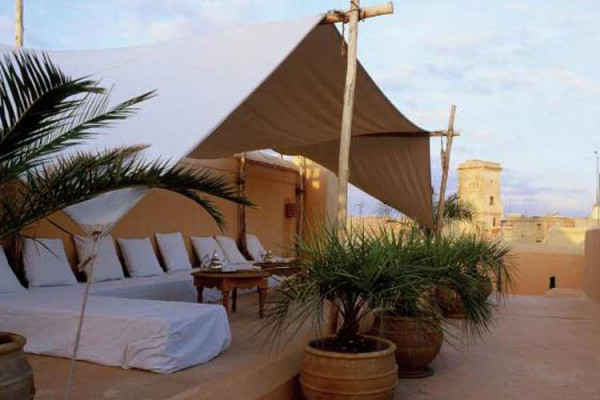 Riyad el Cadi is an oasis of clean calm in a cacophonous city. Its whitewashed walls, fine furniture and art are spread through several interconnected mansions, connected by a maze of corridors and sun terraces, culminating in one of the the best roof terraces in the city.
Hotels with a roof terrace pool
It might not be surprising that there are so few pools on roof terraces in Marrakech - these beautiful old buildings were designed with cool interior courtyards for their water features. But if you want to sunbathe there's really no where nicer to do it than by the pool on a roof terrace.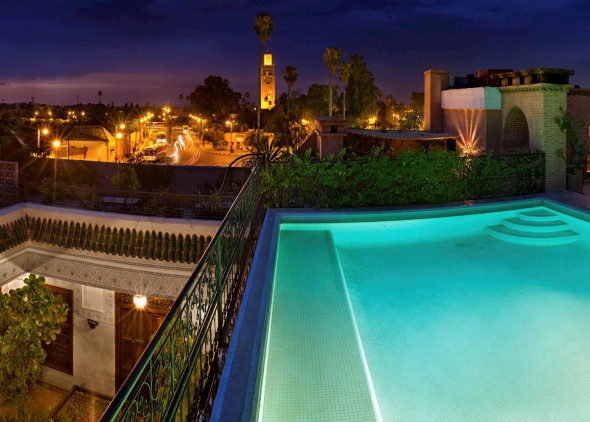 The Villa des Orangers has two pools, one on the rooftop sun terrace - maybe it's the influence of the French owners? The decor feels very Moroccan though, with rich decorations and a truly beautifully tiled hammam. As well as the two pools there's plenty of other outdoor space here - orange tree filled patios and inner courtyards and several of the larger rooms also have private terraces.
For a Private Roof Terrace
What could be more romantic than a roof terrace of one's own? Whether for enjoying a cosy diner a deux or simply soaking up the sunset.....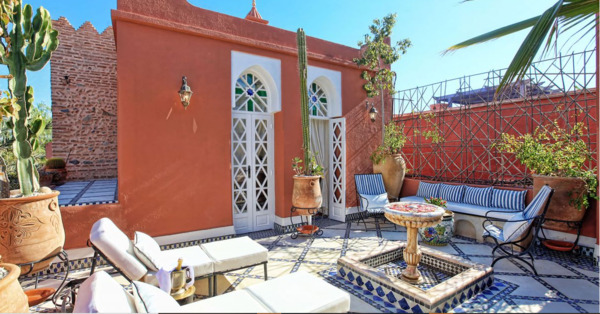 Riad Kaiss is romantic and secluded, but it's also quite unique - this building was originally built as a harem. Now, that might not sound too romantic to you, but the elegant conversion has kept some of the wonderful latticework, and arranged, as it is, around a beautiful courtyard and series of sun terraces, it's really very charming and relaxing. Its suites also have some of the loveliest private hotel roof terraces in Marrakech. And if it's a romantic trip you're planning it's worth splashing out - the riad's food is superb, and they'll serve you al fresco meals for two on your terrace.
For roof terrace luxury it's hard to beat Riad El Fenn. Owned by Vanessa Branson, the design is a lush fusion of traditional Moroccan opulence with a bit of English comfortable restraint - and modern art. The hammam is a quiet haven - this building was once a fortress and the walls are a metre thick. The food is sourced in the riad's own garden. And upstairs, on the roof terrace, you'l find an ocean of Berber pillows to fall into.
If you're travelling with a group, five room Riad al Bushra is the perfect size to book out entirely - thus getting one Marrakech's best roof terraces entirely to yourself! Intimately laid out, the owner/ manager has taken care to retain many of the original features of this beautiful riad. And the atmosphere is geared to make you feel entirely at home, just in gorgeous surrounds.
If you're picturing yourself of an evening, looking out from one of the best hotel roof terraces in Marrakech, chilled glass of wine in hand… Before you get too carried away it's worth mentioning that not all riads have a license to serve alcohol. So check before you book. Or opt for uncovering roof terrace bars like the excellent Kosybar, which overlooks the Place de la Fourt, close to the Badi Palace. It has two roof terraces, the top one is at the top of a narrow spiral staircase right above the city walls.
Still not sure which to book?
posted Monday, 14th December 2020