12 Best Hotels in The Marais, Paris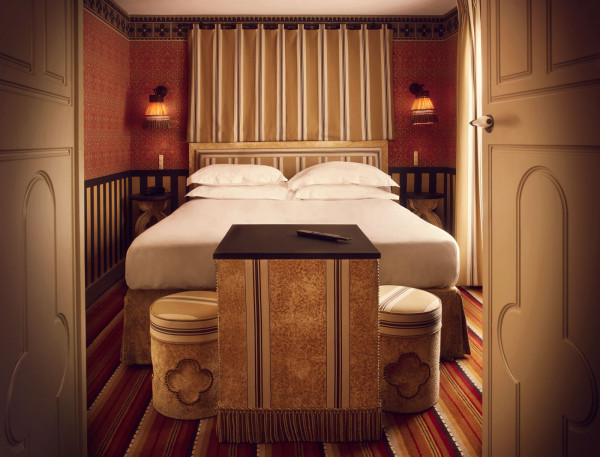 As well as being one of the most evocative districts of Paris, The Marais is fast becoming the place to stay for both visitors and Parisiens alike. So now, as well as the trendy cafes and restaurants, art galleries, fabulous historic buildings and a delicious collection of boutiques, there's also a number of great places to stay. Our hotel gurus have compiled a collection of the best hotels in The Marais selected for their design, service, and amenities. Whether you're looking for a property with all the period features or a more contemporary stay, our collection has something to suit most tastes and budgets. So why not browse through our list to start planning your next city break?
For period style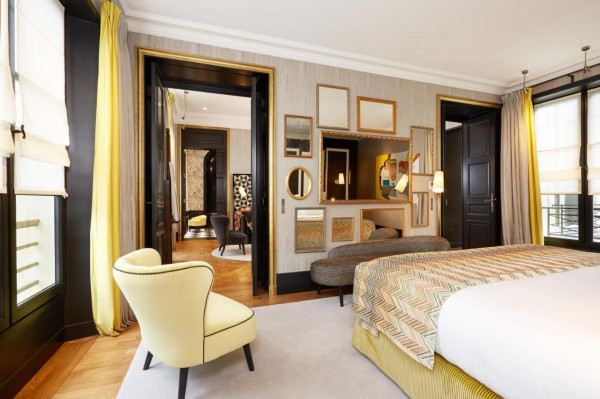 If you're looking for a slice of period luxury then try the Pavillon de la Reine, a historic 17th-century mansion tucked away in the Marais, on one of the finest squares in Paris. This charming hotel feels like a country house hotel with its honesty bar and small spa.
For designer chic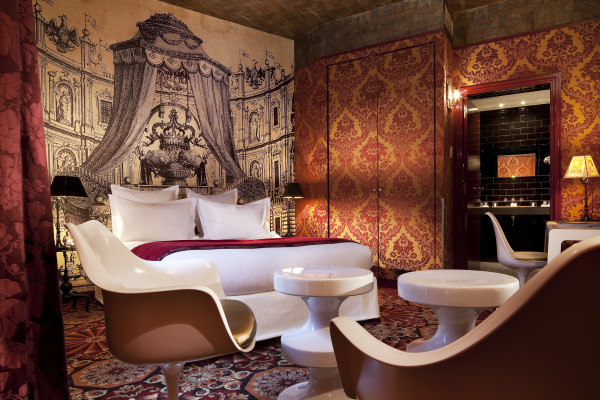 For a boutique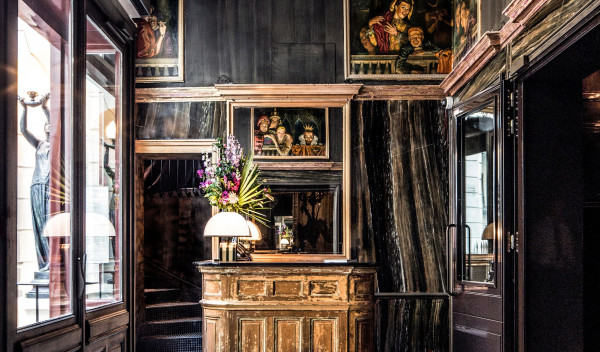 Hotel Les Bains is an effortlessly chic hotel occupying the site of 19th-century private baths. Retro rooms feature throw-back mahogany furniture and rotary-dial phones. Complete with an underground nightclub and a swimming pool — this is a very stylish spot.
The design of the boutique Hotel de JoBo is inspired by Empress Joséphine Bonaparte. Stylish guestrooms have lavish toile de jouy wallpaper and patterned curtains. Complete with a cocktail bar, this is a chic choice.
For a hip hotel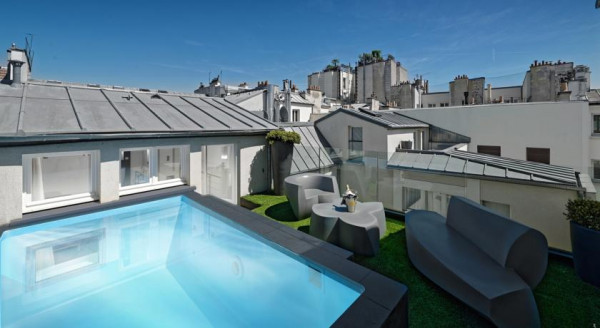 It's not what this district is known for, but if you're looking for an urban vibe then the 1K Hotel should tick all the right boxes; this is a hotel that feels like a nightclub. Two of the 52 rooms even have their own plunge pools!
For couples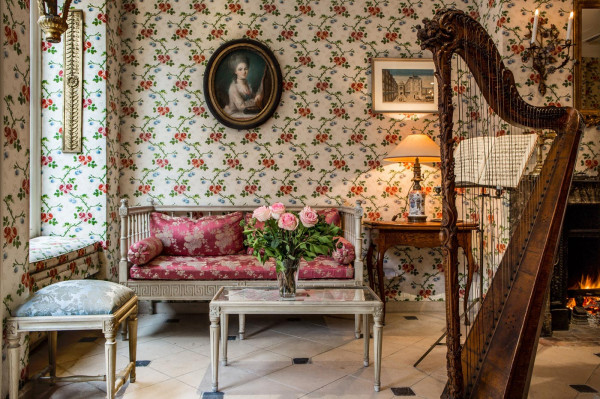 Caron de Beaumarchais is a characterful boutique hideaway. The lobby feels like stepping into an 18th-century French drawing-room, with intricate objets d'art and floral motifs. Heritage suites have exposed beams and period artwork, while romantic gable rooms offer views of the rooftops. Ideal for couples.
For families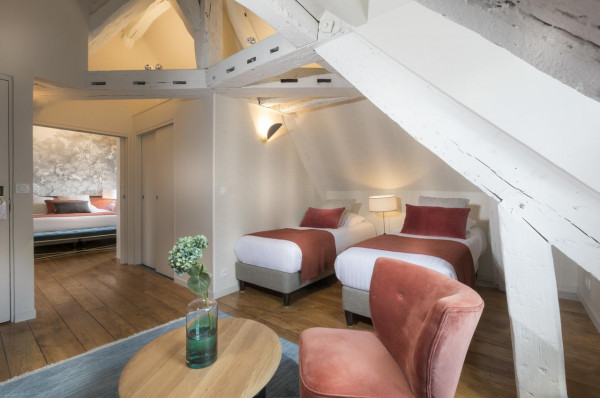 Hotel Jeanne D'Arc is a charming hideaway with spacious family suites and a friendly laidback feel. Guestrooms are dressed in a warm palette, with boutique wallpaper and cosy throws. An easy choice for families.
For contemporary design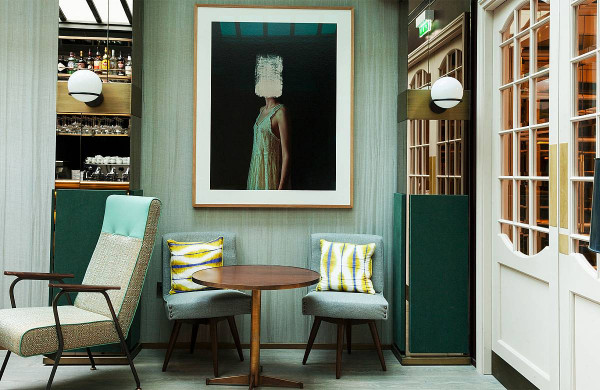 Maison Breguet is a chic hideaway offering smart modern guestrooms with carefully selected design pieces and plenty of glass and wood. Complete with a subterranean spa, this is a pint-sized luxury bolt-hole.
Hotel Duo is contemporary rather than super modern, but its clean, minimal lines and commitment to design, plus its garden, lounge bar and fitness room make it an easy choice if you prefer things less fussy.
Still not sure where to book?
Take a look at our picks of the best hotels in Saint Germain des Prés or the best hotels in the Latin Quarter.
Check out our Guru's recommendations for the best places to stay in Paris or consider some wild cards from our list of 10 Chic Paris Hotels.
Alternatively, contact one of our friendly Gurus for advice.

Great walks - Take a stroll around Place des Vosges, lined with trees and red brick houses, built by Henri IV in 1612.

Restaurant - The new restaurant Anne serves gastronomic dished from chef Mathieu Pacaud

Sights nearby - The famed Place de la Bastille is within a few minute walk.

Lively area - In the heart of the Marais.

Recommended by - Frommers, Small Luxury Hotels, Fodors, Tablet

Country house meets 17th Century Parisian mansion on Place des Vosges - hands down the finest square in Paris. Updated interiors and plush bedrooms make for a perfect honeymoon location. Enjoy the serene spa, have a drink at the honesty bar and location means you can walk everywhere. See More

Check Availability

Romantic Break - An opulent and sultry love nest, think miles of red velvet, subdued lighting and Byzantine alcoves with mosaic-tile tubs.

City Style - With Jacques Garcia behind the design of Hotel Bourg Tibourg you are guaranteed a seriously stylish stay!

Sights nearby - Marais is brimming with galleries, historic sights and museums, the most notable, Notre Dame, is just down the road.

Lively area - In the heart of the Marais.

Recommended by - Frommers, Fodors

A handsome Parisian townhouse turned sultry Moorish palace. The heavily adorned, compact boudoirs boast rich fabrics & innumerable tassels whilst Junior Suites offer a more sleek contemporary vibe. Communal areas are full of character too, plus there's a welcome courtyard garden. A hidden gem. See More

Check Availability

Romantic Break - Romantic break in a prime location and surrounded by unique and vibrant interior design.

Value chic - Prime location, funky interiors, wonderful service and easy on the wallet!

Local markets - Head to the oldest covered market in Paris - Marché des Enfants Rouges.

Sights nearby - Picasso Museum is a just around the corner.

Recommended by - Frommers, Small Luxury Hotels

Fabulous, vibrant and unique 4* boutique designed by Christian Lacroix. Each stylish and comfortable room exudes its own unique charm. Enjoy a super-chic stay at the heart of the Marais. Breakfast is served in the vintage bistro, which moonlights as guest only bar in come sundown. See More

Check Availability

1K Hotel

Paris

52 rooms from £200

Romantic Break - Built for romance, with everything from private plunge pools to gigantic round beds- a lovers hideaway in the centre of Paris.

Local exploring - Marais is one of Paris' coolest districts, full of young people, galleries, museums, bars, boutiques and cafes.

Swimming Pool - Two rooms have private plunge pools, as well as a public rooftop pool.

Lively - Hip and happening.

Recommended by - Mr & Mrs Smith, Tablet, Michelin Travel

Self-labelled as a design hotel, this four star uber cool hotel is fantastically located in Marais and oozes nightclub vibes. Bright rooms with cool light effects and wall art - two with their own plunge pools. A contemporary menu and delicious cocktails await you. Romantic find in historical area. See More

Check Availability

Hotel Duo

Paris

58 rooms from £260

Outstanding location - Location in the centre of Paris ensures fast access to all of the capital's cultural attractions and its most beautiful shops

Sights nearby - Situated halfway between Notre Dame and the Georges Pompidou Center

Romantic - Good for couples.

A chic hotel fantastically located in the heart of the lively Marais district of Paris just a few minutes walk from Notre Dame. The hotel's commitment to contemporary style and design shines through in its beautiful yet cosy bedrooms, fitness room, and trendy lounge-bar with its delightful garden See More

Check Availability

Hotel Les Bains

Paris (3rd arrondissement)

39 rooms from £308

Local exploring - Set within walking distance of the bars, restaurants and galleries of La Marais, this hotel is perfect for local exploring

City Style - Set in a heritage property in the bohemian La Marais district, this hotel has lots of chic Parisian style

Romantic Break - Couples love the designer interiors at this boutique bolt-hole; book a suite for a private terrace

Sights nearby - Discover the sights of Paris, with most a short walk from the hotel; head to the Notre Dame Cathedral first

Recommended by - Design Hotels

This effortlessly chic hotel occupies the site of 19th-century private baths and later an 80s nightclub in the Marais district of Paris. Retro rooms feature throw-back mahogany furniture and rotary-dial phones. Check out the hotel's underground nightclub, complete with a swimming pool and live DJs. See More

Check Availability

Sinner

Paris (3rd arrondissement)

43 rooms from £382

City Style - With playful, tempting interiors and a great city location, this hotel offers a unique type of Parisian charm

Hideaway - Hideout at this luxury sinner's bolt-hole; with a spa, restaurant and bar onsite, there is no need to leave

Romantic Break - Couples' love the romantic atmosphere at this decadent hotel; check into the spa for a couples' massage

Sights nearby - Many of the top Paris attractions are within walking distance of this hotel; head to the Notre Dame Cathedral first

Indulge your rule-breaking side with a stay at this risqué Paris bolt-hole. Nestled in the Marais district, the lobby feels like a bohemian apartment, adorned with Persian rugs and eclectic antiques. The same style extends to the rooms where minibars tempt guests with absinthe; a sensual city break. See More

Check Availability

Local exploring - The hotel's central location makes it a great base for local exploring; head to the nearby Picasso Museum for the morning

Value chic - With rooms starting at 130 euros this hotel is great value for central Paris, and does not compromise on style either

City Style - Set in a heritage property in the pretty Marais district, book this hotel for classic Parisian style

Great walks - Explore the local area on an afternoon stroll; head to Place des Vosges, one of the oldest squares in Paris

This boutique hideaway sits in the historic Marais district of Paris. The lobby feels like stepping into an 18th-century French drawing-room, with intricate objets d'art and floral motifs. Heritage suites have exposed beams and period artwork, while romantic gable rooms offer views of the rooftops. See More

Check Availability

Hôtel de JoBo

Paris (4th arrondissement)

24 rooms from £169

City Style - With risqué interiors and a great location in the heart of the trendy Marais district, this hotel offers chic Parisian style

Local exploring - The Marais neighbourhood is great for cultural exploring in Paris, set close to boutiques, bars and galleries

Romantic Break - Couples rate this boutique bolt-hole highly; book a suite for added indulgence

Sights nearby - Walk to the Notre Dame Cathedral from this hotel, one of the finest examples of French Gothic architecture

This hotel is nestled in the bohemian Marais district of Paris. Inspired by Empress Joséphine Bonaparte, guestrooms have lavish toile de jouy wallpaper and patterned curtains; book a suite for a luxurious corner bathroom. Indulge in cocktails at the decadent lepoard print bar for a romantic evening. See More

Check Availability

Local exploring - By the Marais, and a 10-minute walk from buzzing Rue Montorgeuil, great for exploring the culinary scene and chic boutiques

Great walks - Venture out to some spots further afield, such as the lush Bouttes Chaumont Park with its hills, follies and water features

Local markets - For the ultimate flea-market experience, head out to Porte de Clignancourt, at the end of Metro line 4

Spa - Offering a range of treatments and massages

Recommended by - Mr & Mrs Smith

An elegant hotel set besides the iconic Marais famed for its boutiques, vintage shops and bistros. Interiors are low-key and minimal, with muted greys, pastels and soft lighting. Featuring a hip bar and a top-quality Italian restaurant. A very fitting base from which to explore belle Paris! See More

Check Availability

Hôtel Jeanne d'Arc

Paris (4th arrondissement)

34 rooms from £233

Local exploring - Set a stone's throw from the capital's historic attractions, book this hotel as a base for local exploring

Families - Families are well-catered to here, with spacious family rooms available for parents with children

City Style - With contemporary interiors and a central city location, this hotel has lots of Parisian charm

Great walks - Explore the picturesque streets of Paris on foot with a long walk; head to the Sacré-Coeur for a romantic sunset

This charming Paris hideaway is nestled in the historic Marais district. Guestrooms are dressed in a warm palette, with boutique wallpaper and cosy throws; book a family room to accommodate children. Start the day with fresh croissants in the bright breakfast room. A friendly, inviting city pad. See More

Check Availability

Maison Bréguet

Paris (11th arrondissement)

53 rooms from £272

Romantic Break - Couples love the cosy suites at this luxury hotel; book the Little House suite for a private patio with views

City Style - With boutique interiors and a prime location on the Right Bank, this hotel has lots of chic Parisian style

Spa breaks - The spa at this hotel is a hidden surprise; book a couples' massage for a romantic evening in

Great walks - Explore the picturesque streets of Paris on a long walk; head to the Sacré-Coeur for a romantic sunset view

Recommended by - Tablet

A chic Paris hideaway in an off-the-beaten-track spot, close to the Marais. Smart guestrooms have carefully selected design pieces and cosy rugs and marble clad bathrooms; the best come with private terrace. Unwind at the subterranean spa and enjoy cocktails and dinner at the restaurant or terrace. See More

Check Availability
posted Wednesday, 1st February 2023