The 3 Best Hotels in Hradčany, Prague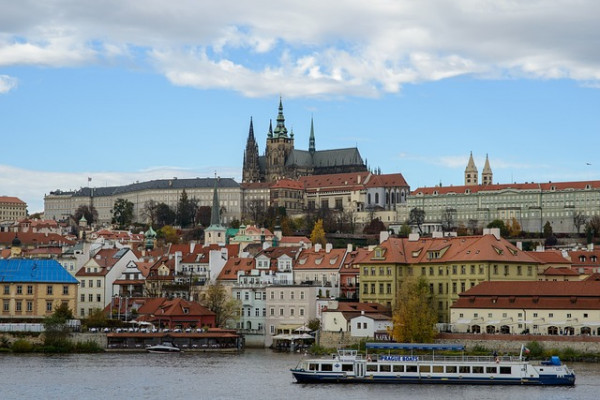 Image by PublicDomainPictures
Hradčany is Prague's Castle district, a place of historic palaces and noble houses. It's raised slightly above the meandering Vltava, and is a wonderful spot for looking out over the whole city. Some of the best hotels in Hradčany have been converted from grand houses, but our Gurus have found some more modern options too.
When it comes to the highlights this part of town has to offer, the castle - the world's largest, dating back to the 9th Century - is why all the rest of Hradčany's highlights exist. Habsburg nobles and princes built their smaller palaces around the castle hoping to win favour as neighbours to the inhabitants, and the beautiful St. Vitus Cathedral was also built to serve the castle.
Prague Castle is so big that it's home to several museums and galleries, and holds many of the Czech Republic's greatest treasures. It also looks like it belongs in a fairytale - which is especially nice if your hotel room has a view of it.
The 3 Best Hotels in Hradčany, Prague
The Best Hotels in Hradčany for Prague Castle
Close to Prague Castle, Domus Henrici is a chic little boutique hotel with eight, traditional rooms decorated with Turkish rugs and antiques and a beautiful, flower-filled terrace.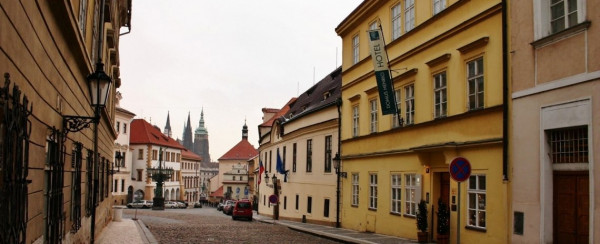 The Appia Residences are a collection of 21 rooms, suites and apartments in an attractive sandstone building close to Prague Castle. Built around a central courtyard and gardens, the rooms are traditional, but with plenty of natural light and some with a contemporary twist.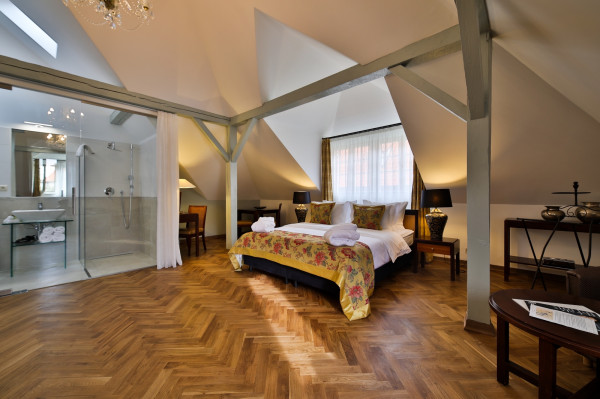 The Best Hotels in Hradčany for Families
The Hotel Neruda is a chic, contemporary hotel in the Old Town with 42 bright rooms and a charming cafe-restaurant. You're within walking distance of the city's highlights. Family friendly and fun.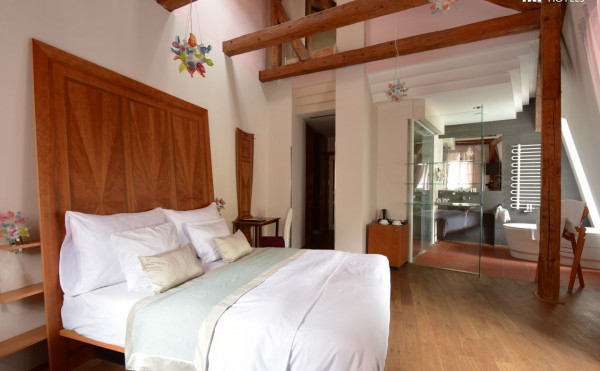 If you haven't found your idea of the best hotels in Hradčany on our Guru's list you could:
The 3 Best Hotels in Hradčany, Prague
Local exploring - A wonderfully traditional and chic hotel to return to after a long day of exploring this fascinating city.

Great walks - Wander around the stunning Prague Old Town, full of unique sights and interesting shops.

Sights nearby - Visit the nearby Prague Castle, Loreta Chapel or Strahov Monastery.

Boutique

A chic boutique hotel, on a quiet cobbled street near to Prague Castle. The expansive rooms are beautifully styled in a traditional manner with parquet flooring, Turkish rugs and antique furniture. Sit out on the flower filled terraces, sipping on a drink and admiring the views. Real city style. See More

Check Availability

Hotel Neruda

Prague

42 rooms from £77

City Style

Spa - Spa area with hot tub and sauna and a range of massages and treatments

Restaurant - Glass ceilinged restaurant serving Czech and International cuisine

Sights nearby - Situated next to Prague Castle and close to the Charles Bridge

Recommended by - I Escape

A lovely contemporary chic hotel tucked away in Prague's Old Town. Bright rooms have big comfy beds, light wooden floors, and stand alone bath tubs. Charming cafe-restaurant and walking distance from main attractions. Excellent value and family friendly. See More

Check Availability

Value chic

Romantic Break

Romantic - Good for couples.

Sights nearby - Situated close to Prague Castle and Charles Bridge

A romantic traditional hotel close to Prague Castle. An attractive sandstone building with rooms scattered around a central courtyard garden. Pastel bedrooms have floral fabrics, light wooden floors, and lots of natural light. Beautiful garden area and close to all the attractions. Excellent value. See More

Check Availability
posted Wednesday, 21st July 2021