The 3 Best Hotels in Alameda, Seville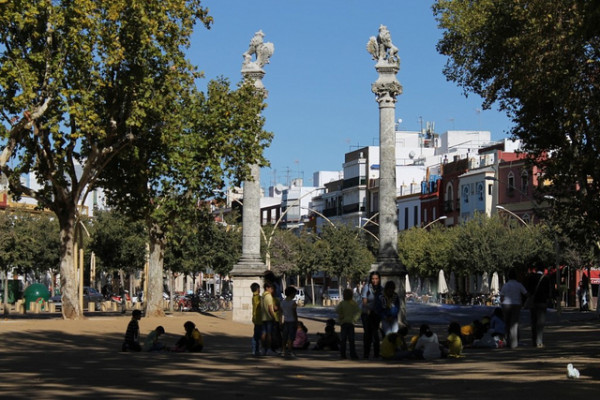 Luis Eduardo P Tavares vis Fli
If Seville's foodie credentials have piqued your fancy and informed your decision to visit, then the Alameda area might be right up your tree-lined pedestrianised avenue. There are rows and rows of hip cafes and cool restaurants to choose from here, and more tapas bars than even a six month visit would allow you to exhaust. The 3 best hotels in Alameda benefit from having all this on the doorstep. And you're close to the city's highlights too.
You might not think that a district known for being lively in the evening would also be known for being great for families during the day, but Alameda is, with a number of good children's playgrounds.
If you're really lucky you'll be visiting at a time when there's something good on at the Espacio Santa Clara, which was built as a Moorish palace, then became a monastery, and is now a beautiful arts and performance space. The Convento San Clemente is still a convent - the nuns make and sell pastries too - but it also houses an arts centre. And it's got some amazing frescoes.
The Best Hotels in Alameda
The Hotel Sacristía de Santa Ana is a surprisingly quiet place to stay in a lively central area. There are beamed ceilings in the bedrooms and a cloistered and galleried courtyard.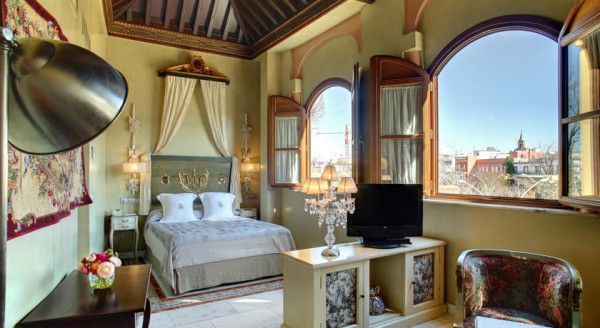 The Alcoba Del Rey is a fabulous, traditional townhouse with white-washed walls, checkered floors and antique furniture. They also have a lovely courtyard - just the one this time - and a fantastic roof terrace with a hot tub.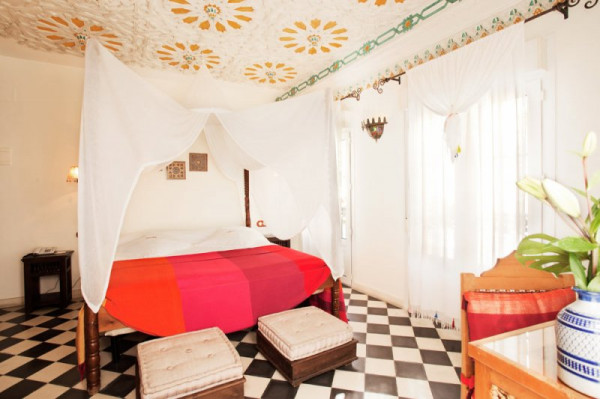 The Best Value Hotels in Alameda
The Corner House is a beautifully renovated house in the heart of historic Seville. Each room is individually styled with white washed walls set against vibrant patterns and simple minimalist furniture. There are two restaurants and the owners say gastronomy is at the heart of the hotel. Rooms start from around £115 per night.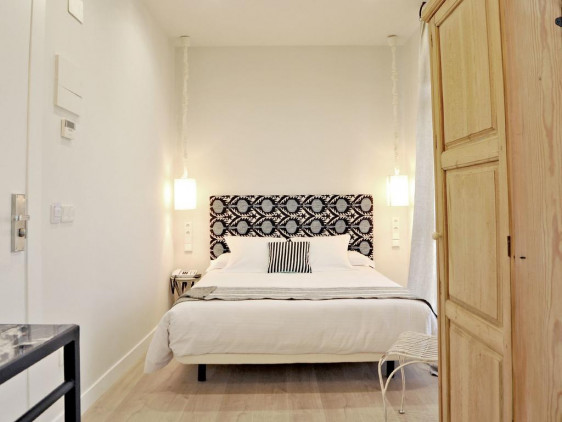 If you haven't found your idea of the best hotels in Alameda on our Guru's list of the 3 Best Hotels in Alameda you could:
The 3 Best Hotels in Alameda
City Style - This meticulously restored convent oozes elegance; from the parquet floors, to the frescoed ceilings and the wooden shutters.

Local exploring - Explore like a local, immerse yourself in the young trendy scene surrounding this area and fall in love with Seville.

Sights nearby - La Giralda, one of the world's largest cathedrals and Torre de Oro, the golden tower are both under twenty minutes walk.

Lively area - In the thick of the action.

Recommended by - I Escape, Frommers

An 18th Century Sacristy now a stylish boutique in the heart of Seville's historical quarter. Effortlessly elegant rooms, featuring painted wood head boards and chic shutters, face out to a cloistered courtyard. The perfect quiet hideaway location in the lively central area of Old Town, Seville. See More

Check Availability

City Style

Restaurant - Serves tapas and regional dishes from Seville and Andalucia

Sights nearby - Cathedral, Sea Museum, Torre del Oro.

Private Hot Tub - With the Special Junior suite

A fabulous townhouse in traditional Seville style. White washed walls, chequered floors, antique furniture, stand alone bath tubs, splashes of reds and greens. Lovely courtyard and fantastic roof top terrace and hot tub. Seville in traditional elegance. See More

Check Availability

Local exploring - Located in the heart of the city, an ideal base for exploring.

Great walks - Stroll through the historic and pedestrianised Santa Cruz area, Seville's old Jewish quarter.

Sights nearby - Visit the majestic Gothic cathedral (the third largest church in the world).

Restaurant - Restaurant/tapas bar Il Disparate is Michelin recommended

A beautifully renovated house in the heart of historic Seville. Each room is individually styled with white washed walls set against vibrant patterns and simple minimalist furniture. With gastronomy at the heart of the hotel the two restaurants are innovative and exciting. See More

Check Availability
posted Thursday, 11th April 2019