✓ Book Online Now
✓ FREE cancellation on most rooms
The Ultimate Guide to the Best Wine Hotels in Spain
All our wine region collections:
It might surprise people to learn that Spain has more vines than any other country in the world. Its production is only exceeded by France and Italy. You can pretty much place a pin on the map of Spain and you'll not be far from vineyards. Use our guide, however, and we'll take you to some of the most interesting and best wine hotels in Spain.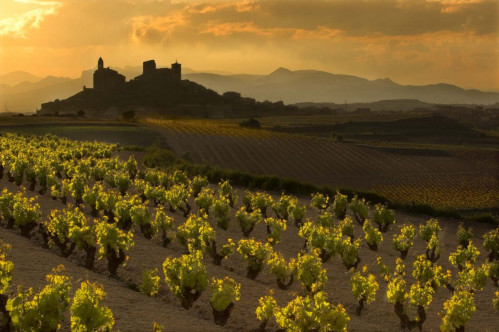 Pick any region and you'll find vines growing somewhere, even in the Canary Islands. Of course some regions stand out more than others: Galicia, for Rias Baixas and Albarino wines; Catalonia, south of Barcelona, noted for Cava and Priorat; Andalucia for sherry; and, perhaps most famously, Rioja for its eponymous, full-bodied wines.
Spain's most famous wine region, Rioja, produces the bright, barrel-aged, red wines made from Tempranillo and Grenache grapes. Tucked in the north of Spain, inland from San Sebastian and Bilbao, the region is protected from the Atlantic winds by the Cantabrian Mountains and is named after the river, Rio Oja, which flows through the region. The region has one of the widest choices of wine hotels in Spain.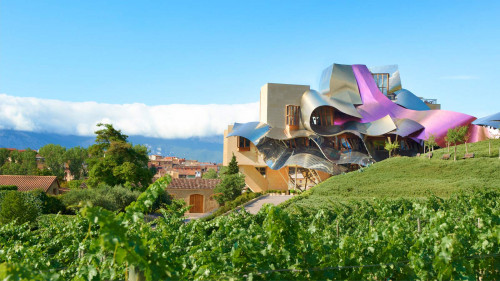 Wine hotels in Catalonia and Barcelona
Catalonia (or Catalunya in Catalan) is in north-east Spain with France to the north and the Mediterranean Sea to the east. The region, with these two influences, produces a great variety of wines but is perhaps best known for its Champagne-style Cava, and red wines produced from Tempranillo and Grenache grapes, such as Terra Alta and Priorat.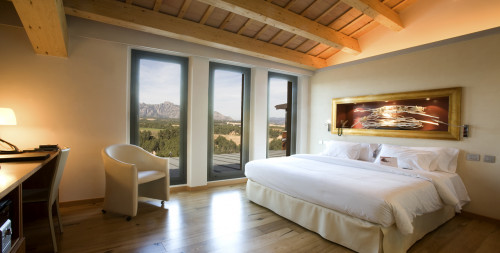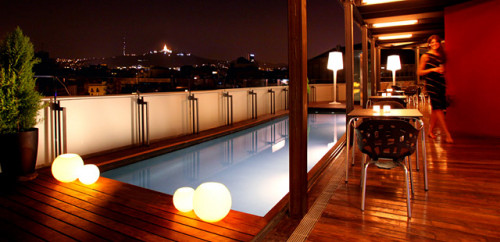 Galicia, in north-western Spain, is bordered on two sides by the Atlantic Ocean and buts up against Portugal to the south. Indeed, many of its wines have a Portuguese flavour. Most famous are its Rias Baixas wines made mainly from the Albarino grape which gives them their lovely crisp yet aromatic flavour; perfect with the region's seafood.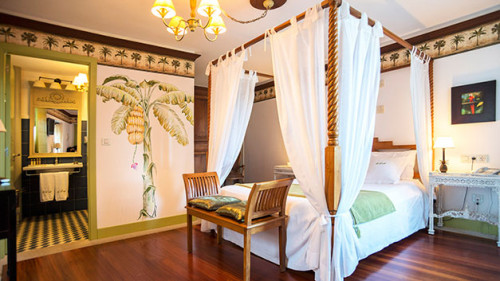 Wine hotels in Murcia and Alicante
Tucked between Andalucia to the west and Valencia to the east, Murcia is one of Spain's smallest, and quietest, regions. With its Mediterranean-influenced climate, its grapes are well-suited to producing robust reds. The classic is a fruity red wine made from the Monastrell grape which produces wines with high tannins and deep rich colours.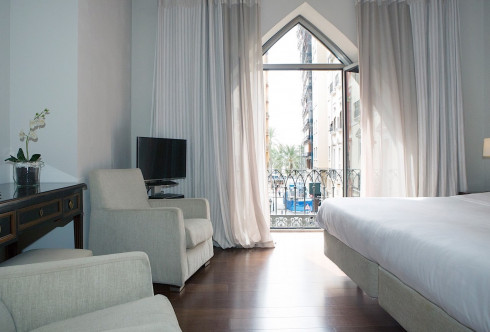 Wine hotels around Seville and Cadiz
Andalucia is synonymous with sherry. This fortified wine ranges from the light and delicate 'fino' to the treacly sweet, full-bodied Pedro Ximenez. Whilst Jerez is probably the most famous city associated with sherry, Seville and Cadiz also play their parts. Apart from sherry, the delights of this region, at the gateway to the Mediterranean and almost touching distance from North Africa, are its exotic, Moorish architecture and sublime coastline. In this region, you will find some of the most wide-ranging design-styles of wine hotels in Spain.
Jerez area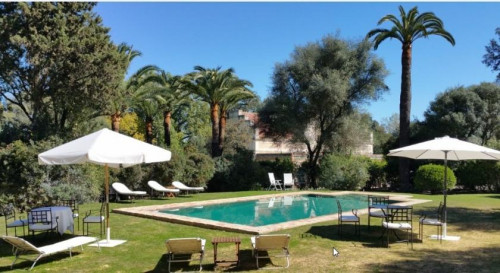 Seville is a city of huge intensity - and not just its summer heat. We have a great range of hotels but here are just two to whet the appetite.
The joy of Spain is its diversity, from the wild Atlantic coastline in the north to the sultry, Moorish architecture of the south. That diversity is reflected in its wines. Using our guide to the best wine hotels in Spain will help you experience some of that rich variety. Nothing in Spain that fits the bill? Then check out our recommendations for wine hotels in France or Italy.
Elciego, La Rioja

An unusual hotel built by the designer of the Guggenheim museum. Set amid its own vines, a large metallic building with fantastic food and an impressive spa. Sun lit rooms and suites in contemporary style with balconies and sophisticated furnishings. Wonderful views and plenty of exploring.

Foodies - The restaurant holds one Michelin star and there is also a bistro for less formal dining

Wine tasting - Surrounded by the Riojan countryside there's plenty of tasting not just on site.

Spa breaks - The huge spa offers a wide range of vinotherapy treatments

Architectural - Designed by Frank Gehry of Guggenheim Museum fame

Recommended by - I Escape

Check prices

Alava, La Rioja

An enchanting castle hotel in the Basque countryside. Unique and elegant rooms are filled with exposed stone walls, antiques and canopy beds. Excellent regional cuisine, fragrant gardens and a lovely terrace with stunning views. A delightful choice for a weekend break.

Local exploring - Historic Laguardia, with the stunning Church of Santa Maria de los Reyes, riding trips through vineyards and walks by lagoons

Wine tasting - With nine vineyards in the vicinity, this is an unmissable spot for exploring the rich region

Views - Sierra de Cantabria

Full of character

Check prices

Laguardia, La Rioja

Gorgeous historic property in Rioja wine country. Rooms have wooden beamed ceilings, stone walls, chandeliers and jacuzzi tubs. Superb spa with aromatherapy, wine and olive treatments. Outstanding Spanish cuisine in both restaurants, and atmospheric cellar with tasting menu. Unique and romantic.

Local exploring - It's an ideal base for exploring Laguardia and its surrounding countryside of vineyards, medieval towns and villages

Foodies - Food pairing courses, wine tasting and hot air balloon excursions to see the vineyards

Sights nearby - Palaces and prehistoric remains at the town of La Hoya, and wander the streets of medieval Laguardia.

Spa - Spa with hammam, hot tub and wine therapies

Check prices

Logrono (La Rioja)

18th century exterior; 21st century interior. Communal areas are decorated in the dark, brooding colours of the wine the region is famous for. Bedrooms are light and bright with modern furnishings and bathrooms. There is a gourmet restaurant serving a fresh take on local cuisine. One for foodies!

Sights nearby - Santa María de la Redonda Cathedral is 40 metres away whilst Iglesia de San Bartolome is nearby.

Great walks - Logroño is located along the famous pilgrim's route, the Camino de Santiago.

Designer - Uniquely designed interiors.

Quirky - An experience!

Check prices

Masquefa, Catalonia

This traditional wine resort is not just fantastic for the fruits of its 250 acre vineyard. Relax in the wonderful spa and dine in its gourmet restaurant. With extensive grounds and spaces for entertaining it is the perfect place for group wine-tasting or impressive corporate events.

Business meetings - 247 acres of outdoor space, parking for 100 cars, outer patio for marquees, interior patio, heliport, two fields for activities.

Gourmet - Fine dining restaurant and extensive vineyards that provide 13 different wines for tasting.

Eco break - The estate is fuelled by solar power and rain water.

Resort - Wine resort, 250 acre estate.

Recommended by - Tablet, Kiwi Collection

Check prices

Barcelona, Costa Brava

A charming hotel in a restored Catalan farmhouse. Unique rooms are contemporary yet full of character, with antiques, coloured walls and original features. Outdoor pool, fragrant garden and cosy lounge area. A lovely choice for a laid-back weekend visiting beaches and vineyards.

Beach Life - The beaches of Barcelona and Maresme with sailing, swimming await. Costa Brava's beaches are one hour away

Romantic Break - Rooms based on Spanish cities are ultimate romance, wineyard tours, beaches, local markets and gardens

Sailing - Nautical Santa Susanna

Full of character

Check prices

Tarragona, Catalonia

A charming little hotel in the historic centre of El Perelló. A former olive mill now a rustic B&B. Traditional rooms have wooden beamed ceilings, stone walls and iron bedsteads. Good breakfasts, walking distance to restaurants. Excellent value, perfect for local exploring.

Value chic

Traditional

Sights nearby - Well located for major sights.

Great walks - Good for walkers.

Check prices

Cram 67 rooms from £158

Barcelona

The most notable aspect of this modern hotel, other than its futuristic twist, is its Michelin-starred restaurant, which people flock to. In a great location not far from the Passeig de Gracia, the Plaça Cataluña, and the Ramblas.

Views - From the roof top.

Restaurant - MIchelin-starred.

Close to nightlife

Foodies

Recommended by - Tablet, Frommers

Check prices

Barcelona

A relaxing hotel infused with modern design in a leafy suburb. Spacious living areas, contemporary rooms, suites and apartments, delightful courtyards and an outdoor pool. A sophisticated choice for couples and families alike in a slightly quieter area.

Sights nearby - 10 minutes from the city centre

Great walks - Park Güell.

Swimming Pool - Indoor/outdoor

Local markets - Good for local colour.

Recommended by - Mr & Mrs Smith, I Escape, Tablet

Check prices

Pontevedra (Meano)

A delightful hotel in the countryside of Pontevedra. Elegant rooms feature wooden floors, valley views and frescoes. An outdoor pool, cosy library, and a fragrant fruit tree garden. Outstanding Galician cuisine. Quiet, chic, gourmet. Great for a romantic escape.

Beach Life - Rias Baixas beaches are ten minutes away, plenty of sailing, diving, fishing and island hopping opportunities

Foodies - Much-lauded hotel restaurant serves gourmet Galician market food; wine tours of the region

Sights nearby - Sanxenxo, Cambados, Vigo, Pontevedra

Views - Salnes Valley

Recommended by - Sawdays

Check prices

Vigo

The perfect location for a restorative break in the heart of Vigo. A plethora of massages and treatments are offered by the luxury spa, coupled with a rooftop pool and bar that boast stunning views of the Galician coastline - a chic yet understated hotel not to be missed.

Sauna/Steam - The hotel is renowned for its spa and sauna facilities

Spa - Award winning spa with numerous treatments

Roof terrace - Stunning views of the coastline

Swimming Pool - Rooftop Pool and an indoor pool

Check prices

Allariz

Simple yet charming hotel in the heart of historic Allariz. Rooms are traditionally furnished and rustic in style with wooden beams and exposed stone walls. Perfectly situated to explore both the town and surrounding area of Galicia and Northern Portugal.

Sights nearby - 20 mins from Ourense, an hour from Santiago de Compostela.

Views - Views of the city.

Great walks - Good for walkers.

Traditional

Check prices

Alicante

Gourmet cuisine and pool-side pampering at this chic hotel. Centrally positioned in the historic district of Alicante with stunning views of the cathedral and Santa Barbara Castle - and only 300 metres from the beach. Sophisticated city style.

Foodies - Gourmet cuisine at el Monastrell Restaurant.

City

Spa breaks

City Style

Recommended by - Tablet, Kiwi Collection

Check prices

Jerez

19th-century hunting lodge on the edge of family vineyards, converted into a stylish boutique hotel for enjoying fine sherries and relaxing. Large rooms, high beamed roofs, great bathrooms. Shady garden, swimming pool, and lake. Butler service and honesty bar. Indulgent country retreat.

Country Escape - A tranquil country hotel surrounded by rolling vineyards and charming gardens, only a short drive from the town of Jerez.

Great walks - Wander through the vineyards from the hotel, bring a picnic and explore this stunning landscape.

Full of character

Romantic - Good for couples.

Recommended by - I Escape, Sawdays

Check prices

Jerez (Cadiz)

A sunny spot in central Jerez. Classical creamy rooms and suites with lots of natural light. Lovely pool and garden, restaurant, and meeting rooms. A stylish luxury spot for any visitor to the city.

Luxury

City Style

Sights nearby - Situated right in the centre of Jerez

Swimming Pool - Indoor/outdoor

Recommended by - Fodors

Check prices

Cádiz

Renovated and tranquil hotel in Mozarabic style, full of character. Andaluz, rustic or colonial styled rooms with terracotta hues, Moroccan-style hand-carved arches and wooden beams. Fantastic traditional buffet style breakfasts. Close to the beach and ideal for local exploring.

City Style - A charming hotel in the heart of the city, featuring an uniquely eclectic and interesting decor style rich in history.

Great walks - A great way to see Cádiz are the theatrical guided tours, full of fun and information.

Sailing - If you have a week to spare there are fantastic sailing courses in the local harbour.

Fishing - For all those angelers, the hotel will happily arrange deep sea fishing trips.

Check prices

Seville (Santa Cruz)

Small boutique hotel in city centre. Beautiful collection of antiques. Central courtyard, full of character, with roof terrace, sitting room, bar. Elegant rooms, intimate atmosphere.

Exclusive offer - City Breaks

Great walks - Just over a km fro the Reales Alcázares de Sevilla, the grounds of the royal palace boast lovely gardens.

Sights nearby - Just a few minutes walk from Seville's main attractions- Casa Pilatos, Torre del Oro and Plaza de España.

Local markets - Check out the well-priced boutiques around Calle Sierpes, for shoes, antiques, wine and fans.

Restrictions on children - No children younger than 13 from March - May

Recommended by - I Escape, Fodors, Frommers, Sawdays

Check prices

Seville

This small hotel combines modernity and avant-garde in an architectural and decorative restoration. This hotel is especially for people who look for something different. White washed cubic forms and aluminium canopies. A modern treat.

Contemporary

Quirky - An experience!

Town

Value chic

Recommended by - Tablet

Check prices
comments powered by

Disqus
Search the best hotels in Spain