The 15 Best hotels in Dartmoor National Park
Dartmoor is one of the UK's 15 National Parks. Covering nearly 1,000 square kilometres it is an area of dramatic scenery, wild moorland, remote hill farms and tucked away villages. It is also home to herds of Disney-cute Dartmoor ponies. The River Dart rises high on the moor and spills into the sea at Dartmouth on the south coast of Devon. So as you can imagine, the best hotels in Dartmoor National Park are all set amidst spectacular scenery!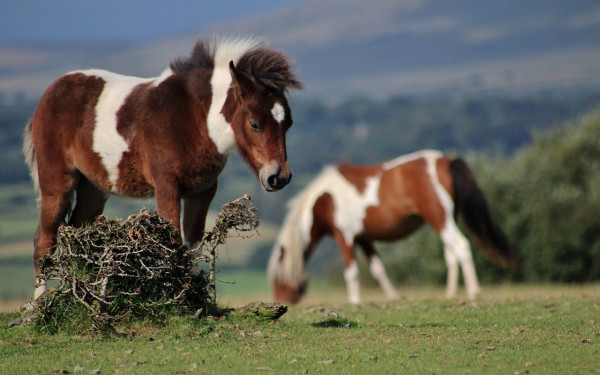 Image by milesl from pixabay
The moor is covered in rocky granite outcrops known as Tors. The granite from Dartmoor has been used locally to build houses, roads, enclosures for animals and large fortunes for 19th Century quarry owners. Visitors and locals use the Tors now as picnic spots, climbing challenges, shelter and even hiding places for secret letters.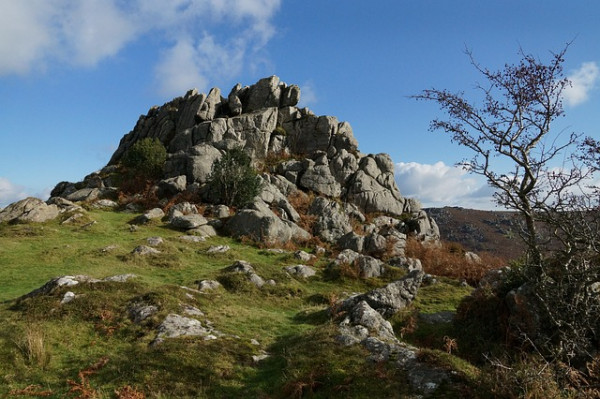 Image by Robert Hughes from Pi
One of the most famous granite buildings on Dartmoor is Castle Drogo, the last castle built in England in the 1920s. Erected by a wealthy retail entrepreneur to improve his social standing and designed by the architect Edward Lutyens, unlike most other castles in England it has never been attacked or had to endure a seige. Outside it is an imposing medieval style fortress and inside a comfortable family home with all early 20th Century mod cons. There is a room of granite and steel and a Norman style library is among many historically themed rooms in this unique house.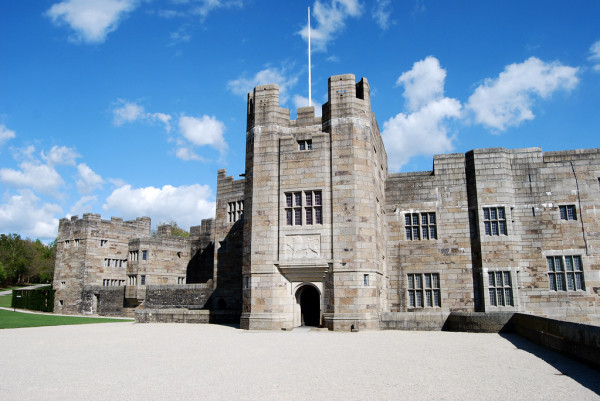 Flickr user aldisley
Buckland Abbey outside Yelverton (and just outside the the National Park itself) is also worth a visit. Originally built as a Cistertian monastery, it was later home to Sir Francis Drake. Now a museum it tells the story of Drake and also of Sir Richard Grenville, a fascinating English naval commander from the 16th century. With its lovely gardens and shop, it makes for a great day out, and is a top picnic spot!
Image by Graham Hobster from P
For those of a more outdoorsy bent, there is much to do in the Dartmoor National Park. There are walks galore, whether you just want a short amble or a more exertive day's hike. Similary there are more than 350km of paths and bridleways suitable for cyclists and horse-riding is a very popular activity. Fishing for brown trout, sea trout and salmon on the River Dart makes a great day out, and canoeing is possible here from October to March.
With lots to see and so much to do in this wonderful area, many of the best hotels in Dartmoor National Park are quickly snapped up, so we'd advise you plan ahead and book early.
The Best Hotels in Dartmoor National Park
For Foodies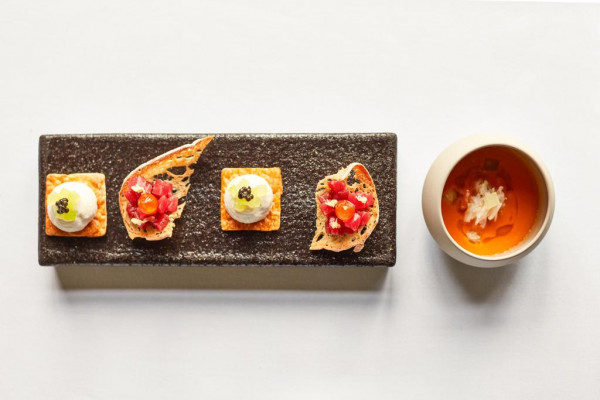 For some laid back luxury or a special occasion, Gidleigh Park near Chagford has newly refurbished spacious, comfortable rooms, beautiful gardens, a lovely tennis court and a Michelin starred restaurant. A great spot for an indulgent country escape.
For families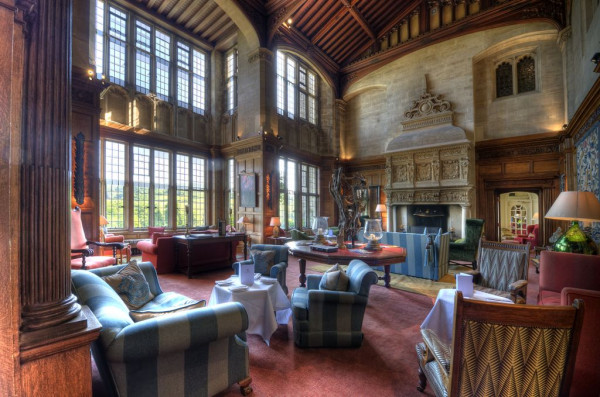 Vast Bovey Castle, built by the family who set up the newsagent chain WH Smith, has been converted into an impressive 60 room hotel with every imaginable service and activity on tap. Inside is the spa, swimming pool and restaurant and outside activities range from golf to egg collecting to fishing, hawking and croquet. It may look imposing but it's a house of fun.
For a chic stay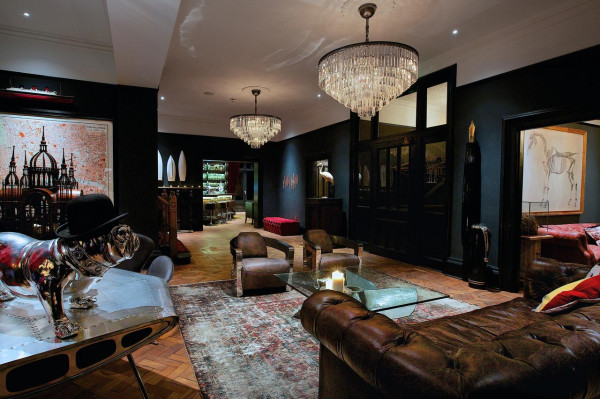 Weeke Barton is a gorgeous small hotel with just five smart rooms on the north eastern edge of Dartmoor, surrounded by the Teign Valley. There's a snug bar, cosy lounge and dining room with wood burners and your four legged friend can come too!
Glazebrook House Hotel is a sleek luxurious hotel with nine rooms, and an excellent restaurant serving classic British cuisine with a modern twist. Location-wise it's great not just for Dartmoor, but for the beautiful beaches of South Devon too.
For a B&B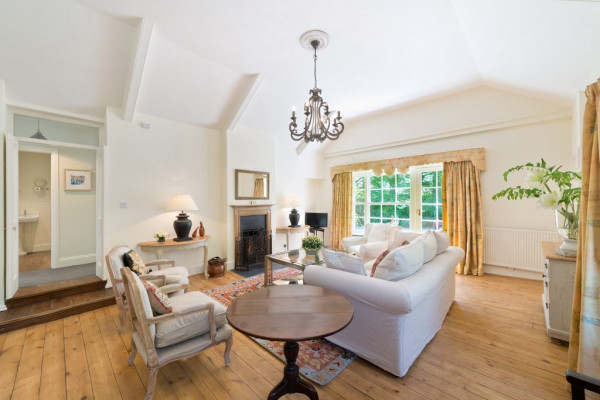 Mitchelcroft enjoys a quiet location with the National Park, and offers three individually styled bedrooms each with a private outdoor seating area for admiring the views.
Burnville Farm is a sophisticated and elegant B&B on the Western edge of Dartmoor. In addition to the four luxurious rooms, there's a beautiful drawing room and evening meals on request.
Kilbury Manor is a charming 17th century listed longhouse, just south of Dartmoor. Set amid four acres of grounds which lead down to the River Dart, there are four stylish bedrooms effortlessly blending old and new.
For a spa break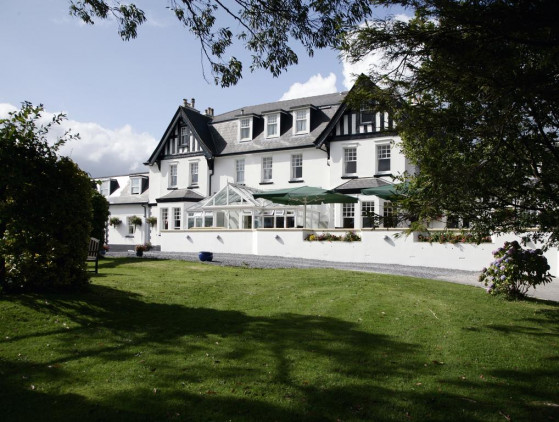 Ilsington Country House is a luxurious escape where you can not only be pampered in the extensive spa, but also enjoy fabulous food (the restaurant has 2AA Rosettes), and bring the whole family (as well as the large indoor heated pool, there are a range of outdoor activities and board games etc to keep the youngsters happy).
For a tradtional feel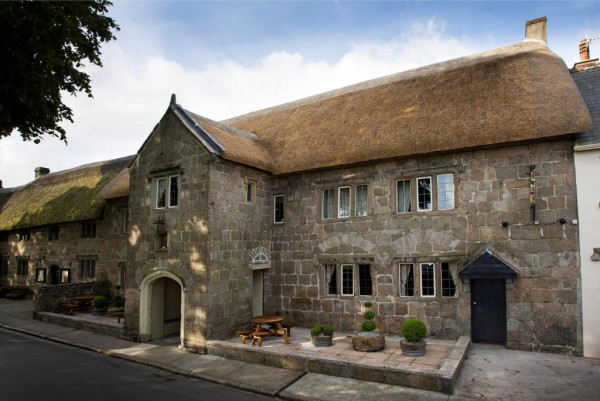 Mill End Hotel is a great option if you're looking for a country escape with a classic feel. Open fires and cosy interiors offer a welcoming feel and the restaurant serves delicious seasonal cuisine.
Prince Hall is another rural gem, right in the middle of the National Park. The nine rooms are done in a classic style and most are spacious with fantastic moorland views. There's an on site restaurant, and dogs are more than welcome!
The Three Crowns in Chagford is a thatched inn that dates back in parts to the 13th century. The rooms are a successful blend of classic design accompanied by all the modern touches and accessories you'd expect from a luxury establishment.
Pubs with rooms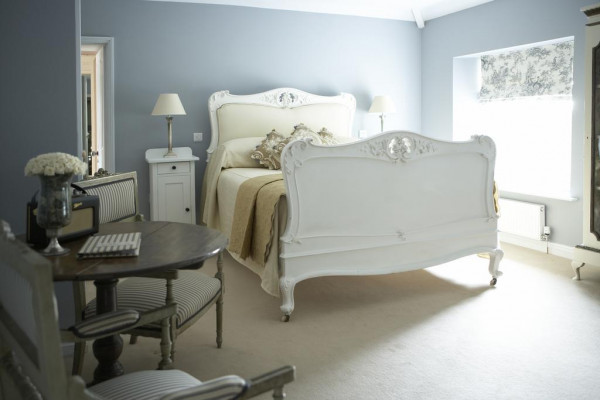 Prefer an apartment or cottage?
If you're travelling with family or a group of friends it may be a better option to book a cottage or apartment. For a wide range of properties for all tastes and budgets we recommend you visit our online partner Booking.com.
Travel information
Fly to the international Exeter Airport which has connections across the UK and Europe. By train travel to either Exeter, Newton Abbot, Totnes, Ivybridge or Plymouth.
The weather in the UK is woefully unpredictable however for the best chance at getting some sunny days travel in the summer months (June - August).
If you plan to hire a car, we recommend you visit our online partner Rentalcars.
Still not sure?
Widen the net and check out all our hotels in Devon.
Or feel free to call or email a friendly guru for advice.
The best hotels in Dartmoor National Park
Fishing - Fly fishing on the River Teign - licenses and tuition provided

Garden - Beautiful landscaped garden

Great walks - There are inumerable lovely walking trails both on thr 107 acres of mature grounds and on nearby Dartmoor.

Tennis - On site tennis cpurts are avaialble for guests useage.

Recommended by - Mr & Mrs Smith, Frommers, Kiwi Collection, Relais & Chateaux, Sawdays

Super luxurious and pampering Dartmoor retreat, on 107 acres of mature grounds. The plush rooms come with antique furnishings, original art and huge sash windows. The Michelin stared food is served in an atmospheric and grandiose dining room. Peaceful, restful and totally heavenly. See More

Check Availability

Bovey Castle

Chagford

64 rooms from £229

Child friendly - Daily egg collecting, meet the ferrets and falconry displays. Colouring books & crayons for little ones at meal times!

Spa - UK's flagship SUNDARI spa

Families

Restaurant - The Edwardian Grill for fine dining and Castle Bistro for more family friendly fare.

Recommended by - Tablet, Frommers, Small Luxury Hotels

Family friendly country hotel with something for everyone: lego room service for the little ones & bespoke spa treatments for the adults! Ideally situated for exploring the wilderness of Dartmoor and more activities on site than you can imagine. See More

Check Availability

Weeke Barton

Bridford, Devon

5 rooms from £120

Great walks - Dartmoor rambling

Secluded setting - For escaping.

Full of character

Local markets - Good for local colour.

Recommended by - Mr & Mrs Smith, I Escape, Sawdays

Rustic chic - Grade II Listed Weeke Barton, with 5 gorgeous en-suite rooms, licensed dining and 5 acres of wild but kept gardens tucked away in the beautiful rolling hills of Dartmoor. See More

Check Availability

Great walks - Dartmoor National Park is full of wonderful walking routes.

Sights nearby - Take a visit to Totnes Castle.

Restrictions on children - Adult only.

Romantic - Good for couples.

Chic and sleek are probably not the words people associate with Dartmoor but they certainly fit the bill at Glazebrook House Hotel. Featuring wonderfully designed rooms and an excellent restaurant, it's perfect for people looking for a hip base from which to explore Devon. See More

Check Availability

Mitchelcroft

Buckfastleigh (Dartmoor)

3 rooms from £85

Country Escape - Boasting a secluded spot within Dartmoor National Park.

Great walks - Take long walks along the endless and picturesque walking trails running through Dartmoor.

Kayaking - Dicover the beauty of the South Devon coast in a kayak.

Full of character

A characterful B&B boasting an enviable location in the heart of Dartmoor. Three individually styled rooms are light and comfortable and offer private outdoor seating areas to enjoy the views. Indulgent breakfasts are served in a contemporary breakfast room with floor to ceiling windows. See More

Check Availability

Burnville Farm

Dartmoor, Devon

4 rooms from £95

Sights nearby - Take a day trip to Tavistock, voted the UK's best market town.

Great walks - Dartmoor National Park is full of superb walking routes.

Swimming Pool - Seasonal outdoor pool

Recommended by - Sawdays

Set on a beautiful Devonshire farm amidst rolling green fields, Burnville Farm is an excellent B&B. Boasting lovely rooms, an outdoor pool and stunning views, it's a great base for exploring Dartmoor. Also offer self-catering cottages that are great for families and groups. See More

Check Availability

Kilbury Manor

Buckfastleigh

5 rooms from £85

Country Escape - Proper country living - experience life in a true English rural idyll

Local markets - Good for local colour.

Birdwatching - Good birding near the hotel.

Sights nearby - Well located for major sights.

Recommended by - Good Hotel Guide, Sawdays

A 17th century listed cottage situated to the south of Dartmoor National Park. Friendly, comfortable B&B with a beautiful garden. Large rooms with stylish decor - a mix of traditional and contemporary. Two are situated in the converted barn. The perfect place to relax and unwind. See More

Check Availability

Spa breaks - A country house and contemporary spa which uses the latest technology alongside touches of ancient Tibetan knowledge.

Swimming Pool - Indoor pool

Views - Great views from hotel

Secluded setting - For escaping.

Recommended by - Good Hotel Guide

A quintessentially British country house set in beautiful, rugged Dartmoor. Charming rooms feature soft hues, tartan fabrics and sink-into beds. A fabulous restaurant (using the freshest local produce) and indulgent spa are a welcome respite after a day spent on the moors. See More

Check Availability

Prince Hall

Dartmoor, Devon

9 rooms from £176

Sights nearby - Go and visit local sights such as Lydford Castle and Castle Drogo.

Great walks - Go for lovely walks in the surrounding countryside.

Restaurant - Seasonally changing menu

Full of character

Tucked away in the Devonshire countryside, Prince Hall is a lovely rural retreat. Boasting smart, spacious rooms and beautiful views out over moorland. There is a great a la carte restaurant. It is a lovely place to relax in a rural setting. See More

Check Availability

Three Crowns

Chagford (Dartmoor)

21 rooms from £105

Active Holiday - With Dartmoor National Park on your doorstep there's a host of outdoor activities on offer.

Great walks - Stroll through Stone Lane Gardens, an enchanting 5-acre woodland garden on the edge of the Dartmoor National Park.

Fishing - Try your hand at fly-fishing on Dartmoor's rivers and lakes.

Full of character

A charming inn set in Chagford and surrounded by the rugged and beautiful Dartmoor National park. Simply dressed rooms mix contemporary and traditional styles with feature wallpaper, crisp white linen and soft hues. A fabulous restaurant beautifully showcases local produce. See More

Check Availability

The Rock Inn

Newton Abbot, Devon

9 rooms from £95

Sights nearby - Buckfast Abbey (famous for their tonic wine), Castle Drogo, Powderham Castle are a short drive.

Great walks - Yarner Wood The nearby Yarner Wood is superb for walking.

Views - Great views from hotel

Four poster beds - For romantics.

Recommended by - Good Hotel Guide

Welcoming guests since the 1800's this country inn is located within Dartmoor National Park. It is traditional in style with exposed beams and antique decor. There is a charming self contained holiday rental cottage, plus dogs are welcome! The restaurant focuses on fresh, local fish and good wine. See More

Check Availability

The Dartmoor Inn

Okehampton, Devon

3 rooms from £115

Local exploring - A great base for exploring the Dartmoor National Park.

Great walks - The surrounding countryside is full of beautiful walking routes.

Restaurant - Recommended.

Full of character

Nestled into the Dartmoor National park, so is perfectly positioned for exploring the area. The inn offers excellent accommodation and fine dining in the restaurant. The Dartmoor Inn is intimate and charming with three homely bedrooms and a popular pub. See More

Check Availability

Active Holiday - Dartmoor National Park offers a plethora of outdoor pursuits.

Great walks - Explore the miles of secenic walking trails that run through Dartmoor.

Full of character

Lively - Hip and happening.

An atmospheric inn set in the heart of the pretty market town of Chagford. Individually styled rooms are spacious and bright with large sash windows and boldly patterned fabrics in soft hues. A lively restaurant serves traditional fare using local produce. Perfect for exploring the moors. See More

Check Availability

Great walks - There are lots of wonderful walking routes right from the Inn.

Sights nearby - Take a trip to nearby Lydford Castle.

Romantic - Good for couples.

Restaurant - Recommended.

Positioned on the edge of Dartmoor National Park, The Elephant's Nest Inn is a delightful small hotel. The centrepiece is the fantastic pub and restaurant which oozes character and charm. Upstairs, three lovely rooms offer guests a comfortable place to rest their heads. See More

Check Availability
posted Tuesday, 8th March 2022