11 of Broadway's Best Hotels, New York
Broadway. It's where the neon lights are brightest, and where the city that never sleeps spends a lot of its evenings not sleeping. This is the home New York theatre. And for many people, taking in a Broadway show is part of the New York experience. Which is why our recommendations for 11 of Broadway's best hotels might be helpful - after all, it's nice not to have to worry about being caught in traffic on the way to the theatre and missing the first number, and not to have to worry about coming out of a show and trying, with the thousands of other people doing the same, to hail a taxi!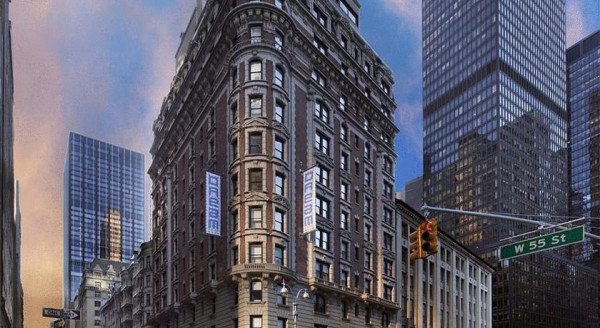 We're focussed mainly on the bit of Broadway as it crosses Times Square and Duffy Square, the Manhattan bit, lined with theatres and advertising for theatres. But technically Broadway is 21kms long - I'll bet you didn't know that, right? All the way from Bowling Green to Sleepy Hollow - even that sounds romantic, doesn't it? And it's one of the few roads in New York that doesn't follow the grid exactly. This is because it dates from the New Amsterdam period - that's how old it is. This under-known fact can sometimes make it tricky when you start searching for the best hotels on Broadway, but don't worry, we're keeping you right by the action, though not always in the thick of it.
11 of Broadway's Best Hotels
Broadway's Best Luxury Hotels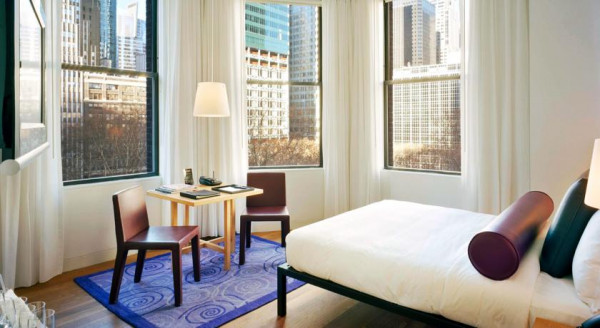 The Bryant Park Hotel is a black and gold, Gothic landmark overlooking Bryant Park. The 128 rooms are light and minimal feeling, but with bathtubs and city views. The KOI sushi restaurant is popular with locals and the bar is a lively start to the night.
I'm not sure if The London appeals because I imagine it to be a home from home, or because it's stylish and understated, with surprisingly expansive rooms and suites and a restaurant by Gordon Ramsey?
The Most Romantic Hotels for Broadway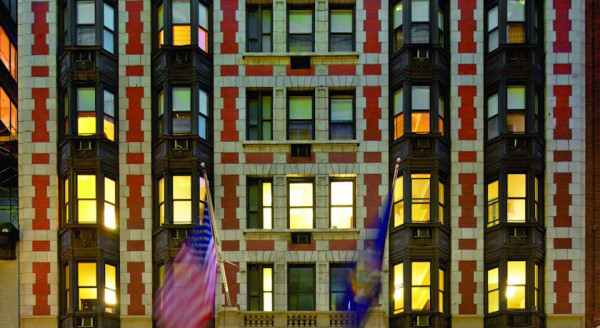 The Algonquin Hotel opened its doors in 1902 and has been doing a roaring trade ever since, probably helped along by the fact that Dorothy Parker and the Algonquin Round Table (otherwise known as the 'vicious circle') would meet everyday for lunch throughout the 1920s. The decor is gorgeous, an antique lover's dream, and they even still have a hotel cat - her name is Matilda.
The Refinery Hotel is not a luxury hotel converted from an oil refinery, but a hat factory. The 197 plush rooms have high ceilings, hardwood floors, contemporary artworks and some offer views of the Empire State Building. The industrial conversion vibe is mixed with a suave contemporary flare to great effect.
The Best City Break Hotels for Broadway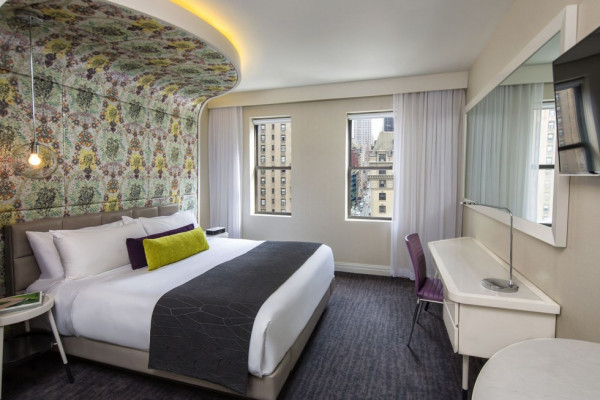 The Dream Hotel has more going for it than just a great name, this modern hotel has 210 smartly decorated bedrooms and suites, a cool nightclub/ cocktail bar on the roof terrace with a panoramic view of Times Square, and quirky details - think a statue of Catherine the Great in the lobby and a two storey aquarium.
The Westhouse Hotel is technically closer to MOMA than Broadway or Times Square, but this exclusive hotel's location is just really convenient for a lot of places, Central Park and Times Square included. Channeling rich 1920s glamour with a touch of Art Deco, it boasts crystal chandeliers, polished wooden floors, a vintage speakeasy bar and al fresco dining on the 23rd floor.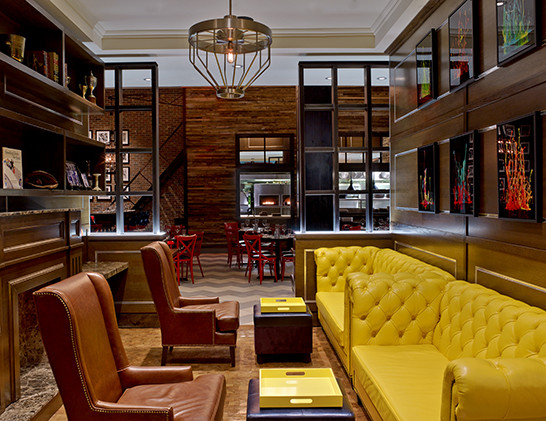 As well as Broadway, the Archer New York is close to the Garment District, Grand Central Station and the Empire State Building. The feel is quite quirky, blending downtown-style brick walls and industrial spaces with uptown decorative influences. Plus, the rooftop bar, Spyglass offers irresistible panoramic views.
The Best Value Hotels for Broadway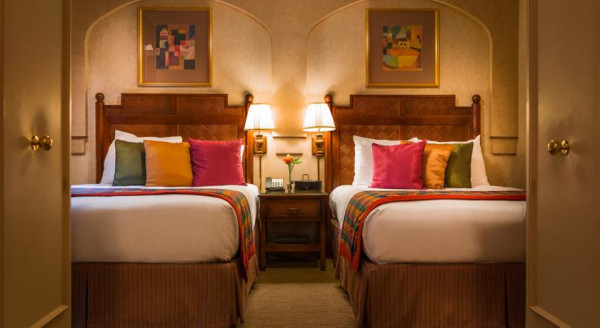 Vibrant and friendly, the Casablanca Hotel is one of the best places to stay if you want to be right in the heart of things. The decor, as you may have guessed, is Moroccan, with beautiful mosaics, tapestries ad paintings, impressive rugs and even ornate ceiling fans. These unique, careful touches, and the fact that it's incredibly well priced for the location, means that the 48 rooms are often booked solid with repeat guests.
The City Club Hotel feels like a gentlemen's club because that's what it used to be: subtly luxurious, classy and welcoming. The French-American restaurant is curated by award-winning chef Danial Boulud, and it's got a bit of French glamour too.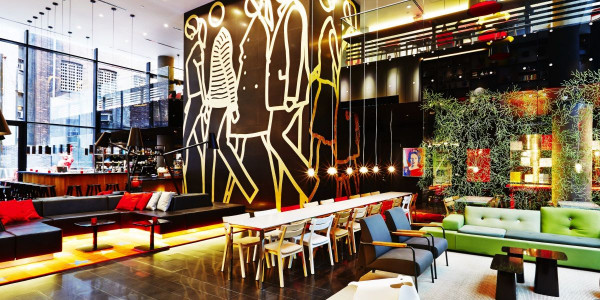 CitizenM New York is another in that set of innovative, modern, no-frills-hotels-with-funky-design-frills. It's about one minute from Times Square, has wal-to-wall windows and a panoramic rooftop bar. Also part of a great value chain, Room Mate Grace is a funky and lively hotel just minutes from Broadway with surprisingly great spa facilities, a colourfully illuminated indoor pool with underwater music and a swim-up bar. Rooms start from about £130 per night.
If you haven't found you idea of Broadway's Best Hotels on our Guru's list of 11 you could try:
11 of Broadway's Best Hotels
Sights nearby - Grand Central Terminal and Times Square are closeby, and directly opposite New York City's Bryant Park.

Great walks - Central Park or head down to New York Harbour to see the Statue of Liberty.

Lively area - In the thick of the action.

Lively - Hip and happening.

Recommended by - Tablet, Fodors

This black and gold gothic landmark overlooks Byrant Park in the heart of Soho. Light, sharp rooms with luxury linens, bathtubs and city views. KOI sushi restaurant is popular with locals and the bar is a lively start to the night. Location is spot on for nightlight as well as daytime exploring. See More

Check Availability

City Style - Located a 5 minute walk from Central Park of which many rooms have great views, and 7 minutes from the shopping on 5th Avenue.

Business meetings - Sophisticated meeting/ event rooms for up to 200 guests, state-of-the-art technology and award-winning event specialists

Foodies - Gordon Ramsay's fantastic and coveted restaurant is a major draw for any guest.

Views - Great views from hotel

Recommended by - Tablet

Grand hotel in prime location a few minutes from Central Park. Stylish, modern and understated, the rooms are spacious and the suites are expansive. The addition of the Gordon Ramsay, a sophisticated creation of the Michelin-starred chef, enhances the luxurious aspect of this hotel. See More

Check Availability

Sights nearby - This downtown hotel is just seven minute walk from Times Square and ten from the Rockefeller Center.

Literary - A well-known literary history.

Historic - Oldest-running hotel in NYC.

Business Hotel

Historic Manhattan hotel and host to the city's artistic and cultural elite. Old-world charm and contemporary comforts to suit anyone on business or leisure. The hotel was newly refurbished in 2004 but retains its original opulent charm. See More

Check Availability

Dream Hotel

New York

210 rooms from £207

Local exploring - In the heart of New York - the city, broadway especially, is on your doorstep

Families - Children under 17 staying in parents room stay free.

Great walks - Central Park closeby

Sights nearby - Times Square

A modern hotel with quirky touches - perfectly located for a Manhattan getaway. A variety of smartly decorated bedrooms and a guesthouse suite. Cool night club spot on the roof top terrace with panoramic views of Times Square and a popular cocktail bar. A lively destination. See More

Check Availability

Refinery Hotel

New York

197 rooms from £324

City Style - A fashionable hotel in the heart of the Garment District- boasting a jazz bar, buzzy restaurant and chic interiors

Great walks - You are just moments from the lovely Bryant Park

Romantic - Good for couples.

Lively - Hip and happening.

Recommended by - Small Luxury Hotels, Tablet

A fabulous luxury hotel in a former hat factory, in New York's Garment District. Plush rooms boast high ceilings, hardwood floors, contemporary artworks and some offer views of the Empire State Building. The industrial conversion vibe is mixed with a suave contemporary flare to great effect. See More

Check Availability

Local exploring - Just over a mile from Times Square, 5 minutes from Bryant Park and close to popular shops such as Tiffany & Co, Prada and Apple.

City Style - Glamorous 22-story hotel in the heart of the Garment District with quirky, curated luxuries and decoration.

Views - The bar on the 21st floor has fantastic views of the Chrysler and Empire State Buildings.

Lively area - In the thick of the action.

Recommended by - Tablet

Quirky hotel blending downtown-style brick walls and industrial spaces with uptown decorative influences, located in the Garment District just a mile from Times Square. The modern rooms are chic and delicately decorated, and the rooftop bar, Spyglass offers irresistible panoramic views. See More

Check Availability

City Style - Beautiful rooftop terrace, exclusive lounge and bar, and an award-winning concierge skilled at building specialised itineries.

Families - A number of rooms are available that cater for children: double and connecting rooms which also provide childrens bathrobes.

Local exploring - Located in Midtown Manhattan, an 8-minute walk from Times Square, and 3-minutes from Central Park.

Designer - Uniquely designed interiors.

Recommended by - Mr & Mrs Smith, Tablet, Small Luxury Hotels

Exclusive hotel in a fantastic location, a few minutes from Times Square and Central Park. Channeling rich 1920s glamour with a touch of Art Deco, it boasts crystal chandeliers and polished wooden floors. Designer decor in the rooms, a vintage speakeasy bar, and al fresco dining on the 23rd floor. See More

Check Availability

Sights nearby - Located just a few steps from Times Square and Rockefeller Center.

Great walks - Bryant Park is just a seven minute walk away from the hotel.

Romantic - Good for couples.

Lively - Hip and happening.

Recommended by - Fodors, Frommers

An individual and stylish hotel just steps from Times Square. The funky Moroccan themed rooms and opulent old school bars featuring live piano sets, will transport you to another time. A warm and welcoming spot in an enviable location - perfect for a charming city stay. See More

Check Availability

City Style - Former gentleman's club turned into chic hotel in fantastically central location with award-winning cuisine from Daniel Boulud.

Local exploring - 3 blocks from Times Square, half a mile from the Rockefeller Centre and close to shops like Tiffany & Co, Prada and Apple

Foodies - Daniel Boulud's coveted cuisine has Manhattan's fastidious foodies queuing to try it.

Lively area - In the thick of the action.

Recommended by - I Escape

Impressive former gentleman's club preserving the glamour and style as a hotel just minutes from Times Square and Broadway. The subtly luxurious decor of the bedrooms exudes warmth and class, and award-winning chef Daniel Boulud serves up a coveted menu of French-American dishes in the restaurant. See More

Check Availability

City Style - In the heart of Manhattan, a few minutes from Times Square and Central Park, and rooms have wall-to-wall windows for great views

Value chic - The hotel is modern, chic, and at the epicentre of NYC, but strives to provide the most reasonable prices.

Local exploring - Located so centrally, this hotel is perfect for anyone wanting to explore New York from its very heart.

Views - The 360 degree views from the panoramic rooftop bar are truly spectacular.

Innovative and modern hotel in the heart of Manhattan, 1 minute from Times Square. It prioritises experience and value: bright, cosy, clean rooms, all with wall-to-wall windows to immerse the guest in the bustle of NYC at a reasonable price. A panoramic rooftop bar also provides spectacular views. See More

Check Availability
posted Wednesday, 9th December 2020