Broadway's 13 Best Hotels, New York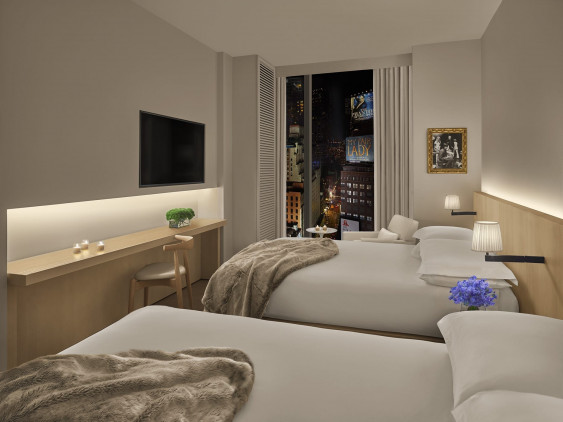 Broadway shows and the bright lights of Times Squaure are so synonymous with New York that booking a hotel in this area ensures a real NYC experience. Quiet and subdued it is not, but if you want your trip to involve the theatre, dinner, and perhaps even dancing after — this is a great destination. As one of the most visited areas in the city, there is also a good selection of hotels. Broadway's best hotels range from stately five star properties to foodie's picks; there are also a wide choice of great value stays if you are on a budget. Our hotel experts have hand selected their favourites, so why not browse through our collection to start planning your trip?
For a luxury hotel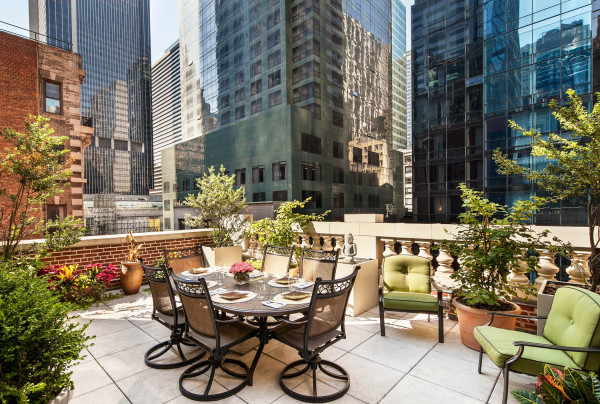 The Bryant Park Hotel is a black and gold Gothic landmark overlooking Bryant Park. The 128 rooms are light and minimal feeling, but with bathtubs and city views. The KOI sushi restaurant is popular with locals and the bar is a lively start to the night.
The Chatwal is a historic 44th Street hotel, built in 1905, where art-deco design blends seamlessly with modern conveniences. Luxuries include a spa and personal butler service as standard. However, it is the gourmet dining at The Lambs Club, a historic culinary landmark set in gilded deco period surrounds, that really impresses.
For romance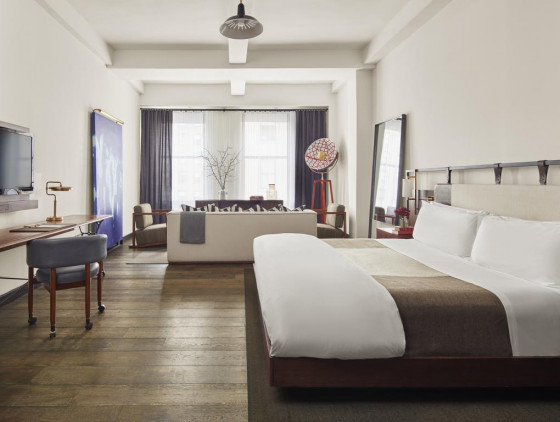 The Algonquin Hotel opened its doors in 1902 and has been doing a roaring trade ever since, probably helped along by the fact that Dorothy Parker and the Algonquin Round Table (otherwise known as the 'vicious circle') would meet every day for lunch throughout the 1920s. The decor is gorgeous, an antique lover's dream, and they even still have a hotel cat.
The Refinery Hotel is not a luxury hotel converted from an oil refinery, but a hat factory. The 197 plush rooms have high ceilings, hardwood floors, contemporary artworks and some offer views of the Empire State Building. The industrial conversion vibe is mixed with a suave contemporary flair to great effect.
For foodies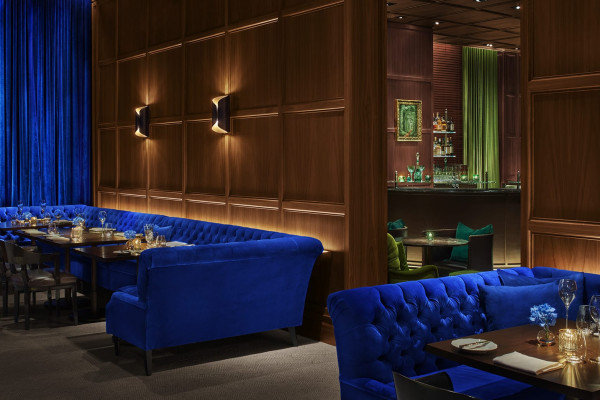 The Times Square Edition is a crisp, slick, modern hotel and destination for food lovers. The Michelin starred 701West boasts an acclaimed a la carte menu and sumptuous surroundings for unforgettable meals just minutes from Broadway.
For a city break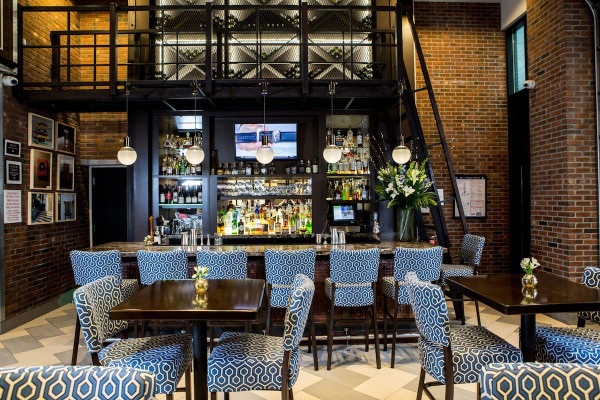 As well as Broadway, the Archer New York is close to the Garment District, Grand Central Station and the Empire State Building. The feel is quite quirky, blending downtown-style brick walls and industrial spaces with uptown decorative influences. Plus, the rooftop bar, Spyglass offers irresistible panoramic views.
For great value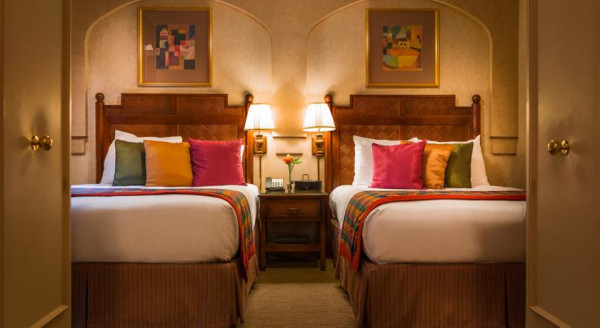 For city style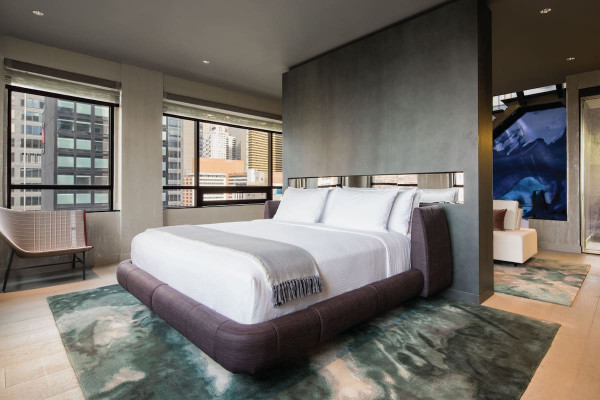 The Time New York is a hidden gem perfectly located just steps from Times Square. Stylish modern rooms are decorated in dusky pastels and boast slate bathrooms reimagined as wetrooms with rainfall showers. With Intriguing geometric artwork and a chic lounge and bar — this is a stylish and convenient base to return to after an evening at the theatre.
Merrion Row Hotel & Public House is a chic boutique hotel situated in the heart of Times Square. Drawing on the style of a Dublin townhouse, guestrooms have pastel walls set off by brass fittings and royal blue accents, plus art inspired by Ireland. A fun and laidback option perfect for a stylish city crashpad.
Moxy NYC Times Square is a lively and social boutique hotel just steps from Times Square. Contemporary rooms are compact yet well designed with epic city views. Relish the sunset and savour a cocktail at Magic Hour, the largest all-season, indoor/outdoor rooftop bar in NYC with its own mini amusement park. A good option for the young and trendy.
Still not sure where to book?
Expand your search to include our list of the best places to stay in New York or our Guru's recommendations for Manhattan's Best Hotels.
You could try our Guru's recommendations for 7 of the Best Midtown Manhattan Hotels, 5 of the Best Uptown Manhattan Hotels, 4 of the Best Hotels for Wall Street and the Financial District or 12 of Times Square's Best Hotels.
Alternatively, you could contact one of our friendly Gurus for personalised advice.

Sights nearby - Grand Central Terminal and Times Square are closeby, and directly opposite New York City's Bryant Park.

Great walks - Central Park or head down to New York Harbour to see the Statue of Liberty.

Lively area - In the thick of the action.

Lively - Hip and happening.

Recommended by - Tablet, Fodors

This black and gold gothic landmark overlooks Byrant Park in the heart of Soho. Light, sharp rooms with luxury linens, bathtubs and city views. KOI sushi restaurant is popular with locals and the bar is a lively start to the night. Location is spot on for nightlight as well as daytime exploring. See More

Check Availability

Sights nearby - This downtown hotel is just seven minute walk from Times Square and ten from the Rockefeller Center.

Literary - A well-known literary history.

Historic - Oldest-running hotel in NYC.

Business Hotel

Historic Manhattan hotel and host to the city's artistic and cultural elite. Old-world charm and contemporary comforts to suit anyone on business or leisure. The hotel was newly refurbished in 2004 but retains its original opulent charm. See More

Check Availability

Refinery Hotel

New York

197 rooms from £324

City Style - A fashionable hotel in the heart of the Garment District- boasting a jazz bar, buzzy restaurant and chic interiors

Great walks - You are just moments from the lovely Bryant Park

Romantic - Good for couples.

Lively - Hip and happening.

Recommended by - Small Luxury Hotels, Tablet

A fabulous luxury hotel in a former hat factory, in New York's Garment District. Plush rooms boast high ceilings, hardwood floors, contemporary artworks and some offer views of the Empire State Building. The industrial conversion vibe is mixed with a suave contemporary flare to great effect. See More

Check Availability

Local exploring - Just over a mile from Times Square, 5 minutes from Bryant Park and close to popular shops such as Tiffany & Co, Prada and Apple.

City Style - Glamorous 22-story hotel in the heart of the Garment District with quirky, curated luxuries and decoration.

Restaurant - David Burke's fabrick serves modern American cuisine for the guests in an open, modern dining room.

Views - The bar on the 21st floor has fantastic views of the Chrysler and Empire State Buildings.

Recommended by - Tablet

Quirky hotel blending downtown-style brick walls and industrial spaces with uptown decorative influences, located in the Garment District just a mile from Times Square. The modern rooms are chic and delicately decorated, and the rooftop bar, Spyglass offers irresistible panoramic views. See More

Check Availability

Sights nearby - Located just a few steps from Times Square and Rockefeller Center.

Great walks - Bryant Park is just a seven minute walk away from the hotel.

Romantic - Good for couples.

Lively - Hip and happening.

Recommended by - Fodors, Frommers

An individual and stylish hotel just steps from Times Square. The funky Moroccan themed rooms and opulent old school bars featuring live piano sets, will transport you to another time. A warm and welcoming spot in an enviable location - perfect for a charming city stay. See More

Check Availability

City Style - Former gentleman's club turned into chic hotel in fantastically central location with award-winning cuisine from Daniel Boulud.

Local exploring - 3 blocks from Times Square, half a mile from the Rockefeller Centre and close to shops like Tiffany & Co, Prada and Apple

Foodies - Daniel Boulud's coveted cuisine has Manhattan's fastidious foodies queuing to try it.

Restaurant - DB Bistro Moderne from award-winning chef Daniel Boulud: French-American cuisine in a lively front room or intimate back room.

Recommended by - I Escape

Impressive former gentleman's club preserving the glamour and style as a hotel just minutes from Times Square and Broadway. The subtly luxurious decor of the bedrooms exudes warmth and class, and award-winning chef Daniel Boulud serves up a coveted menu of French-American dishes in the restaurant. See More

Check Availability

City Style - In the heart of Manhattan, a few minutes from Times Square and Central Park, and rooms have wall-to-wall windows for great views

Value chic - The hotel is modern, chic, and at the epicentre of NYC, but strives to provide the most reasonable prices.

Local exploring - Located so centrally, this hotel is perfect for anyone wanting to explore New York from its very heart.

Views - The 360 degree views from the panoramic rooftop bar are truly spectacular.

Innovative and modern hotel in the heart of Manhattan, 1 minute from Times Square. It prioritises experience and value: bright, cosy, clean rooms, all with wall-to-wall windows to immerse the guest in the bustle of NYC at a reasonable price. A panoramic rooftop bar also provides spectacular views. See More

Check Availability

City Style - In the heart of New York, the city that never sleeps, guests are just a minute away from all the fun

Local exploring - Catch a Broadway show, sample international cuisine or admire world-famous attractions

Sights nearby - Visit iconic NY landmarks like Times Square and Rockefeller Plaza, less than a 10 minute walk away

Restaurant - Serafina, located on the first floor, is a charming dining spot with its heart in Northern Italy

A hidden gem nestled in the Theater District, just steps from Times Square. Spacious, stylish and contemporary rooms have dusky pastels and slate bathrooms reimagined as wetrooms with rainfall showers. Intriguing geometric artwork; a chic lounge and bar; this hotel is full of surprises. See More

Check Availability

City Style - Situated in the heart of New York City, stylish rooms wih views over Times Square provide the archetypical city style experience

Foodies - The 701West, rated 3 stars by The New York Times, proffers outstanding dishes to complement an impressive Old World wine list

Close to nightlife - Conveniently located in one of New York's best districts for comedy, clubs, bars and theatre

Sights nearby - Minutes from Times Square intersection, Broadway and Central Park, this location is a perfect sightseeing base

Savour breathtaking views in the heart of New York at The Times Square EDITION. A crisp, slick, modern hotel and destination for food lovers. The Michelin starred 701West boasts an acclaimed a la carte menu and sumptuous surroundings for unforgettable meals just minutes from Broadway. See More

Check Availability

The Chatwal

New York (Midtown Manhattan)

76 rooms from £398

Romantic Break - Impressive and decedant, the plush rooms and unparalleled services lend themselves to a romantic stay

Foodies - Gourmet dining at The Lambs Club, a historic culinary landmark set in gilded deco period surrounds

City Style - One of the city's most beloved and eminent establishments, in the heart of stylish Manhattan

Designer - The hotel features a collection of specially designed suites by Thierry Despont

This historic 44th St. hotel, built in 1905, continues to impress and enchant with art-deco design blending seamlessly with modern conveniences. Equipped with an excellent restaurant, spa and sauna, and a personal butler as standard, the Chatwal offers a personal and bespoke service for every guest. See More

Check Availability

Romantic Break - With stylish suites and a charming Irish bar and restaurant onsite, book this hotel for your next romantic getaway

City Style - With boutique interiors and an unbeatable New York location, this hotel has reams of chic city style

Local exploring - Set in the midst of the New York theatre district, there is plenty to explore local to this hotel

Sights nearby - Step out of the hotel into the bright lights of Times Square, one of the most iconic locations in New York

Recommended by - Tablet

This boutique hotel sits in the heart of New York's Times Square. Drawing on the style of a Dublin townhouse, guestrooms have pastel walls set off by brass fittings and royal blue accents, plus art inspired by Ireland. Have pre-theatre dinner at the restaurant or relax in the bar after sightseeing. See More

Check Availability

Local exploring - A New York minute from everywhere you want to be: the Theater District, Garment District, 5th Avenue shopping and Hudson Yards

City Style - Sip on artisan cocktails whilst gazing at the skyline at THE best rooftop bar in the whole of Manhattan

Hotel Entertainment - Magic hour has an "urban amusement park" concept, nightly live DJs and epic skyline views

Value chic - Contemporary and stylish rooms in a prime location at an affordable price

A lively and social boutique hotel just steps from Times Square. Contemporary rooms are compact yet well designed with epic city views. Relish the sunset and savour a cocktail at Magic Hour, the largest all-season, indoor/outdoor rooftop bar in NYC with its own mini amusement park. Manhattan chic. See More

Check Availability
posted Monday, 3rd May 2021