Top Tips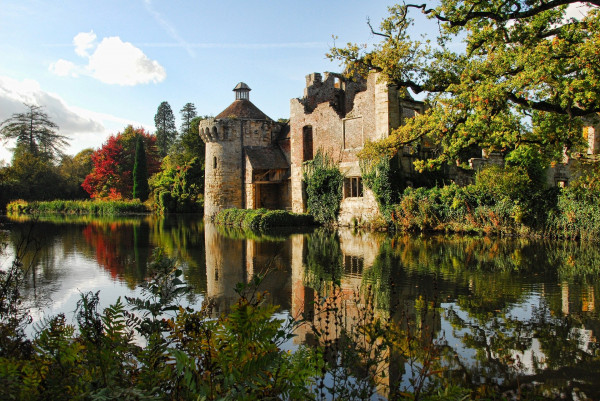 Image by Graham Hobster from P
Charming Kent, regularly called the 'Garden of England', is a popular destination, loved for its coastlines as much as its lush fields and forests, its historic towns and centres, and iconic, chimney-shaped oast houses. And whatever your reason for visiting, the Hotel Guru's guide to Kent's towns and centres will help you find the right base for your Kent trip.
Guide to Kent's Towns and Centres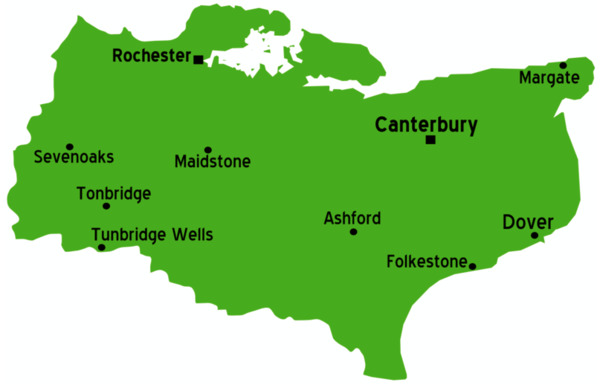 User: (WT-shared) Paul. at wt
Often seen as the gateway to France, and the rest of Europe, or the choice for a quick London exit, Kent offers more than enough to make it a headline destination for a longer holiday. Canterbury, Sandwich and Royal Tunbridge Wells have plenty of historic and architectural sights. Then there's Hever Castle of Anne Boleyn, Sissinghurst of Vita Sackville-West, and Chartwell of Winston Churchill, plus atmospheric Leeds Castle, and Dover Castle with its war tunnels. Kent's coastline is varied enough to offer both a swanky mini-break, or a traditional family seaside holiday. And, as well as orchards, hop farms, country lanes and bluebell woods, Kent is also well known for its wineries, and its local beers and ales. Which has certainly raised the profile of local gastropubs and restaurants too.
You can get around Kent by rail if you like, but as with all the UK's counties, you'll see more if you have your own means of transport, even if it's just a bike. And you'll find it much easier to see all the National Trust highlights if you have your own car.
Canterbury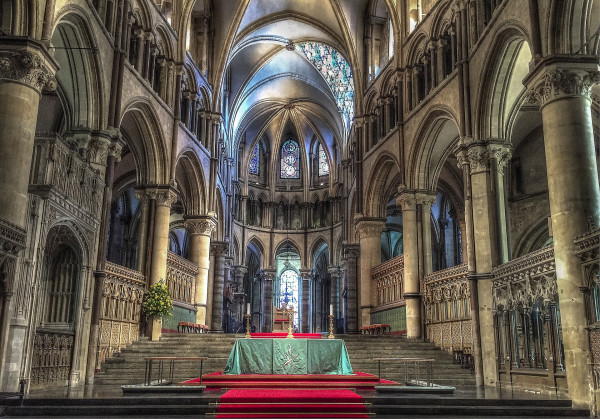 Image by Greg Waskovich from P
Canterbury Cathedral is the city's headline attraction; it's widely considered one of the finest cathedrals in Europe. Its grand, white Gothic facade dominates the city physically too, surrounded by a footprint of medieval alleyways and heritage-listed buildings, which include lively pubs and great independent boutiques, before you get to the riverside gardens and the ancient city walls. Canterbury has been welcoming visitors on a serious scale since the 12th century when this was a site of pilgrimage, and contemporary Canterbury can still be very busy. Today there's a big student population too, which helps to keep the atmosphere lively and friendly, and the costs down in some pubs.
Canterbury is less than an hour from London on the train, and once you get here you're probably best getting around on foot — it only takes about ten minutes to walk the length of the high street — or by bike. It's especially popular at Christmas, when the city is really well decorated with lights and Christmas markets.
Pros and Cons
Pros: picturesque, historic, good range of places to eat and drink, many museums, compact
Cons: busy, small, not much outside the centre of town
Ideal For: history-buffs, sightseers, city breakers
Discover our recommended hotels in Canterbury, Kent.
Royal Tunbridge Wells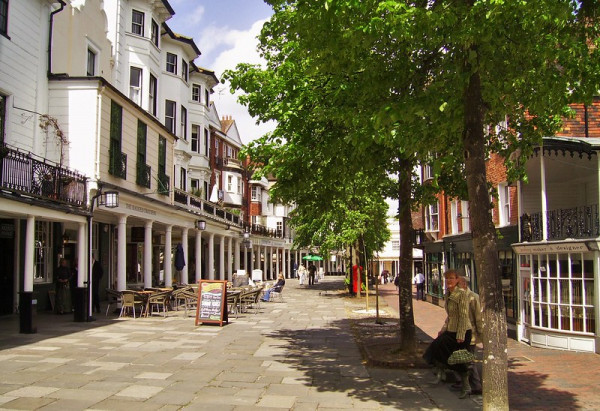 By Flickr user grassrootsgroun
Tunbridge Wells received its 'royal' status care of Edward VII in 1909, but the restorative powers of its springs had made this a popular spot during the 17th century, and it was Queen Victoria who really put it on the map, so it's got a very Victorian look to its central streets. These days there's still a resort-y feel to the town, with shopping streets that lean towards the higher end of the chain stores, and some really charming independents. The same can be said for Royal Tunbridge Wells's restaurant, cafe and bar scene. Royal Tunbridge Wells has some lively gardens, and several small, but excellent, museums, plus there's an old steam railway, and a clutch of local National Trust and English Heritage properties. There are also some well known local walking trails in the woods and country parks close to the town.
The centre is small enough to get around on foot, and there are good bus and rail connections to London and other regional centres.
Pros and Cons
Pros: historic, peaceful, elegant, well located for seeing more of Kent
Cons: quiet
Ideal For: a relaxed mini-break
Discover our recommended hotels in Royal Tunbridge Wells, Kent.
Dover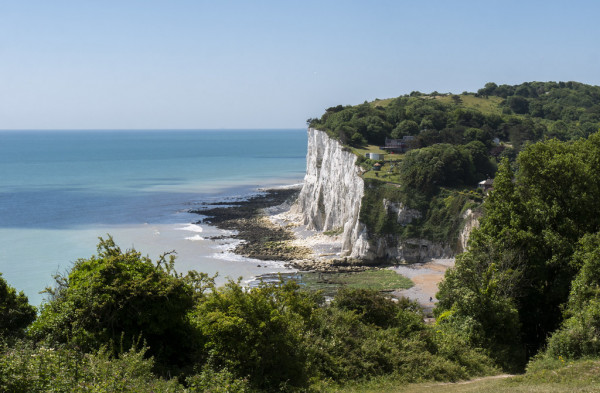 Flickr user Su Westerman
Dover, and its spectacular chalky, white cliffs, have been the first sight for many visitors to these shores. From the Romans, who built a fort here, and a lighthouse, which is now within the walls Dover Castle, to returning pilots in WWII, and thousands in between. And so, despite Dover's fading town centre, this town is still packed with reasons to visit.
Dover Castle is one of the main draws: it started out as a Saxon hill fort, but was refortified by William the Conqueror, and rebuilt by Henry II into something akin to its current medieval form. The castle was again expanded during the Napoleonic wars, and a series of tunnels built underneath, which were famously used as a military command centre during WWII, most famously during the evacuation of Dunkirk. Dover's Museum is excellent too, and its Battle of Britain Memorial has a collection of vintage aeroplanes. For those looking for something a bit outdoorsy there are some really spectacular clifftop walks just outside town.
Dover is also a busy port, with lots of cross-channel traffic, and transport links. Its centre is small and walkable, with an unremarkable collection of pubs and restaurants.
Pros and Cons
Pros: major attractions, historic, seaside
Cons: busy, faded
Ideal For: history-buffs, families
Discover our recommended hotels in Dover, Kent.
Sandwich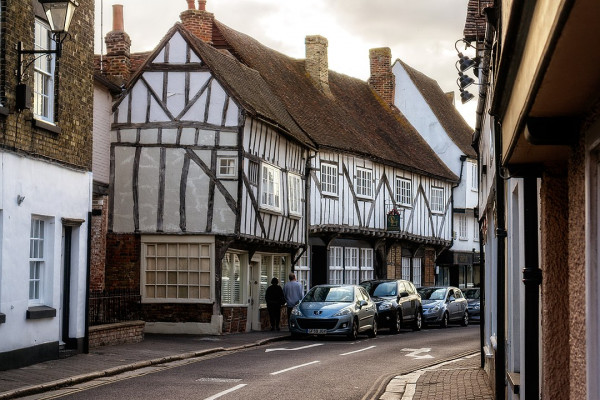 By Garry Knight - https://www.
This will probably surprise you, but little, historic Sandwich was once England's fourth largest city! These medieval lanes lined with half-timbered buildings, Dutch gables and stone churches were once the centre of a great trading port, and have been beautifully preserved so that this is about as close as the UK gets to a living museum. Even its garage, built in the 1920s, deals more with vintage cars than modern ones, and Sandwich's tiny Art Deco cinema looks almost as it would have done in its heyday. Because the streets are so narrow it's far easier to get around on foot, and many of them are pedestrianised. Strand Street is particularly impressive if you're looking for historic buildings, and the High Street, with its Georgian facades, is great for cafes and restaurants. There's a good collection of pubs scattered around town too. Sandwich's Guildhall Museum even has one of the very few original copies of the Magna Carta.
Pros and Cons
Pros: historic, atmospheric, picturesque
Cons: busy in the high season, small
Ideal For: history-buffs, mini-breakers, couples
Discover our recommended hotels in Sandwich, Kent.
Whitstable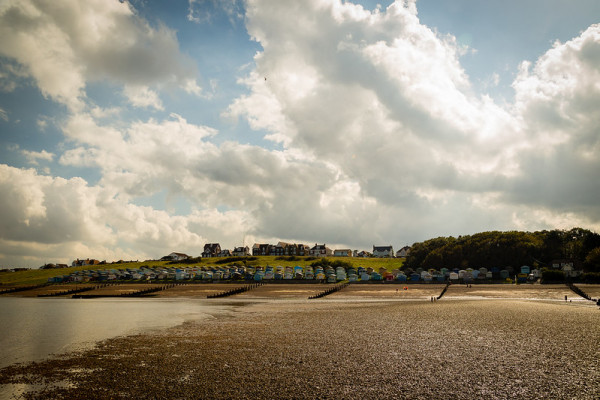 By Flickr user Anup Shah
Whitstable is probably best known for its oysters, which they've been harvesting here since the Romans realised it was the perfect spot for them. Whitstable's main street has plenty of charm, with some antique stores and small galleries, and some very upmarket seafood restaurants, the best of which have sea views too. Whitstable is small, so you won't need more than your legs to get around, but if you're looking for a great cycling trip try the Crab and Winkle Way, which runs between Canterbury and Whitstable.
Pros and Cons
Pros: great seafood, beach, charming main street
Cons: small, can be quite expensive
Ideal For: seaside-escapers, mini-breakers, couples, foodies
Discover our recommended hotels in Whitstable, Kent.
Margate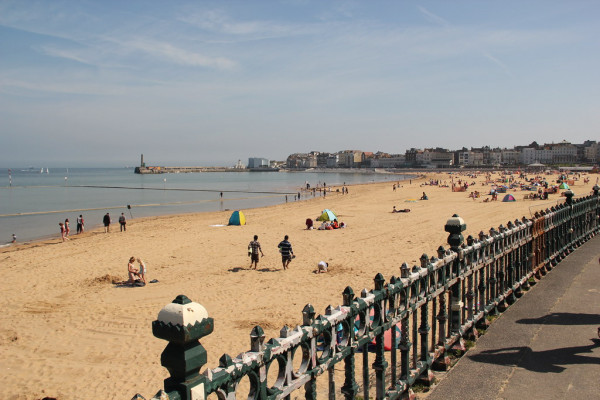 Flickr user Antony Stanley
After a lull in the 1980s, when people started going abroad to the seaside, Margate has come back cool. To the extent that it's mentioned in the same lists as Shoreditch. The old school B&Bs remain, but some have been totally updated, with rooftop cocktail bars and chic, urban design. The cafes really know what they're doing, and there's a buzzing foodie scene too. The beach hasn't changed though, that golden stretch of real sand was always a big draw, as was the elegant promenade with its fading Georgian and Victorian architecture, but when the Turner Contemporary Art Gallery arrived it really turned the tide, and other galleries, arts festivals and cool boutiques started popping up. So now you'll find a great arts scene, fantastic independent boutiques, and plenty of entertainment of an evening too. The old Dreamland amusement park is nostalgically cool again too.
Pros and Cons
Pros: sandy beach, ocean views, seaside atmosphere, great cafes, bars and restaurants, independent boutiques, hip vibe
Cons: is it kitch or tacky?, can be too lively of an evening
Ideal For: nightlife, seaside fun
Discover our recommended hotels in Margate, Kent.
Folkestone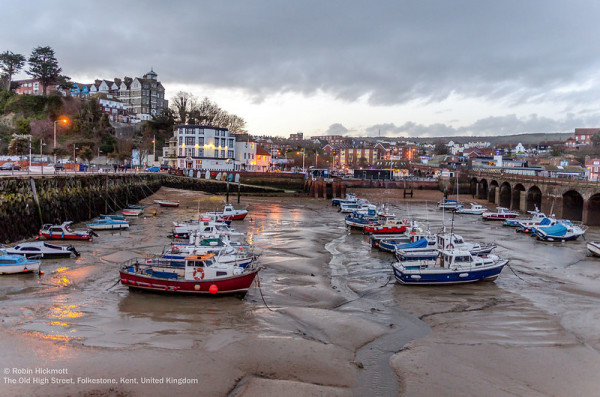 By Flickr user Robin Hickmott
Folkestone is a faded version of itself, having gone from being an important ferry port, to a town close to the end of the Channel Tunnel. But its beaches are still very good, and it's a very good base for exploring the Kent Downs Area of Outstanding Natural Beauty, so we're still recommending it if you're looking for a quieter, but well connected, base. Folkestone's harbour has charm, and on one side are cliffs called the Leas, which have a fantastic Victorian water-powered carriage lift you can ride from the beach at the bottom to the promenade at the top. Folkestone has a Martello Tower, which now houses its Visitor Centre, and it's close to the Kent Battle of Britain Museum, and the Battle of Britain Memorial. Folkestone's access to the North Downs via the Kent Downs means it's a fantastic base for walkers. And it still has many of the traditional seaside charms family holidays are made from.
Pros and Cons
Pros: beach, ocean-views, quiet, walking routes, close to historic sights
Cons: faded, quiet
Ideal For: families, walkers
Discover our recommended hotels in Folkestone, Kent.
Maidstone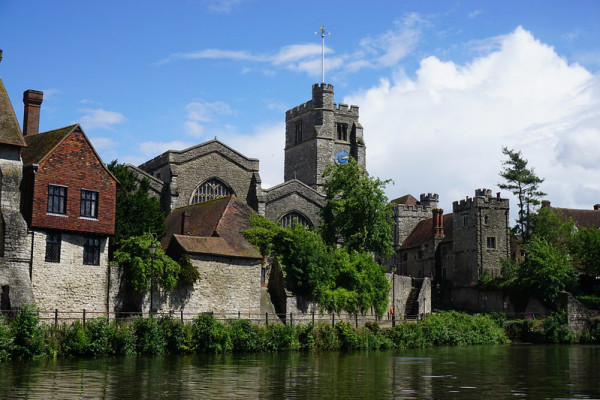 By Flickr user John K. Thorne
Maidstone is Kent's county town, but we're listing it more as a base for exploring the region, than for its own charms. It's only eight kilometres from Leeds Castle, which is not in Leeds at all, but is very well known because of its impressive moat, classic 'medieval castle look', and long history of ownership by England's rulers. It's also close to Bodiam Castle, Sissinghurst, the Hop Farm Country Park, and several of Kent's best known vineyards and wineries. Maidstone is good base for access to stations on the steam railway, the Kent and East Sussex Railway. In the town itself there's an art gallery and several museums. It's a commuter town, so well connected, and pretty enough.
Pros and Cons
Pros: well connected, close to major sights
Cons: residential
Ideal For: explorer base, families
Discover our recommended hotels in Maidstone, Kent.
Ashdown Forest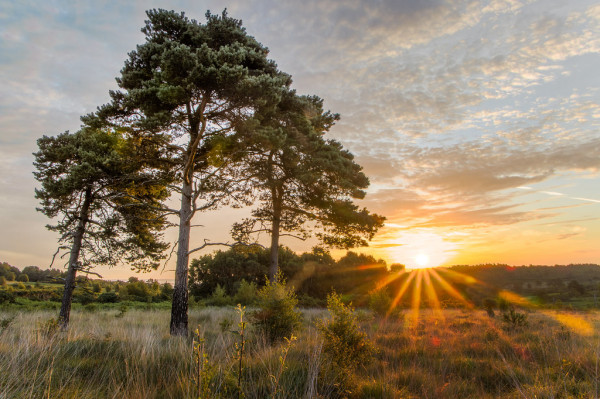 Flickr user Samuel Hyde
Ashdown Forest is a totally natural lowland heath, known for its unique flora and fauna, its walking trails, and for being the home of Christopher Robin's friend, Pooh Bear. The whole 14,000 acres is designated an Area of Outstanding Natural Beauty, and it certainly is beautiful. It's historic too, home to deer, who're the decendants of an 11th Century deer park and hunting ground, and the remnants of both an iron and steel forge. AA Milne wrote that Pooh's Forest and Ashdown Forest are identical. The Five Hundred Acre Wood is the 100 Aker Wood, Gills Lap is Galleons Leap, and the North Pole and the Gloomy Place are in Wrens Warren Valley.
The four towns of the forest are East Grinstead, Uckfield, Crowborough and Haywards Heath, and all make pleasant bases, with pubs, cafes and shops, while Hartfield is the village most associated with Pooh.
Pros and Cons
Pros: natural beauty, peace and quiet, atmosphere, charm
Cons: small, limited transport connections
Ideal For: walkers, families, literature-lovers
Discover our recommended hotels in Ashdown Forest, Kent.
Rochester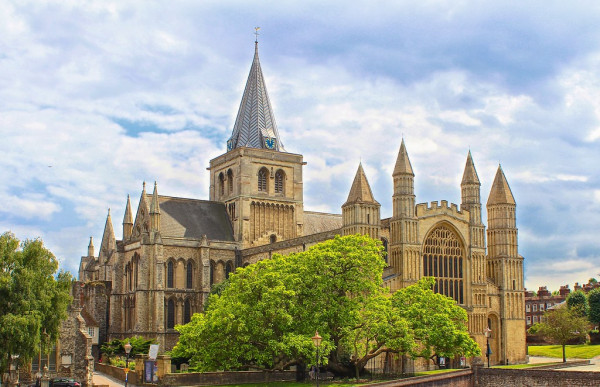 Flickr user Ray in Manila
Rochester and its neighbours Gillingham, Chatham, Strood and Rainham, are within the part of Kent called Medway. The towns are all on the River Medway, and the whole area was once linked by paddle steamers! No longer, sadly, but there are still leisure craft if you fancy a river journey. Most people want to visit Rochester because of its links to Charles Dickens; he lived and worked here, and used many local buildings in his stories, including The Royal Victoria and Bull Hotel. The town hosts two Dickens festivals a year, and has many businesses with Dickens inspired names. You'll not have any trouble finding his locations, they're very well signposted. Rochester's cathedral is also a main sight, as is the Norman castle, and the High Street is known for its antique shops and second hand bookshops. There are lots of good pubs in Rochester, some very historic, with rooms above the bars and restaurants.
Pros and Cons
Pros: historic, great festivals, themed attractions, attractive town
Cons: residential
Ideal For: mini-breakers, families, literature-lovers, couples
Discover our recommended hotels in Rochester, Kent.
Search the best hotels in Kent