Top Tips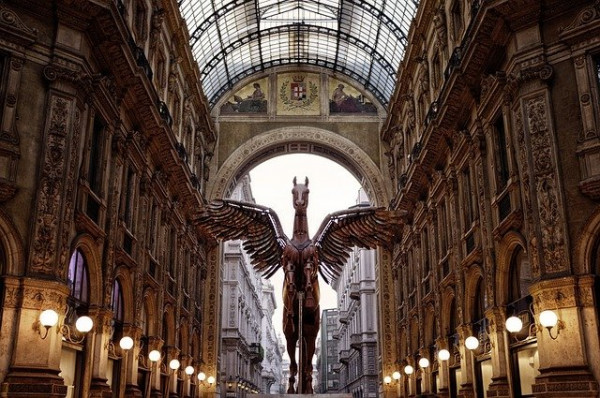 Igor Saveliev from Pixabay
Milan has a wonderful treasure trove of world class sights. Shoppers, foodies, art fans, and football, fashion and opera-lovers adore it. But it's not a very touristy city, so working out which one of its neighbourhoods to stay in isn't straight forward. Some neighbourhoods are crammed with elegant, high concept design hotels, but they're geared up for business travellers, which is what Milan is expecting a lot of, and you might not have the expense account for them. But use our detailed guide and we're confident you'll find the neighbourhood to suit your travel plans, and budget, perfectly!
Neighbourhood Guide to Milan
Wealthy, elegant Milan is Italy's financial powerhouse, home to more business headquarters than any other city in Italy. It's extremely rich in history and culture too: this is where you can see da Vinci's The Last Supper, in the gorgeous Santa Maria delle Grazie Basilica. It's also where you can attend opera at La Scala, shop in the glamorous arcaded Galleria Vittorio Emanuele, and worship in one of the world's largest, and grandest, Gothic cathedrals. And where some of Italy's most beautiful designer clothing is designed, and worn. But Milan isn't considered beautiful by all. It was heavily bombed during WW2, and some of its centuries of architecture and heritage was destroyed, so it doesn't look as ancient and historic as it is. Milan still has Italian cafes and bars in spades, but there's a lot less languishing and a lot more consuming espressos at the counter. But that doesn't mean the Milanese don't know how to enjoy themselves! This city has a reputation for the finer things, be it coffee, wine, clothing, food, opera, cars or football.
Milan is easy to get around. The public transport system of trams, underground trains, buses and suburban trains is easy to use and pretty efficient. Most of the main sights are within a reasonable walk from each other, and the Corso Vittorio Emanuele and Via Dante are pedestrianised.
Duomo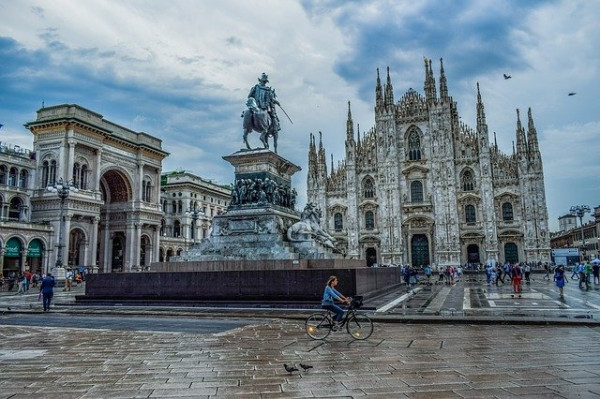 Dimitris Vetsikas from Pixabay
In Milan, Duomo refers to more than just the cathedral, it's also the neighbourhood at the heart of the oldest part of the city, which is centred around the actual Duomo and the Piazza Duomo. The incredible Gothic cathedral is obviously one of the main sights here, and in Milan: it's vast, with many delicate-looking towers and spires, and intricate white stonework that looks almost like lace. On the piazza is the Museo del Novecento, an important 20th century art gallery, and the Palazzo Real or Royal Palace, which is also an art museum. La Scala, the opera house, and its associated museum is in this neighbourhood too, and the Galleria d'Italia Piazza Scala, is another impressive art gallery occupying a couple of elegant palazzos on the same piazza as La Scala.
Duomo's second sight must be the Galleria Vittorio Emanuele, which is the oldest shopping arcade in Europe, an elegant place with careful decoration, now housing boutiques and brands like Gucci, Prada and Dolce & Gabbana. Outside, the Corse Vittorio Emanuele is wide and pedestrianised, and lined with more boutiques, but if you still have more appetite for shopping there's the Via Montenapoleone, Via Sant'Andres and Via Spiga to explore. Duomo has hidden treasures too, including the Piazza Mercanti, a tiny, medieval square crowded with grand palaces and Gothic houses. They hold a fantastic Christmas market here in season.
Because Duomo is the most touristy of Milan's neighbourhoods, this is the place you'll find tourist-pleasing restaurants and bars as well as the real thing, but there's lots to choose from in either department.
Pros and Cons
Pros: major sights, central, historic, atmospheric, fantastic shopping, lots of choice for drinking and dining
Cons: busy, touristy, can be expensive
Ideal For: sight-seers, once-in-a-lifetime-visitors, shoppers, couples, luxury-lovers, treating yourself
Sant'Ambrogio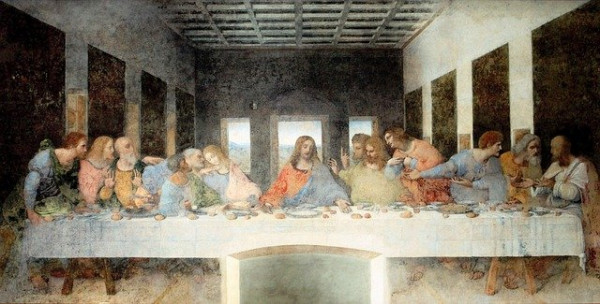 Markus Baumeler from Pixabay
If The Last Supper is one of the highlights of your planned trip to Milan you'll find it in the Basilica di Sant'Ambrogio, around which there's a surprisingly leafy neighbourhood of small squares, but also Milan's stock exchange and the Corso Magenta, one of the chicest shopping streets in Milan. Historically this is an elegant and wealthy neighbourhood, and there are some beautiful grand residences, complete with private courtyards and beautiful stonework. There are also some very fine bars and restaurants, especially around the Corso Magenta, and while, at times, these might be populated by a lot of young finance types, the atmosphere is elegant. If you're looking for a more relaxed vibe you'll find it if you walk towards the south or west of the Corso Magenta, as you get closer to the university. Beyond suppers, the Sant'Ambrogio neighbourhood is also where you'll find a couple more impressive churches: the Chiesa di San Maurizio, and the Basilica di Santa Maria. And the Museo Nazionale Scienza e Tecnologia Leonardo da Vinci, which is a super impressive science museum with a special emphasis on da Vinci's work and inventions, but about 14,000 other items to fascinate you too.
Pros and Cons
Pros: elegant, historic, major sights, great bars and restaurants, historic, atmospheric
Cons: expensive
Ideal For: art-lovers, sight-seers, first time visitors, luxury-lovers, couples, romantics
Brera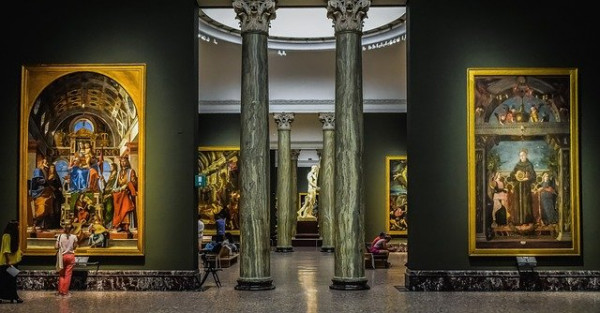 Dimitris Vetsikas from Pixabay
The Brera neighbourhood is close to Milan's fashion district, so it's got a rather glamorous, arty feel, and streets offering lots of interest for anyone just out for a stroll. A number of the central streets are pedestrianised, and the cobbled side streets are lined with many 18th century buildings, making this another really beautiful and historic part of town. It's trendy too, though, possibly because at the heart of the district is the Fine Art Academy, occupying an 18th century palazzo, one of the grandest in the neighbourhood. Around it are smaller art galleries, antique stores, boutiques and fashion houses. Walking the streets of Brera you're also likely to come upon the charming San Marco Church, Napoleon's Arch of Peace, the Pinacoteca de Brera, and the Galleria Civica d'Arte Modern. And on Sundays there's a great market. This is a good place to eat and drink, especially if you want to try the best local specialities in town. If you follow the medieval street, the Castello Sforzesco, you'll find yourself in the Parco Sempione, the largest public park in Milan.
Pros and Cons
Pros: central, historic, elegant, arty, major sights, great bars and restaurants, atmospheric, great shopping
Cons: can be expensive
Ideal For: art-lovers, couples, romantics, sight-seers, fashionistas, foodies
Porta Venezia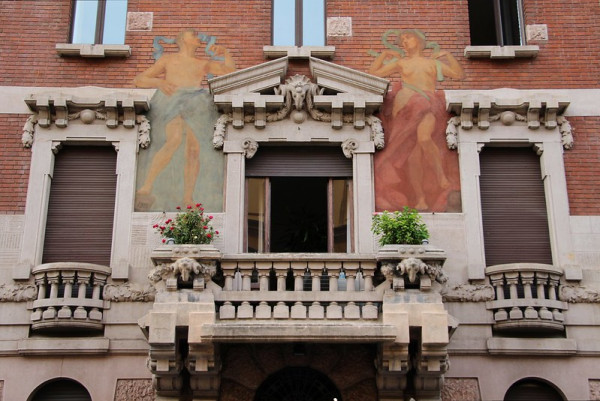 By Flickr user Fred Romero
If you like the sound of Brera, but it's the fashion side of this city you're keenest to explore then small, pretty, Porta Venezia might be the neighbourhood for you. Porta Venezia is where you'll find the Quadrilatero d'Ora, or golden quadrangle, arguably one of the world's most famous shopping districts. Elegant, and definitely gilded, the streets in this area have an Art Nouveau flavour to their design, and a wealth of beautiful boutiques, fine restaurants and chic cafes and bars. The Corso di Porta Venezia is probably the very finest, lined with beautiful villas, galleries, museums and palazzi, and even part of the old Giardini Pubblici, or public gardens. Aside from shopping, Porta Venezia's main sight is probably its neo-Romanesque Natural History Museum. This is a really multicultural neighbourhood, which is reflected on restaurant menus, and it's also hub to a vibrant gay community.
Pros and Cons
Pros: excellent shopping, luxurious, atmospheric, historic, beautiful architecture, great bars and restaurants
Cons: expensive!
Ideal For: fashionistas, shoppers, luxury-lovers, treating yourself, romantics, couples, sight-seers
Navigli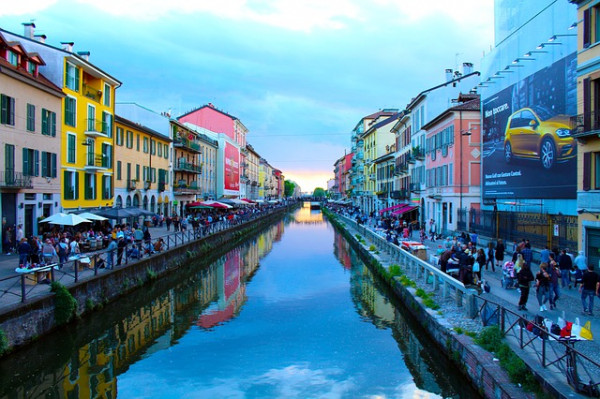 SALVATORE MONETTI from Pixabay
You might not know about Milan's canals? Historically they were key to Milan's success, but today they make a beautiful backdrop for drinks and food of an evening. Or just a stroll, and a spot of browsing in the antique, and vintage, stores that slot in between the bars, cafes and restaurants. The largest canal is Naviglio Grande, and is a good place to go for nightlife in Milan. It's also a great place for foodies, especially if you're looking for interesting local provenance as well as cuisine. There are a couple of key sights in this neighbourhood too: the Basilica of San Lorenzo, and the Church of Sant'Eustorgio are worth seeking out, and you won't be able to miss the triumphal arch on Piazza Ventiquattro Maggio.
Pros and Cons
Pros: central, lively nightlife, great bars and restaurants, antique and vintage shopping, water-views
Cons: noisy of an evening
Ideal For: night-owls, cool-cats, foodies, vintage shoppers
Porta Nuova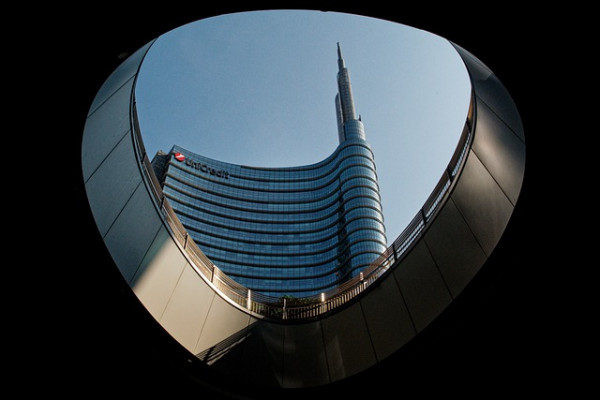 christian hardi from Pixabay
The fact that Milan has so much modern and contemporary architecture is often seen as a negative, but Milan's glass domes and glittering skyscrapers are certainly spectacular in their own right, and Porta Nuova is where you'll find some of the best. A few 19th century buildings remain, which give an excellent point of reference when partnered with their newer neighbours. One of the classic sights of Milan today is the view of the Unicredit Tower through the Neo-classical Piazza Venticinque Aprile. There's more contemporary shopping in this neighbourhood too, with the highlights around Gae Aulenti. This is also where you'll find many of the best cafes, bars and restaurants, but they're littered all over this neighbourhood. Nextdoor neighbourhood, Isola, is a post-gentrification district with some seriously hip accommodation, and the facilities to match. So it's a good place to go out of an evening. And to look at contemporary art.
Pros and Cons
Pros: impressive architecture, good shopping, hip bars and restaurants, hip accommodation
Cons: too hip
Ideal For: night-owls, cool-cats, foodies, shoppers
Porta Garibaldi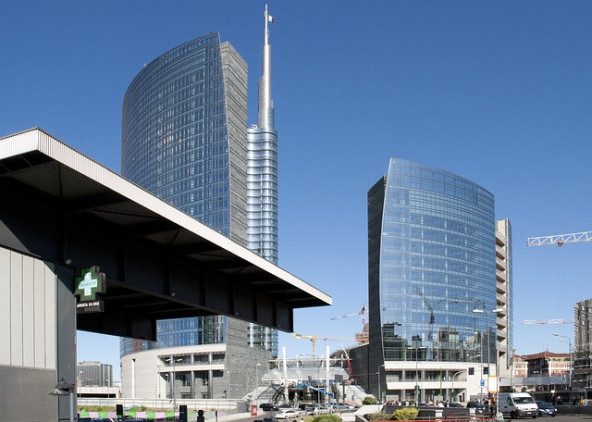 alessandrodoniselli0 from Pixa
Sort of between Porta Nuova and Navigli, Porta Garibaldi is another neighbourhood of spectacular contemporary architecture, home to Herzog & de Meuron's 'greenhouse' and Cesar Pelli's spiral skyscraper. And the neighbourhood is as stylish and modern as its buildings, stacked with upmarket bars and restaurants, serving a wide range of cuisine, and neat rows of independent fashion boutiques. Porta Garibaldi is home to the famous department store, 10 Corso Como. The name, Porta Garibaldi, refers to city gate, which you can't miss, it's the Neoclassical arch over the Corso Como road, with symmetrical customs houses on either side of it. If you keep travelling down Corso Como through the arch you'll get to the neighbourhood of Isola, which we mentioned above as being hip, and great for bars and cafes, and going out of an evening. One of the unexpected pleasures of Porta Garibaldi is its park (which is a lot bigger than you imagine there could be space for) which is charmingly called the Biblioteca degli Alberi, which translates to Library of Trees.
Pros and Cons
Pros: luxurious, impressive architecture, great shopping, high end bars and restaurants
Cons: can be expensive, very modern
Ideal For: restaurant-lovers, night-owls, architecture aficionados, shoppers, treating yourself, luxury-lovers
San Siro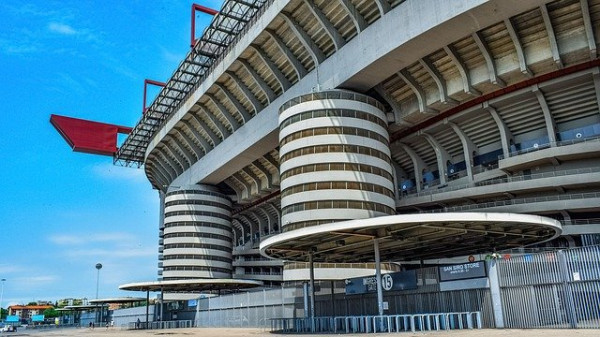 Dimitris Vetsikas from Pixabay
Football fans will recognise the name San Siro as being home to the San Siro Stadium, or the Stadio Giuseppe Meazza, a vast edifice capable of holding more than seventy-five thousand fans. Both big Milanese clubs call this venue home, and they alternate weeks to play here. The fact that the stadium is here means that the public transport connections into the centre of Milan are excellent — it's just a couple of stops — and that there are plenty of places to eat and drink, and streets lined with shops too. San Siro is also a spacious feeling neighbourhood, with wide streets and a number of big parks and green spaces.
Pros and Cons
Pros: great-value, green-space, good transport links, peaceful, choice of places to eat and drink
Cons: off-centre, residential-feeling
Ideal For: sports fans, families, value-seekers
Discover our recommended hotels in San Siro, Milan.
Porta Romana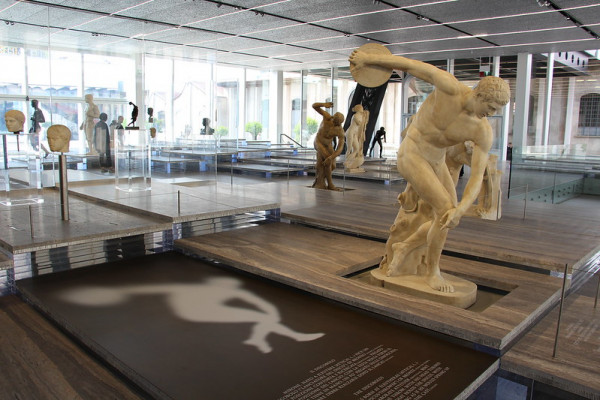 By Flickr user Fred Romero
Porta Romana is a hip, residential neighbourhood in a great spot on the edge of the historic part of the city, with some fairly upmarket yet hip neighbourhoods on the other side. So this is a convenient area for great up-and-coming cafes, bars and restaurants, with opportunities to try both modern Milanese restaurants and traditional trattorias. Walking the streets of this neighbourhood you'll see both some exciting contemporary architecture, like the Fondazione Prada building, with its cafe designed by Wes Anderson, and some really ancient architecture, like the remains of Milan's 16th century city walls. Porta Romana is fairly close to a university too, which keeps prices reasonable in some places.
Pros and Cons
Pros: great-value, close to the centre, great bars and restaurants, hip
Cons: residential-feeling
Ideal For: value-seekers, couples, hipsters, foodies
Discover our recommended hotels in Porta Romana, Milan.
Search the best hotels in Milan