Where to Stay in Berkshire
Top Tips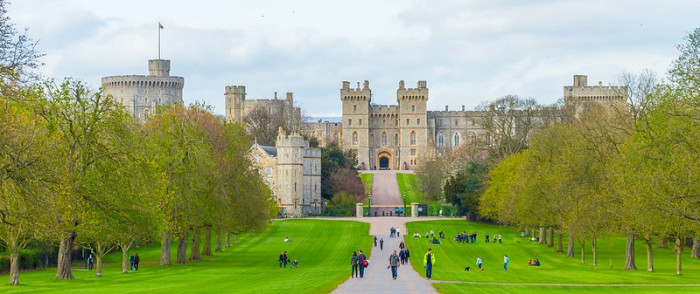 By Flickr user JackPeasePhotog
Our guide to where to stay in Berkshire is designed to help you uncover the best towns, centres and neighbourhoods in Berkshire for you. We'll help you find the right area to stay in, whether you're here for a horse race, to dine in Michelin starred restaurants, to visit castles and historic sites, to explore a green and pleasant part of the UK with your family, or just to relax on the river. And most especially if you're here to do a combination of the above!
Guide to Berkshire's Towns and Centres

Wikimedia Commons user Paul. a
Berkshire is just to the west of London, so close that if you're travelling the 45 minutes between London and Windsor, beside a view that changes from urban to pastoral, you'll be getting off in Berkshire. As well as visiting Windsor Castle and Eton, you might also be bee-lining for a meal in Bray, the UK's unofficial culinary capital, or heading for the horse races at Ascot or Newbury. But you might just want to escape to a countryside idyll, which is what the English elite has been doing for centuries, including the royal family. For Berkshire is very beautiful, with a range of landscapes, including woods and meadows, and a really good scattering of historic villages and impressive manors.
Berkshire is long, thin and green, reaching horizontally across England, with Oxfordshire to the north, Hampshire to the south and Wiltshire to the west. It's not large, but if you're visiting more than one centre, or exploring the countryside, it will be useful to have your own car, though Reading, one of Berkshire's largest centres, is a transport hub for the whole south west of the UK.
Windsor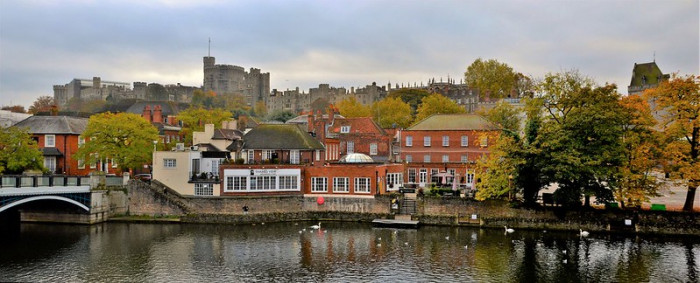 By Flickr user Robert Pittman
Windsor Castle is the world's oldest, and largest occupied castle, because yes, the Queen still lives here for a lot of the year — you can tell when she's in residence because her standard flies from the pole atop the Round Tower. And it's an incredible place to visit. The castle's changing of the guard is certainly worth seeing, but for many Queen Mary's doll's house will be a highlight. Windsor Great Park is a huge, and beautiful, green space, and the cobble-stoned centre of Windsor is designed to charm visitors with its shops, cafes and restaurants, with cream teas aplenty. The castle really puts Windsor on the map as far as visitors go, and that's lead to an extra railway station with excellent links to London, a rather grand theatre, some impressive hotels and a Legoland (an absolute must if you're here with the little ones). But it's really quite a small town and easy to navigate on foot. And Eton, directly across the river, is still full of tail-coated school boys adhering to ancient traditions.
Pros and Cons
Pros: historic, charming, great range of restaurant, bars, pubs and cafes
Cons: touristy, busy
Ideal For: history-buffs, sightseers, families
Discover our recommended hotels in Windsor, Berkshire.
Eton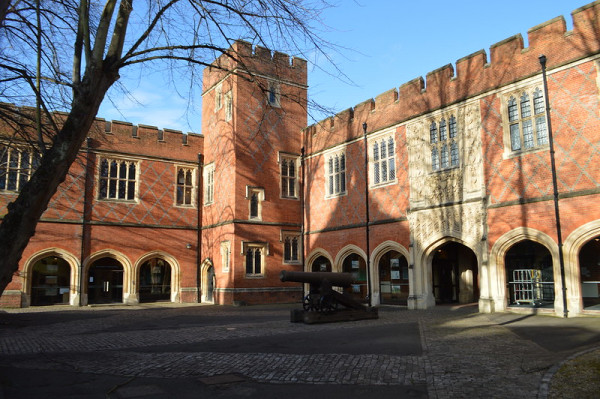 By Flickr user Matt Brown
Small and historic, Eton the town, could easily be described as Windsor's art and antiques district, but it's so famous because of its school that no-one would dare! Eton College is a real English institution, and the pupils here still wear tailcoats and dress uniforms as a matter of course. Which certainly adds a unique twist to the cobbled streets, art galleries, traditional pubs and cafes and antiquarian book shops of Eton. This is where prime ministers, statesmen, academics and royalty have been educated since 1440 and there's a lot of history to uncover in this relatively small collection of streets. Just across a small bridge from Windsor, and running along the river, Eton is picturesque and very well located as far as the UK rail network is concerned.
Pros and Cons
Pros: historic, charming, good rail connections
Cons: small
Ideal For: families, history-buffs, mini-breakers
Discover our recommended hotels in Eton, Berkshire.
Reading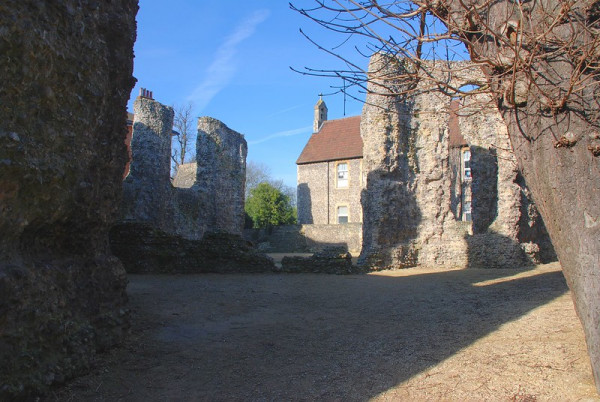 By Flickr user Uli Harder
Reading isn't an obvious destination unless you're here for the music festival, or on an Oscar Wilde pilgrimage, but this large and historic market town is surrounded by some of Berkshire's most picturesque countryside, so it makes a great start to an escape. And it's very convenient for train travel from London, with numerous thatched roofs to admire on your journey. Wilde's link to Reading comes from his stay in the now closed, but protected, Reading Gaol, but many will probably prefer a visit to Reading's Museum, which has a full-size copy of the Bayeux Tapestry, and a large collection of Roman artefacts, or medieval Reading Abbey. Reading is also in the perfect spot for exploring the Cotswolds and the Chilterns, and there are a couple of wonderful manor houses just outside of town. Better to bring a car if you want to see these.
Pros and Cons
Pros: transport centre, historic, surrounded by beautiful countryside, good value
Cons: a left-field travel destination
Ideal For: families, countryside explorers
Discover our recommended hotels in Reading, Berkshire.
Maidenhead and Cookham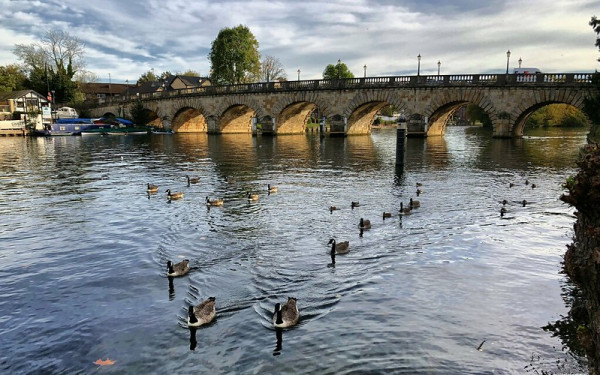 By Flickr user Timo Newton-Sym
Like Reading, Maidenhead is a large market town, with a traditional looking high street mostly dating from the Georgian and Victorian eras. It's got a long history as a settlement, though, Romans and Anglo-Saxons have lived here, and there's plenty of their belongings in the local museum and heritage centre. One of the best known local landmarks is a rail bridge you cross coming into town, which was designed by Isambard Kingdom Brunel. And the rail infrastructure and connections here area certainly very good. Maidenhead is also known for its picturesque, riverside peace.
Cookham, just to the north of Maidenhead, is a more historic looking village, with a high street that's changed little over hundreds of years, ideal if you're looking for a picturesque, English backdrop. Just across the Thames from Cookham is Buckinghamshire, and the incredible National Trust-owned manor, Cliveden House. Cookham is also known for its Stanley Spencer Gallery, its pubs and restaurants, and as a starting point for walks along the Thames Path, so this might be a more suitable base than Maidenhead centre.
Pros and Cons
Pros: peaceful, picturesque, good rail connections
Cons: provincial
Ideal For: mini-breakers, walkers
Discover our recommended hotels in Maidenhead and Cookham.
Bray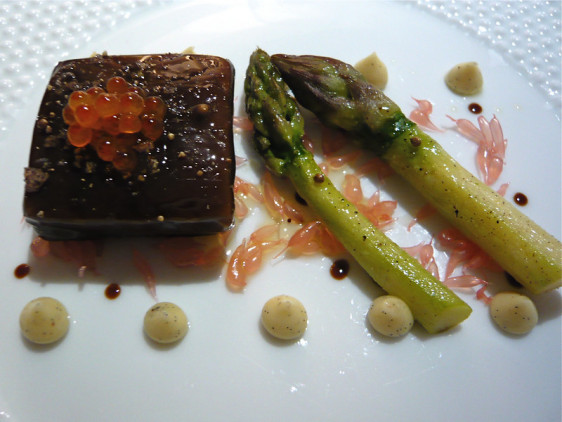 By Flickr user WordRidden
Bray is a picturesque town just outside Maidenhead, probably best known today for its restaurants. For a small, Thames-side town it's got a lot of Michelin stars. There are only five restaurants in the UK with three stars, and two of those restaurants are in Bray, The Fat Duck, Heston Blumenthal's restaurant, and The Waterside Inn founded by Michel and Albert Roux, and currently run by Alain Roux. Bray is a hop skip and jump from London, and only five miles from Windsor. It doesn't have its own railway station, you have to travel the one and a half miles to Maidenhead.
Pros and Cons
Pros: fantastic food, picturesque, escape from town
Cons: small, lacks a railway station
Ideal For: foodies, couples, mini-breakers, a special occasion
Discover our recommended hotels in Bray, Berkshire.
Newbury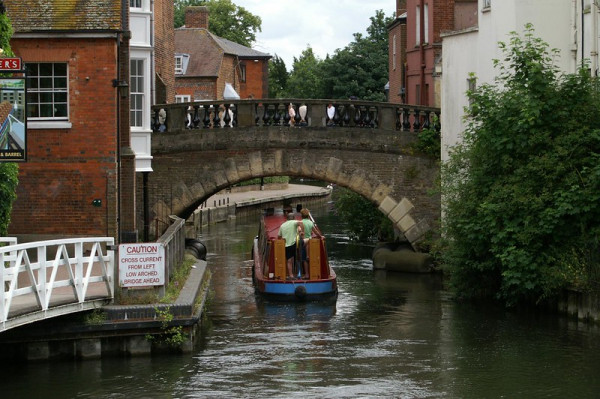 By Flickr user David Merrett
If you're interested in Egyptology, horse racing, or a fan of Downton Abbey, then you might be heading for Newbury, a large, historic market town with an impressive old market square. Newbury is on the edge of the scenic Berkshire Downs and the North Wessex Downs Area of Outstanding Natural Beauty. It's also close to Donnington Castle and Highclere Castle, known as the seat of Lord Canarvon of Tutankharmun fame. It's in the valley of the River Kennet, which was tweaked into the Kennet and Avon Canal, which runs all the way from London to Bristol, via Bath, so it's both beautiful and rural, and a key historic trading town. And it's got a lido! This is a really charming country escape, and worth a few extra days if you're visiting for the horse racing. It's reasonably well connected to the rest of the region, and London, by rail.
Pros and Cons
Pros: historic, charming, surrounded by walking routes and National Trust properties
Cons: very busy during race meetings
Ideal For: horse racing fans, mini-breakers, history-buffs, Downton Abbey fans
Discover our recommended hotels in Newbury, Berkshire.
Ascot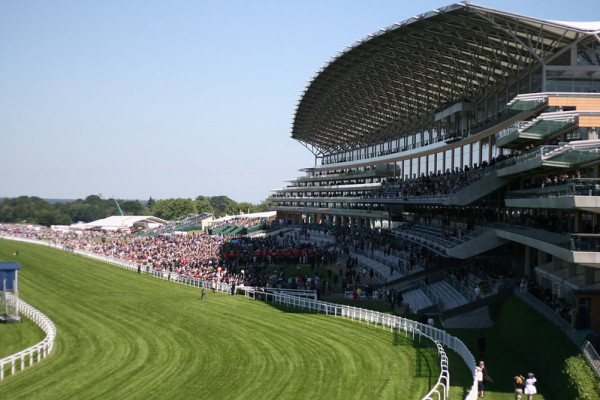 By Flickr user ser John Mitche
Ascot, even more than Newbury, is where to head for horse racing, especially if you're looking for a reason to get dressed up and eat and drink well too! Ascot is very much a racing town, but it's also picturesque, and, as a commuter town, it's very well connected to both London and Reading.
Pros and Cons
Pros: picturesque, a good Berkshire base, lively during horse racing meetings
Cons: very busy during racing meetings
Ideal For: horse racing fans
Discover our recommended hotels in Ascot, Berkshire.
Berkshire Downs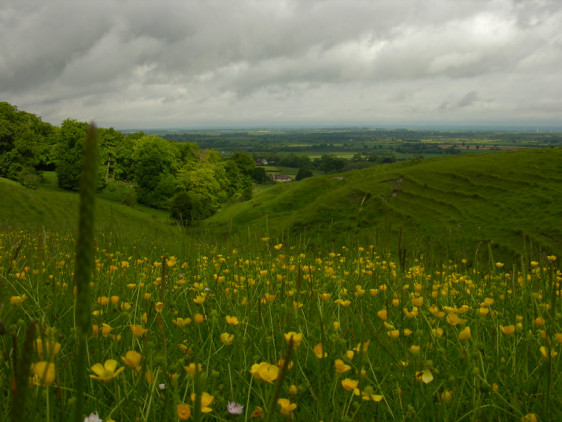 By Flickr Giles Watson
The Berkshire Downs are a chalk range, part of the North Wessex Downs Area of Outstanding Natural Beauty, which link to the Chilterns to the east and the Marlborough Downs to the west. Lambourn is the largest centre in the Downs, which is known for horse training, and for J.R.R.Tolkien, who loved the Bronze Age burial mounds, the remains of the hill forts, and the sarsen stones of the region.
Pros and Cons
Pros: pastoral beauty, scenic views, peaceful, rural, remote
Cons: lacks a station,
Ideal For: walkers, horse riders, rural-escapers
Discover our recommended hotels in the Berkshire Downs.
Search the best hotels in Berkshire