Where to Stay in San Francisco
Top Tips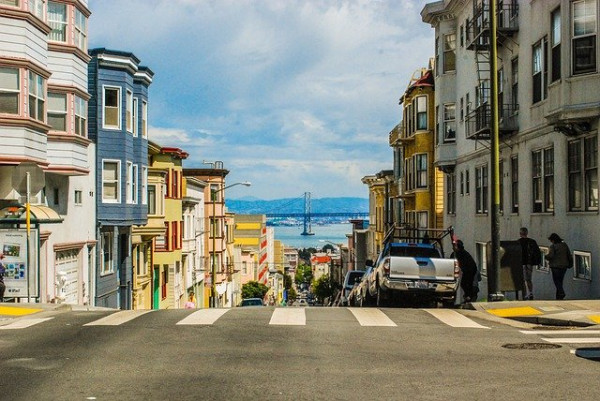 Erik Larson from Pixabay
Our guide to the best neighbourhoods in San Francisco for visitors is full of tips and recommendations to help you pick the best place to stay in San Francisco for you. Whether you're here for the classic sights, the history, the beautiful bay, the nightlife, the shopping, or a combination of everything!
Neighbourhood Guide to San Francisco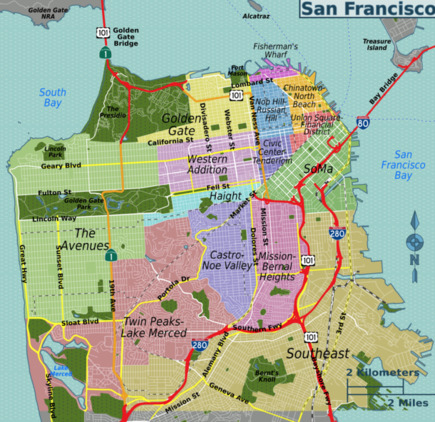 Peter Fitzgerald, OpenStreetMa
San Francisco is fun, and very easy to fall in love with! Known for its dramatic, hilly, bay-side beauty, liberal attitudes, great food and drink, tramcars and trolley cars, Victorian architecture, the Golden Gate Bridge and Alcatraz — among other attractions. This is the sort of place you visit once and want to move in, where new ideas take flight and there's encouragement in the air. Loads of new technology is thought of here, or appears here first, San Francisco has more farmers' markets and restaurants per capita than any other city in North America, and the shopping is an eclectic treasure trove.
Some of the city's major attractions include Golden Gate Park, Delores Park, the San Francisco Museum of Modern Art, Chinatown's historic alleyways and Haight Street and Waverly Place.
San Francisco is known for its hills, and its streets don't shirk them, so if you get around on foot it will be spectacular and relatively easy, but tiring too. Some of the streets have stairs, and it's worth finding out which ones — it's fairly easy to find a map with pavements colour coded for steepness. San Francisco has an excellent public transport network, which includes the famous streetcars, trolley buses and cable cars, but also the subway, bus and rail services. The Historic Streetcars, in their original livery, run on the E and F Lines.
Civic Centre and Downtown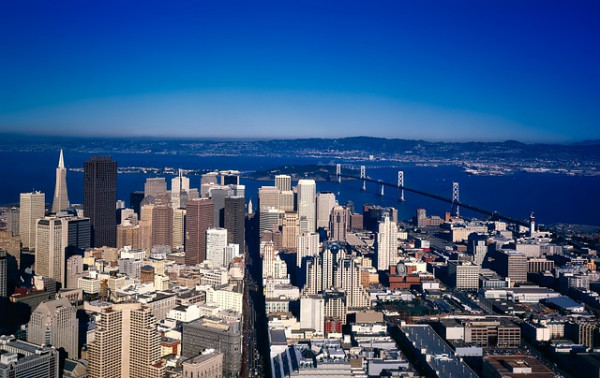 David Mark from Pixabay
Downtown San Francisco is home to the biggest art galleries and theatres, some of the most luxurious hotels, and ritziest shopping streets. The Civic Centre is next door, and where you'll find City Hall. The attractions in this area include the San Francisco Museum of Modern Art, the Museum of the African Diaspora, Diego Rivera's Allegory of California fresco, the Luggage Store Gallery's Tenderloin National Forest of planted trees and murals, and the Ferry Building — both a ferry hub and an incredible farmers' market and foodie haunt.
Pros and Cons
Pros: major sights, central, cultural sights, great bars and restaurants, great nightlife
Cons: gritty pockets
Ideal For: sight seers, luxury-lovers, art lovers
Discover our recommended hotels in Downtown San Francisco or the Civic Centre.
SoMa (South of Market) and Union Square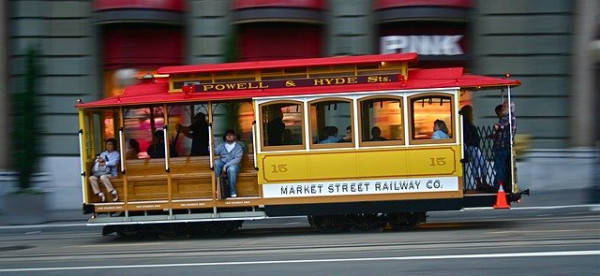 Duane Retzlaff from Pixabay
Neighbours with the Downtown and Civic Centre areas, SoMa, or South of Market, and Union Square, are central, and hip, with lots on and lots to see. Both in these neighbourhoods and next door, including the San Francisco Railway Museum, the Jewish Museum, the Cartoon Art Museum and the Museum, the Museum of the African Diaspora, the California Historical Society Museum, and the San Francisco Museum of Modern Art. SoMa is also a great place for smaller theatres, and cinemas, and there are a couple of really great book shops in the neighbourhood. The nightlife is also a lot of fun, starting off in the many innovative restaurants in SoMa, then heading off into some of the bars, clubs and venues. Union Square has a great shopping precinct, with lots of big name stores and department stores, plus a couple of quirky museums of its own, a building by Frank Lloyd Wright, and you're close to the foodie-friendly Ferry Building.
Pros and Cons
Pros: central, major sights, cultural sights, great value, shopping precinct, great foodie choices, lively nightlife
Cons: varied
Ideal For: sight seers, value seekers, first-time-visitors, night-owls, party people
Discover our recommended hotels in SoMa and in Union Square.
Chinatown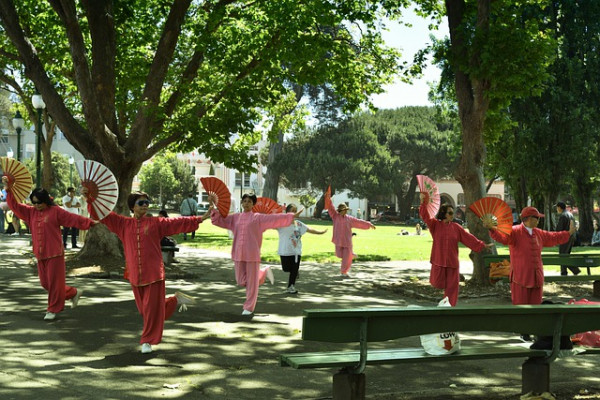 Armin Forster from Pixabay
San Francisco's Chinatown is the oldest of its kind, and the largest hub of the Chinese community outside of Asia. It's still very much a bustling, thriving community, not just a tourist destination of pagoda-esque roofs, red decorations and lively produce markets. The streets here are famously narrow, especially Waverly Place, Pagoda Place, Ross Alley and Spofford Lane, opening out onto Grant and Stockton Streets, which are where you can find all the markets, including the live animal markets. Washington Square is the place to come for local tai-chi, meditation and martial arts practice.
Pros and Cons
Pros: historic, major sights, central, lively, authentic
Cons: busy and crowded
Ideal For: sight seers, history buffs, foodies
Nob Hill and Russian Hill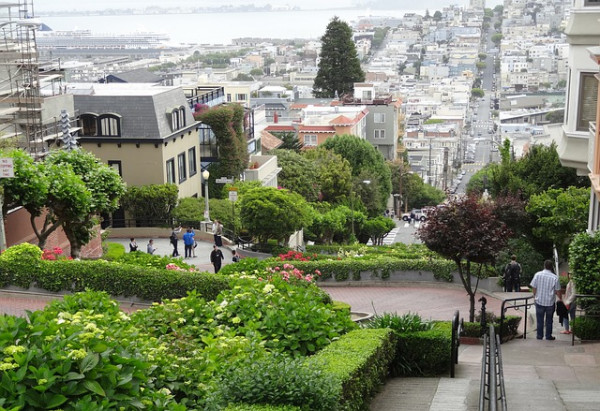 Steve Barker from Pixabay
Both Nob Hill and Russian Hill are affluent, hilltop neighbourhoods, home to both old money, dating from the Gold Rush's first millionaires, and new, rock star money. The cable car made Nob Hill easily accessible, and still does, and the bay views and general feeling of comfort attracted luxurious hotel brands and fancy boutiques and restaurants. Russian Hill is San Francisco's steepest, and has had some of its roads replaced by steps! Lombard Street, is the best one to walk along, a very zigzagging route with beautiful landscaping and views of the bay and Alcatraz Island. These neighbourhoods are the cable car hubs, for obvious reasons, but they're also where you'll find the Cable Car Museum. And the Grace Cathedral. The best restaurant strip is Polk Street, but there's plenty of choice on less famed stretches too.
Pros and Cons
Pros: incredible views, affluent surrounds, elegant architecture, great bars and restaurants, cable car access
Cons: very steep! expensive too
Ideal For: sight seers, luxury lovers, treating yourself, couples
Click here for our pick of the best hotels in Nob Hill
Embarcadero and North Beach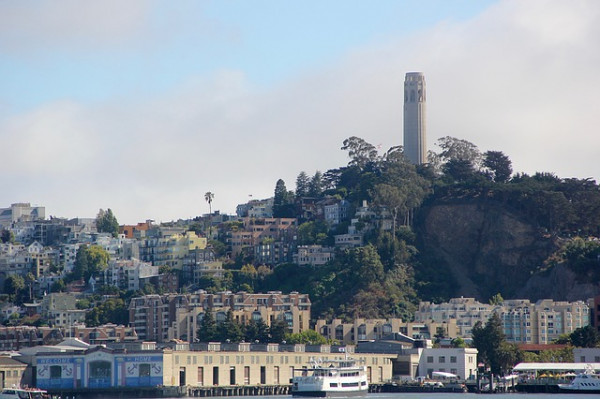 Mary Bettini Blank from Pixaba
North Beach is sometimes called 'Little Italy', and not just for its history of popularity with Italian immigrants, and Italian restaurants, it's also got a really European flavour that goes beyond the al fresco cafes and gelato. Located between Chinatown and Fisherman's Wharf, you can tell when you're in North Beach because the telegraph poles have been painted in red, white and green. This stretch of bay used to have a beach, but it was filled in, and became known instead, for its beatniks, including Jack Kerouac, who has an alley named after him here. The beats loved the bars, cafes and clubs, and there are still some fantastic ones in the neighbourhood. Some of North Beach's other landmarks include Telegraph Hill and the Beat Museum. Embarcadero is a lively neighbourhood still on the waterfront, with hip, creative bars and a fun atmosphere.
Pros and Cons
Pros: historic, cultural landmarks, wonderful views, great foodie scene, waterside
Cons: steep hills
Ideal For: couples, foodies, sight seers, history buffs
Discover our recommended hotels in North Beach and Embarcadero.
Haight-Ashbury and The Castro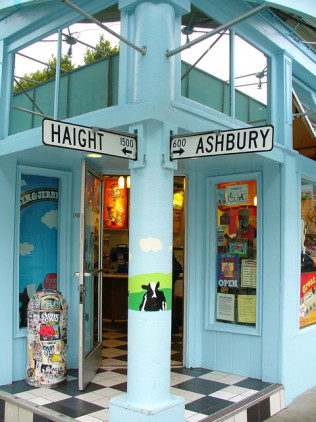 bethanyrudisill from Pixabay
Haight-Ashbury is known for its place in 60s hippie culture, and there's still something of this in the bohemian air of Haight-Ashbury today, though it's more a theme park version of its former self. If you're looking for this side of San Francisco visit Hippie Hill, which is on the Haight-Ashbury edge of Golden Gate Park, and a good place to enjoy an impromptu performance or a picnic. There are also a number of walking tours you can join which will take you round the famous addresses of this neighbourhood, so you can see where he likes of Janice Joplin and The Grateful Dead lived. Haight-Ashbury is also a fantastic place to shop for records, vintage gear and books.
The Castro isn't next door, but there's a similarly history of counterculture, though in The Castro it's the LGBT community who've made this their hub. This is a fantastic area for nightlife, but it's also got a wonderful Art Deco era movie theatre, and a couple of excellent museums, including the LGBT Historical Society Museum.
Pros and Cons
Pros: historic, great value, great cafes and bars
Cons: a shadow of its former self
Ideal For: cool cats, hipsters, night-owls, value seekers, history buffs, sight seers
Golden Gate Park and Surrounds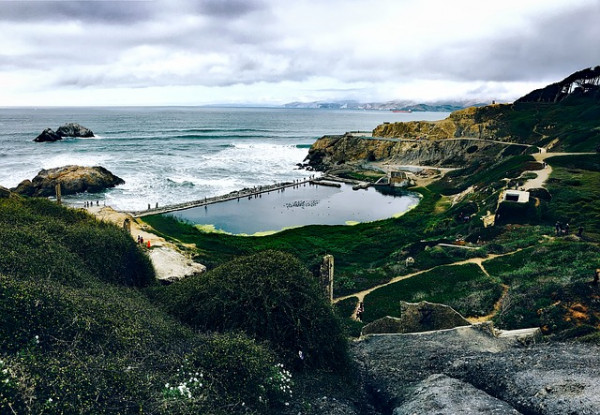 David Mark from Pixabay
Golden Gate Park is a long rectangle of green in amongst regular rows of avenues running through the districts of Richmond and Sunset. The top end of the park runs up against Haight-Ashbury. The Golden Gate Park is a key attraction, around a thousand acres of dunes converted into parkland, with plenty of spaces to picnic, and stroll, but also a grand Victorian Conservatory of Flowers, the San Francisco Botanical Gardens, the California Academy of Sciences, the de Young Museum, the Japanese Tea Garden, and the National AIDS Memorial Grove. Closer to the coast there are more landmarks, including the historic Sutro Baths and Sutro Heights Park, all areas great for exploring and outdoor pursuits, and the eclectic Legion of Honor Museum. This neighbourhood is perennially popular with surfers, and it's great for foodies too, with plenty of authentically multicultural options, and a great collection of entertainment. There's a calmer, residential feel to some parts.
Pros and Cons
Pros: green space, beach-side, relaxed, cultural sights, local landmarks, great restaurants and bars
Cons: residential in places
Ideal For: peaceful stays, families, outdoors-folks, great value
Fisherman's Wharf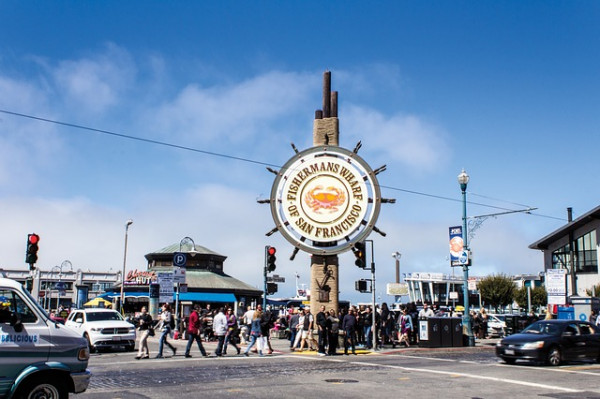 Bettina Nørgaard from Pixabay
Fisherman's Wharf is a well known neighbourhoods for visitors, and a great choice for anyone who wants to stay on the bay. Obvious pros include the fresh seafood restaurants, historic waterfront, seaside atmosphere on the pier, and the ferry. But Fisherman's Wharf also has several historic buildings, wonderful views, and a couple of excellent museums — including the Maritime Museum and the ships of the Maritime National Historical Park, and Alcatraz. And Pier 39 is famous for its sea lions. Fisherman's Wharf is a good choice for families due to its family friendly museums and restaurants.
Pros and Cons
Pros: family-friendly, historic, waterside, water views, major sights, cultural sights, great seafood
Cons: busy, touristy
Ideal For: families, sight seers, history buffs, seafood lovers
Discover our recommended hotels in Fisherman's Wharf, San Francisco.
The Mission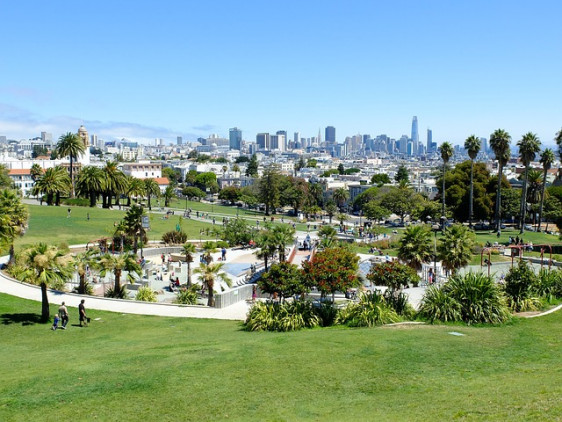 Mélanie Lacroix from Pixabay
The Mission is edgy and cool, great for nightlife and music, with a history that's bound to Mexican and Central American immigrants, which still influences the bars and restaurants today. And there are some great bars and restaurants here! This is a gentrifying neighbourhood, but there's still a feeling of community, and there are a number of very beautiful churches here, including the Mission Dolores Basilica, which is the oldest building in San Francisco and typical of the Spanish missions of California. The Mission also has a great farmers' market and fantastic book and gift stores. Dolores Park is another colourful local community hub, but a park too.
Pros and Cons
Pros: historic, green space, great restaurants and bars, lively nightlife
Cons: not all areas are safe at night
Ideal For: value seekers, hipsters, cool cats, night-owls, fun
Search the best hotels in San Francisco